Oh the weather outside is frightful — perfect time for a winter snowman cake! This simple and easy decorated cake will shine as the centerpiece for a fun wintry celebration, whether it's a winter birthday party, Christmas, Hanukkah, New Year's Eve or a winter solstice party. The best thing about this snowman? He won't melt on you! (Unless you stand over him with a blowtorch or open flame, which isn't recommended!) Follow these easy steps for an unmistakably wintry cake scene and make a winter cake of your own!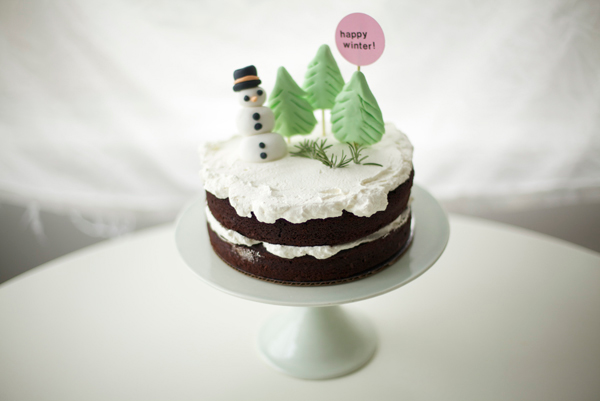 Photos via Lyndsay Sung of Coco Cake Land
FREE Guide: How to Make Fabulous Fondant Toppers
Wow clients with customized fondant toppers in this FREE PDF guide, available exclusively on Bluprint.Get My FREE Guide »
How to make a winter cake
You will need:
One two-layer chocolate cake, baked according to your recipe's instructions and completely cool
2 cups of whipping cream – make it from scratch, or you can use whipped cream from a can or even Cool Whip
A small metal offset spatula
Fondant – a 6-inch ball
Gel colors in black, green and orange
A paring knife
Wooden BBQ skewers
Scissors
Rosemary sprigs, optional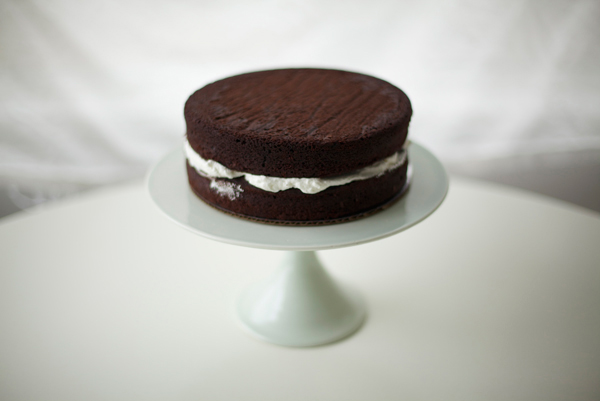 Step 1:
Fill your cake with whipping cream and stack.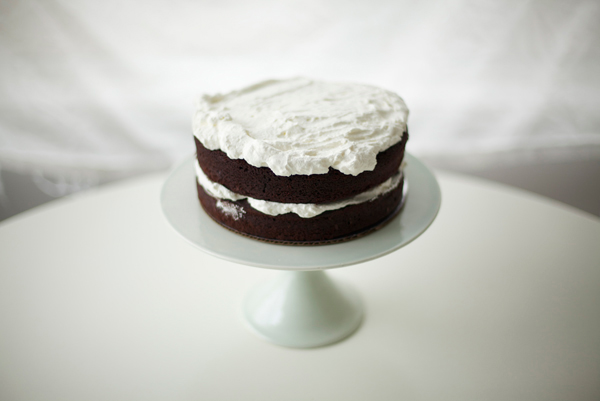 Step 2:
Place a large amount of whipping cream on the top layer. Using your offset spatula, spread it across the top in a thick, billowy layer to best resemble snow. Set cake aside.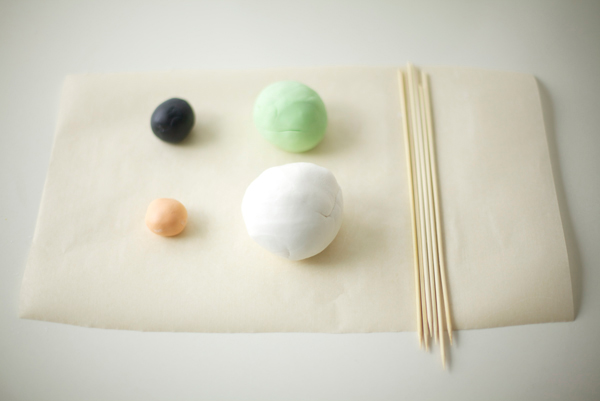 Step 3:
Color your fondant accordingly. Black fondant for the snowman's hat, eyes and buttons. A small amount of orange for the carrot nose. Green (in whatever shade you like) for the evergreen trees.
[box type="shadow"]Learn how to color fondant in the FREE Bluprint mini-class Basic Fondant Techniques with Elisa Strauss.[/box]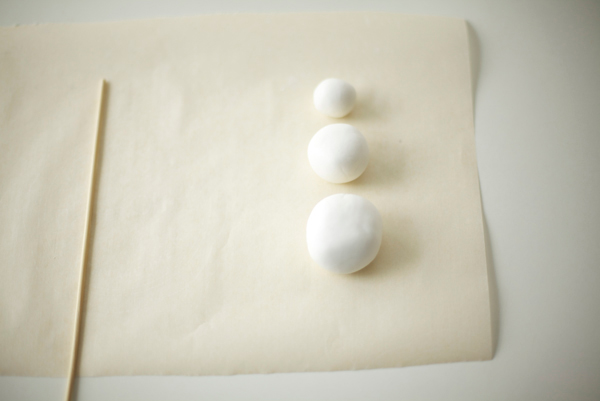 Step 4:

Using your white fondant, make three balls of varying sizes to create the snowman. My bottom ball was 2 inches round and got slightly smaller from there.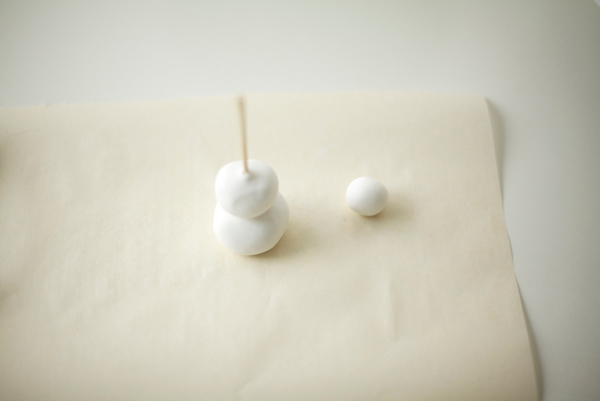 Step 5:
Cut one of your wooden BBQ sticks in half. Begin stacking your white fondant balls onto the wooden stick, as shown above. Gently slide the ball down the stick and layer them.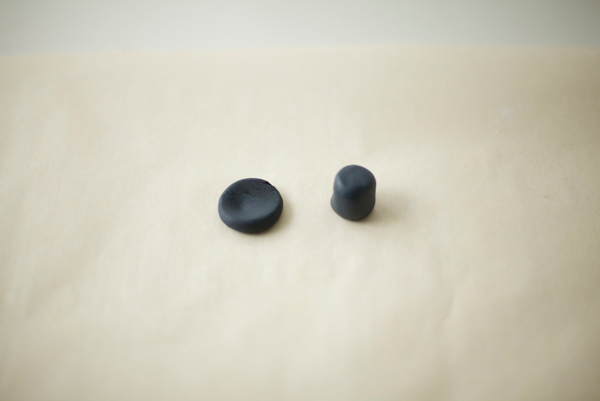 Step 6:
Make your snowman hat: make a small ball of fondant by rolling it between your hands. Flatten it with your finger to make a flat circle — this will be the hat's brim. Create another ball of black fondant, and shape it into the top part of the hat, as shown above. Using a little of the orange fondant, roll it between your hands to make a long skinny piece and place that where the brim meets the top to create a hat ribbon.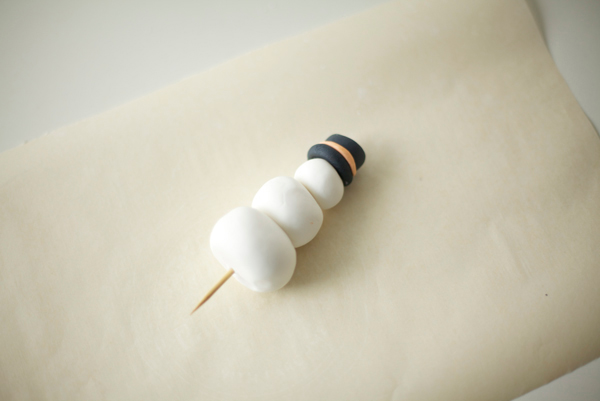 Place the hat on the wooden stick as well — push the snowman all the way up so the wooden stick pokes out of the bottom. Keep the snowman lying on his side now. This part will stick into the cake eventually.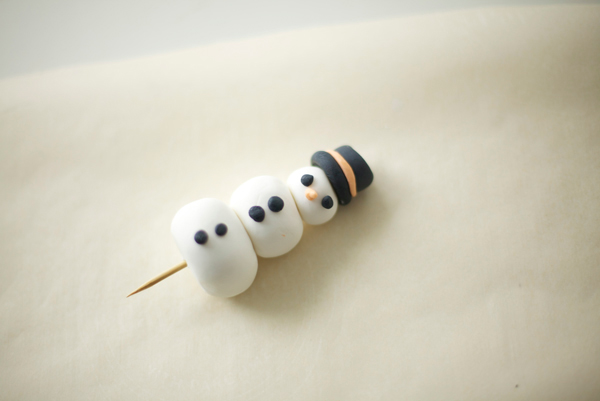 Step 7:
Using more black fondant, create tiny balls for the eyes and adhere them to the snowman's face with a tiny amount of water. Do the same with the snowman's "buttons." Using a small amount of orange fondant, create a carrot-like triangle shape and adhere to the face. This snowman's ready to party!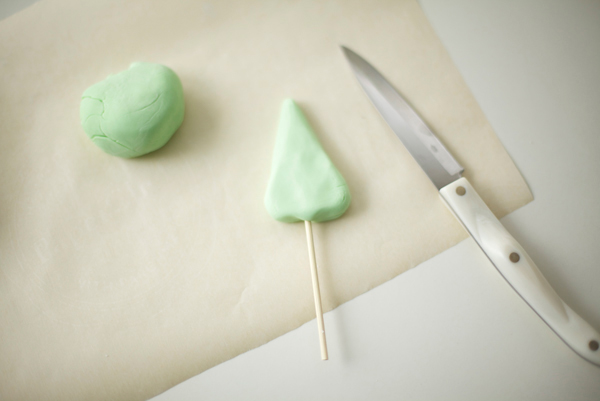 Step 8:
Make the fondant trees. I create triangular shapes for the trees and then I place them on my wooden sticks. Once they're on the sticks, you can shape them more if you need to. Lie them flat on your countertop on a piece of parchment paper.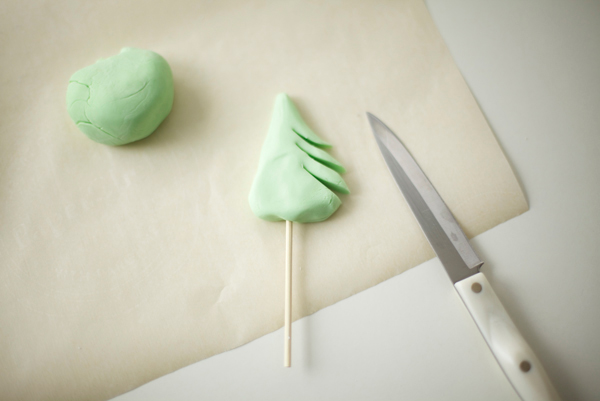 Using your paring knife, cut slices into each side of the triangle shape to give them "branches."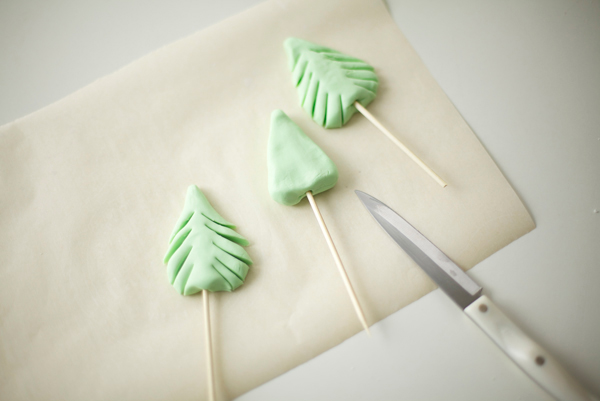 Do the same to the remaining trees. (I made three trees — you can always make more, or less!)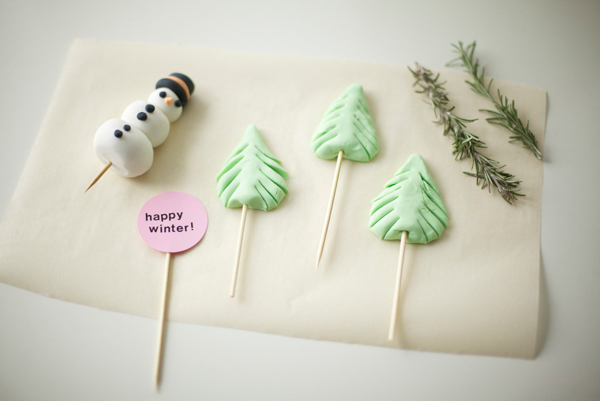 Step 9:
Place your holiday cake toppers into your snowy, billowy whipped cream topped cake. Add a few sprigs of fresh rosemary, too, if you like! Just remember to remove the rosemary before serving the cake.
[box type="shadow"]Note: Since the cake is covered in whipped cream, if you are making this for a holiday party, you can prepare the cake, whipped cream and cake toppers beforehand. Keep whipped cream chilled in the fridge and assemble the cake just before serving.[/box]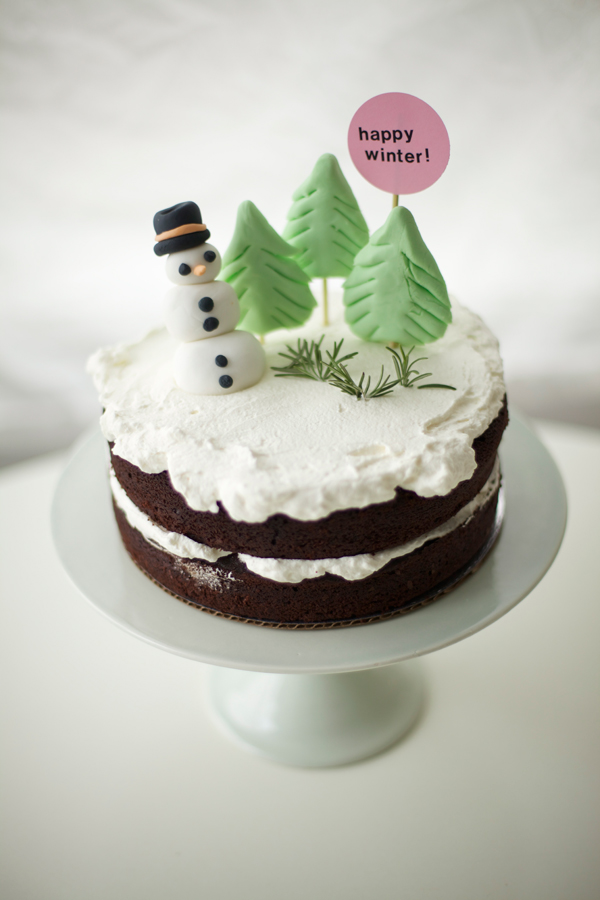 Step 10 (optional):
You can also make a "Happy Winter" sign, too, or a one that says "Merry Christmas," "Happy Birthday," etc. I used a circle craft punch to cut out the perfect circle shape. I simply taped it onto a wooden BBQ stick with the "Happy Winter!" message.
FREE Guide: How to Make Fabulous Fondant Toppers
Wow clients with customized fondant toppers in this FREE PDF guide, available exclusively on Bluprint.Get My FREE Guide »