It's that time of year when our dinner table often sits empty in lieu of dinners eaten outside, usually next to a still-hot grill. In my mind, anything that can cook in an oven can be prepared on a grill. And quite frankly, the food is often better for it, with all that smoke deeply flavoring everything it touches. Everything tastes better outside, especially vegetables.
Read on to learn the essentials of barbecued veggies, including 5 tips for perfectly grilled produce!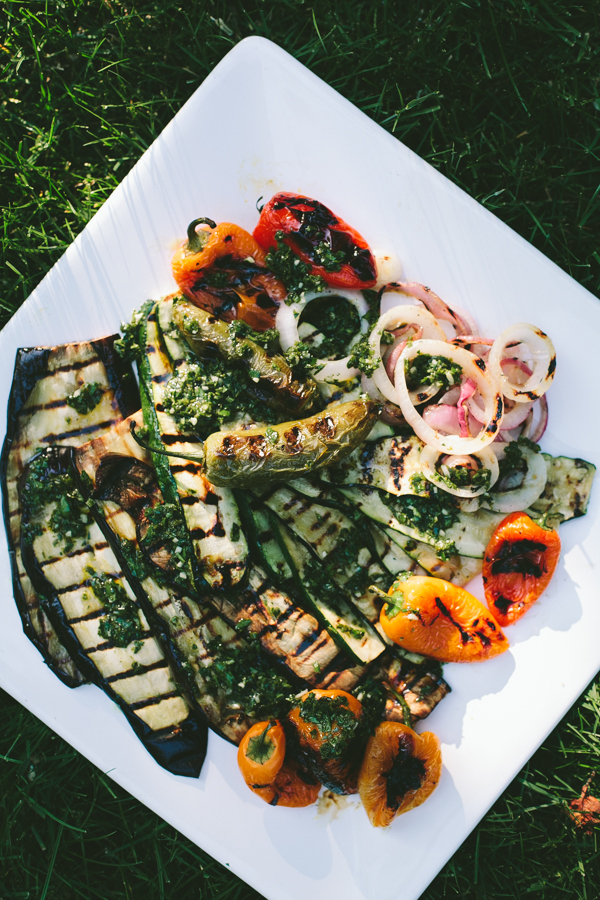 Why grill vegetables?
Grilling is so much more than burgers and meat. When vegetables hit a hot grill they take on a deep, hearty flavor. They quickly char giving a nice contrast against their soft interior which sweetens in the heat. With all the delicious, healthful produce that abounds in the summer, grilling is the perfect way to add a bit more interest to your salads and summer meals.
Which vegetables are best for grilling?
I'd be hard pressed to find a vegetable that didn't improve with a bit of char and smoke from a grill but below is a list of some of my favorite vegetables for grilling. To prepare them I simply cut them just under a half-inch thick and brush with plenty of olive oil and sprinkle with salt. I use a very hot grill to get deep grill marks while not over cooking the vegetables.
Eggplant
Zucchini
Tomatoes
Peppers
Onions
Cauliflower
Hearty greens like kale, romaine, radicchio
Corn (either left in the husks to steam or without the husks for a deep char on the kernels themselves).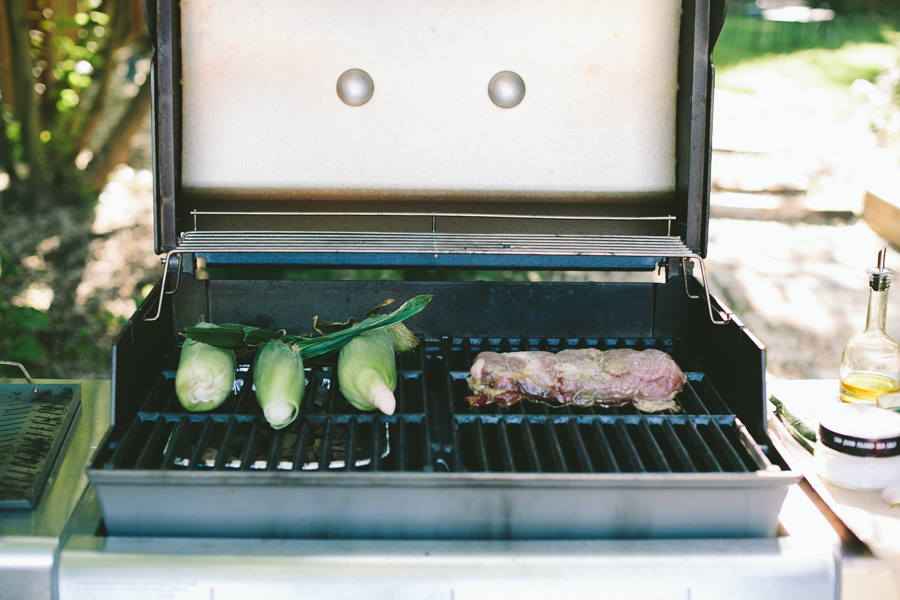 5 tips of better grilled vegetables
1. Use plenty of oil.
Vegetables love to cling to the grill. Don't be afraid to really glug on the oil when you are grilling vegetables.
2. Cut the vegetables the same size.
To keep the vegetables cooking at roughly the same speed cut them evenly. Cook until they are nicely charred but still have a bit of a fresh bite to them. Zucchini only takes about a minute or two per side on a hot grill.
3. Don't cut too thin.
If the vegetables, like zucchini or eggplant, are cut too thin, they'll just char as soon as they hit the grill. You want them to spend at least a couple of minutes on the grill, so they get a chance to soak up some flavor. It also depends on how you are planning on using the vegetables. For a hearty vegetable platter, I cut fairly thick (1/2″), but if I'm grilling up vegetables to be added to a salad I'll cut them a bit more on the thin side.
4. Finish with a flavorful sauce or dressing
You can marinate the vegetables before cooking, but my preference is to dress them with a bright, herb sauce just as they come off the grill.
5. For smaller cuts of vegetables, use a grill basket, aluminum foil pouch or skewer.
I generally prefer to grill large pieces of vegetables directly on the grates, but for smaller things, like cherry tomatoes or baby potatoes, it's hard to keep them from rolling or falling through the grate. You can use metal or soaked bamboo skewers, a grill basket or a pouch made from multiple layers of aluminum foil. Poke a few holes in the packet, so some of the smoke can get in the vegetables.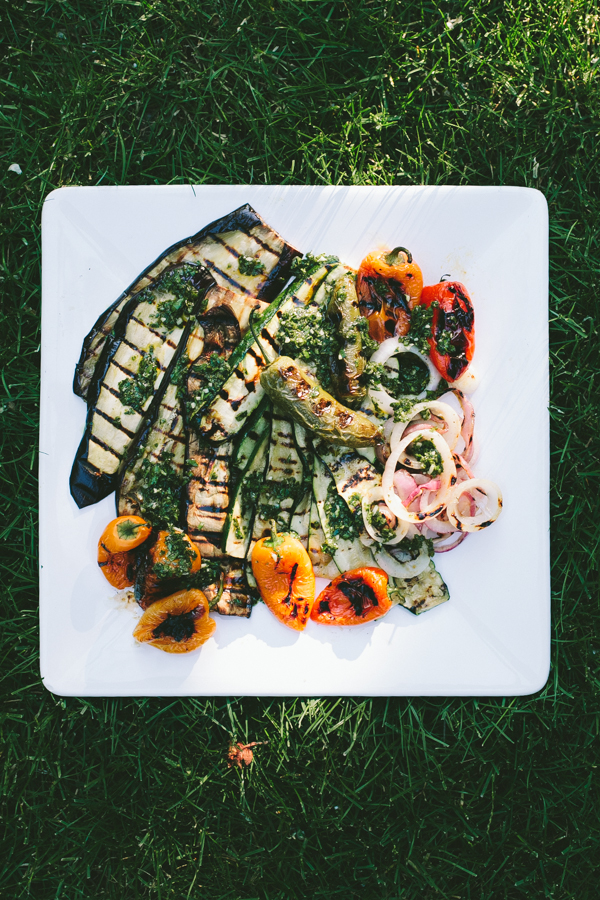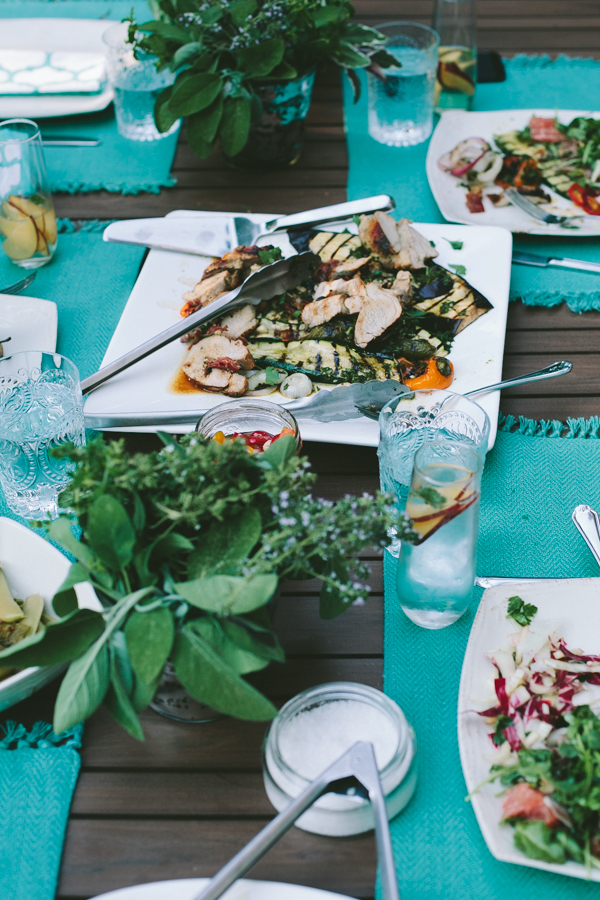 Using your grilled vegetables
On their own, grilled vegetables make a beautiful platter for antipasto or as a side dish, but there are other ways to work them into dinner. Last week I had a plate of leftover vegetables grilled the day before. When dinner time struck and the kids were pleading out of hunger, I began boiling some pasta. While that cooked, I tucked the vegetables into a blender with a bit of olive oil and turned it into a nutritious and incredibly flavorful sauce.
More delicious ideas — I love charred corn and peppers folded in salads, tucked into tacos and blended into salsas. A quick hit on the grill turns a head of romaine into a smokey base for a Ceasar salad. Grilled tomatoes blend into a beautiful gazpacho or tomato sauce. And grilled portobellos make a great substitute for a classic burger patty.