Oh, what a wonderful week. Yesterday was National Apple Dumpling Day. Tomorrow is National Butterscotch Pudding Day.
And today, sandwiched between these sweet occasions, is National Cheeseburger Day.
In celebration of this momentous day, here are twelve particularly delicious specimens of creative gourmet cheeseburgers. All of these meat, bread, and cheese creations are inspiring, but even better, several come with recipes so that you can get cooking and recreate the magic at home.
Let's dig in: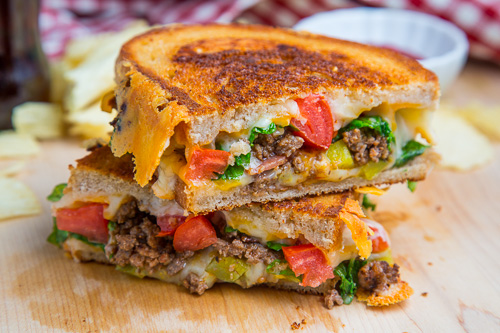 Photo via Closet Cooking
Bacon grilled cheeseburger:
Is it a burger? Or is grilled cheese? Or a BLT? How about all three, delivered in one serious-as-a-heart-attack package? Recipe here.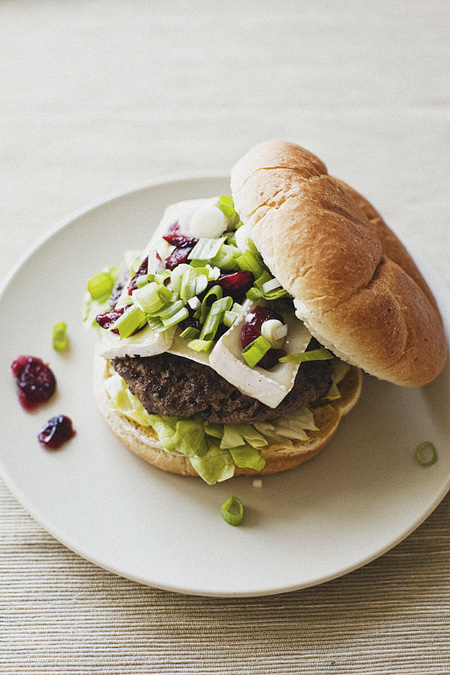 Photo via Sprouted Kitchen
Cranberry brie burger:
For a heavenly melange of flavors, follow the example of Sprouted Kitchen and pair a grass-fed beef patty with creamy brie, tart cranberries, and savory scallions. Sandwich it all on a homemade bun and you'll have a cheeseburger most memorable. Recipe here.
Creating a gourmet burger like this requires an artisanal touch. Learn how to make artisan bread and the ins and outs of cheese making to dish up a similarly delectable burger with homemade flair.
Cheeseburger waffle sliders:
At Philadelphia's PYT, one of the appetizers is a curious platter of small cheeseburgers served between mini waffle fry "buns". They don't share the recipe, but the construction seems easy enough to re-create at home with whatever toppings or garnish you'd like.
Deep-fried cheeseburger:
Scotland is famous as the place that brought Deep-Fried candy bars into the spotlight. But they don't stop there. Apparently, they like to fry cheeseburgers, too! With bacon, of course. Recipe here.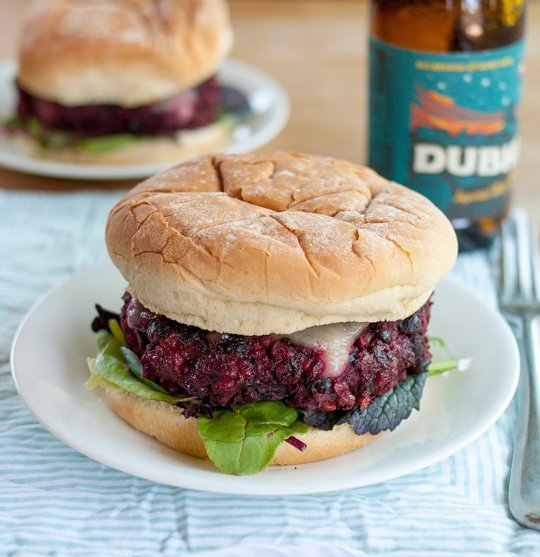 Photo via The Kitchn
Beet burger:
And on the other side of the spectrum, a virtuous veggie burger. Though healthy, it's still very tasty, made with black beans, rice, and beets. To complement those earthy flavors, a thick slice of cheese is most welcome. Recipe here.
Firecracker burger:
This cheeseburger was an award-winning entry in an "Ultimate Cheeseburger" recipe contest. It's not hard to see why: topping a burger with a blue cheese and sour cream stuffed pepper sounds like a spicy, decadent delight. Recipe here.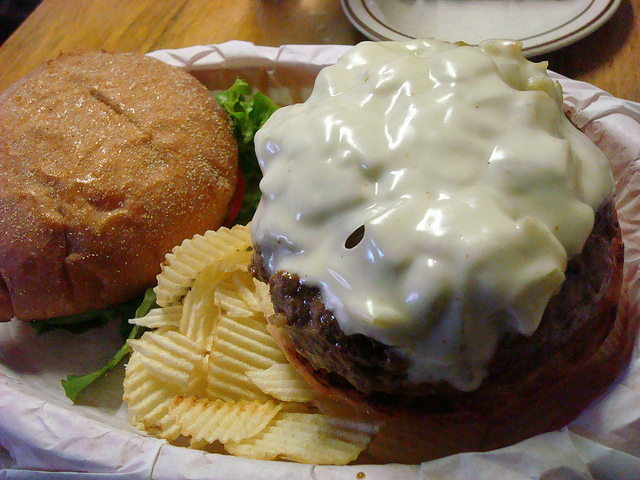 Photo via CakeSpy
Green chile cheeseburger:
Chile is the official state vegetable of New Mexico, and it's frequently put to beautiful use on the state's famous Green Chile Cheeseburger. The best versions start with a grass-fed beef patty, topped with cheese and green chile, which melt together into a gooey, slightly spicy mess on top of what promises to be a five-napkin burger. Recipe here.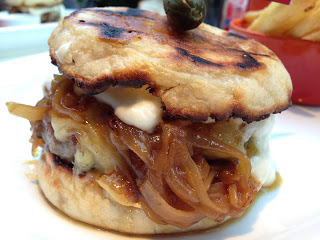 Photo via Glass of Rosé
French onion soup burger:
In New York City's East Village, there's a French Revolution afoot. And leading revolution is the French onion soup burger at Little Prince. A thick beef patty is covered with caramelized onion, Gruyère cheese and béchamel sauce and served between English muffin halves.
Among the 5 mother sauces of French cuisine, béchamel can be incorporated into a variety of classic dishes, but adds a particularly unique flavor to the traditional burger!
Baguette burger:
Adding French onion fixins isn't the only way to French-ify your burgers. Why not serve them on baguette buns? Either make full-sized burgers and serve them on hunks of homemade baguette, or slice the baguette into "coins" and use them to serve sliders, with a slice of a fancy French cheese, mais oui. Recipe here.
Cheese-filled burger:
Why have cheese on top of your burger when you can stuff it inside? In the Minneapolis area, they enjoy something called a "Jucy Lucy" (yes, it's spelled like that) which consists of two thin patties fused together on the grill with cheese between them. The result is a burger that oozes cheese when bitten into. Recipe here.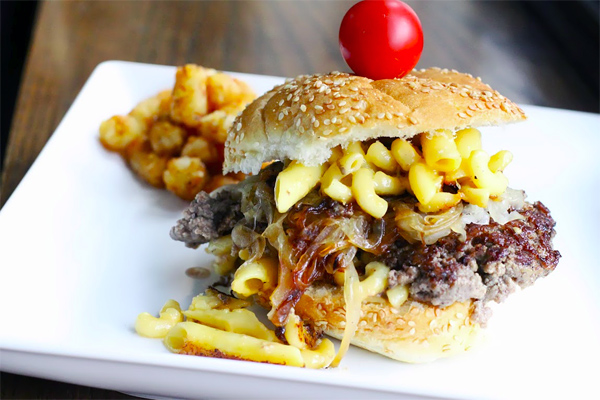 Photo via Simple Comfort Food
Mac and cheeseburger:
Exactly what it sounds like. A burger is topped with mac and cheese. So simple, yet so splendid. And in this case, caramelized onions too, making a burger that adds a pinkies out aspect to this meeting place of humble foodstuffs. Recipe here.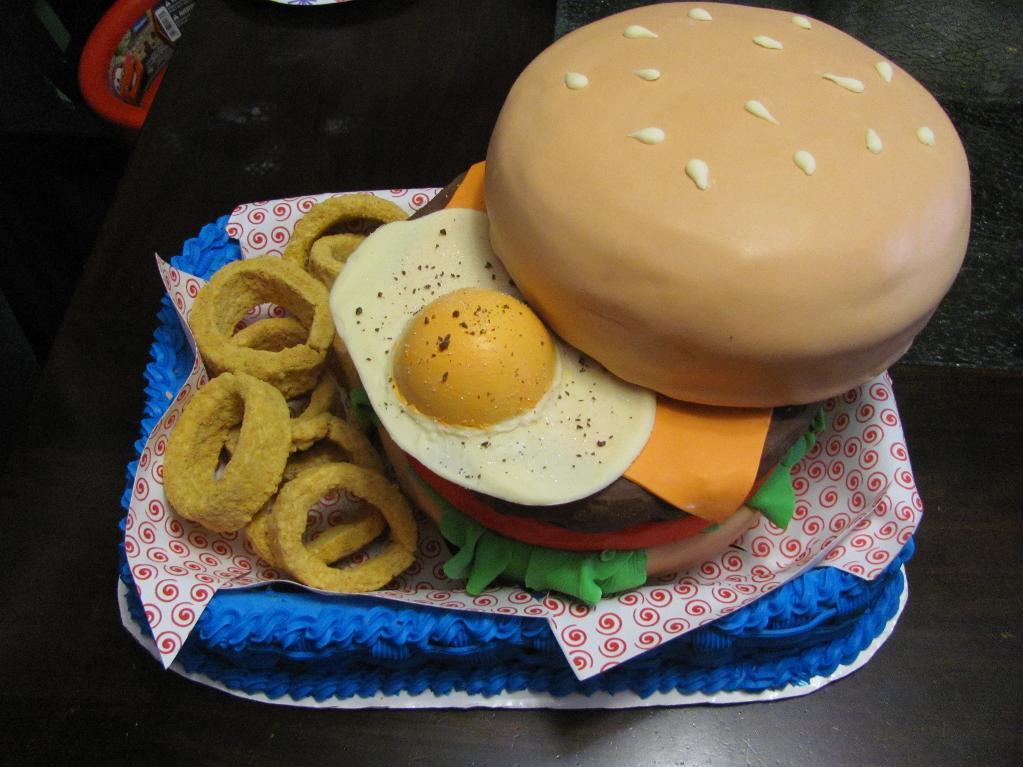 Photo via Melem
Not an actual cheeseburger:
This burger's a fake–it's actually cake! Fondant is expertly used to create the look of this sculpted burger cake, which is topped with a slice of fondant-formed cheese, and egg, and garnished with "onion rings." The perfect dessert after a cheeseburger feast!
What type of cheese do you prefer on your burgers?