So many knitting projects, so little time! Sometimes when I look around at all the bins of yarn I have, I feel a little overwhelmed. Will I ever work my way through this stash? How will I find time to knit all this?
A few months ago, I faced the reality of having to pack up all that yarn and move it. When I went through it, I found incomplete projects from years and years ago just hanging out in plastic bags. I decided then and there that I would make a plan and figure out how to find time to knit.
Here are a few of the ways I find time to knit and to actually complete projects. I hope they'll help you work your way through those projects you dream of knitting!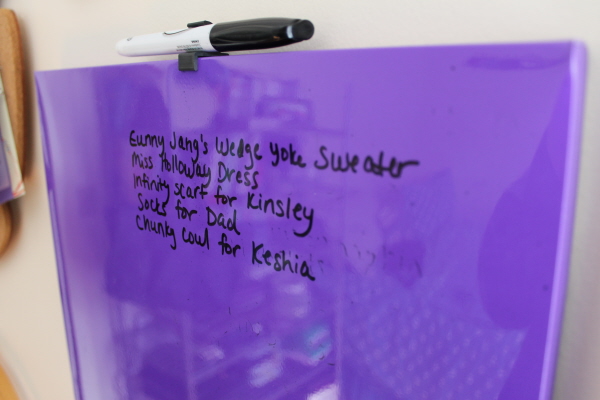 My knitting to-do list, the short version
1. Stop buying new yarn.
I know it's hard. Oh, man, do I know. But new yarn is distracting. New yarn makes us ditch the projects we've been working on and move on to others. Tell yourself that new yarn is going to be a reward for when you complete a project. Now that's motivation.
2. Make a list of the projects you want to tackle.
Originally I was using a small dry-erase board to list all the projects I wanted to make, but two things happened: 1) I was embarrassed that my guests saw the list and 2) The list was too long to fit on the board. I ended up adding most of the list to an app on my phone. (See that list pictured at the top of the post? That's just part of my list of projects. I erased the others for the photo because I was embarrassed.)
3. Frog the projects you're not into.
Back in the late 90s, I was knitting up shrugs like a mad woman. Over a decade later, I don't feel the need to own more than one shrug. So when I find a shrug in my stash that I never finished, I just frog it. That yarn deserves to be turned into something else.
Knitting know-how: "Frog" is a terms knitters use to describe the act of ripping a project or row of stitches.
4. Join a class, knit-along, or stitch group.
Other knitters are a great source of motivation. The gals at my stitch group always remember the projects I work on — "Whatever happened to that dress you were knitting, Ashley?" Ummm… — and seeing the projects they complete inspires me to complete mine.
If you simply can't seem to find time to knit, join a knitting class where you can set aside a few hours a week to learning a new skill. Of course, Craftsy has a whole slew of knitting classes to choose from, and the best part is that you can work at your own pace.
Knit-alongs are great for motivation, too. Knit-alongs break projects into steps, making it easy to track your progress.
5. Hold yourself accountable to friends.
Like stitch groups, friends are super helpful for keeping you in line, especially when you ask them to. Share your WIPs with friends and ask them to check in on you.
6. Devote just one hour each day to knitting.
When do you feel the need to knit? I like to knit just before bed. It helps me wind down, and keeps me away from electronics. I know some knitters who like to devote part of their lunch hour to knitting for stress relief in the middle of the day. You could even devote commuting time to knitting. The important thing is that you set aside time. Before you know it, you'll be finished with that sweater or Christmas present.
Do you have any tips for completing knitting projects or just setting aside time to knit?