I used to view herbs as the sort of thing that belonged only in savory recipes — they were confined, unfairly, to the corner of my mind devoted to roasted turkeys, seared red meats, steaming cornbread stuffings and simmering tomato sauces.
But it turns out that herbs have endless potential in the world of the sweet. From mint mojitos to basil lemonades, they add a lively piquancy to cool drinks; used in baking, they produce subtle twists on classic shortbread and chocolate chip cookies.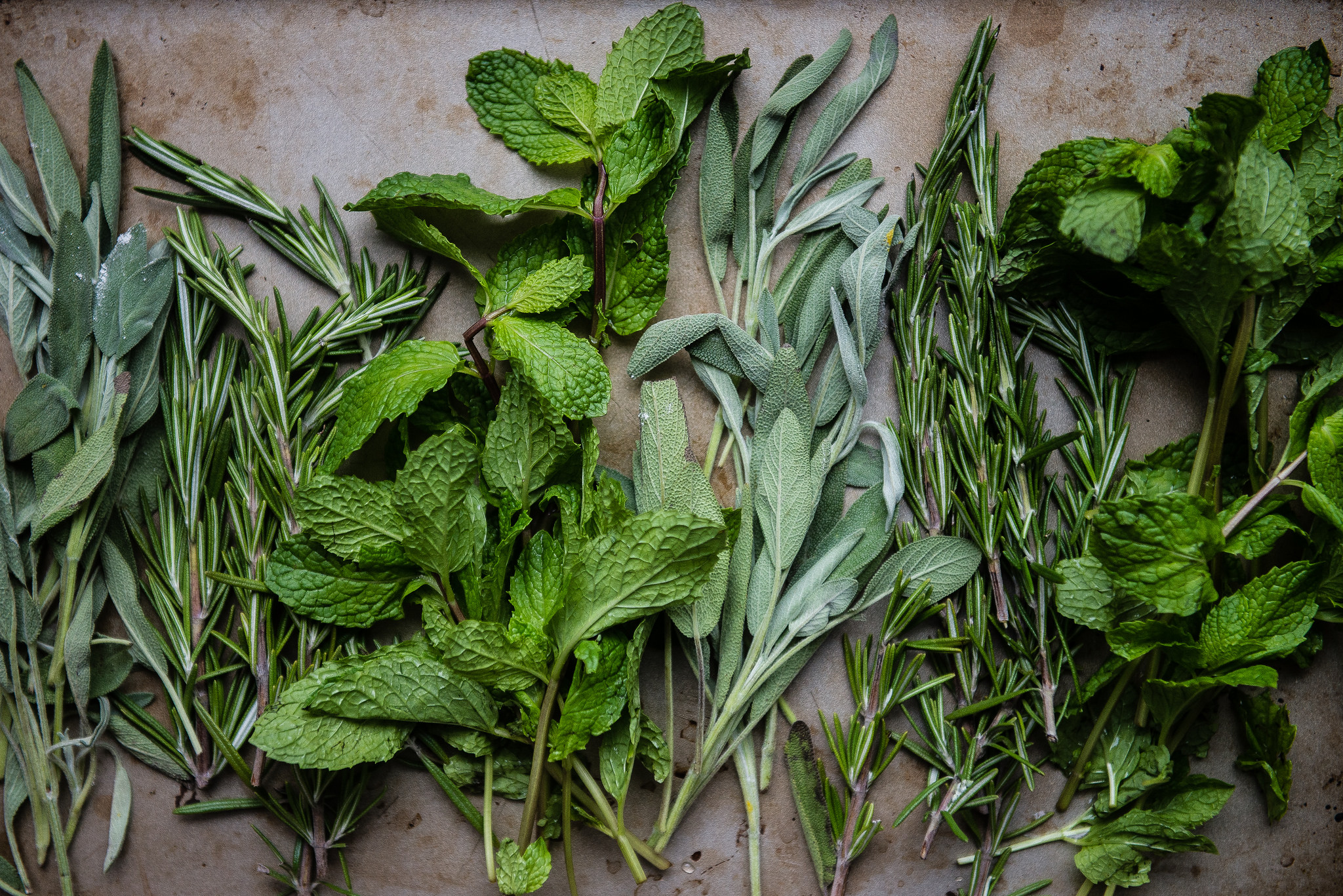 Photos via Two Red Bowls
Of course, chopping fresh herbs and adding them directly into your sweet of choice is always a solid way to go. But for those days when you have a little too much left over from a generous bunch of herbs from the grocery store, or for that late summer abundance from your garden, one of my favorite ways to preserve the extras is by infusing them (or, essentially, drying them) in sugar.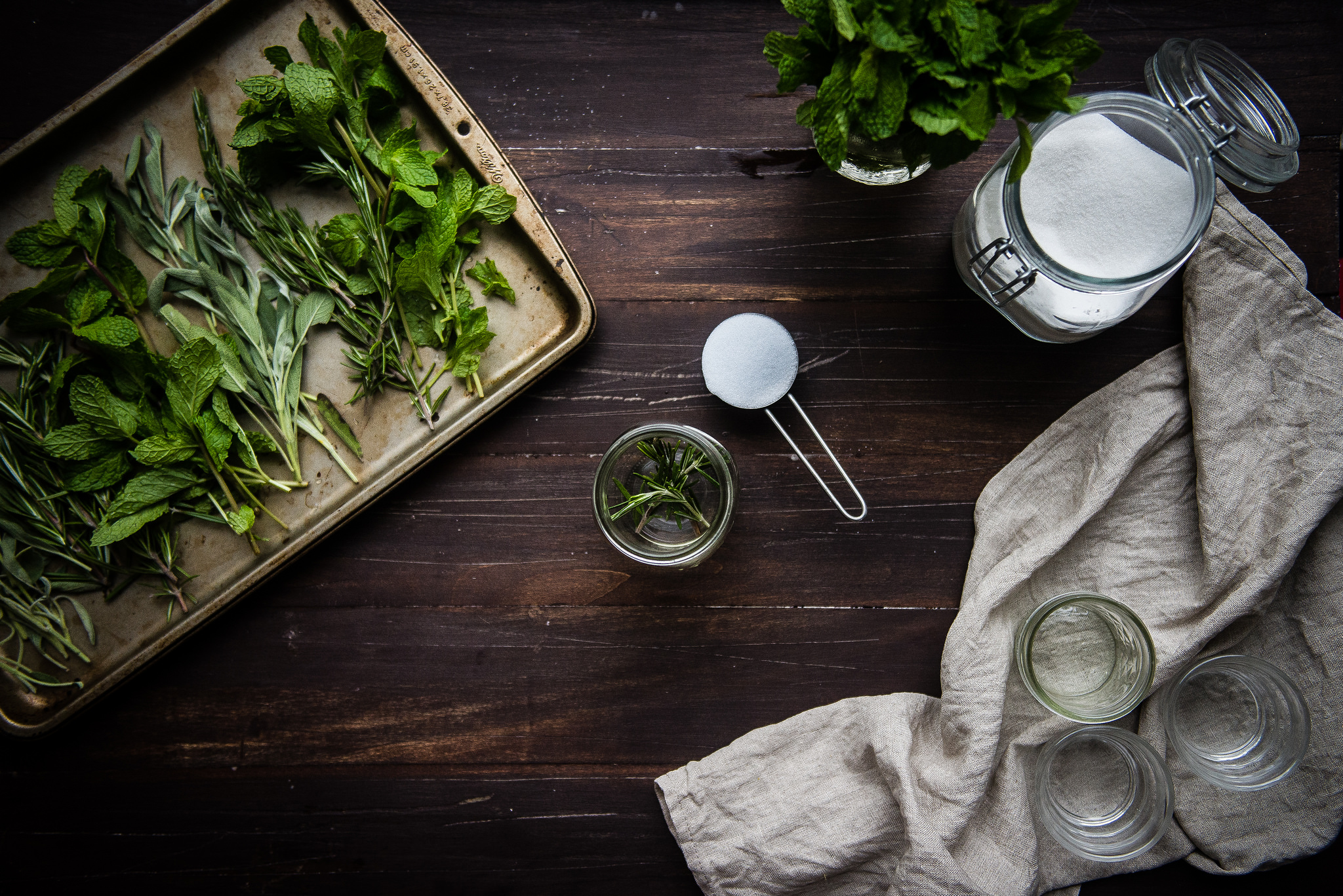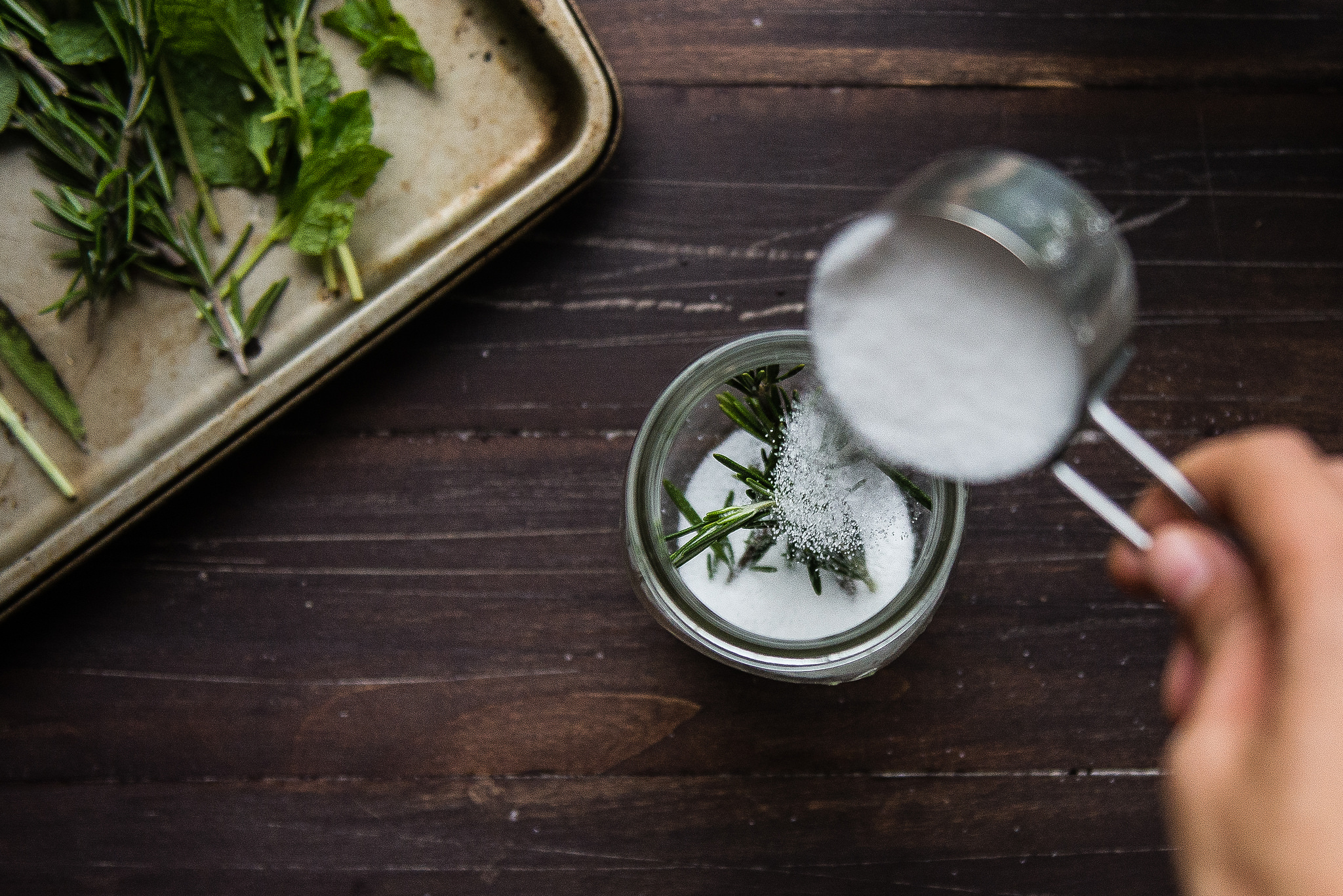 The method couldn't be simpler. All you need to do is take 4-5 sprigs (or a small handful) of the fresh herbs of your choice and blot them dry with paper towels. Briefly crush with a muddler or a wooden spoon to release the oils, then combine 2 cups of granulated white sugar with the herbs in a clean jar. Seal and store in a cool, dark place. Stir once or twice a day to break up clumps, as the herbs will still have moisture in them.
Over the first few days, the sugar will stop clumping as the herbs dry, and the dried leaves will begin to intersperse throughout the sugar after you stir. After that, store the sugar for another week or two to let the flavor fully infuse.
And you're done! Small jars of infused sugar make for a great homemade food gift ideas, perfect for the holidays or even as wedding favors, or use it to flavor baked goods, tea, coffee, lemonade, cocktails, and more.
Don't feel like waiting two weeks for herb-flavored sweets? Try making herb-infused simple syrups instead!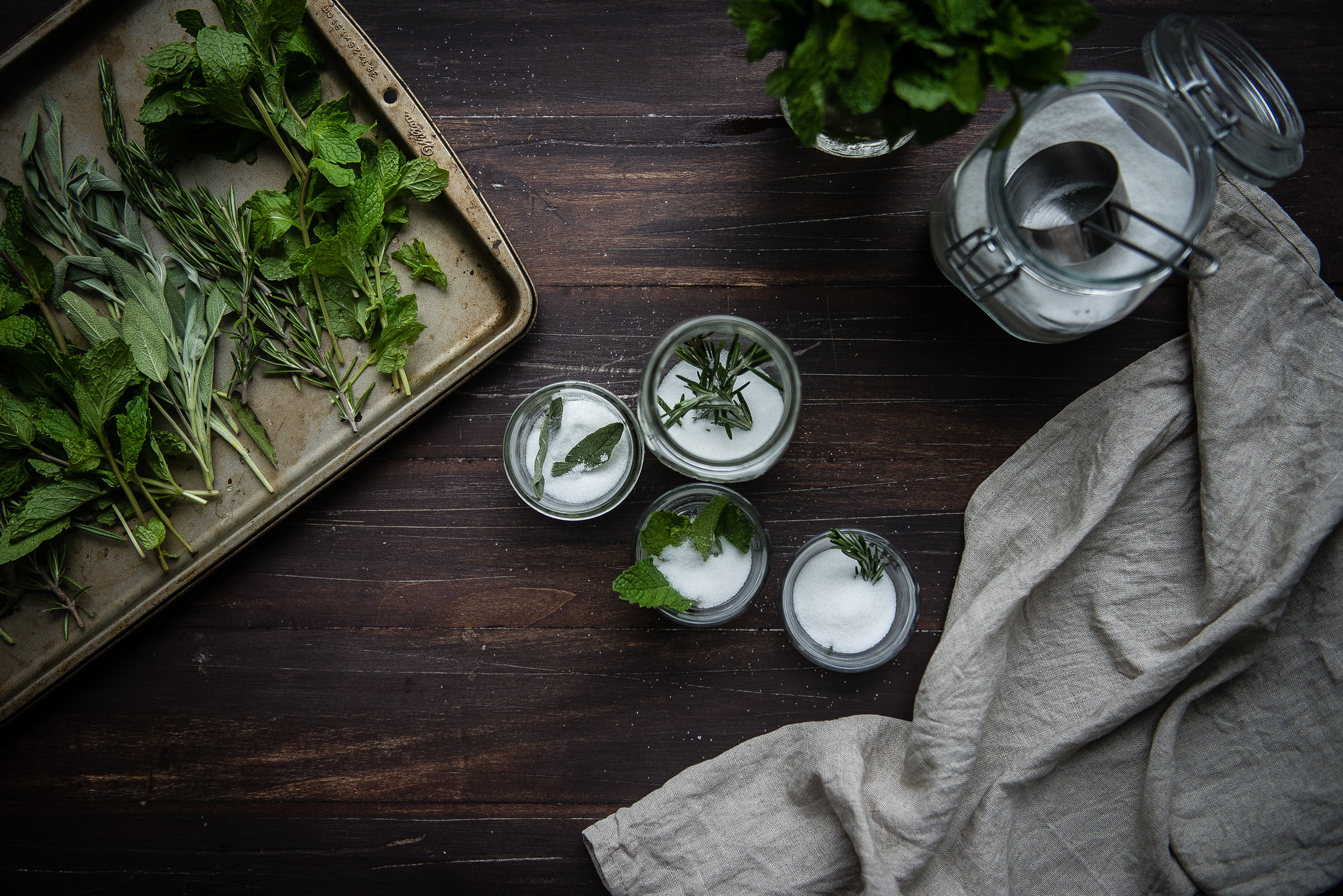 How to Make Herb-Infused Sugars
You'll need:
4-5 sprigs or one small handful of the fresh herbs of your choice (rosemary, sage, lavender, mint, and thyme all work well)
paper towels or flour sack towels to dry them
muddler or wooden spoon for crushing
2 cups granulated white sugar
1 large jar with lid
Directions:
1. Lay out the herbs on paper towels or flour sack towels and blot thoroughly until dry.
2. Use a muddler or a wooden spoon to crush gently, just until oils are released and herbs are fragrant.
3. Place herbs in a large jar with the sugar, making sure that the herbs are in small enough pieces that the sugar covers them completely.
4. Seal the jar and store in a cool, dark place. For the first few days, open up the jar and stir the sugar to break up any clumps that form as the herbs dry out.
Note: Alternatively, dry your herbs first and then start with Step 3. Then you won't need to worry about clumping at all.
5. Once the sugars stop clumping, replace in cool, dark place and keep for 2 weeks to allow the flavors to fully release. The sugar will then be ready for you to use!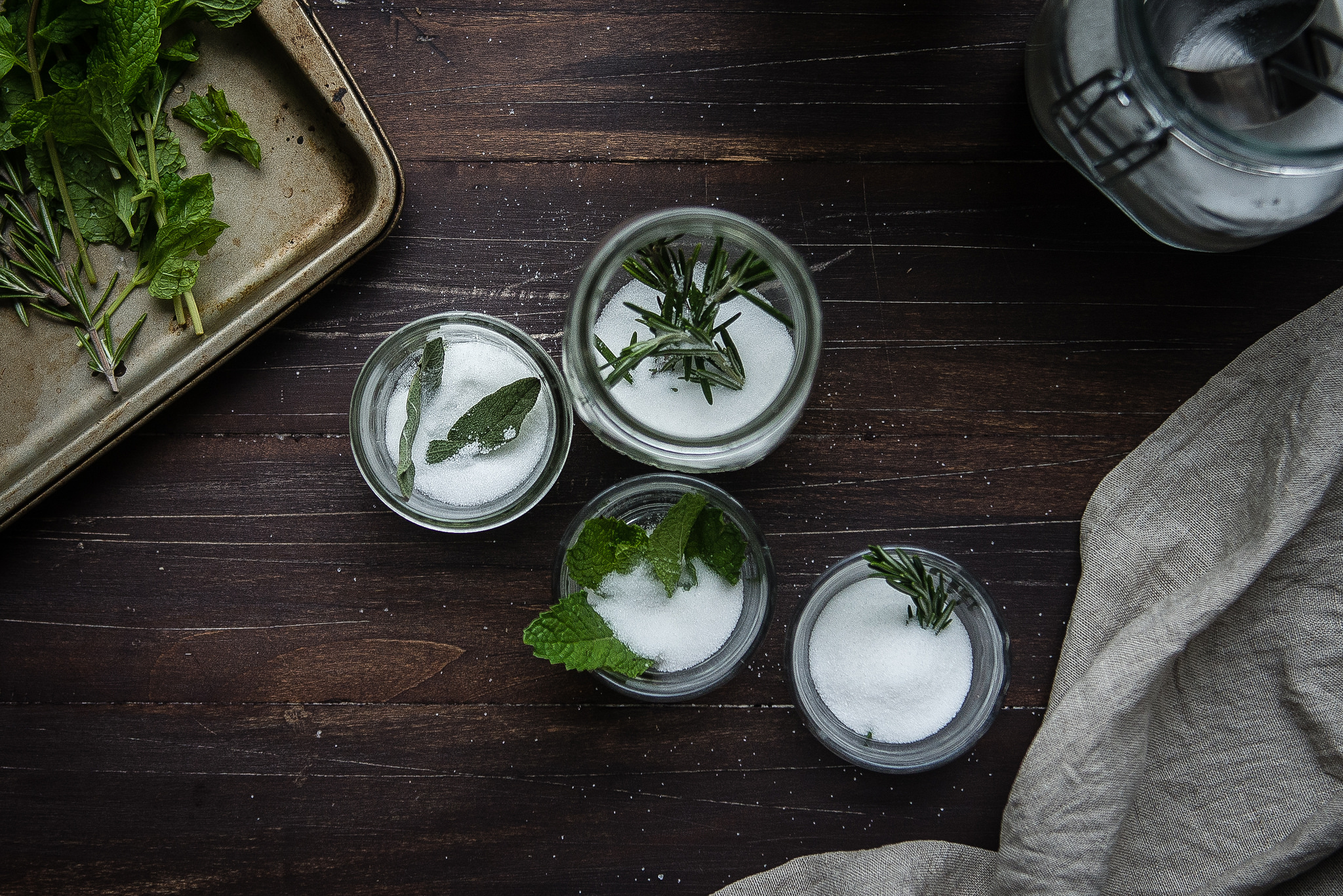 Sugar flavor ideas
The possibilities are endless, but here are just a few suggestions to get you started:
Rosemary
To liven up traditional shortbread, replace the sugar in the recipe with equal parts rosemary sugar. Add a savory note to white chocolate chip cookies with the same technique. Use it in place of your normal sweetener in coffee for a twist on your morning pick-me-up.
Mint
Perhaps most predictably, sugar infused with fresh mint will do wonderfully in any chocolate baked goods, like brownies, chocolate fudge cookies, or chocolate cake. Bring it to a simmer in a saucepan with equal parts water (or a 2:1 sugar to water ratio, for a sweeter syrup) to make a mint simple syrup, then use it in any number of cocktails, from your traditional mint mojito to a Pimm's Cup.
Thyme
Thyme has certain floral notes that pair well with other flowery flavors. Add thyme sugar to chamomile tea, or as a replacement for the sugar in any chamomile-flavored baked goods. It can also bring out the floral flavors in fruits, and can be used alongside honeydew, peaches, pears, or figs. And if what you have is a citrus thyme, then it will, of course, go wonderfully with oranges, lemons, or limes! Try thyme sugar in this lemon-thyme simple syrup to make a lemon sorbet.
Surprisingly, thyme also shines in chocolate chip cookies.
Sage
Sage sugar is another excellent candidate for shortbread. In addition, it pairs wonderfully with blackberries — use sage sugar in your blackberry jam (and then in a blackberry jam cocktail), or in place of the sugar in the cookie dough for blackberry thumbprint cookies.
Lavender
Lavender is perfect for adding a delicate floral note to lemonade. Like thyme, it pairs well with any fruit with a hint of flowers in it, like in this peach buttermilk pie. And, like most of the other herbs here, it's delicious in shortbread.
Craft an array of handmade gifts, from chocolate bark to Limoncello liqueur, that will be remembered for years by lucky recipients.
Join best-selling author Diane Morgan for his online class Sweet & Savory Food Gifts and discover techniques to transform six delicious recipes into memorable handmade gifts.
Have you ever made herb-infused sugars? What's your favorite sweet use for herbs?