Perfecting the art of how to make perfect shortbread is sure to have many positive and delicious effects on your life. First and foremost, making shortbread means that you're guaranteed a delicious snack, but it can also act as the perfect base for bar cookies, decadent pie crusts, and any number of other creative baking projects.
Here's an introduction on how to make homemade shortbread, including variations, a discussion of its provenance and the proper techniques, and some tasty ideas for how to use it once it's baked.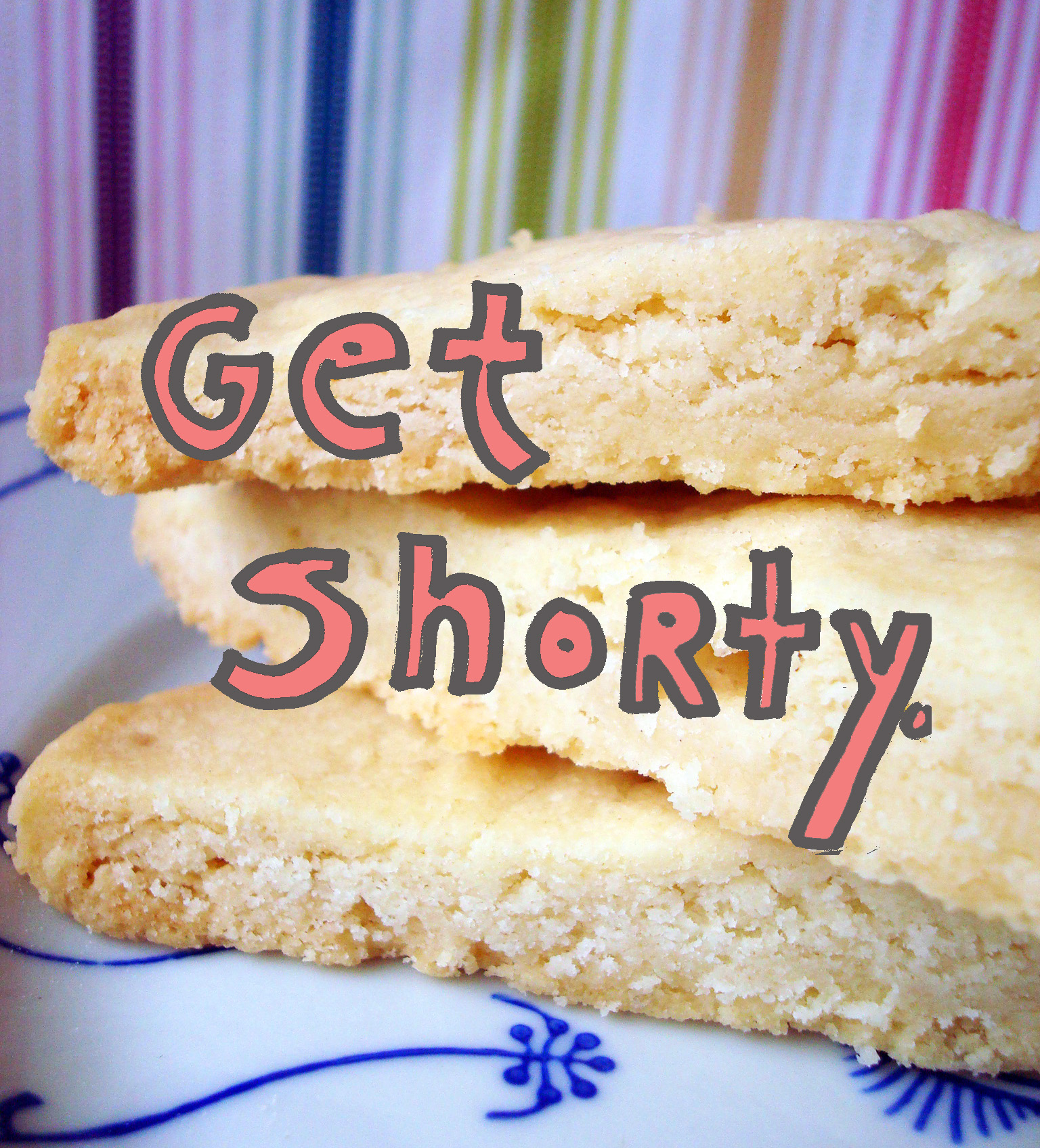 What is traditional shortbread?
Most signs to shortbread's origins point to Scotland, where it's said to have been enjoyed since the 12th century. As one Web site says, "There are as many recipes for shortbread as sand on the seashore." It's true: for a very simple recipe, there are many slight variations.
At its core, the key ingredients in shortbread are butter, sugar and flour. But the ratio may differ depending on the recipe, ranging from only very slightly sweet to "definitely dessert" territory. Added ingredients, such as salt, can round out the flavor, and the addition of cornstarch can create a soft, pleasingly crumbly texture.
Wait…cornstarch? Yes, it's true.
Although it is hard to imagine bakers in the olden days of Scotland pausing to add cornstarch to their shortbread, there is a strong case for its use in modern times. Chances are, in times gone by, the flour had a lower protein and gluten content than all-purpose flour, which is used today. The cornstarch can "soften" the harder wheat for an end result that might possibly mimic old-fashioned results even more than using all-purpose flour.
Many will claim that one or the other is the only authentic shortbread. However, given how long shortbread has been around, it's inevitable that variations will exist. Many recipes, therefore, can truthfully be called authentic.
The recipe shared in this post is a traditional shortbread recipe with cornstarch. What makes it a keeper, though, is how delicious the cookies are: tender in the center yet crisp on the edges, and full of buttery-sweet flavor.
Round, wedge or finger?
There are a few traditional shapes in which you can serve shortbread. The form used in this recipe involves forming the shortbread into a round and cut it into wedges, pizza-style, before serving. The name for this presentation is "petticoat tails," which is arguably the most adorable shortbread nickname around.
It's also traditional to press the shortbread into a pan and cut it into bars or "fingers"; you may roll it out and cut it into rounds. All of these methods are authentic — it mostly depends on your preference.
While the shape will have no effect on the taste, it can have a distinct effect on the texture. The wedge style yields a softer, thicker piece of shortbread; the fingers form a crispy-on-the-edges, soft-inside cookie. Cutting them into circles will ensure even crispiness with just a slight chewiness inside. All shortbread, regardless of shape, will become more crisp after baking, though, so these texture variances may not be as evident a day or two after baking.
Dots and lines
You've probably noticed that both commercial and homemade shortbread share a distinct visual similarity: they're perforated with dots on top. At home, this is attained by lightly pricking the top of the shortbread with the tines of a fork before baking. This allows steam to escape and prevents a bubbly, uneven top — or even worse, cracking. Here's what could happen if you don't give your cookies a slight perforation: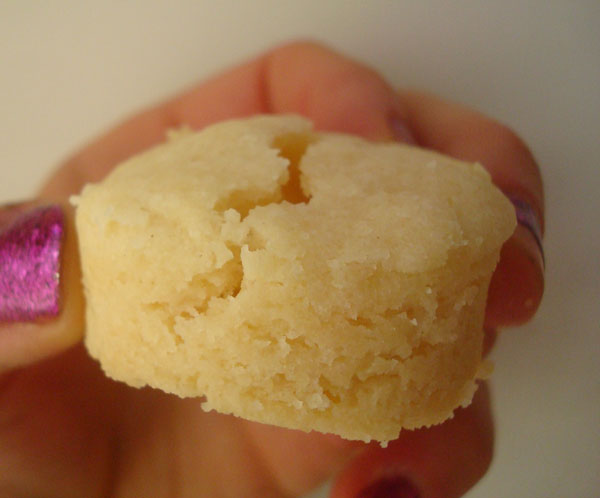 If your shortbread is baking in the "petticoat tail" style or in a pan, scoring the shortbread before baking where you'd like to cut later is a good idea; cuts made after the shortbread has been baked can be slightly ragged. It won't affect the taste, but it will yield a more polished result.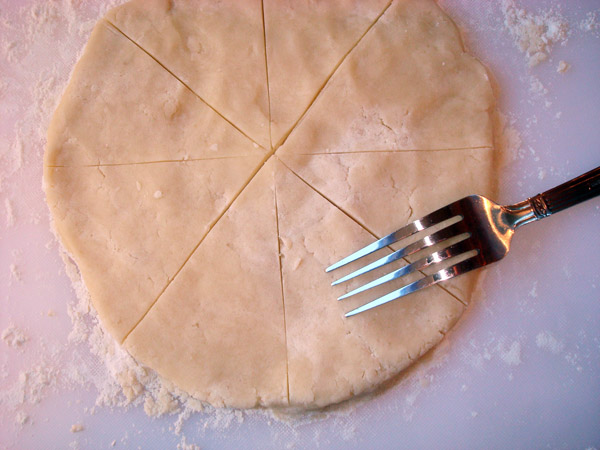 Baking on parchment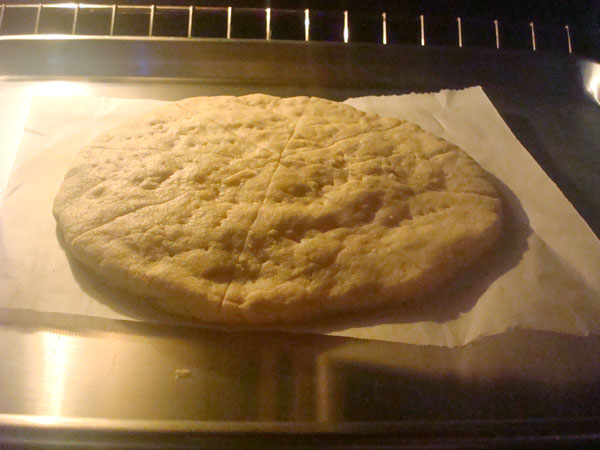 The high amount of butter yields a cookie that doesn't stick too much to a pan. However, you may find that baking on top of a piece of parchment paper ensures easy transferring of the cookies. If baking in a pan, a strip of parchment paper running along the bottom of the pan with "handles" poking up above the dough is very helpful in allowing you to remove the squares from the pan.
Doubling the recipe
This recipe can be doubled quite easily. However, the dough may be harder to handle if you form it into one huge ball of dough. So while you can mix the dough with doubled quantities, be sure to separate it into two equal parts before rolling it out, or, if using a pan, press into a larger pan. A 9″ by 13″ pan will work very nicely. Also, keep in mind that the baking time may be slightly longer if the recipe is doubled.
Other recipe notes
As previously mentioned, this recipe contains cornstarch, which softens the flour in the cookies, yielding a tender, crumbly shortbread. However, the cornstarch is not vital to the recipe's success. You can simply omit the cornstarch with no big complications — your shortbread will just be a bit crispier and less tender.
Because this recipe has so few ingredients, be sure to use fine quality ones; for instance, homemade butter, or one of the fancier European types at the store will taste great.
To store the shortbread, keep in an airtight container. It will keep for up to 2 weeks. It can also be frozen for up to 2 months.
How to make perfect shortbread
Adapted from Traditional Scottish Recipes
Ingredients:
1 ¼ cups all-purpose flour (about 6 ounces)
1 stick unsalted butter, softened (4 ounces)
½ cup granulated sugar (about 2 ounces)
¼ cup cornstarch (about 1 ounce)
¼ teaspoon salt
Step 1:
Preheat the oven to 325 degrees F.
Step 2:
Cut the butter into pieces. Using a wooden spoon, mix the butter and sugar by hand until pale and creamy.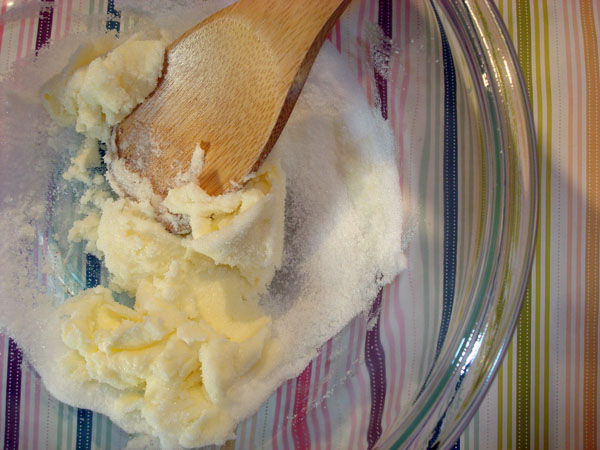 Step 3:
Sift the flour, cornstarch and salt into the bowl of creamed butter and sugar, and mix well, continuing to use your wooden spoon.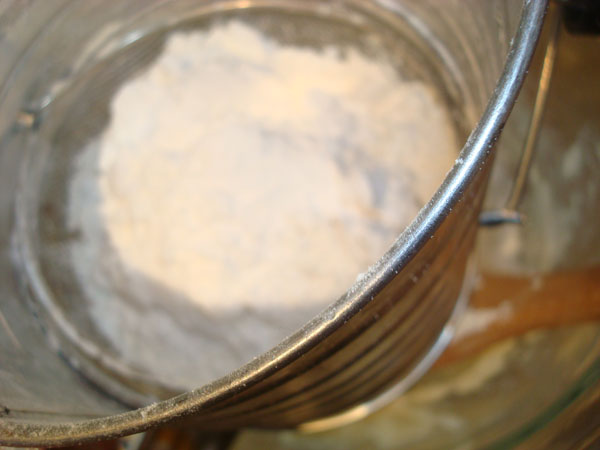 It will begin to come together in a somewhat crumbly dough, but it should very easily clump together if you gather it with your hand.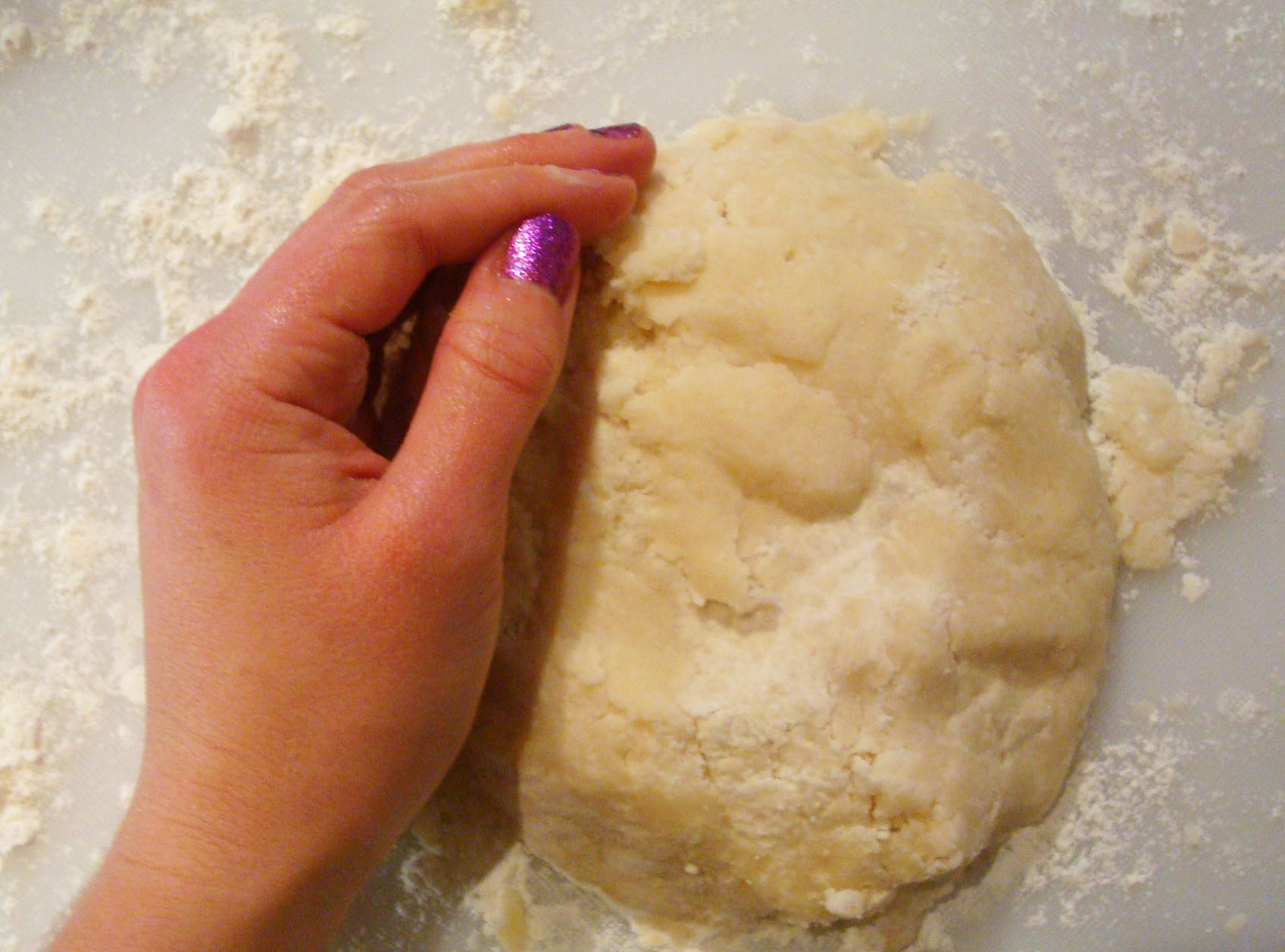 Step 4:
Lightly flour a work surface. Place the dough on top. Roll out the dough until it is about ¼-inch thick.
Step 5:
Decide what shape you'd like the shortbread in. If you'd like it to be a round, shape it into a circle by hand. If you'd like it to bake in a pan, press it into a greased 8″ by 8″ pan. Or, simply cut the rolled dough using a lightly floured cutter.
Score the dough if it will be sliced after baking, and lightly prick all over with the tines of a fork.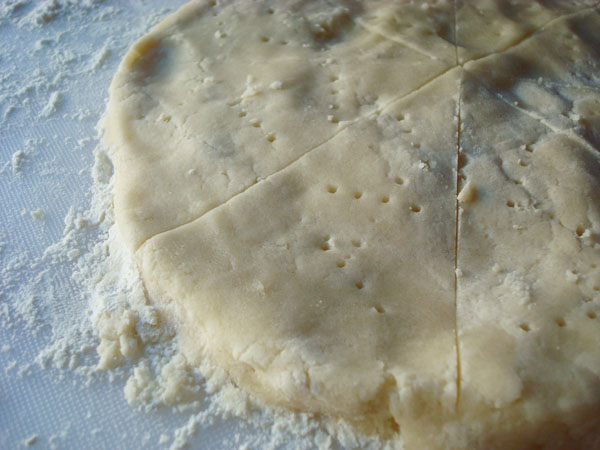 If baking as a large round or as small cutout cookies, transfer to a parchment-lined baking sheet.
Step 6:
Bake in the preheated oven for 25 minutes, or until the sides and bottoms are lightly browned but the top is just set.
Step 7:
Let cool on the pan for about 5 minutes before transferring to a wire rack to cool completely. Don't get greedy, or you might burn your mouth.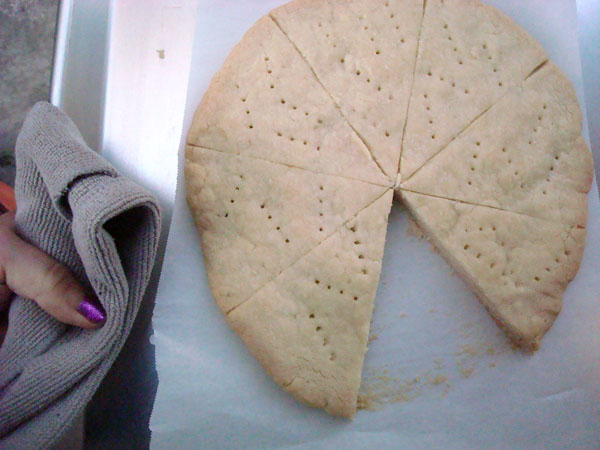 Now that you have the mode to make perfect shortbread, here are some suggestions to make it even better: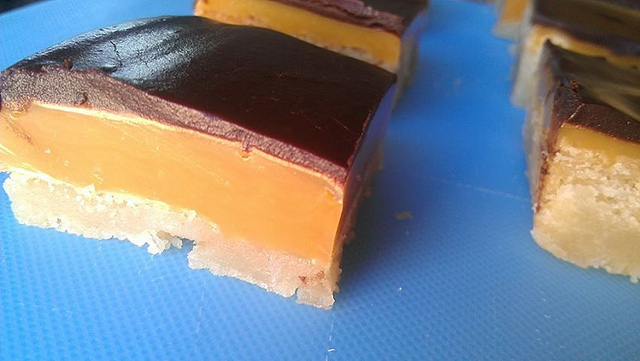 Add a tablespoon of rosemary, lavender or an herb of your choosing.
Dip the shortbread in melted chocolate.
If baking in a square pan, top with a layer of caramel or dulce de leche, then add a thin layer of melted chocolate on top. You've got what they call "Millionaire's Shortbread," a name probably owing to the extremely rich nature of the finished bars.
Crush the shortbread and use it for a decadent cookie crumb crust for a pie.
Use the cookies to garnish what promises to be an amazing ice cream sundae.
Use the cookies as bookends for a wonderful s'more.
What's your favorite shape of shortbread?