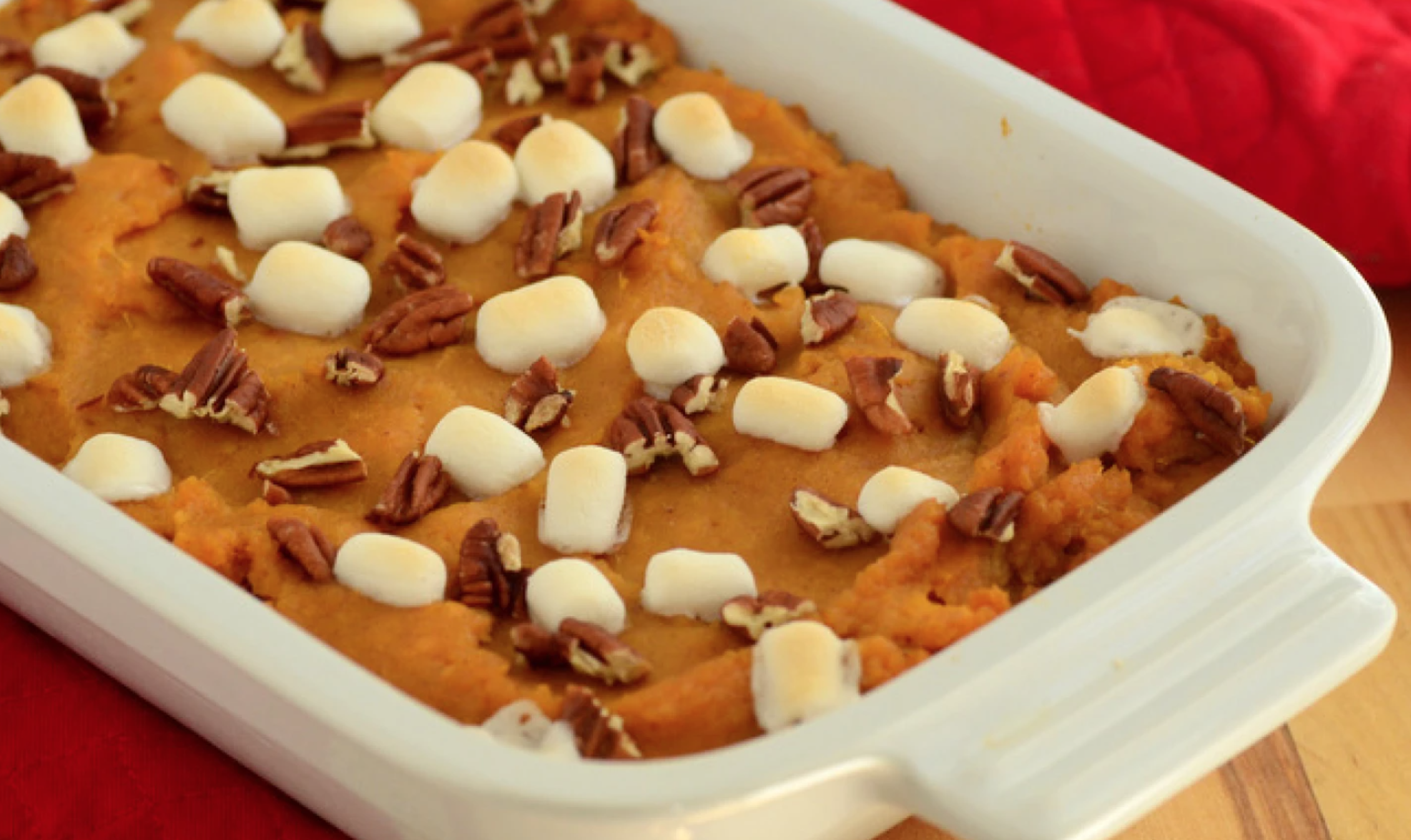 Marshmallows with dinner is definitely an idea we can get behind. But when it comes to Thanksgiving dinner, a little moderation makes sense. After all, we have save room for pie. This lightened-up take on a classic sweet potato casserole is slightly healthier, and still just as delicious as you want it to be. And because it dials down the sugar, the natural flavor of the sweet potatoes really shines.
Lighter Sweet Potato Casserole
Yield: Serves 8-10
Ingredients
2 to 2½ lbs. sweet potatoes, peeled and cut into 1″ chunks
¼ cup packed dark brown sugar
1 tablespoon molasses
½ teaspoon salt
1 teaspoon ground cinnamon
½ teaspoon ground nutmeg
Pinch of pepper
¼ cup milk
1 large egg
⅓ cup coarsely chopped pecans
¼ cup mini marshmallows (optional)
Instructions>
1. Preheat oven to 350 F. Place the sweet potatoes a medium saucepan and cover with water. Bring to a boil, then reduce heat slightly and simmer for 15-20 minutes, or until sweet potatoes are tender. Drain and transfer to a large bowl to cool slightly.
2. Mash sweet potatoes with a potato masher. In a separate small bowl, whisk together sugar, molasses, salt, spices, milk and egg. Add to mashed sweet potato and stir to combine.
3. Transfer mixture to a casserole dish or pie plate and spread into an even layer. Sprinkle chopped pecans on top.
4. Bake for about 25 minutes, until the casserole is very hot throughout and the outer edges are beginning to color. Sprinkle on marshmallows if desired and cook for another few minutes until the marshmallows are softened and slightly browned.
Cool slightly before serving.