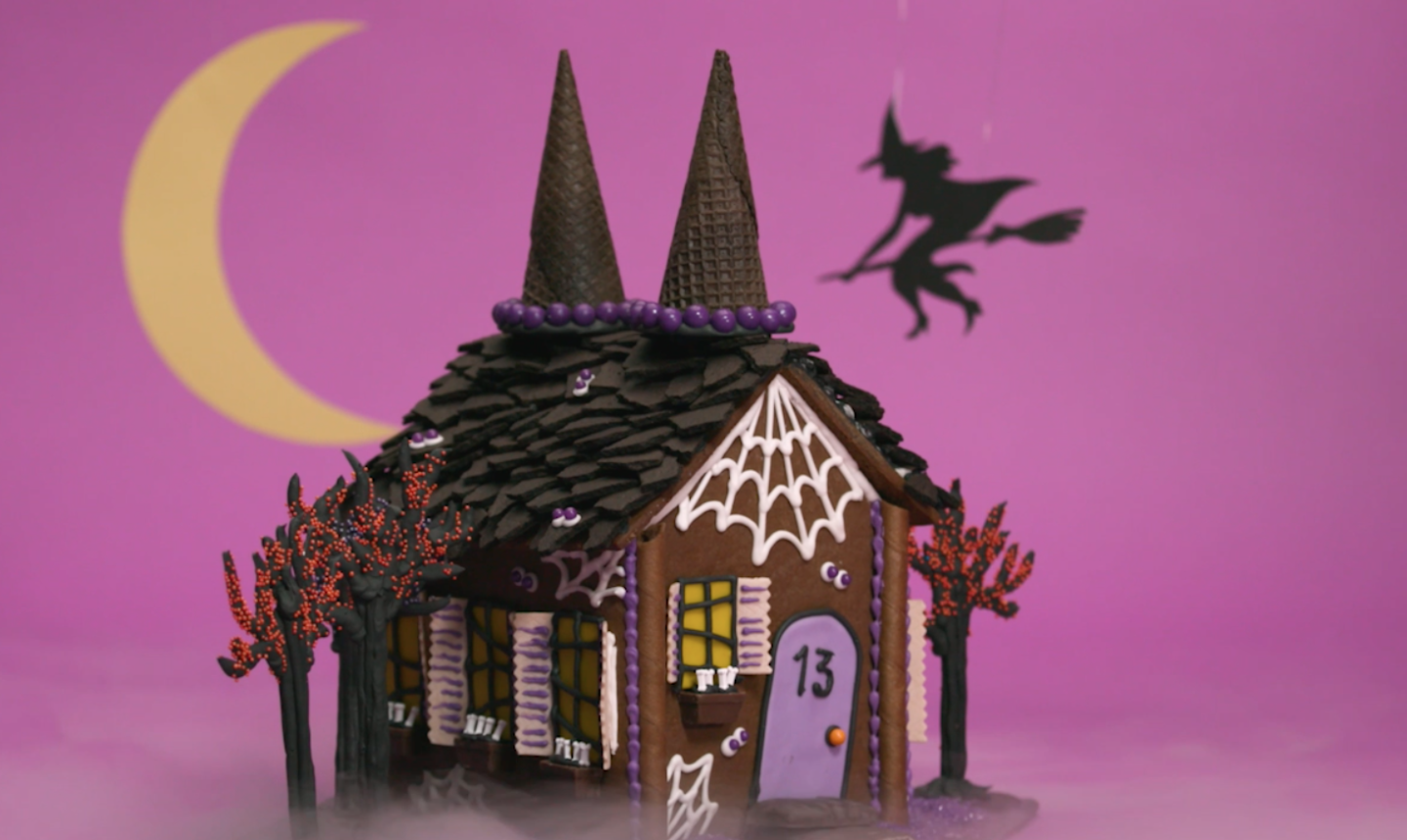 Gingerbread houses are way too much fun to save for just once a year, so trade in your candy canes for cobwebs with this oh-so-spooky version. Come closer and have a bite… if you dare.
Haunted Gingerbread House
Level: Easy
What You Need
Gingerbread house
Yellow and purple fondant (buy it or make your own)
Knife
Sticks of gum
Pinking scissors
Mini chocolate bar
Piping bag
Small round piping tip
Larger round piping tip
Black, white and purple icing
White bones hard candy
Pearl sprinkles
Chocolate cookies
Chocolate ice cream cone
Parchment paper
Pretzel stick
Instructions
1. Shape Your Fondant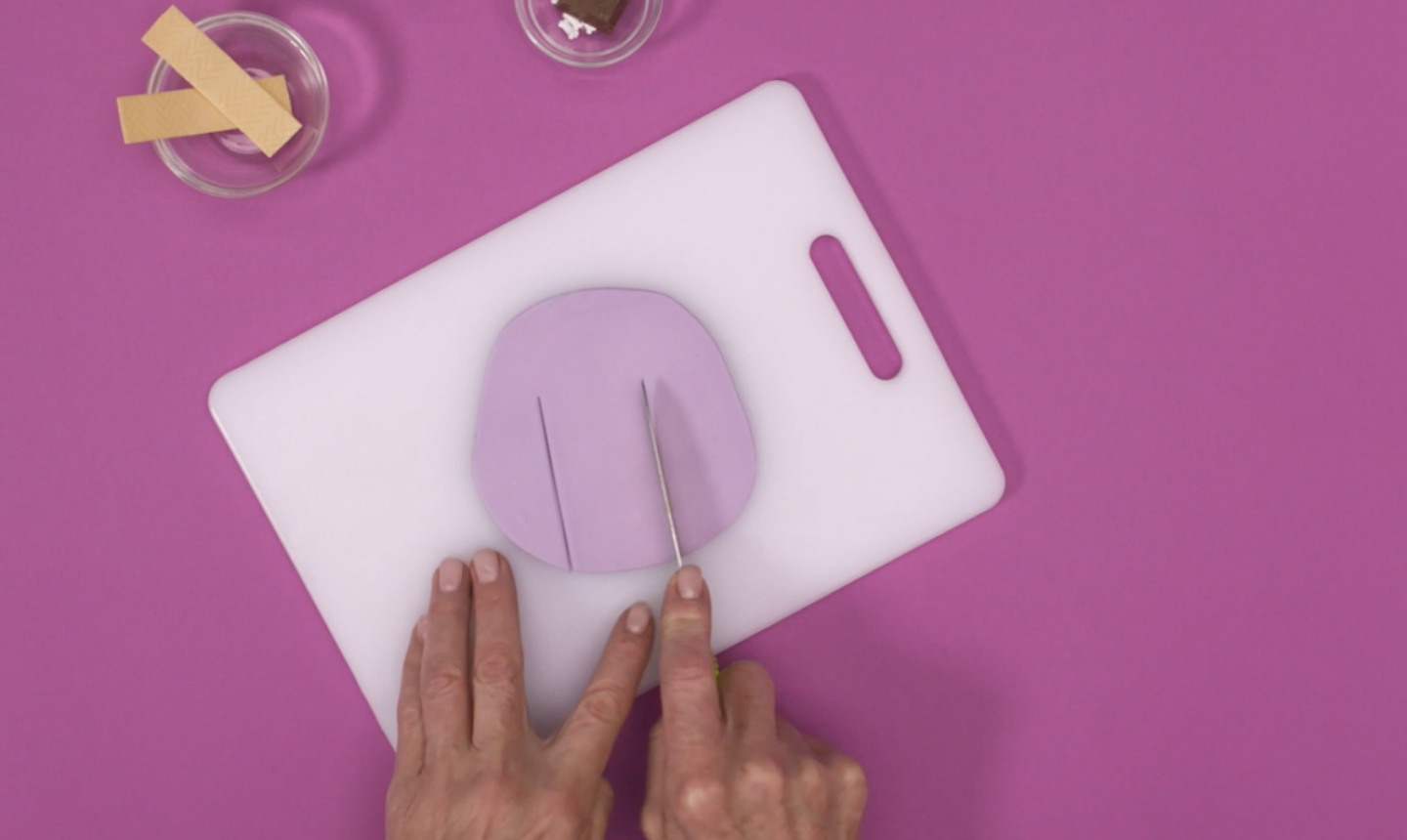 Roll out your purple fondant until it's flat, and use a knife to cut out a shape for your door. Roll out yellow fondant and use your knife to cut out squares and rectangles. These shapes will be the house's windows.
2. Cut the Gum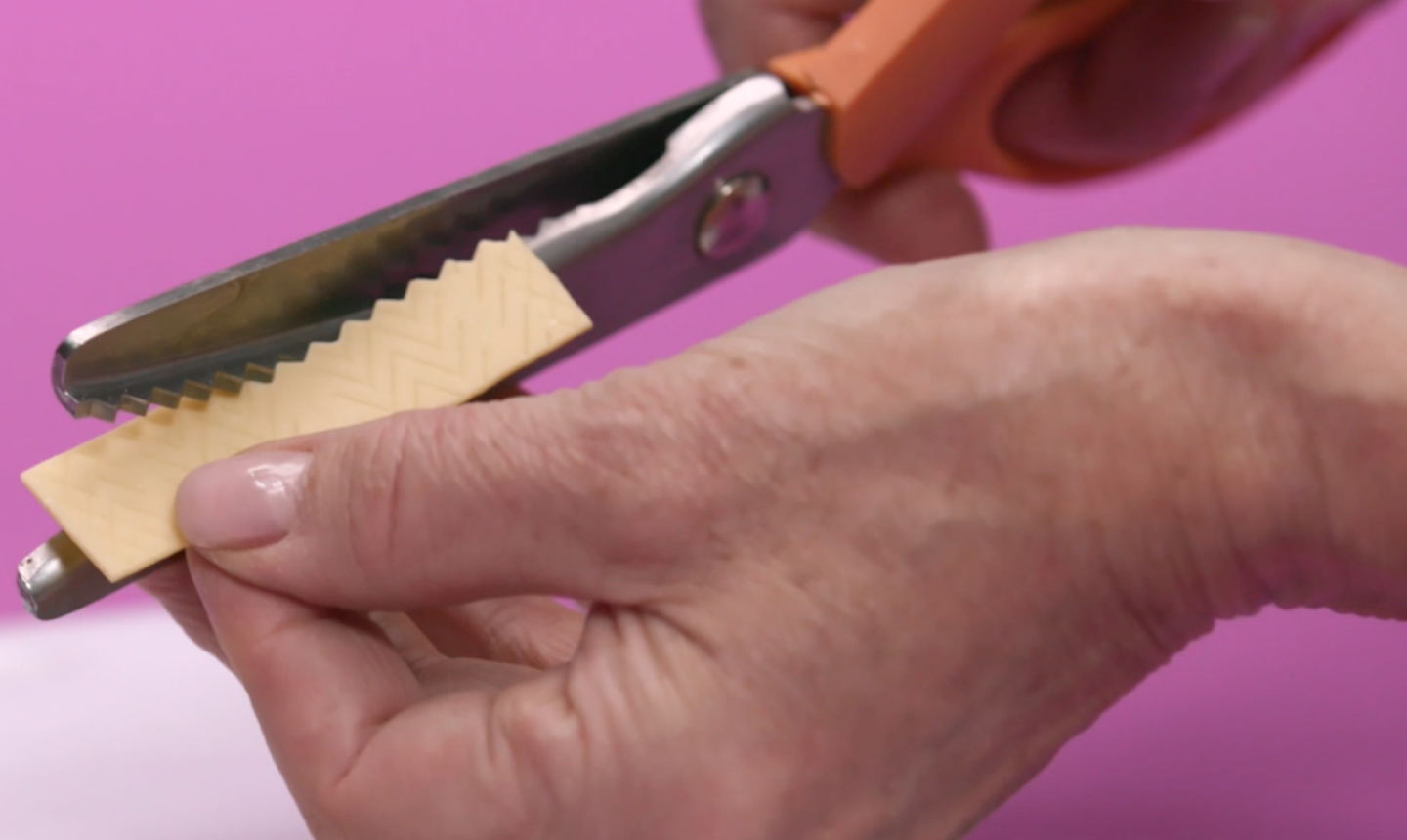 Choose sticks of gum that match your color scheme. (If you're going yellow and purple like us, Juicy Fruit is a good option). Cut along one long edge of the gum with pinking scissors, so one side is straight and the other is saw-toothed. Cut as many pieces of gum as you'll need to make shutters for all the windows on your house.
3. Make a Box of Bones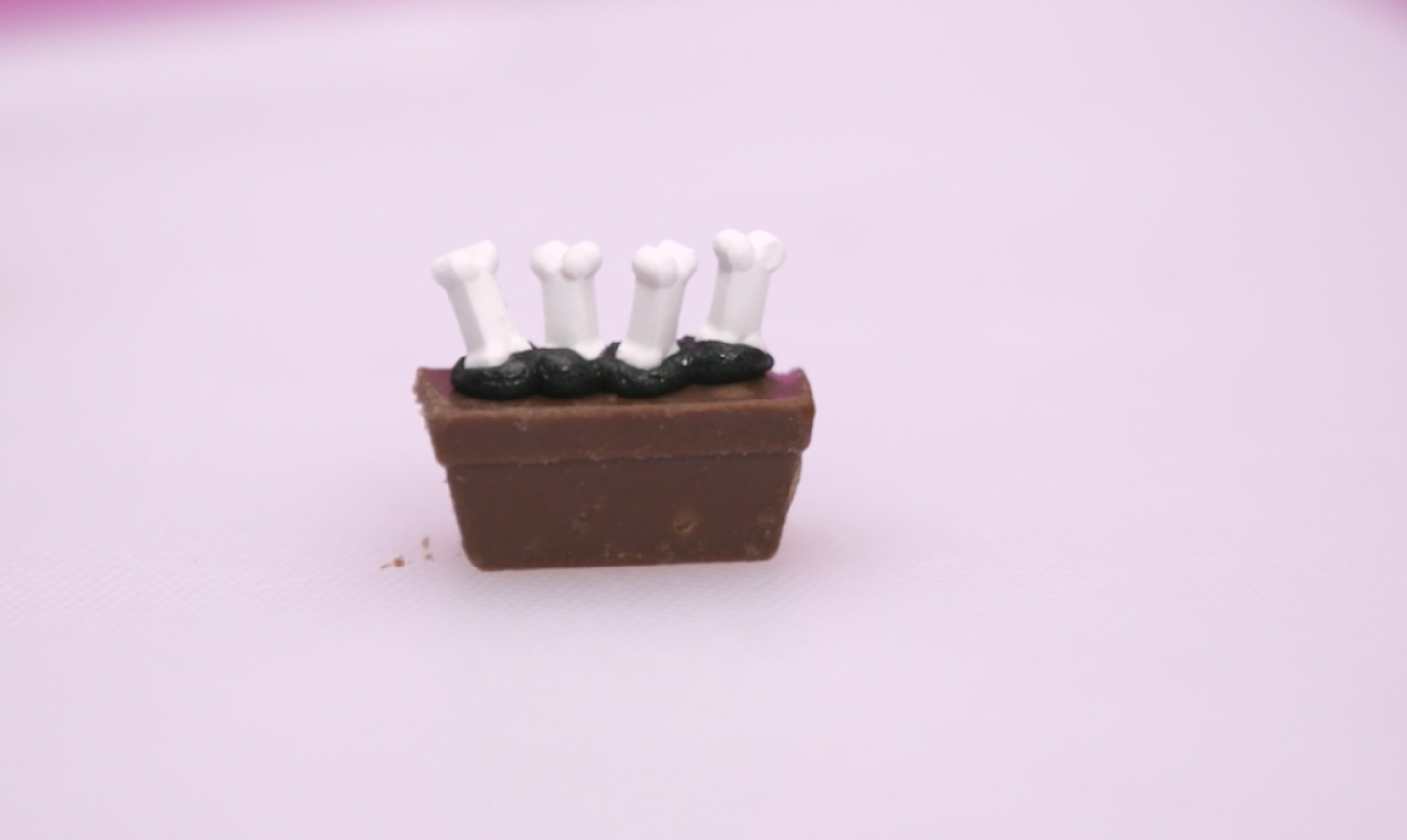 Grab a mini piece of candy, like a mini Kit Kat bar, and cut it in half. Spoon some black icing into a piping bag fitted with a small round piping tip. Pipe icing onto one side of the candy. (If your candy has one base that is slightly bigger than the other, use that side.) Stick some white bone candies into the icing. Repeat to make as many boxes as you like, then set them aside with your fondant and gum.
4. Place All Your Pieces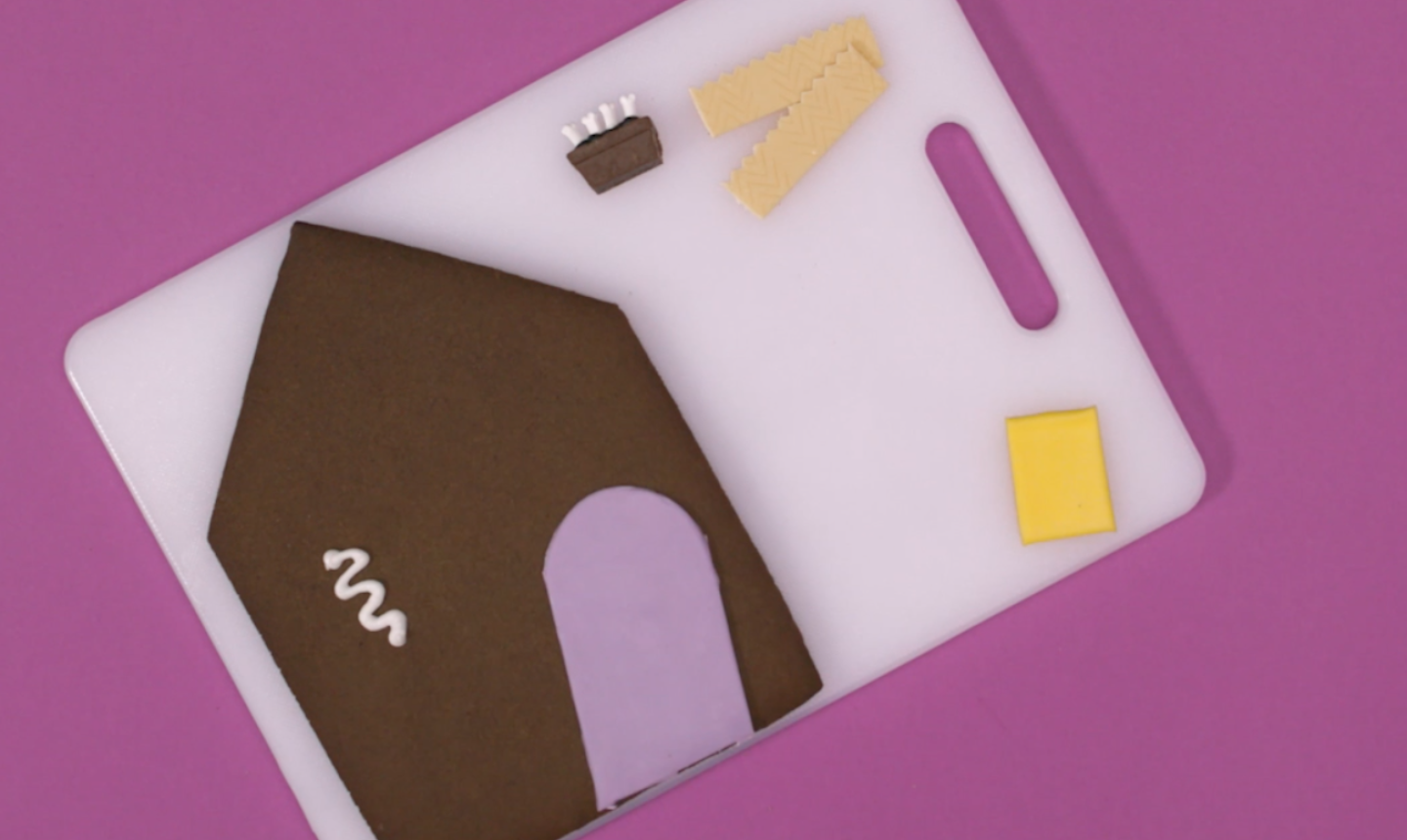 Now it's time to place everything on your haunted house. Use icing to attach your fondant door and windows. You can go ahead and dress up all four walls of your house at this point. Don't agonize over getting everything perfectly aligned — remember that this is a haunted house, and it's more fun if things are a little crooked.
5. Spider Webs and Spooky Eyes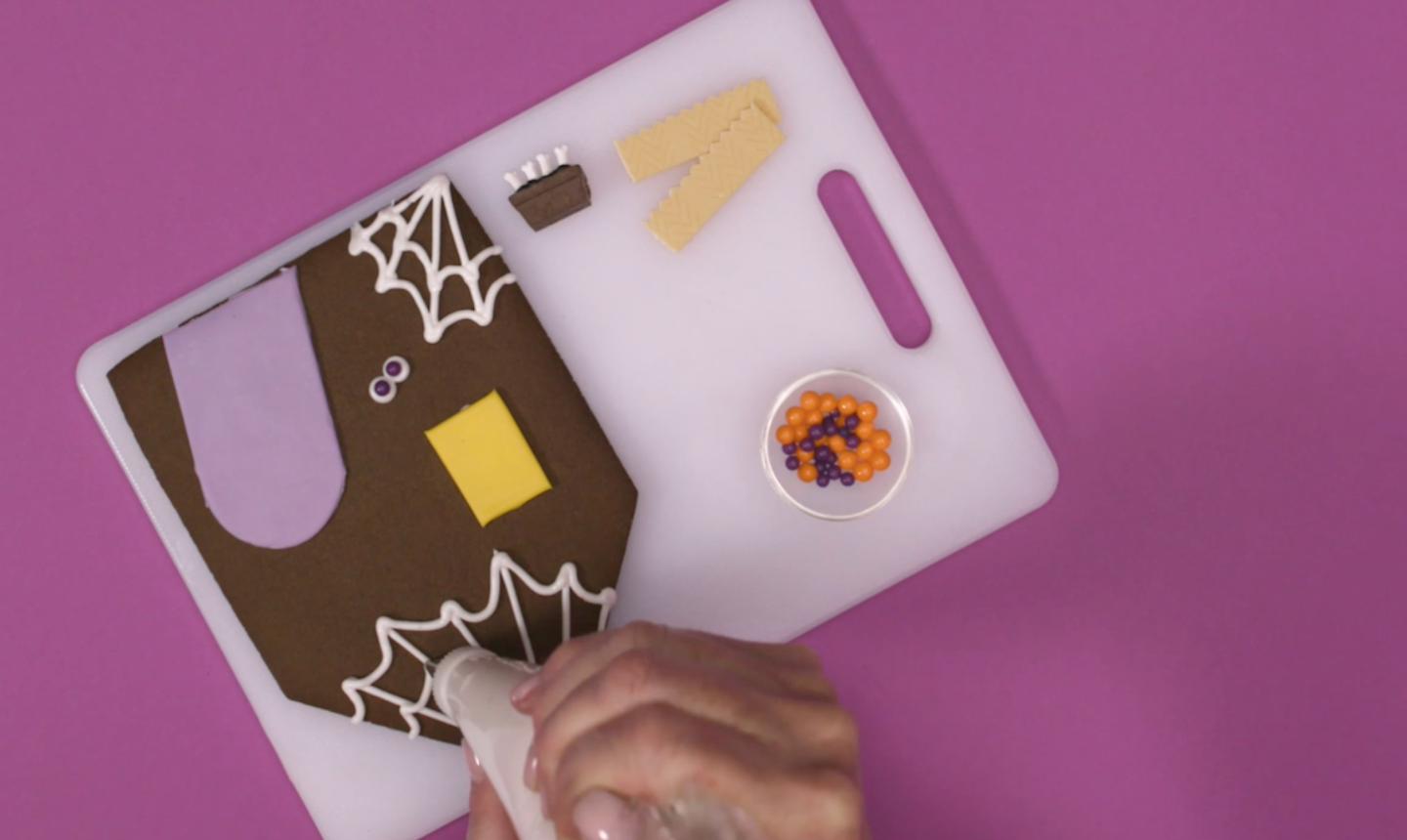 Using your small round piping tip, decorate your haunted house with big spider web designs. Then, add a pair of little eyes peeking out from the house — just pipe two dots of white icing and stick on colored pearl sprinkle pupils.
6. Get Detailed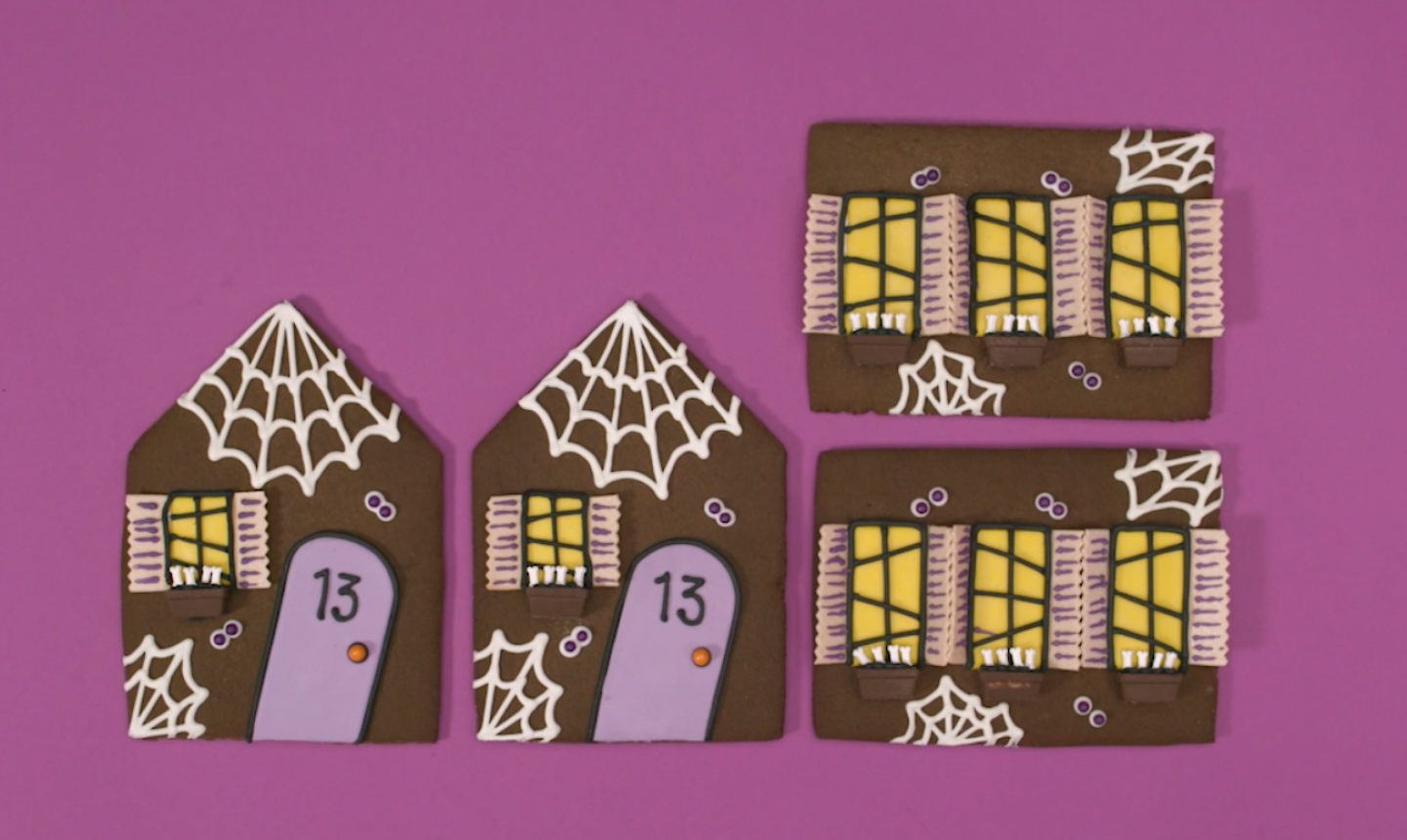 On either side of your fondant windows, use icing to place the gum, making sure the straight edge is along the window's edge to make little shutters. Pipe black icing to outline the window and define the window panes. Then, use icing to secure the mini chocolate candy below the window, with the bones sticking up, to make ghostly flower boxes.
Continue piping out the details — outline your door and give it a house number with a little doorknob. Use more icing to pipe lines across the shutters to create texture.
7. Assemble Your House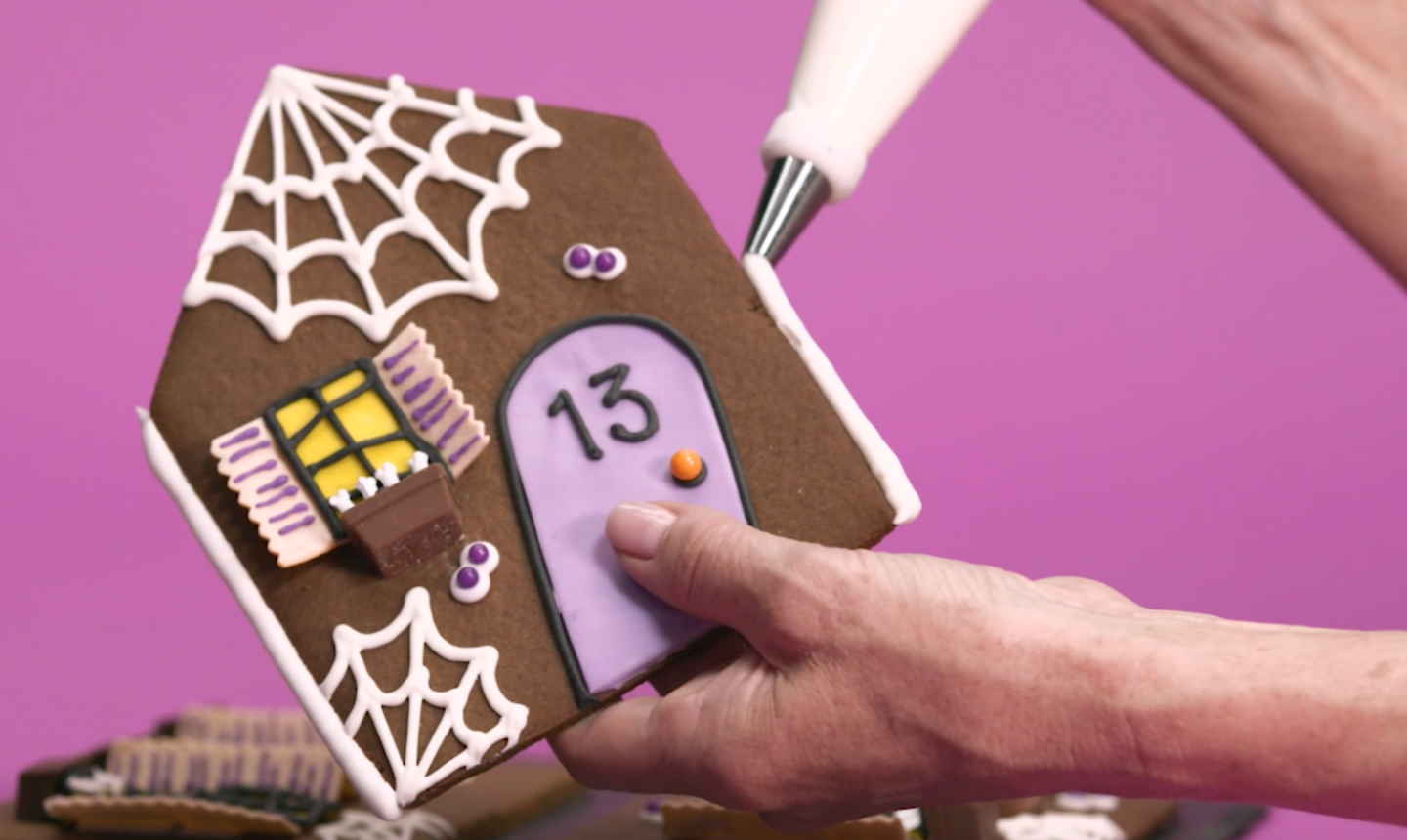 When each side of your haunted house is decorated, it's time to piece it together. Use your bigger round piping tip to spread icing along the edges and stick the walls together.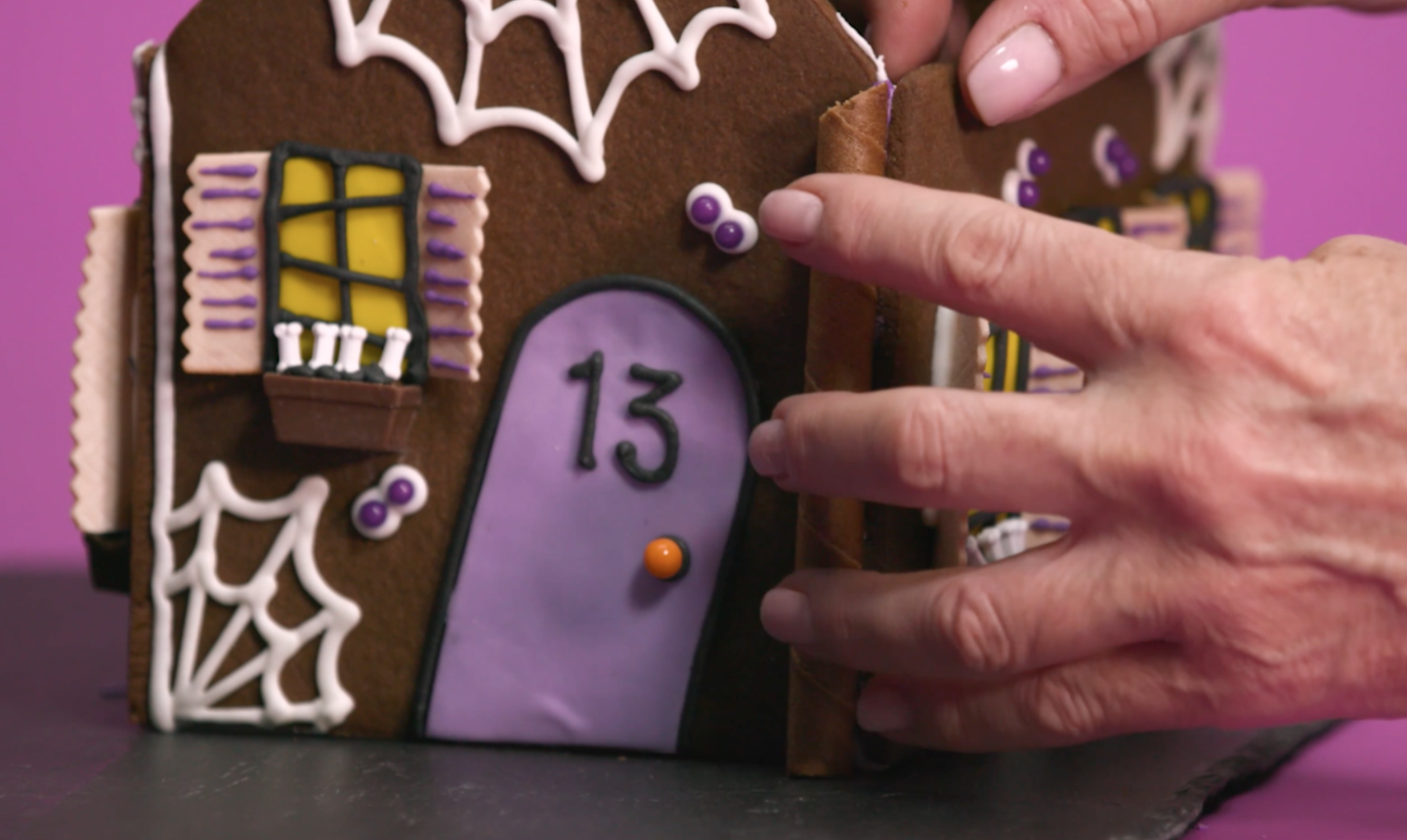 Once your frame is built, pipe over the seams with purple icing and fasten on chocolate sticks.
8. Spookify the Roof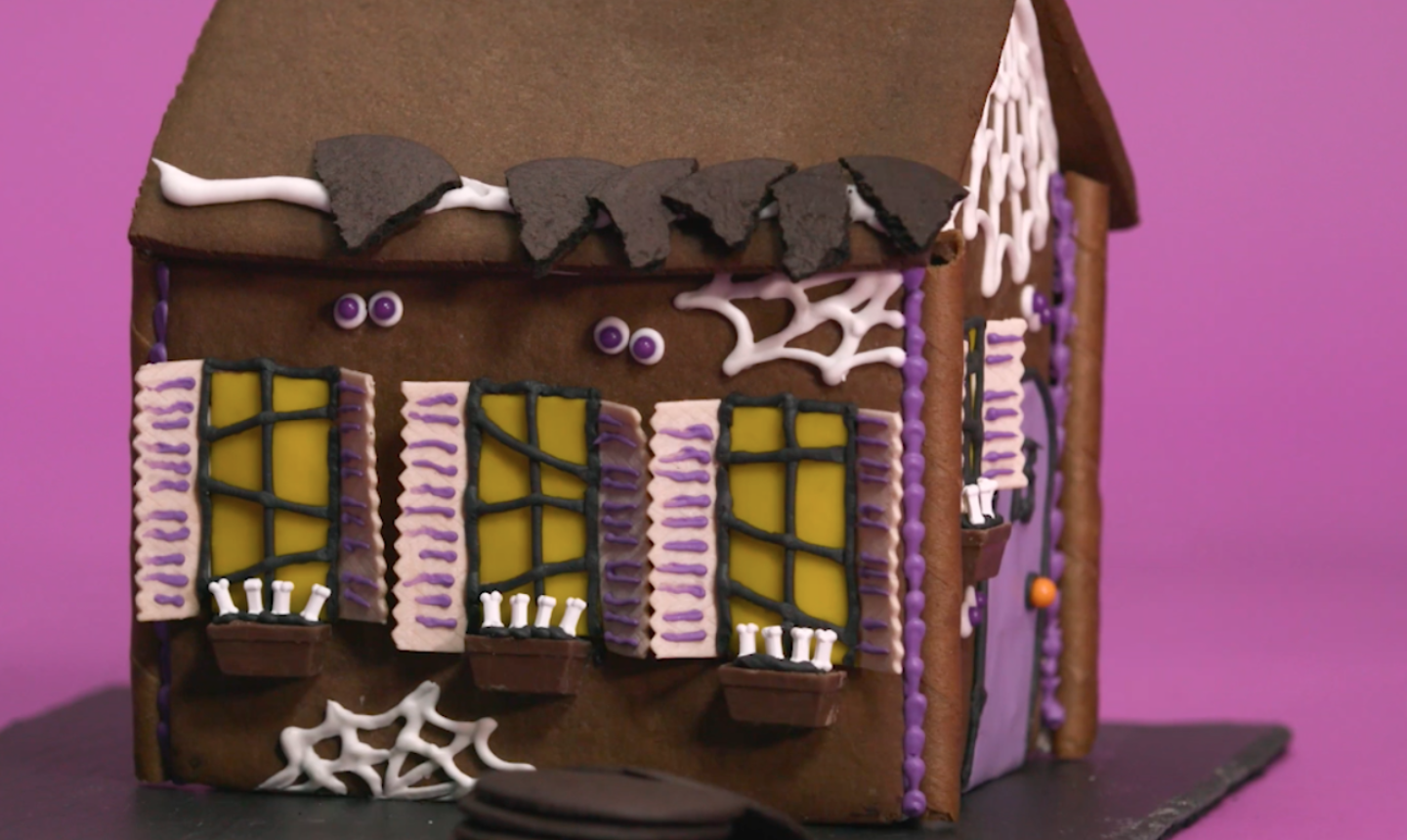 Use more icing to secure the roof, then make it just as fabulous as the rest of the house: Break up some thin chocolate cookies and use icing to layer them onto the roof to create ragged shingles. When your roof is covered, give it some creepy eyes, too!
9. Add Ice Cream Cone Accents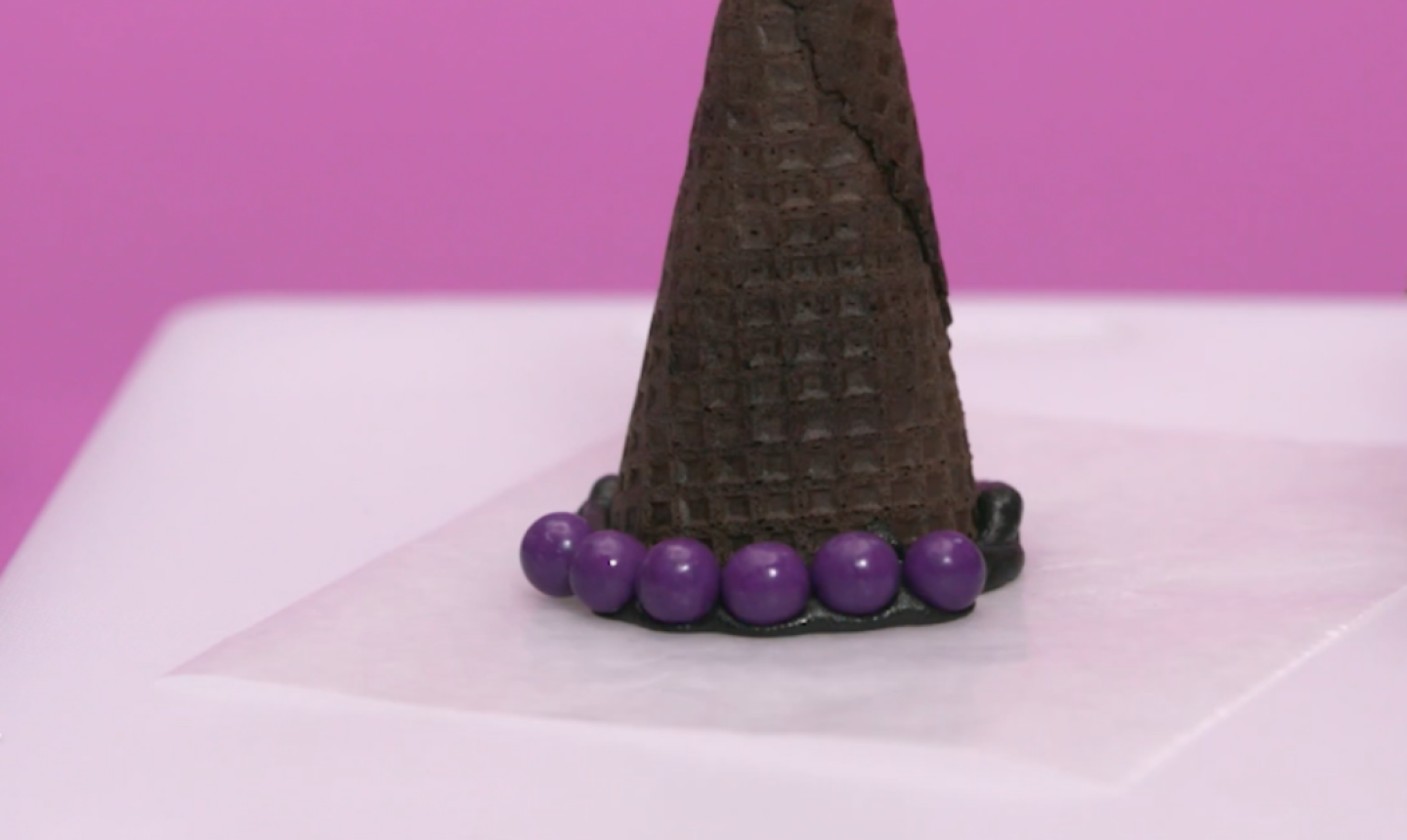 To make your turrets, start with the chocolate ice cream cones. Pipe black icing outside the base of each cone. Place on a piece of parchment paper and decorate with purple pearl sprinkles and candies.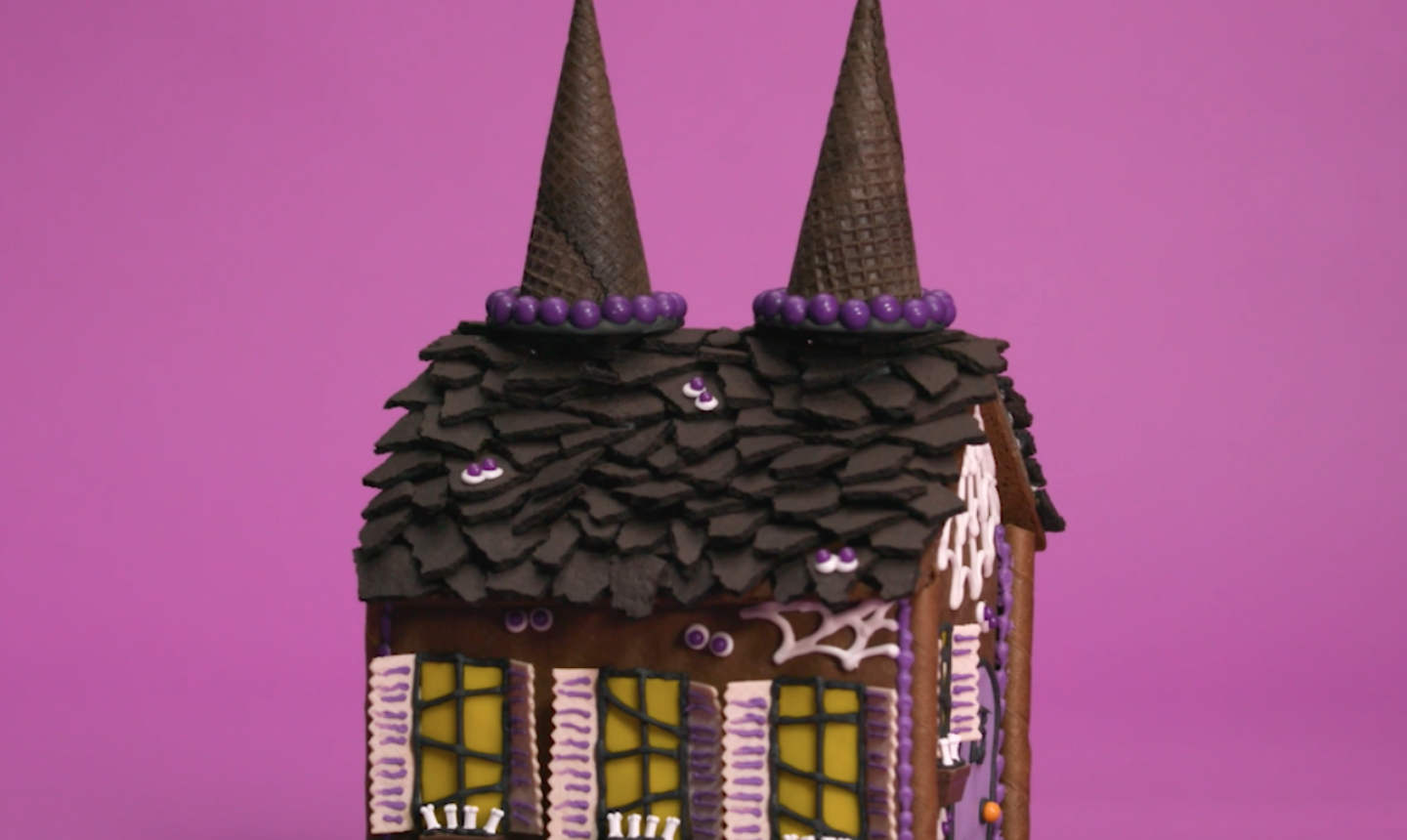 Once these dry, place them up on the roof.
10. Terrify Your Timber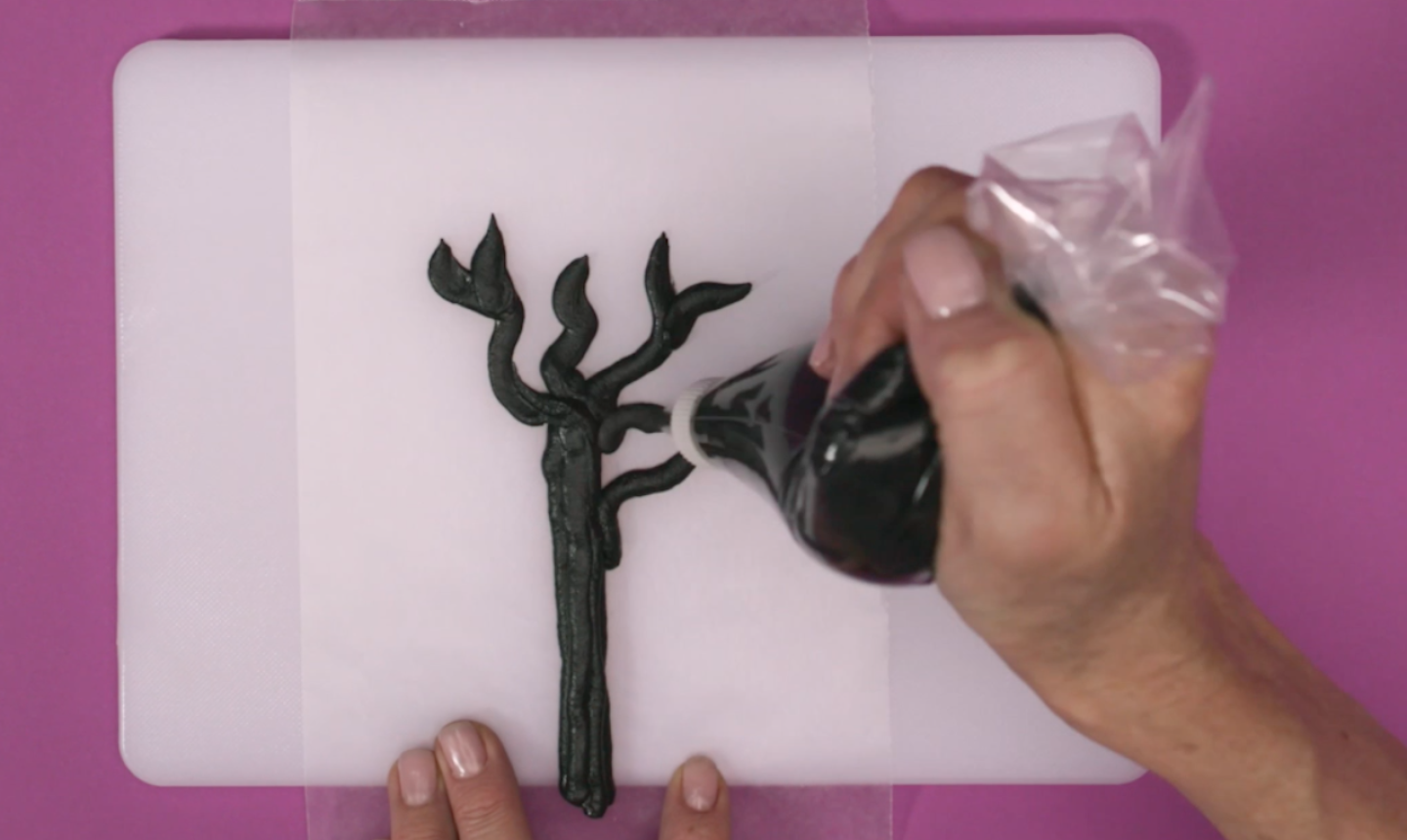 On another piece of parchment paper, cover a pretzel stick with black icing. Then, pipe out branches and add decorative sprinkles. Allow these trees to dry.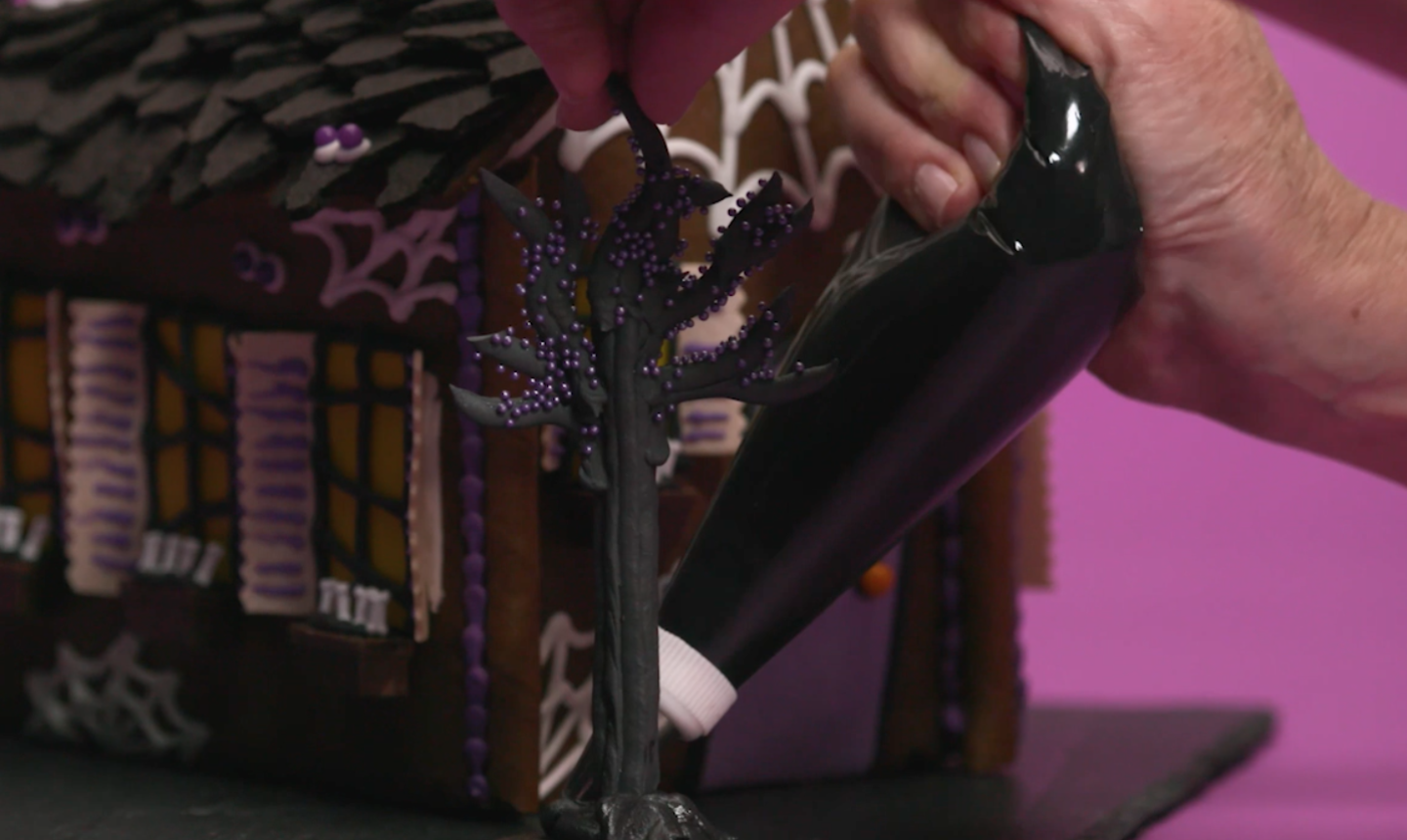 Place a cookie in front of the house and apply a generous amount of icing. When your icing tree is dry, carefully remove it from the parchment paper and place it upright on the cookie, adding more icing as needed to keep it in place. You can keep a lone tree as an accent, or make an entire haunted forest.
11. Decorate the Lawn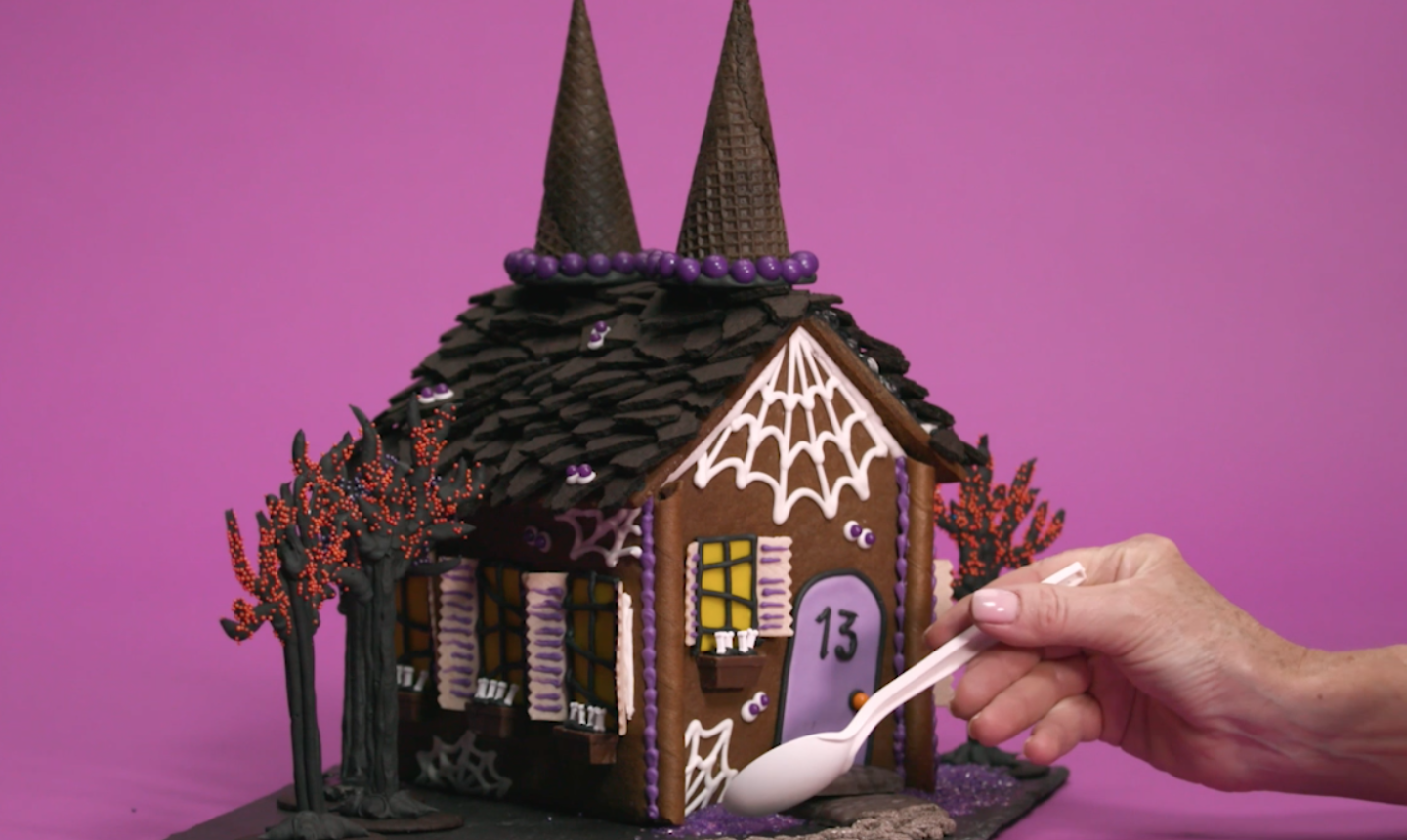 Your house is done! That is, unless you want to build a yard. Here's an easy way: use some chocolate graham cookies in front of the door to make a stoop, and add an Oreo O's path leading up to it. Spoon some purple sprinkles around for grass and your house is ready to scare the neighborhood kids!