During the Festival of Lights, wouldn't it be fun to impress your loved ones with these stand-up menorah Hanukkah cookies? Not only are they brilliant treats to enjoy during the holidays, but they're fun and easy to create. Get your cookie cutters at the ready!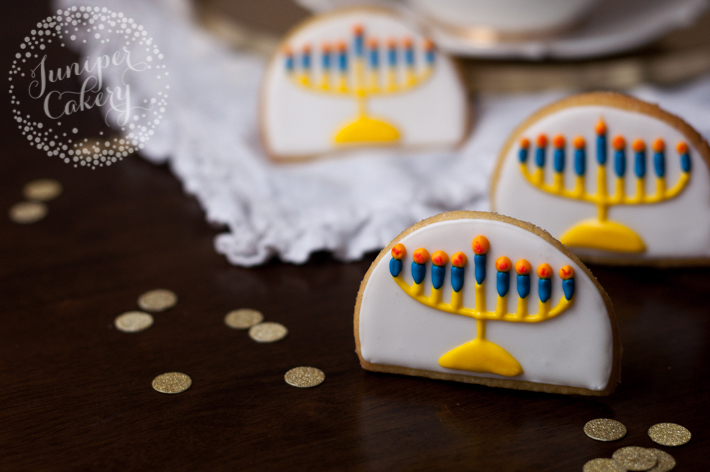 Essential Royal Icing Techniques for Stunning Sugar Cookies
Use royal icing to create the most beautiful sugar cookies around!Get My FREE Guide »
Decorated Hanukkah cookies tutorial
Materials:
Your go-to sugar cookie recipe
Medium circle cookie cutter
White royal icing in both piping and flooding consistency
Yellow royal icing in piping consistency
Orange royal icing in piping consistency
Blue royal icing in piping consistency
Disposable piping bags
Plain round piping tips
Cocktail stick
Small sharp knife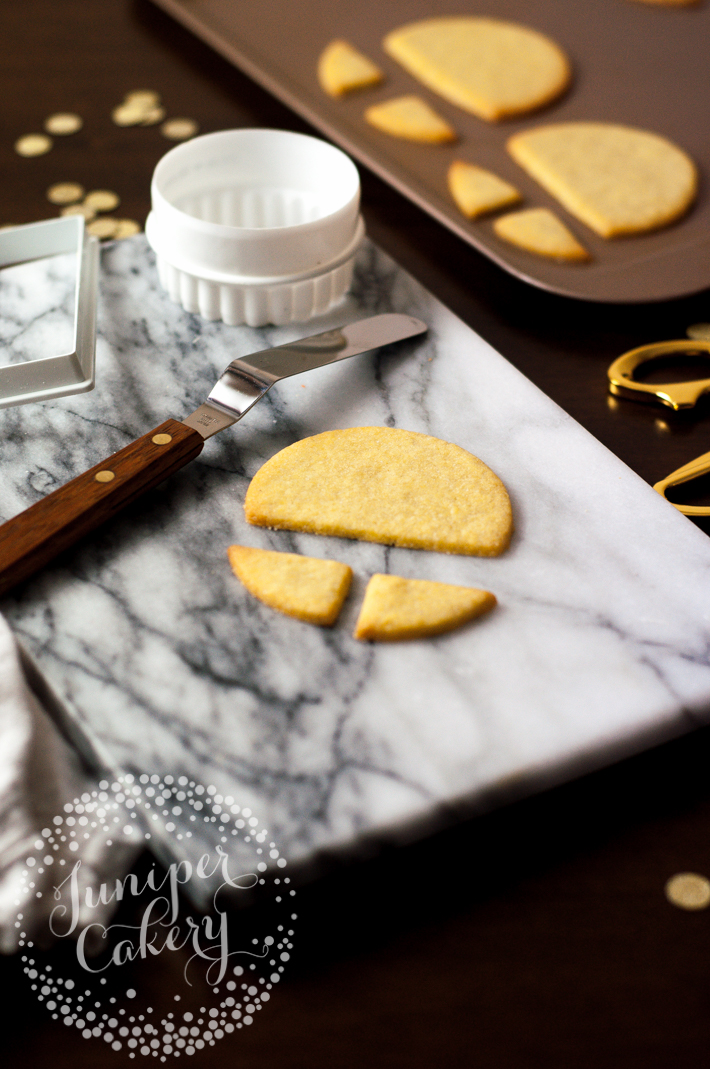 Step 1:
Mix your go-to sugar cookies according to the recipe and roll out the dough to a thickness of around 5mm. Take a medium sized circle cookie cutter and cut out as many circles as you need.
Step 2:
With a small sharp knife, cut away a third of the circle before cutting this smaller piece in half. You'll need these smaller pieces to help your cookies stand up so keep them handy.
Step 3:
Use a small angled palette knife to carefully lift each cookie piece and lay them out on a greaseproof lined baking tray. Make sure to arrange the pieces at least 2 inches apart to stop any cookies from baking together.
Step 4:
Chill the baking tray with the pieces in the fridge for 30 minutes to an hour.
Step 5:
Remove from the fridge and bake the cookies according to your go-to recipe. Make sure to keep an eye on your smaller pieces as they can bake faster than larger ones. Once baked leave aside to cool.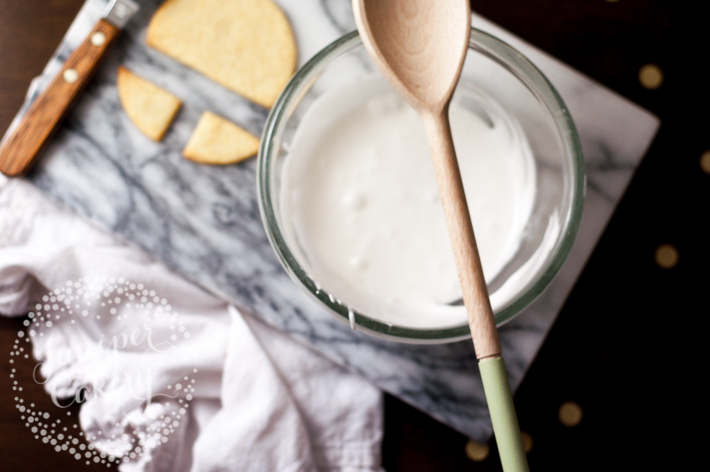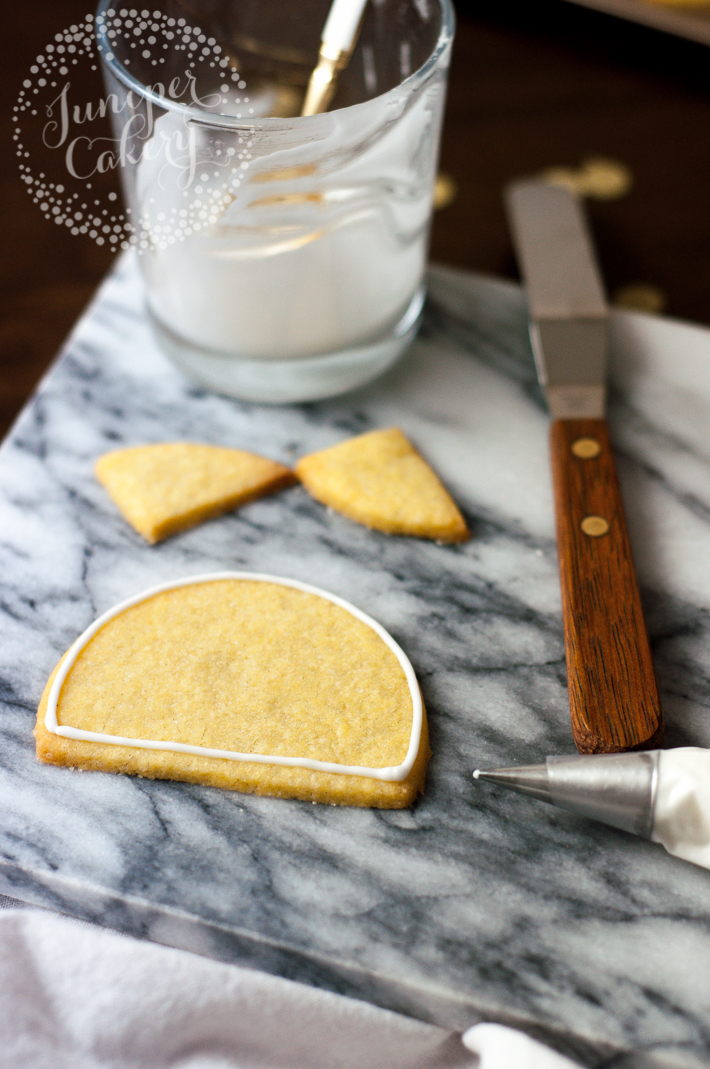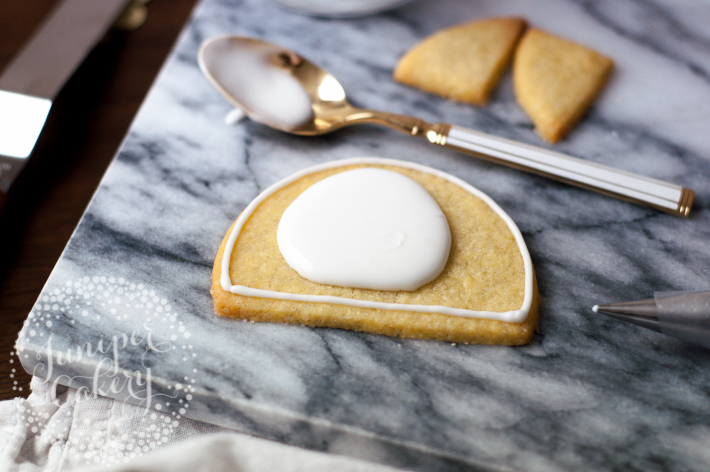 Step 6:
Once cooled, take the larger cropped circle cookie and pipe out a white outline using the piping consistency royal icing before filling this in with the white flooding consistency icing. If any bubbles appear, pop them with the sharp end of a cocktail stick and leave to fully set. Depending on the humidity of where you live, this can take up to 24 hours so be prepared.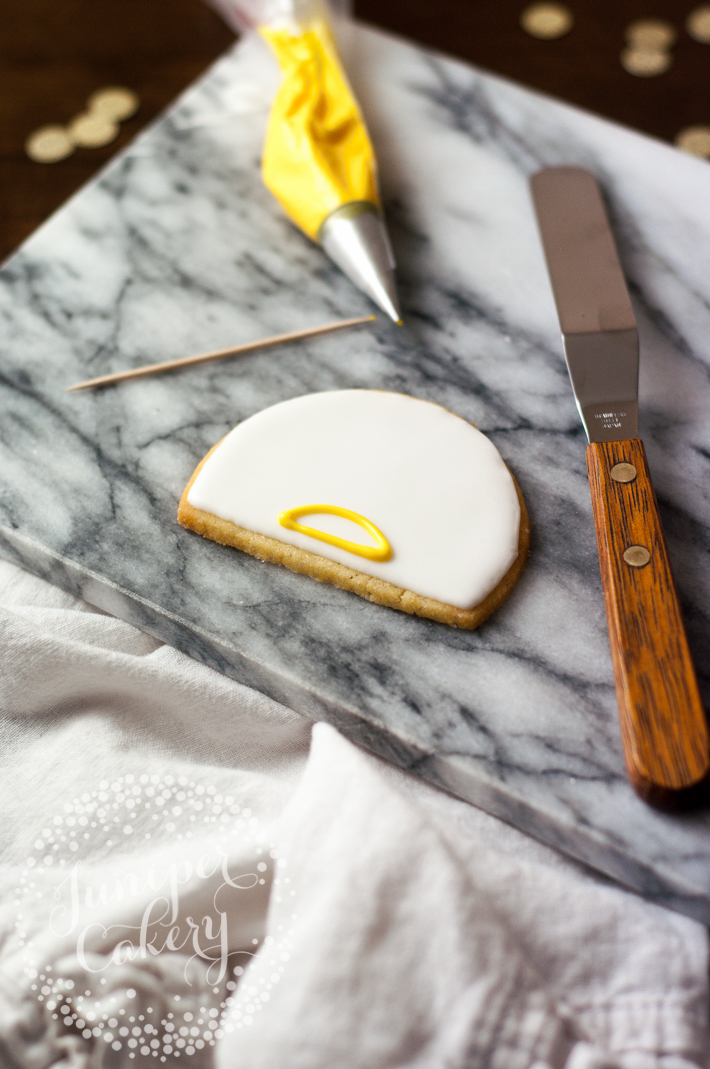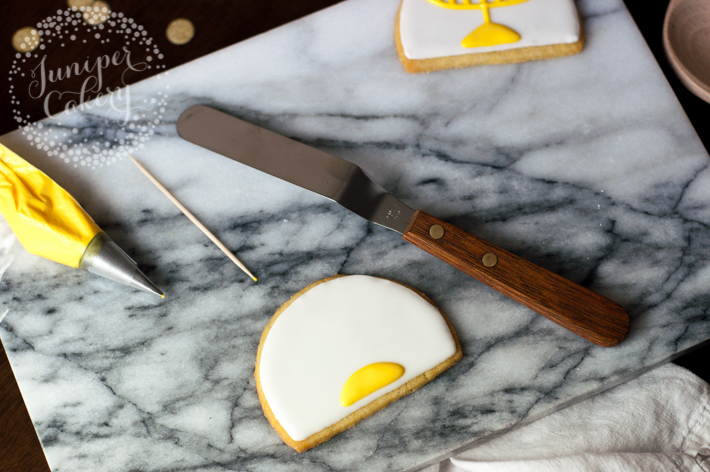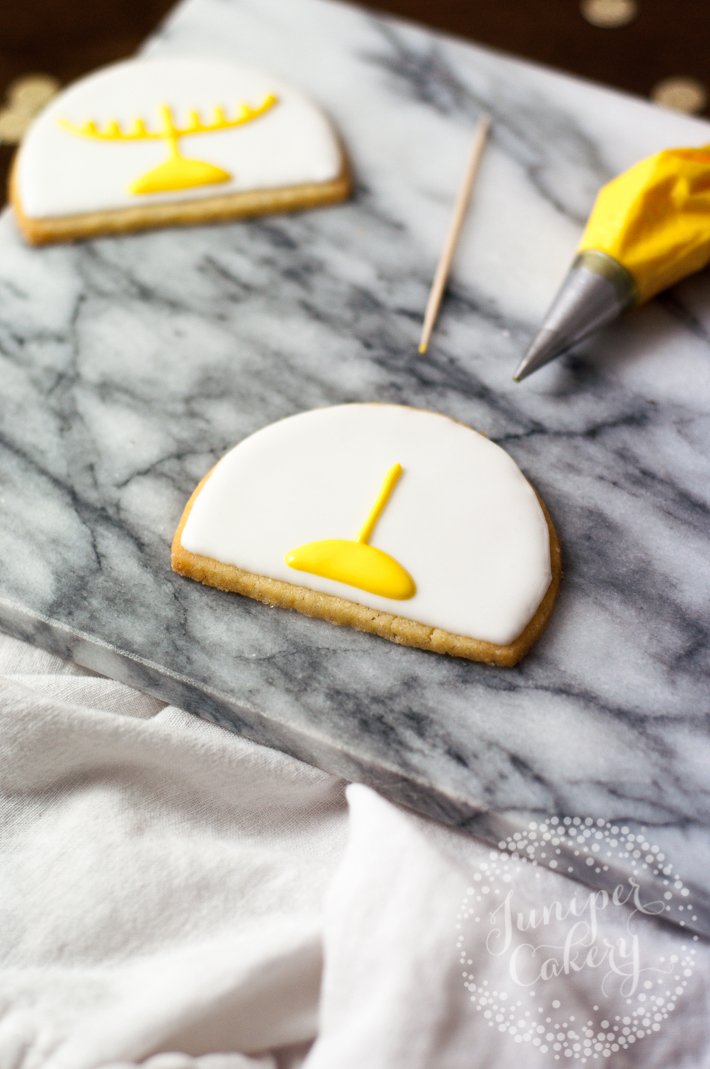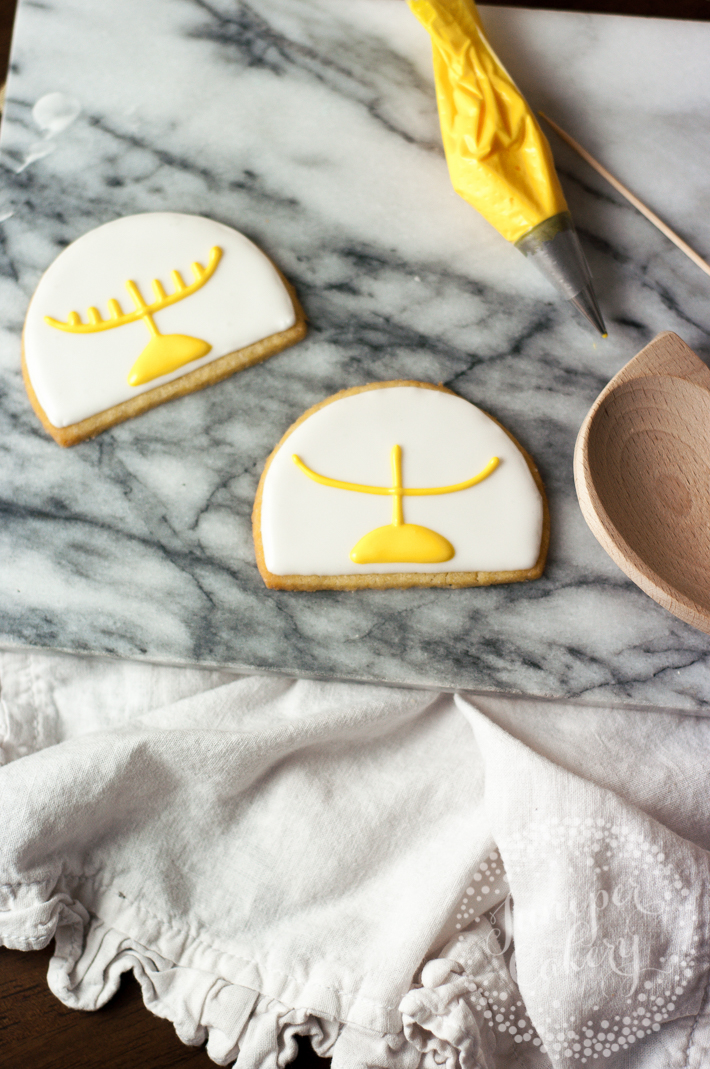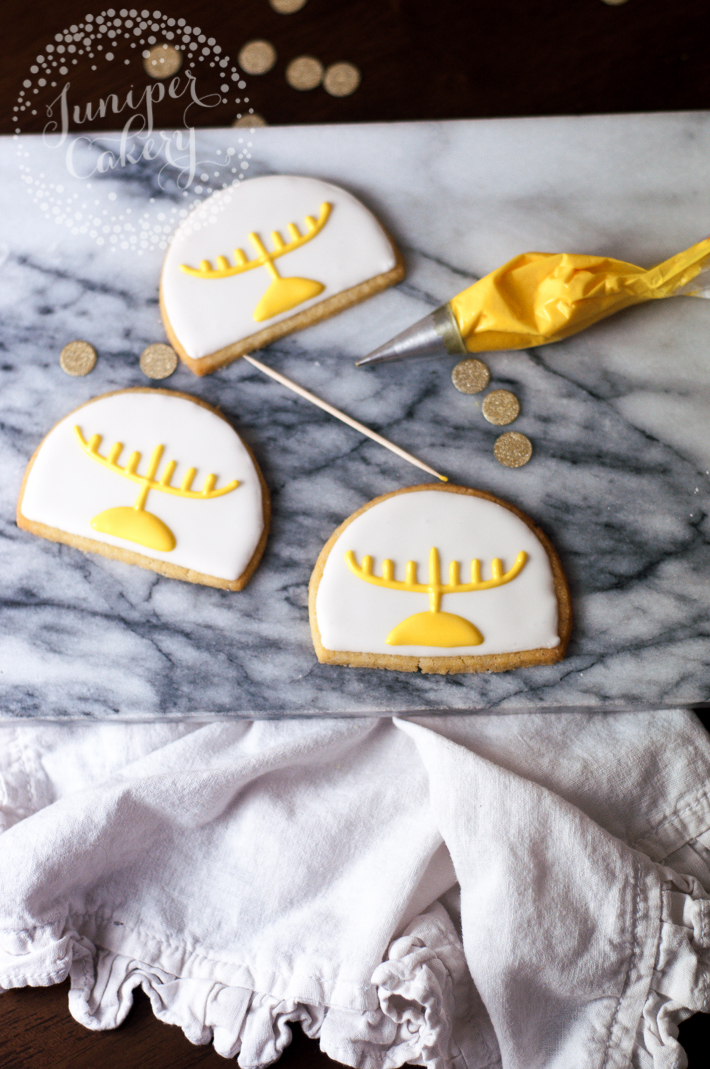 Step 7:
When the white royal icing has set, take your piping bag of yellow royal icing and pipe out a Menorah shape. If you're not too confident about doing so, it really helps to use edible ink markers to sketch out your outline or detail beforehand.
To create our menorah design we piped out a half circle shape at the base of the cookie before flooding it. We then piped a line from the top and center of the bottom of the menorah two thirds up the cookie (remember to make this line slighter higher than the others). A curved line was piped from one side to the other (make sure to leave space on either end for a piped candle and flame) with three smaller vertical lines piped inside on either side of the curve.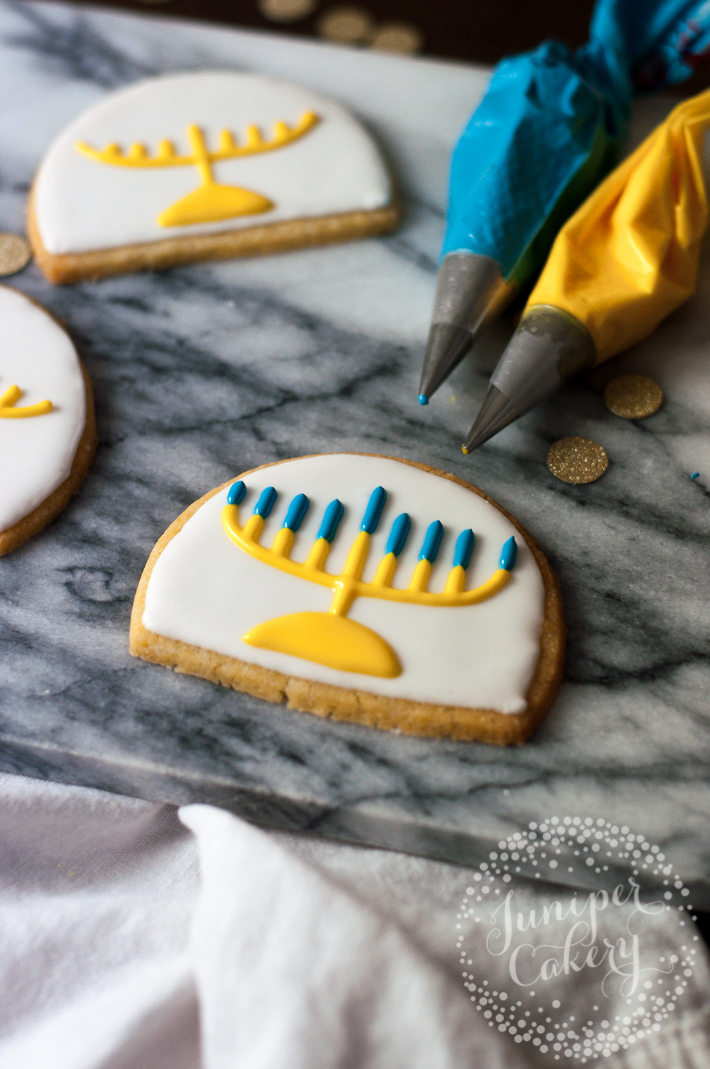 Step 8:
Now take a piping bag of blue royal icing fitted with a small piping tip and pipe out the candles of your menorah.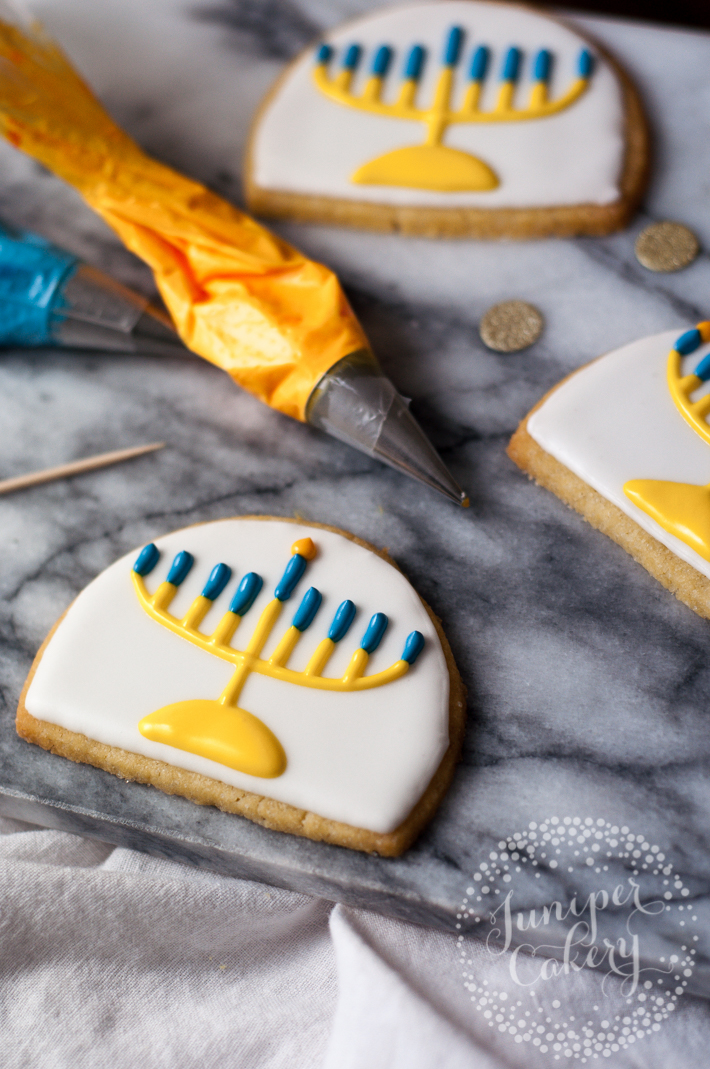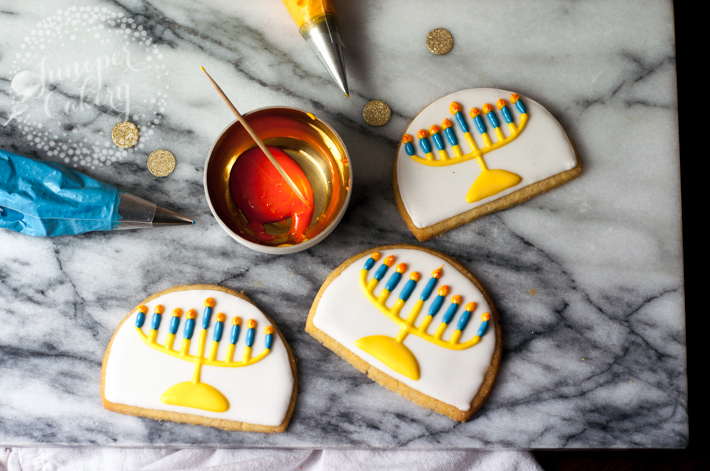 Step 9:
To create the flames, pipe upside-down teardrop shapes of the yellow royal icing above the candles piped in Step 8 and finish the centers with a small dot of orange icing. Use the clean end of a cocktail stick to drag out some of the orange royal icing upward. Leave your icing work to fully dry.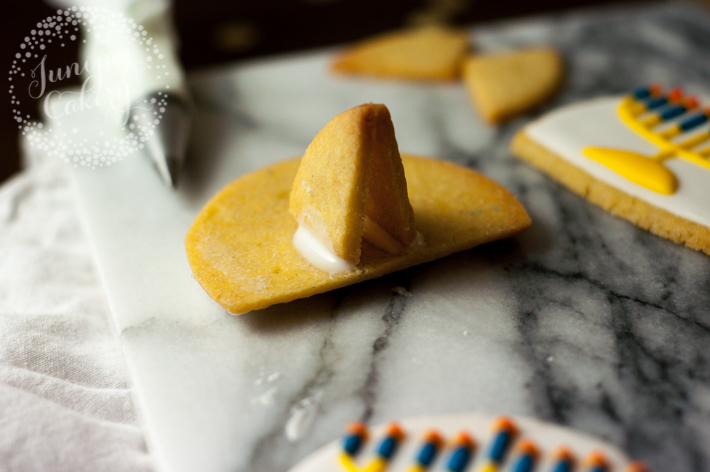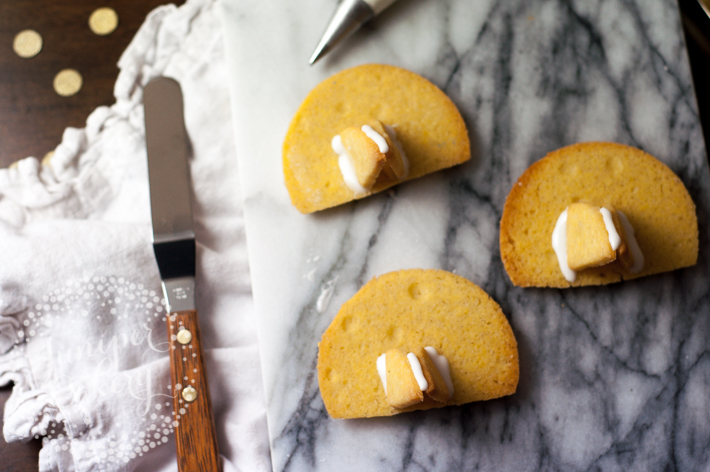 Step 10:
Take your decorated cookie piece and with some royal icing attach the smaller pieces to the back on opposite sides. The curved sides should face up with the two flat sides attached to the cookie and matching up to the bottom of the cookie respectively. Leave to dry. Once set your cookies will be able to stand!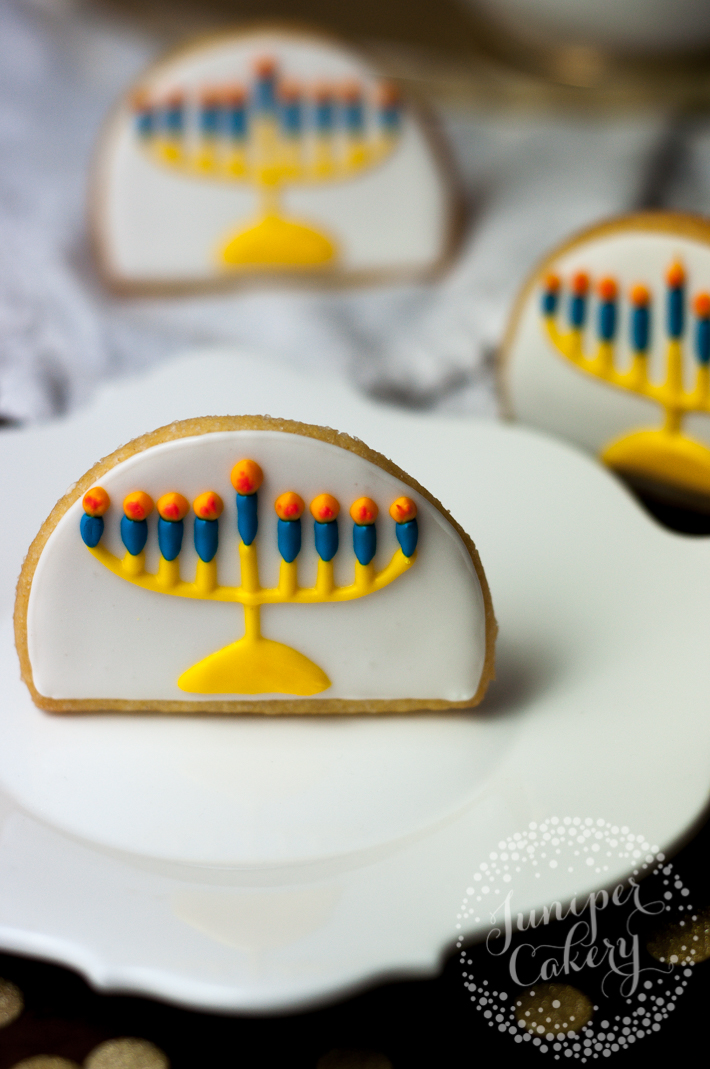 When it's time for celebration, these fabulous menorah cookies will look amazing next to napkins and plates at the dinner table. They'd also be perfect for dessert tables or even as delicious gifts.

You might also enjoy our tutorials for how to make Hanukkah cake pops and Hanukkah cupcakes.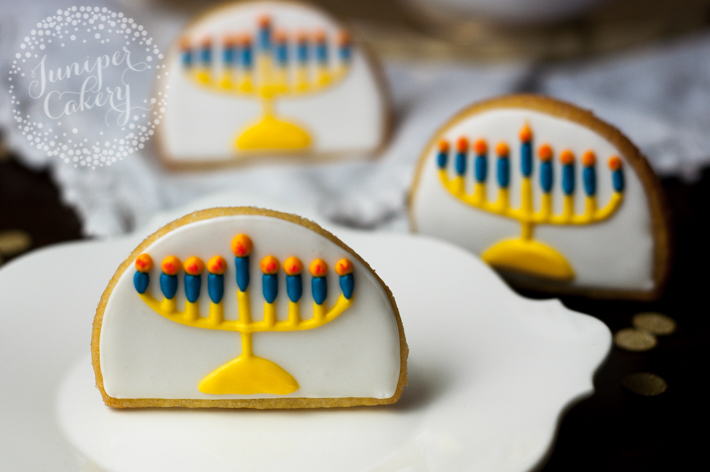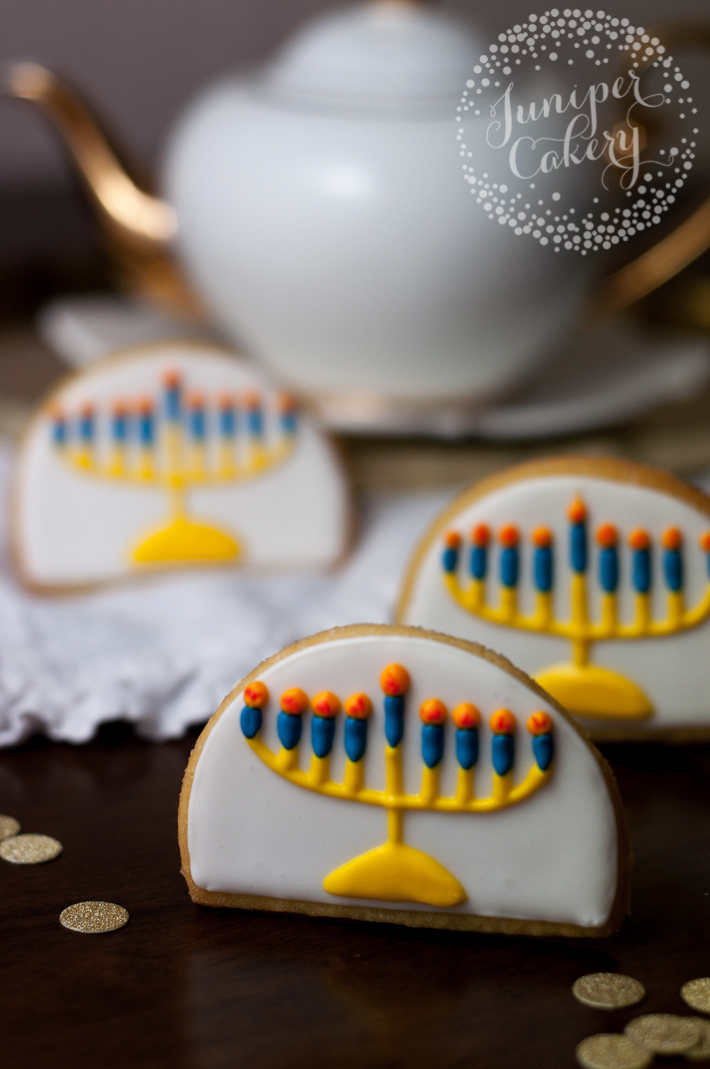 Essential Royal Icing Techniques for Stunning Sugar Cookies
Use royal icing to create the most beautiful sugar cookies around!Get My FREE Guide »