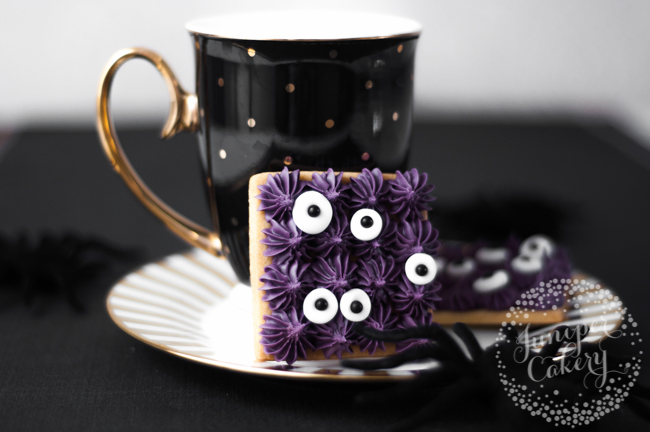 For Halloween, there's no shame in making quick, stress-free treats. These cookies are just the ticket: start with any basic cookie you like, add a few simple decorations and let the monster mash roll.
Monster Cookies
Level: Easy
What You Need
Freshly baked and cooled sugar cookies (in any shape)
Stiff-consistency royal icing in a bright color
Any "textured" small piping tip (grass, pastry, open star, closed star)
Disposable piping bags
White fondant
Small ball tool
Food-safe paintbrush
Edible glue
Black sugar pearls
Instructions
1. Make the Eyeballs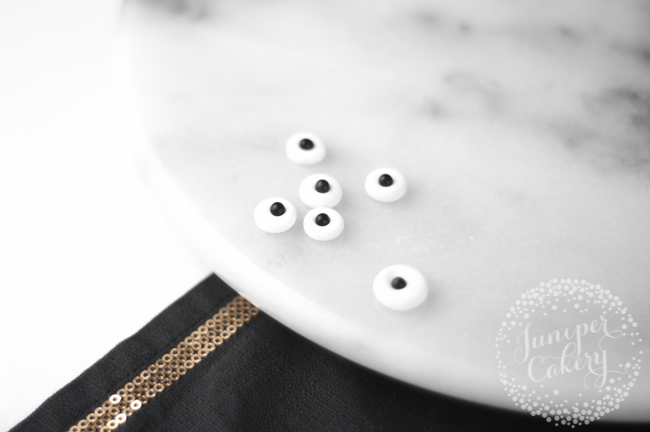 Roll out small bits of white fondant into balls. Don't worry about consistency — the more varied in size, the creepier they'll look!
Slightly flatten out each ball, and make a small indentation in each one using your small ball tool. Finally, use a paintbrush to dab a tiny amount of edible glue into the indentation, then place a black sugar pearl in the divot.
2. Frost the Cookies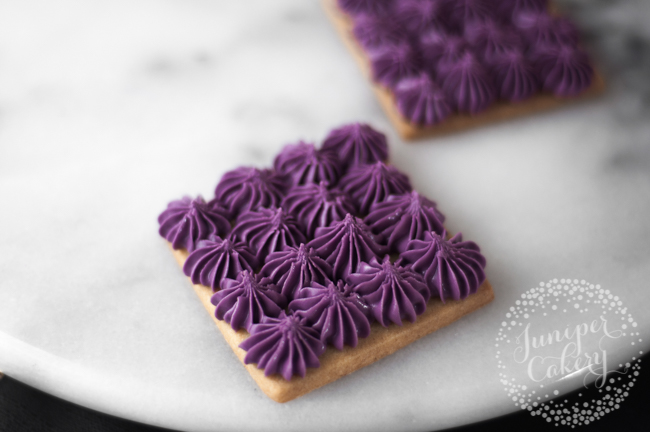 Fit your piping bag with a textured tip (like a star tip) to give your cookies a little fur-like texture.
Fill with your bag with stiff-consistency royal icing that's been dyed a fun, bright color. A stiffer consistency will give you peaks that can stand up straight and support themselves. If your icing feels too sloppy, sift in a teaspoon of powdered sugar at a time until you get the right consistency.
When your icing is ready, pipe the monster's fur all over the surface of your cookie. You can pipe in drops onto your cookie, or experiment with zig-zags, textured lines or swirls.
Here's an idea: if you're feeling adventurous, try a variety of colors and piping textures on one cookie. This is a moment to go crazy — it's a monster!
3. Add the Eyeballs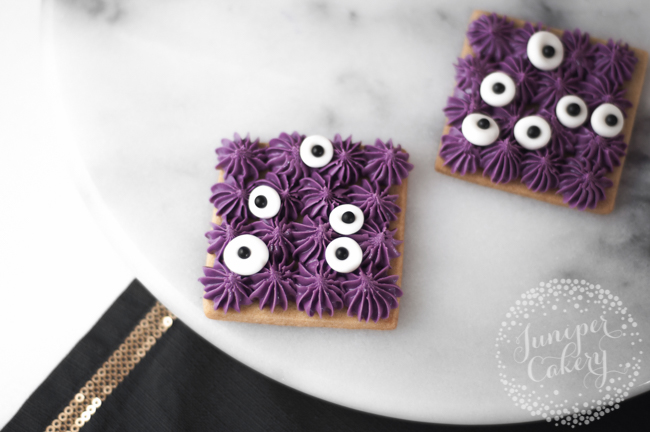 As soon as the cookie is iced, nestle the fondant eyes into the frosting. You can add as many or as few as you like — you could even make a one-eyed monster using a larger fondant eye. It'll stand out better among all that "furry" icing!
Pro Tip: For a little glitz on your monster cookies, add a bit of luster dust. We recommend waiting until your royal icing has crusted over. You'll want to cover the fondant eyes with small pieces of parchment paper so they don't end up covered in sparkles.