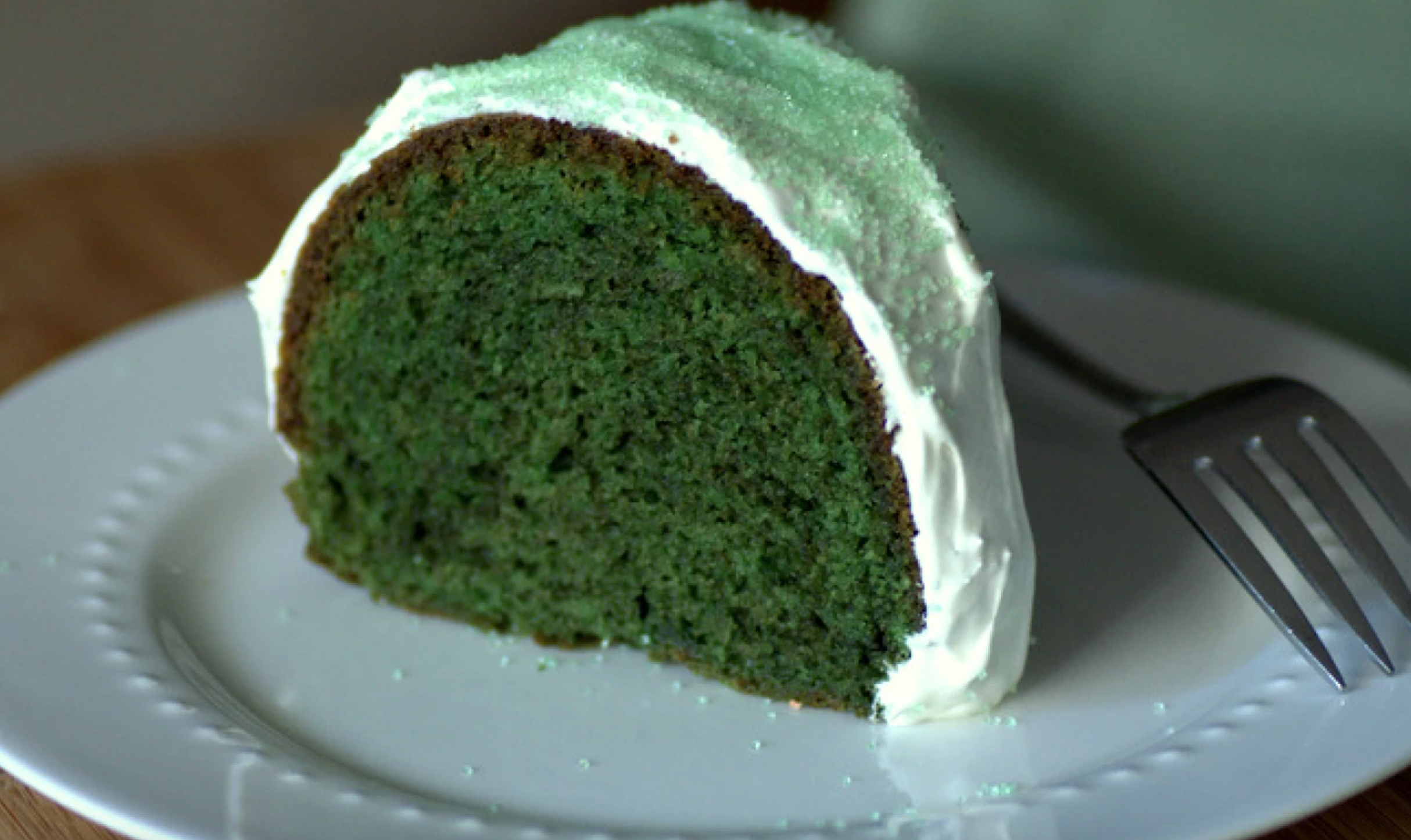 Infuse some Irish luck into your St. Patrick's Day cakes with green velvet batter. It's succulent and moist, just like a red velvet cake, but the red coloring is swapped for a healthy dose of green.
Green Velvet Bundt Cake
Yield: serves 16
Ingredients
2⅔ cup all-purpose flour
1 teaspoon baking powder
1 teaspoon baking soda
1 teaspoon salt
¾ cup butter, room temperature
2 cups sugar
3 large eggs
1 teaspoon vanilla extract
½ tablespoon unsweetened cocoa powder
Approximately ½ teaspoon green food color
1 cup buttermilk
Green sanding sugar (optional)
Pro Tip: You can use liquid or gel food color, but keep in mind liquid ones have a less intense color, so you may need to use more to get the desired hue.
Instructions
1. Preheat oven to 350 F. Lightly grease and flour a 10″ bundt pan.
2. In a medium bowl, whisk together flour, baking powder, baking soda and salt.
3. In a large bowl, cream together butter and sugar until light and creamy. Blend in the eggs, one at a time, followed by vanilla extract, cocoa powder and food coloring. Add enough food coloring to give the batter a bright green color.
4. Stir a third of the flour mixture into the butter mixture, followed by half of the buttermilk. If the batter is not green enough, add additional food coloring. Stir in another third of the flour mixture, followed by the rest of the buttermilk. Add in remaining flour mixture, stirring until batter is uniform and no streaks of dry ingredients remain visible.
Pour into prepared pan.
5. Bake for 45-50 minutes, or until a toothpick inserted into the center of the cake comes out clean or with only a few moist crumbs attached. Allow cake to cool in the pan for 10 minutes, then turn out onto a wire rack to cool completely.
6. Decorate your cake with cream cheese frosting and top with green sanding sugar for good measure.