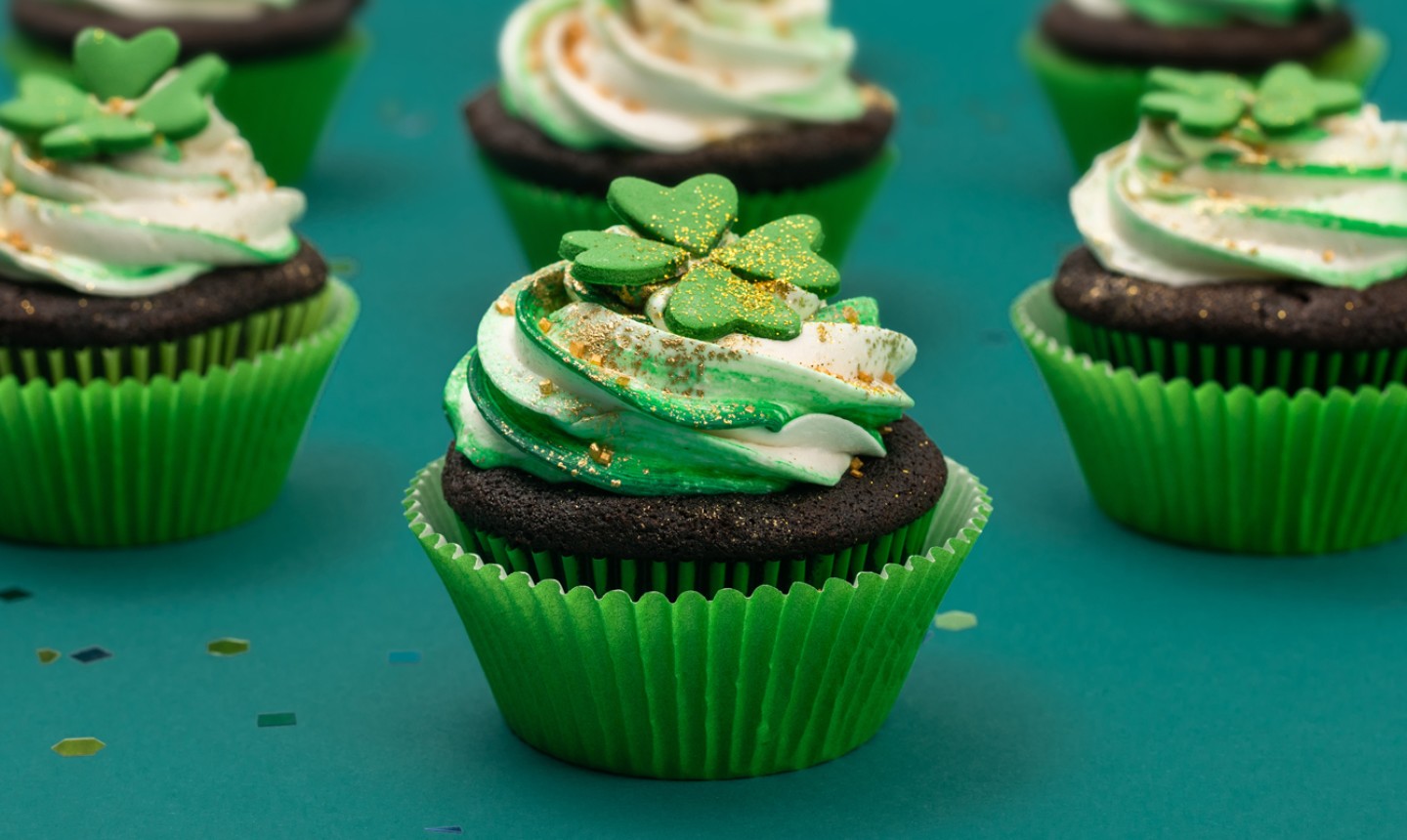 You may not bake with beer often, but when it's St. Patrick's Day there's no better time to try! The rich taste of Guinness pairs super well with chocolate, and you can finish these cupcakes with a swirl of icing and festive decorations to truly make it your lucky day.
Guinness Chocolate Cupcakes
Time: 1 hour Yield: 1 dozen cupcakes
What You Need
Ingredients
2 cups all-purpose flour
½ cup cocoa powder
1 teaspoon baking soda
¼ teaspoon salt
½ cup butter, room temperature
1 cup sugar
1 large egg
½ cup Guinness (or other stout beer)
1⁄3 cup buttermilk
2 teaspoons vanilla extract
Green gel food coloring
Green fondant
Gold luster dust
Gold pearlized sugar sprinkles
Tools
Large open-star piping tip (we used Wilton No. 4B)
Disposable piping bags
Long wooden skewer
Food-safe paint brush
Small heart fondant cutter
Instructions
1. Prep
Preheat the oven to 350º F. Line a 12-cup baking tin with paper liners.
2. Combine Dry Ingredients
Sift together all-purpose flour, cocoa powder, baking soda and salt in a medium bowl.
3. Make the Batter
In a large bowl, cream together butter and sugar until light and fluffy. Blend in egg. Stir in half of the flour mixture, followed by the Guinness, buttermilk and vanilla extract. Stir in the remaining flour mixture, mixing until no streaks of dry ingredients remain.
4. Bake and Cool
Divide batter evenly into prepared muffin cups. Bake for 15–18 minutes, until a toothpick inserted into the center of a cupcake comes out clean. Cool the cupcakes in the pan for 2–3 minutes, then remove and place on a wire rack to cool completely.
5. Color the Piping Bag
To make the cool stripe of green in the icing, we used what's called the painted bag method. Using tape, attach a food-safe paint brush to a wooden skewer, making a very long paint brush handle. Squirt some green gel food coloring onto the inside top of your piping bag (it should already be fitted with your large, open-star tip), then use the paint brush to drag the gel down toward your tip so there's a stripe of green down one side. Then, carefully fill the bag with Swiss meringue buttercream.
6. Pipe the Swirls
Practicing on parchment paper first — sometimes it takes a few tries before your green stripe shows up — frost each of your cupcakes with a high swirl of icing.
7. Get a Little Lucky
To add some extra St. Patrick's Day fun, roll out green fondant and cut four small heart shapes for each cupcake. Dust each cupcake with gold luster, then arrange the hearts in the shape of a four-leaf clover on top of each treat. Finish with an extra sprinkle of gold pearlized sugar for good measure! Pro Tip: These cupcakes are very moist and will keep well for several days after baking when stored in an airtight container.