When making a crochet baby blanket, using granny squares is a fast, flexible and attractive choice. You can either make one large square or use many smaller squares joined together with a border all round.
Here you'll find all the info you need to choose the right size blanket to make, plus five bright and happy designs with links to patterns that babies and parents are bound to love.
Sizing for granny square baby blankets
If you try researching the perfect baby blanket size, you'll be overwhelmed with loads of different opinions about types and sizes. Baby blankets are not as simple as you thought!
But don't be put off. The important thing to remember is that there is no wrong size, and your handmade gift will be cherished by both the new parents and the baby!
This is not a complete list by any means, but it includes the various names of different types of baby blanket and the approximate sizes, from largest to smallest.
Toddler blanket
Babies don't stay small very long! For a blanket to get a good amount of use, choose a granny square baby blanket 45″ x 60″. This is a bit big for swaddling, but it can be used on a crib and then as a cover up for a child during naps and cuddle times. This size of blanket is also perfect as a lap-ghan or a wheelchair blanket for adult use.
Crib blanket
Cribs and cots do not have  a standard size, so if you know what size crib you are making for, go with those measurements. Otherwise, a blanket 30″ – 36″ x 50″– 54″ will work well.
Receiving blanket
Traditionally the blanket used to wrap a baby in when first born, this is a multi-use blanket for cribs, in the stroller, during naps as well as for swaddling and comfort as the baby grows. A receiving blanket is 34″– 36″ square.
Swaddling blanket
A slightly smaller baby blanket used to wrap a baby gently by simulating the close cuddle in the womb. A good starting size is 30″ square, but a 34″ square would double as both a receiving and a swaddling blanket.
Stroller blanket
Used when out and about, this needs to be 24″ – 26″ x 30″. A granny square baby blanket made from small, individual motifs joined together is ideal.
Bassinet or cradle  blanket
This one is for covering a new baby when it first comes home. A stroller blanket can double as a bassinet blanket, or you could go slightly smaller: 16″ x 30″. A very fast granny square blanket to whip up for a last-minute gift!
Preemie blanket
Used for premature babies, these super-small blankets can range from 15″ square to 24″ square (or a rectangle within that range). If you want to make blankets for a special care baby unit, check with the parents or the hospital first. A granny square baby blanket may not be suitable because of the holes, which can trap breathing and feeding tubes, fingers and even arms and legs.
Lovey
A tiny comfort blanket used for snuggling and security — picture a baby who won't go anywhere without it! This is the smallest blanket at around 18″ square.
Granny square baby blanket patterns
If you want to make a square baby blanket, you have the choice of any of the designs featured here. You can make individual squares and join them together or just start your granny square and keep going!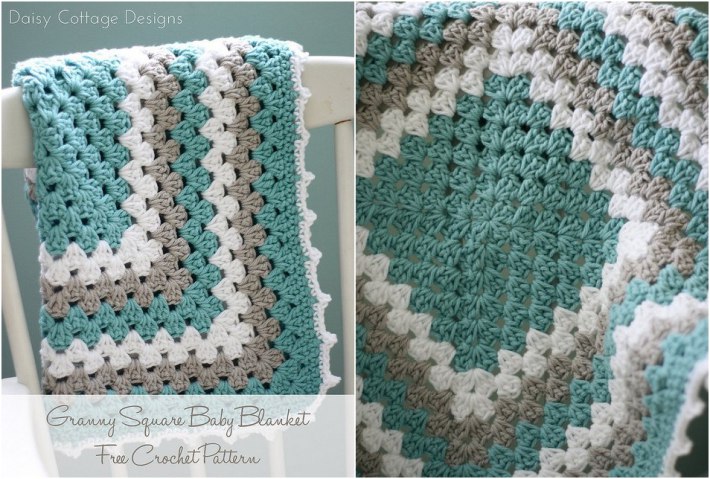 Photo via Lauren Brown of Daisy Cottage Designs
A pastel granny square baby blanket
This one-square design from Lauren Brown of Daisy Cottage Designs uses soft sea green, white and neutral stone shades to make an 18″ square lovey blanket. But this blanket could easily be made larger with more rounds before the simple border, and you could switch out the colors. I love this design because it's striking, useful and because you are using larger bands of color — not too many pesky ends to weave in! Get free pattern here.

Corner Square Baby Blanket via Craftsy member DebElen 
Corner Square Baby Blanket
Here's another great giant granny square baby blanket pattern, from Craftsy seller DebElen. A baby would love to snuggle up with this blanket during quiet times, but the large blocks of bright color make this a perfect playtime companion.

Photo via Stephanie Lau of All About Ami
A one-square granny square baby blanket in rich fall tones
If you want to make something a bit bolder and brighter still, how about this gorgeous free pattern from Lion Brand, which has been made so beautifully by Stephanie Lau of All About Ami. She designed the number and order of the colors using her computer — fab idea! The result looks amazing.
Stephanie made this when she was pregnant and spent some quiet time thinking about the baby that was wriggling away as she worked the 36 rounds. What a great way to make something beautiful and useful while preparing to welcome a new baby into the family! This pattern is available on the Lion Brand Yarn website (you'll need an account), and you can read more about it on Stephanie's blog.

Giant Granny Square Afghan via Craftsy member Crochet Me Lovely
Giant Granny Square Afghan
How about this fabulously easy large granny square baby blanket by Craftsy member Crochet Me Lovely? Again with bright tones, you start with a large square and then add rounds of varying thickness for a rich, vibrant and cozy blanket.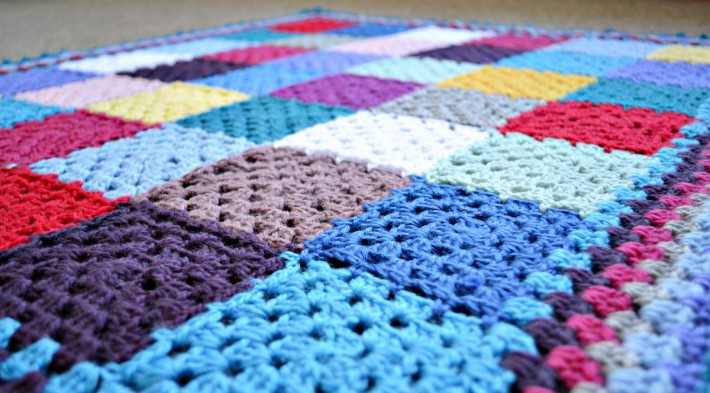 Photo via Janette Williams of The Green Dragonfly
Solid colour blocks granny square baby blanket
If you want to make a larger or rectangular blanket, this gorgeous design by Janette Williams of The Green Dragonfly is one to check out. The individual squares are worked in one color and then joined together in a random design before bordering with more basic granny crochet. The final granny square baby blanket is 34″ x 40″ and has 42 squares (seven on one side, six on the other). Follow her pattern here.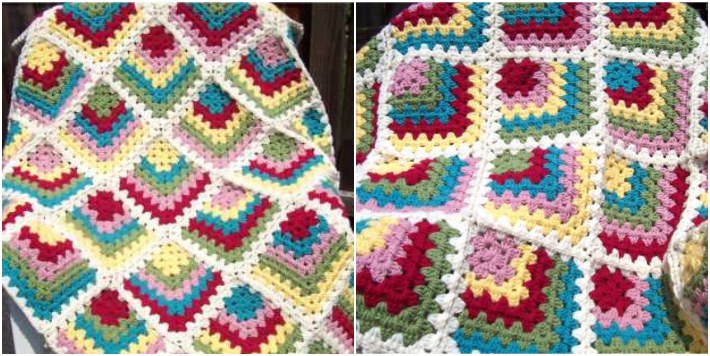 Photo via Sue Rivers of Crochet Again
Mitered Granny Square
This is an unusual take on the traditional granny square, but it's no more difficult to do. Made by Sue Rivers of Crochet Again, it combines just five bright colors in offset mitered squares all joined in white for maximum impact. Sue made her blanket with six squares on each side (36 in total), but you could make this style into any size granny square baby blanket. Follow the pattern here.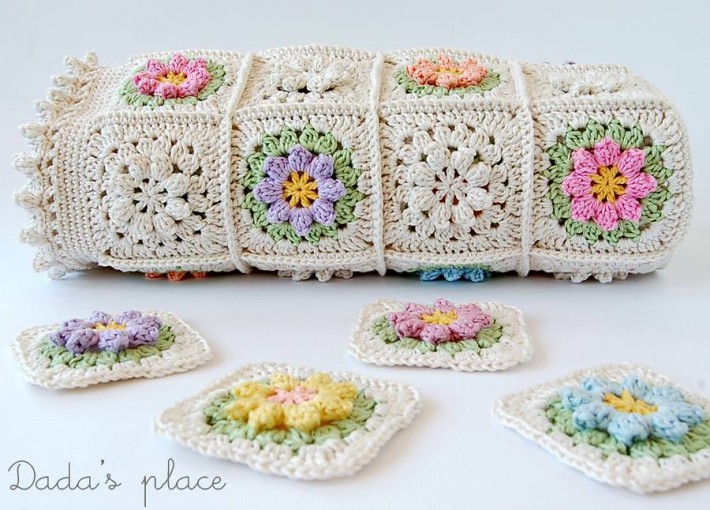 Photo via Dragana Savkov-Bajic of Dada's Place
3D pastel flowers granny square baby blanket
Dragana Savkov-Bajic of Dada's Place designed this utterly beautiful version of the traditional granny square baby blanket. Some square feature a flower motif in bright colors while other squares have flowers in the gorgeous creamy color used for joining and bordering. 
Designed in cool cotton yarn, this is the ideal girl's baby blanket. Once you get the hang of making the gorgeous square, you can make it any size you like.

Ariel's Blanket via Craftsy member Sewhooked
Ariel's Blanket
A lovely pattern from Craftsy member SewHooked, this pattern uses larger granny squares with a central flower motif in a selection of lovely pastel shades, all surrounded by a textured crochet border.