Making gingerbread dough can be a lengthy process, and sometimes there just isn't enough time. For those who are in a hurry (or are just a little impatient to get into the holiday spirit), there are graham crackers! Find out how to make a graham cracker gingerbread house below.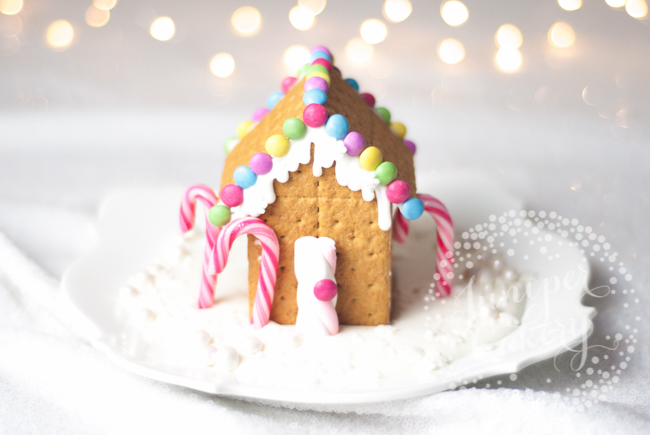 Fool-Proof Gingerbread Houses
Get in the holiday spirit and make a gingerbread house from scratch, with up-close expert video instructions. Get the Class
How to build a graham cracker gingerbread house
Materials and tools:
Graham crackers
Stiff yet soft peak royal icing
Candy
Sprinkles
Small sharp knife
Step 1:
Break apart your graham cracker pieces. You'll need two double pieces (squares) for the roof, and two more double pieces for the side walls of your house.
You'll also need two full graham crackers for the front and back of the house. Use a sharp knife to gently saw away two opposing diagonals to make the roof shape. 
The cool thing about graham crackers is that the little holes act as cutting guides. As you can see in the photo above, you can follow three diagonal dots to create perfectly even lines. 
Step 2:
On a board, plate or cake stand smothered with royal icing (royal icing is great for holding your pieces in place) begin to build your house. Start by propping up one side wall. Then piped some royal icing down the edge of the cracker — this will be glue for your next piece.
Step 3: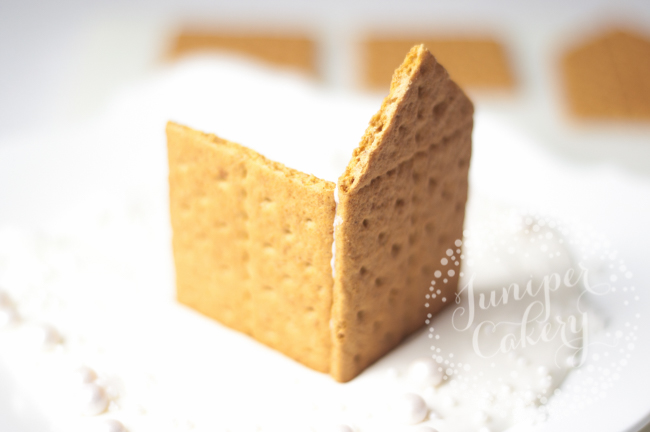 Now add the front of your house. Remember to be gentle with your pieces. Graham crackers can be pretty delicate.
Tip: You shouldn't need much royal icing to stick your pieces together. Too much royal icing can look messy, as it will seep out from your walls.
Step 4:
Add your other side wall. Pipe royal icing along both edges at the back. You'll want your side walls to attach to the inside of your main front and back pieces. This generally looks a little tidier.
Step 5: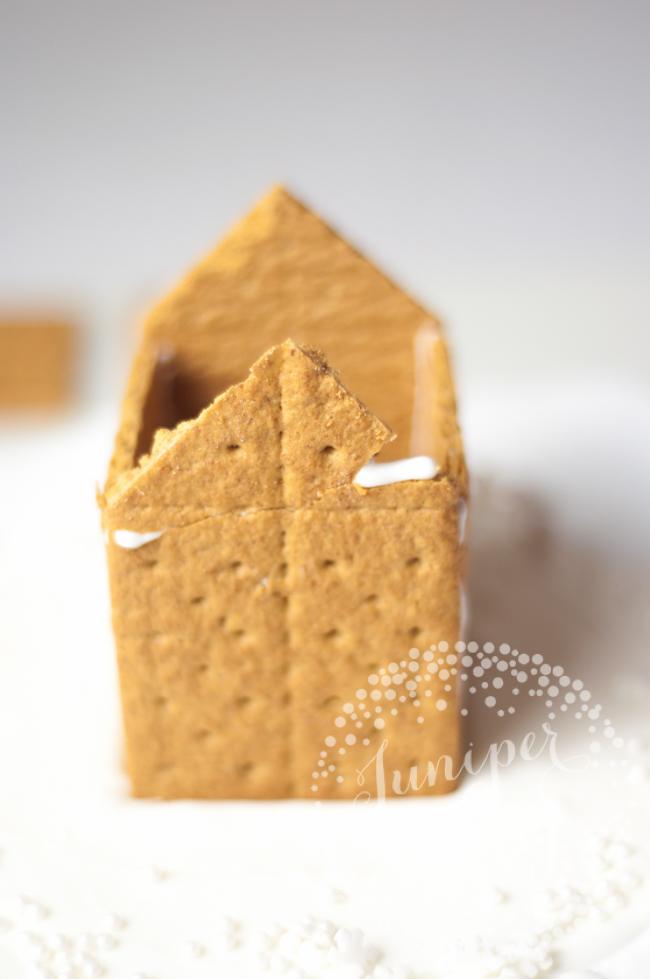 Now add your back wall.
See how ours broke? It's absolutely fine if this happens. Like we said, graham crackers can be fragile and break easily. If a piece breaks, you can put it back together with some royal icing. But gingerbread houses are supposed to be fun, rustic and carefree. You can easily disguise your mishap with candy or royal icing snow.
Step 6: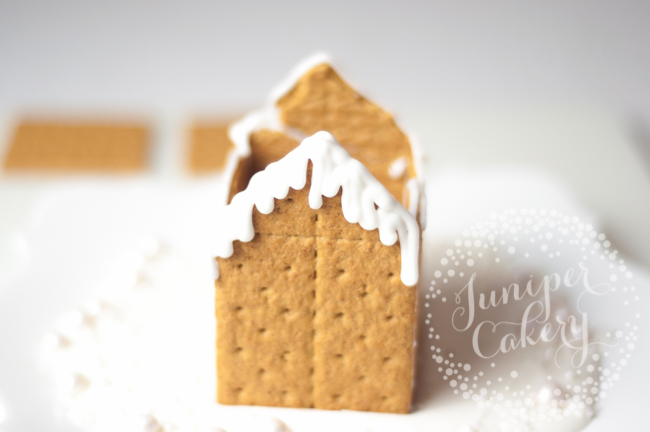 Pipe royal icing along the top of your house to make a cute icicle effect. At this point you can add some pretty snowflake sprinkles, sanding sugar or nonpareils.
Step 7:
Press the two roof pieces to the top of the house, and secure them down the middle with a bit of royal icing.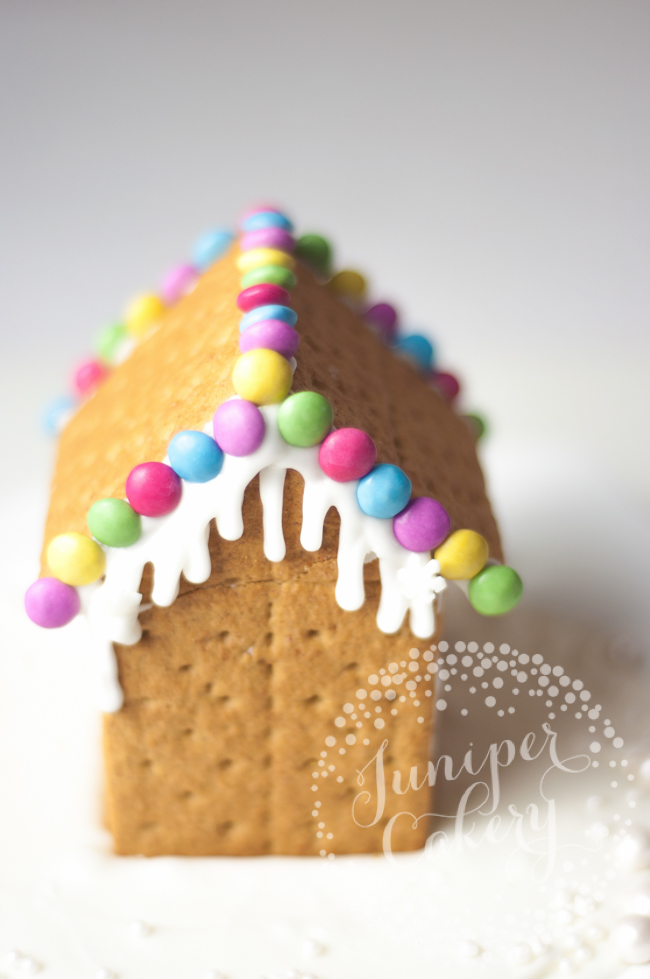 Trim your rooftop with colorful candy pieces. We piped some royal icing along the edges of our roof before using bright candy-covered chocolates.
Get decorating!
Once your graham cracker gingerbread house is built, the fun really begins — the decorating!
Crushed candy canes are not only sparkly and fun, but they really bring out the festive flavor. You can also dot mini candy cane shaped sprinkles in with your crushed candy cane.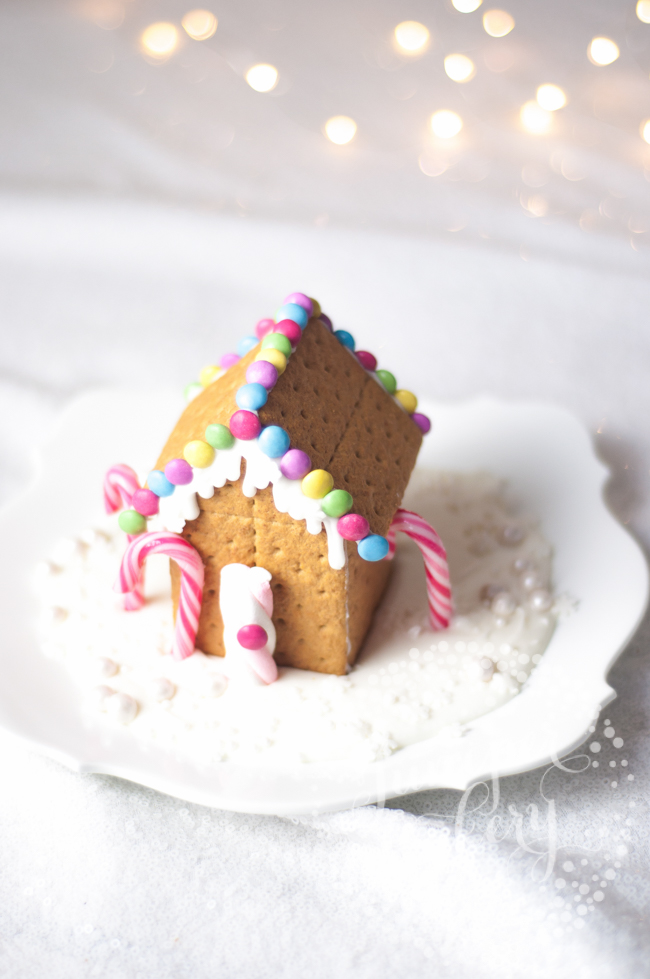 We used marshmallow for the door, made a little pink candy doorknob, dotted the front yard with candy canes and added edible pearls that look just like snowballs.
Why not go for gumdrop roof trimmings? Or add shredded cereal pieces to the rooftop? You can even make a cute (and tasty door) out of a piece of a chocolate bar!
How will you decorate your graham cracker gingerbread house?
Fool-Proof Gingerbread Houses
Get in the holiday spirit and make a gingerbread house from scratch, with up-close expert video instructions. Get the Class