If you haven't yet begun your holiday shopping, no need to panic! We have lots of fun suggestions for gifts to make as well as creative ideas for giving them. Here are 15 of our favorite FREE quilted gift patterns to stitch up for the holidays and beyond.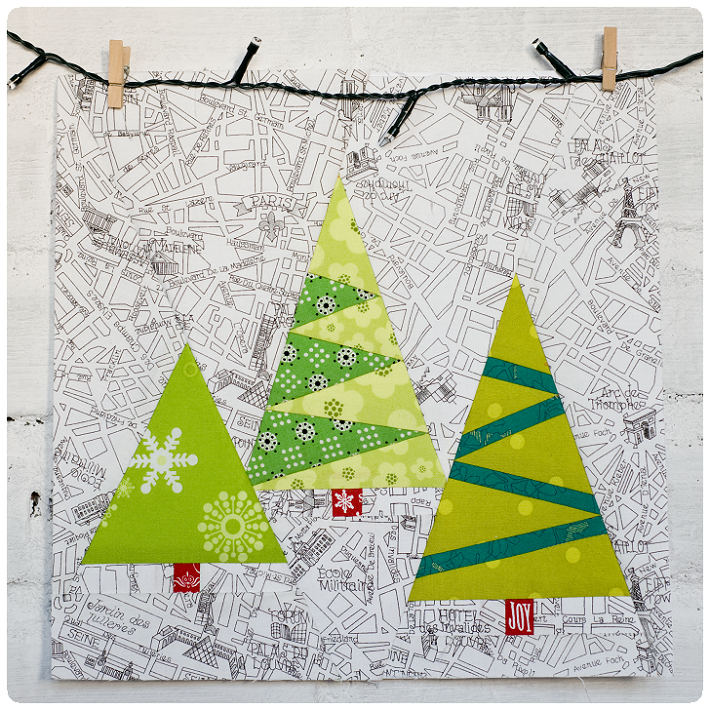 Photo via Bluprint member Sewing Under Rainbow
1. Paper Pieced Christmas Trees
This cute paper pieced block will sew up in a snap. Just download the free pattern and sew one or several of them. Imagine how cute this block would be as a pillow or a mug rug, or even on the cover of a journal. A collection of the these would make sweet table runner or festive wall hanging. Or simply use fusible and attach a single block to the front of a paper gift bag for a merry presentation.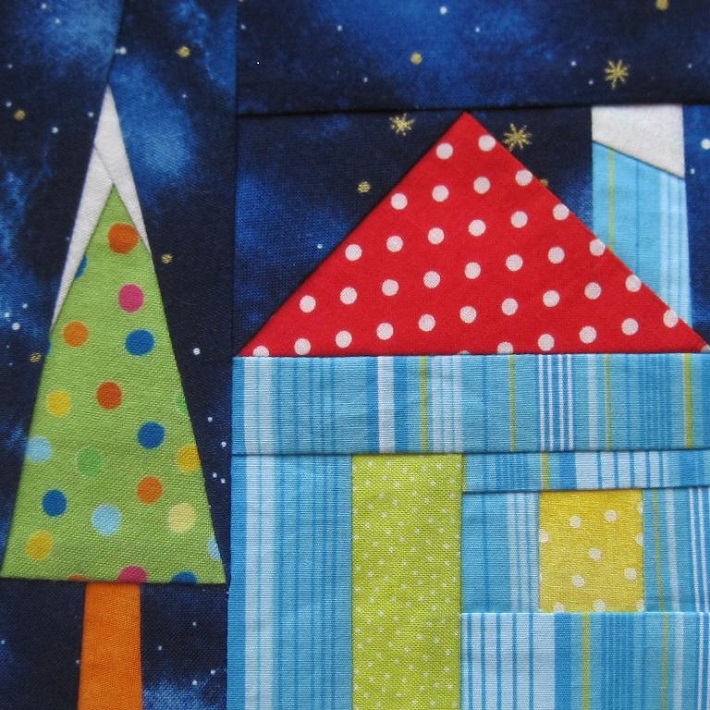 Photo via Bluprint member Jennifer O.
2. Holiday House Block
Here's another easy paper pieced block that is free. It could be personalized so easily. Choose the color house to match yours and change the background to daytime with a quick fabric choice. Decorate this house with a wreath on the door or string it with buttons and beads for holiday lights that sparkle. A row of these would be fun for a bolster pillow, or mix and match a couple with the tree blocks and create a winter wonderland. Sew one up to match your hostess's home and make it into a pot holder for a holiday thank you gift. 
Get the FREE pattern »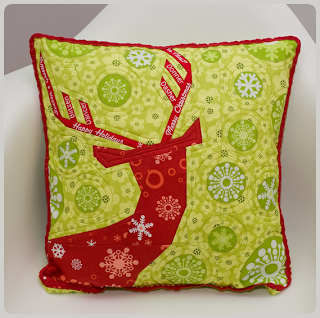 Photo via Bluprint member Sewing Under Rainbow
3. Reindeer Pillow
This sweet little reindeer pillow will be sure to bring smiles! Think of all the fun you can have with this free pattern. Make one for each of the grandkids and personalize them with a name or initial. Embroider a holiday greeting along the side for extra cheer. Make eight each in a different fabric and have a wallhanging that will be Santa's favorite for sure!
Get the FREE pattern »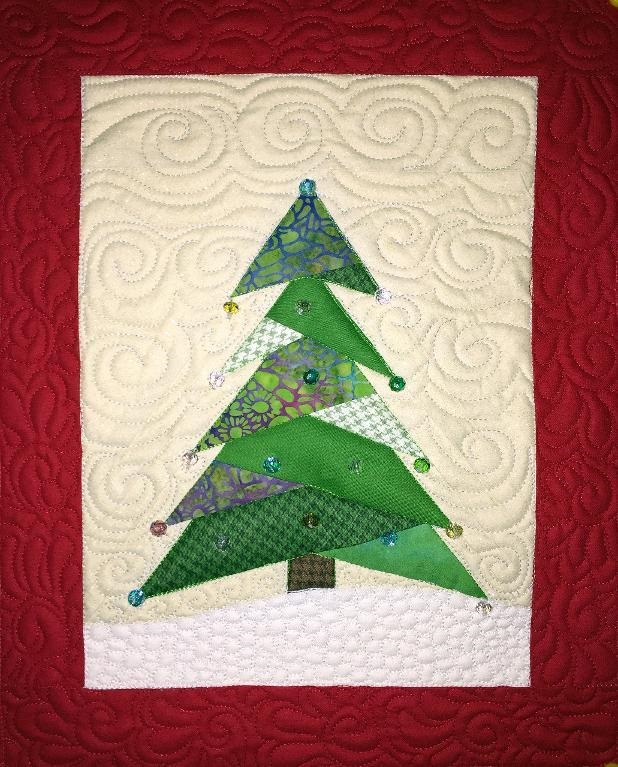 Photo via Bluprint member Debra Clutter
4. Christmas Tree Mini-Quilt
The mini-quilt makes a delightful holiday gift. Stitch one up for teachers or co-workers and let them decorate their workspaces in style! This pattern can easily be adapted to anyone's taste with just the right fabrics and few embellishments. Sequins and beads can decorate the tree, while cute little present buttons could be nestled under the branches.
Get the FREE pattern »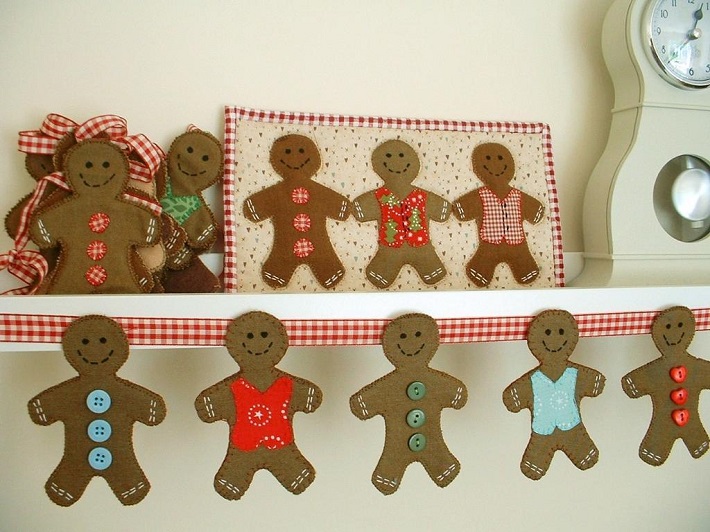 Photo via Bluprint member The Patchsmith
5. Gingerbread Garland
Who doesn't love a smiling gingerbread man? This fun decoration would be a great gift but how about just making one to use as a gift tag? Add a pocket to the back and give a gift card in style! These little guys could easily dress according to your decor, or they would be fun to embroider with ribbon or floss.
Photo via Bluprint member Buttons and Butterflies
6. Snowflake Table Runner
The snowflake table runner could be easily adapted to placemats or pot holders for more holiday decor. Or simply use the snowflake appliqué to dress up a tea towel, mug rug or pillow. And snowflakes can be fun for after December 25th as well.
Photo via Bluprint member Alexa's World
7. Mistletoe Mug Rug
Who doesn't love mistletoe? This sweet mug rug can be made into a cute wallhanging to decorate the door. Add a few small jingle bells and greet every guest with a kiss! The size of this pattern is just right to add to placemats or a pillow as well. Have fun sharing the holiday love.
Get the FREE pattern »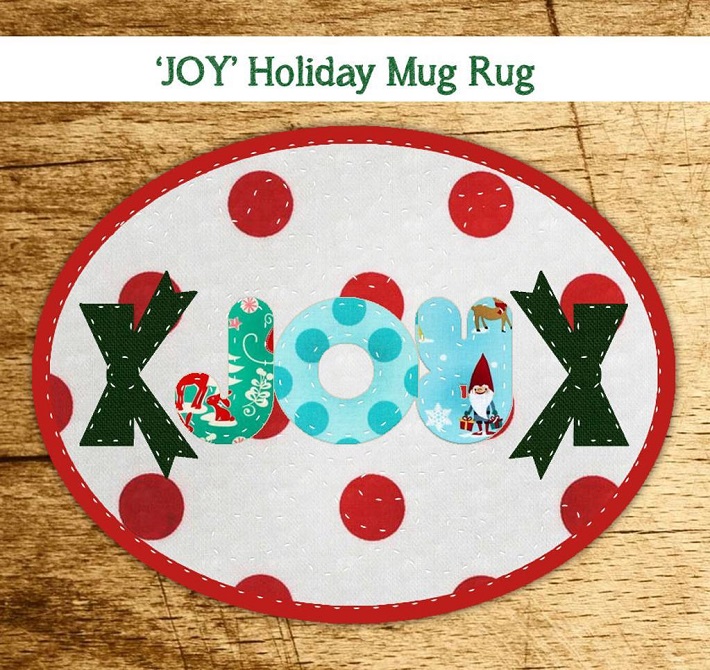 Photo via Bluprint member Craft Weekly
8. "Joy" Mug Rug
If you need a gift for a coffee lover, this mug rug would be fun rolled up into a pretty mug and tied with a bow. Stitch a pocket on the back and fill it with a gift card or two for a gift that keeps on giving. Add a box of chocolates or cookies for sweet snacks while they sip their favorite java.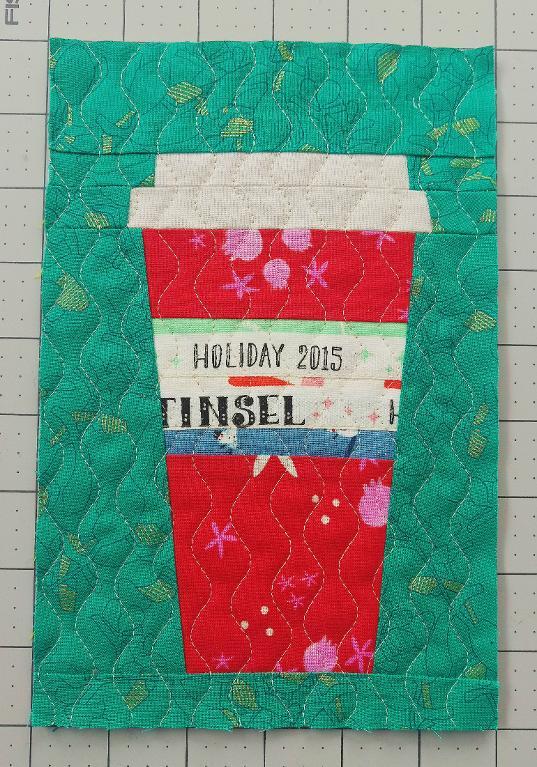 Photo via Bluprint member Tessa Williams
9. Red Cup Mug Rug
This mug rug might be the ultimate gift for a coffee lover! Because it is so simple and quick, you could make multiples for everyone you know. Add a name or monogram an initial for a personal touch. This motif is so fun that it would look great fused onto a gift bag or sewn onto the pocket of a tote. This too would be fun to combine with a gift card, or a mug and some sweet treats.
Get the FREE pattern »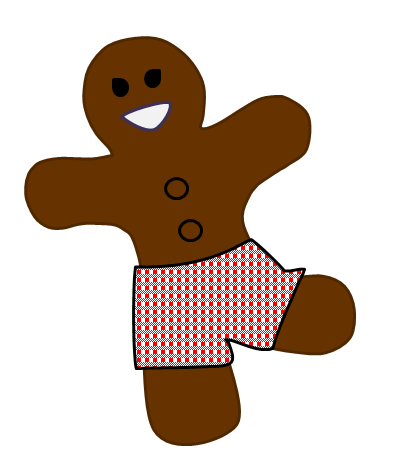 Photo via Bluprint member Quiltinjeni
10. Gingerbread Appliqué
For the little folks in your life, this gingerbread game can provide hours of fun. Create a few and make multiple outfits for each, for endless combinations of entertainment. Use the outfits provided, or make ones that match your little friends' wardrobes. How surprising would it be to open a gift that has matching outfits!
Get the FREE pattern »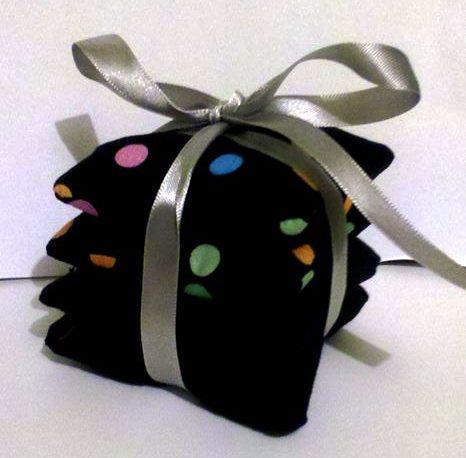 Photo via Bluprint member Swimchell
11. Handmade Handwarmers
And finally, here's a gift that anyone on your list can appreciate. Handwarmers are perfect for every age and every person that likes to stay warm during chilly winter weather. These could be stitched up using supplies you already have on hand. Combined with a free pattern, you're almost done before you start with this great gift idea!
Get the FREE pattern »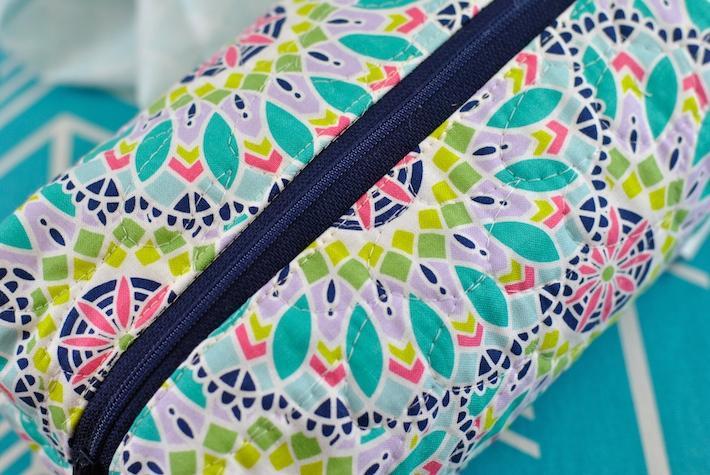 Photo via Bluprint member Lindsay Sews
12. Quilted Zipper Pouch
If you want to package small gifts in style, this zipper pouch is perfect! It could be filled with sewing notions for your quilting friends, or jewelry and makeup for a teen. Stuff it with some tiny treats for little folks or school supplies for a student. Tuck in a few toiletries and gift it to a traveler for extra pampering this season.
Get the FREE pattern »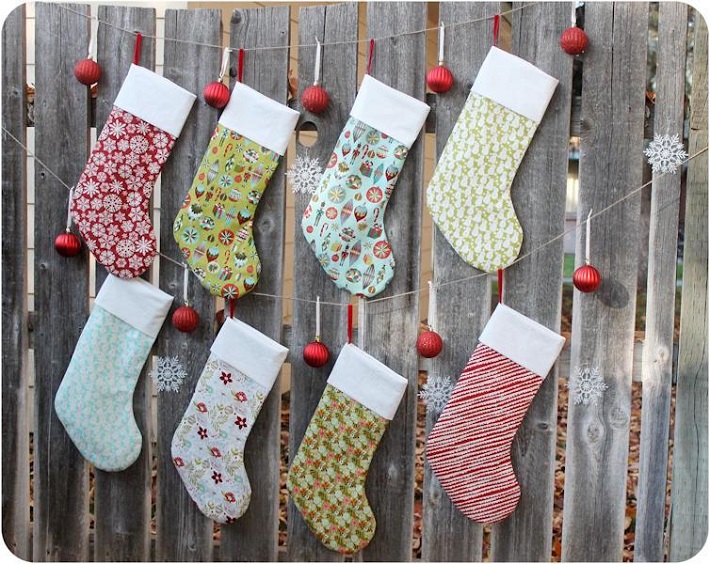 Photo via Bluprint member PeekaBooPatterns
13. Quilted Christmas Stockings
Too many gift or too large of an item to put in a little zipper pouch? Stitch a stocking and share the joy with the best package of all. Fill the stocking with candy and treats, or toys and games. Make one for four legged friends and fill with tasty treats, dog bones, play toys, or a new leash. Stuffing these stockings will be as fun as stitching them. 
Get the FREE pattern »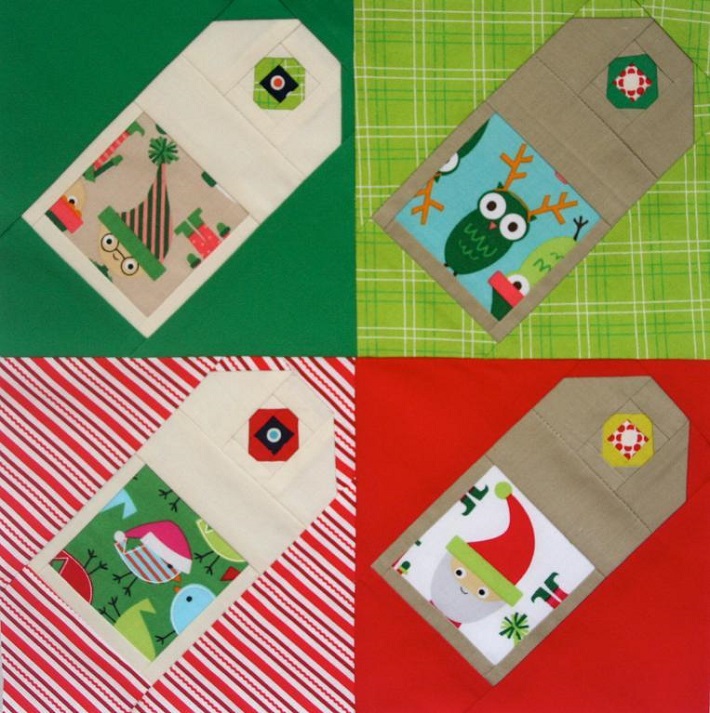 Photo via Bluprint member SqueekCrafts
14. Personalized Gift Tags
Make a tag for your gifts with this sweet little pattern. Stitch these to a bag or tie them onto a gift, either way, they will surely get noticed when you give your gift. Use fabric pens or embroidery to include the names and messages. With a special place for fussy cutting a square of fabric, the choices for customizing these will be as vast as your fabric supply. So have fun searching for fun fabrics to stitch up these sweet tags!
Quilted Holiday Favorites
Find our favorite holiday projects and get started on this year's gifts and decor.Explore More