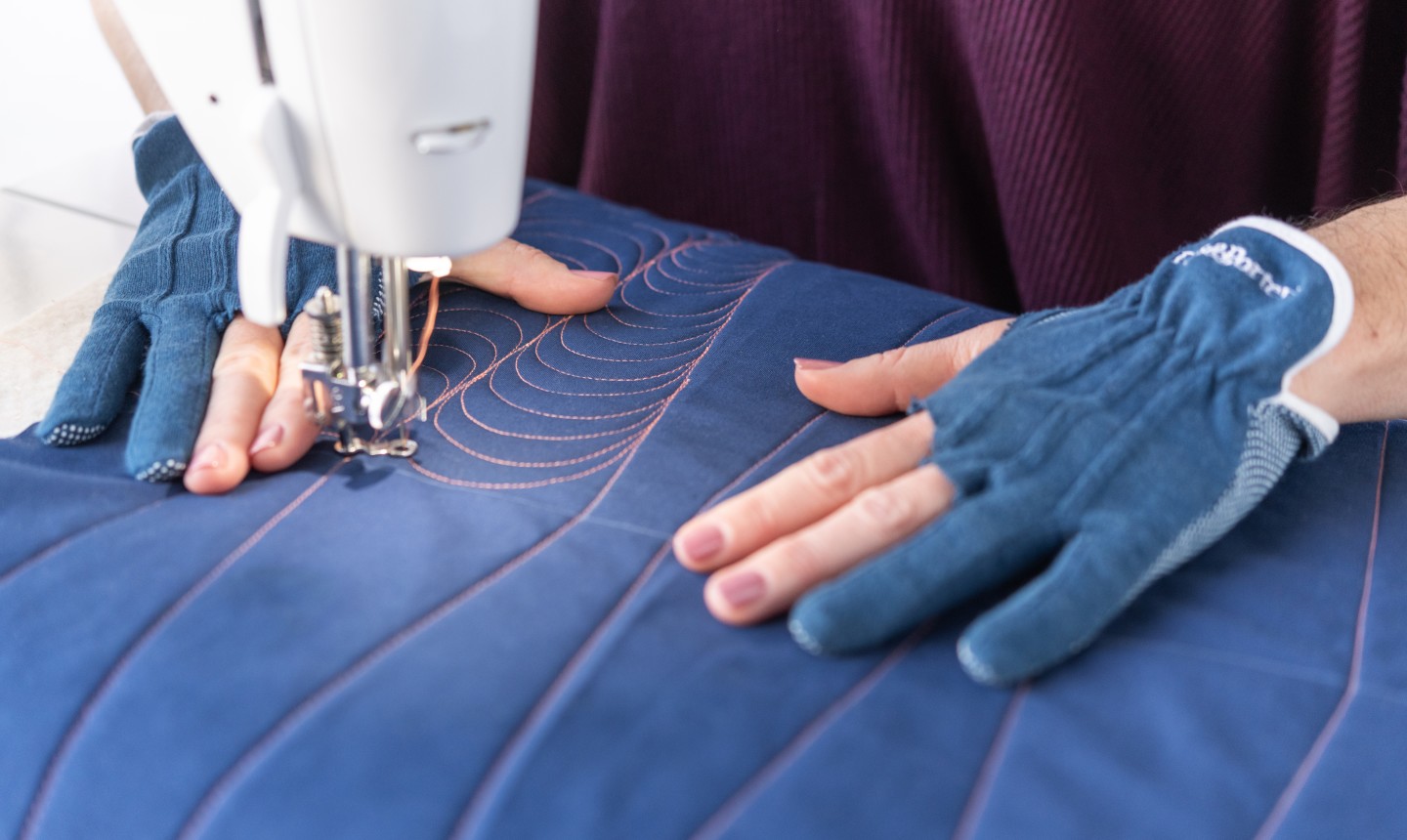 When you're free-motion quilting, there are a handful of snafus you can run into. But don't let frustration get the best of you! With these easy fixes, you'll be able to solve so many problems and be on your merrily quilting way.
Problem 1: The Tension Isn't Balanced
If the tension isn't balanced, it can cause loops or dots of thread to appear on the top and bottom of your quilt — not exactly a pretty look.
Before working on your quilt, it's best to always practice on scrap fabric and batting with a regular stitch setting. If the stitches look good, your tension is OK. But if you're still seeing loops or dots, you need to adjust your sewing speed (aka the speed at which you move your quilt through the machine) or your tension.
Solution: For the latter, try to adjust the top tension only. If your top stitches are too tight (and the bobbin thread is showing on the front), loosen it by lowering the top thread tension number. If your top stitches are too loose (when the top thread is showing on the back), tighten it by increasing the top thread tension number.
You can also use the same color thread in the top and bobbin to hide less-than-perfect tension.
Problem 2: Your Thread Breaks
There's nothing worse than being halfway through your quilt, only to have the thread snap or the bobbin run out.
Solution: When a thread snaps, pull out enough stitches so you can hand-tie a knot with both ends and pop it into the batting. Start quilting again where you left off, leaving loose tail ends.
To prevent running out of bobbin, stitch to the edge of the quilt whenever possible and check your bobbin levels. Replace it with a fresh bobbin when it gets low. Use the leftover bobbin in your next piecing project, or use it to practice quilting on scraps.
Problem 3: The Quilting Isn't Even
If your quilt isn't hanging well or the borders are wavy, it's likely there's an uneven amount of quilting throughout the quilt.
Solution: Add more quilting in the background areas using easy free-motion fillers like stippling, pebbles or loops. If you don't want the extra quilting stitches to show, use a very thin cotton thread in a neutral color, or use invisible monofilament thread.
Problem 4: You Can't Decide on a Design
Quilter's block is a real struggle — enough said.
Solution: If you've made your quilt sandwich and can't decide what to stitch across the top, take a picture of your quilt top or pattern and print it off on an 8½" x 11″ sheet of paper. Use this paper to draw out possible quilting designs with a pen or pencil.
Make several copies so you can audition different quilting designs . Once you're happy with an idea, quilt it on a separate practice block before applying it to the actual quilt.
Problem 5: You Don't Actually Like Free-Motion Quilting
You've tried free-motion quilting and decided it's just not your thing.
Solution: Don't stress — there are other ways you can finish your quilt and get a just-as-gorgeous result. Try quilting with your walking foot, using a longarm or even hand tying your quilt. You never know which method you might fall in love with!