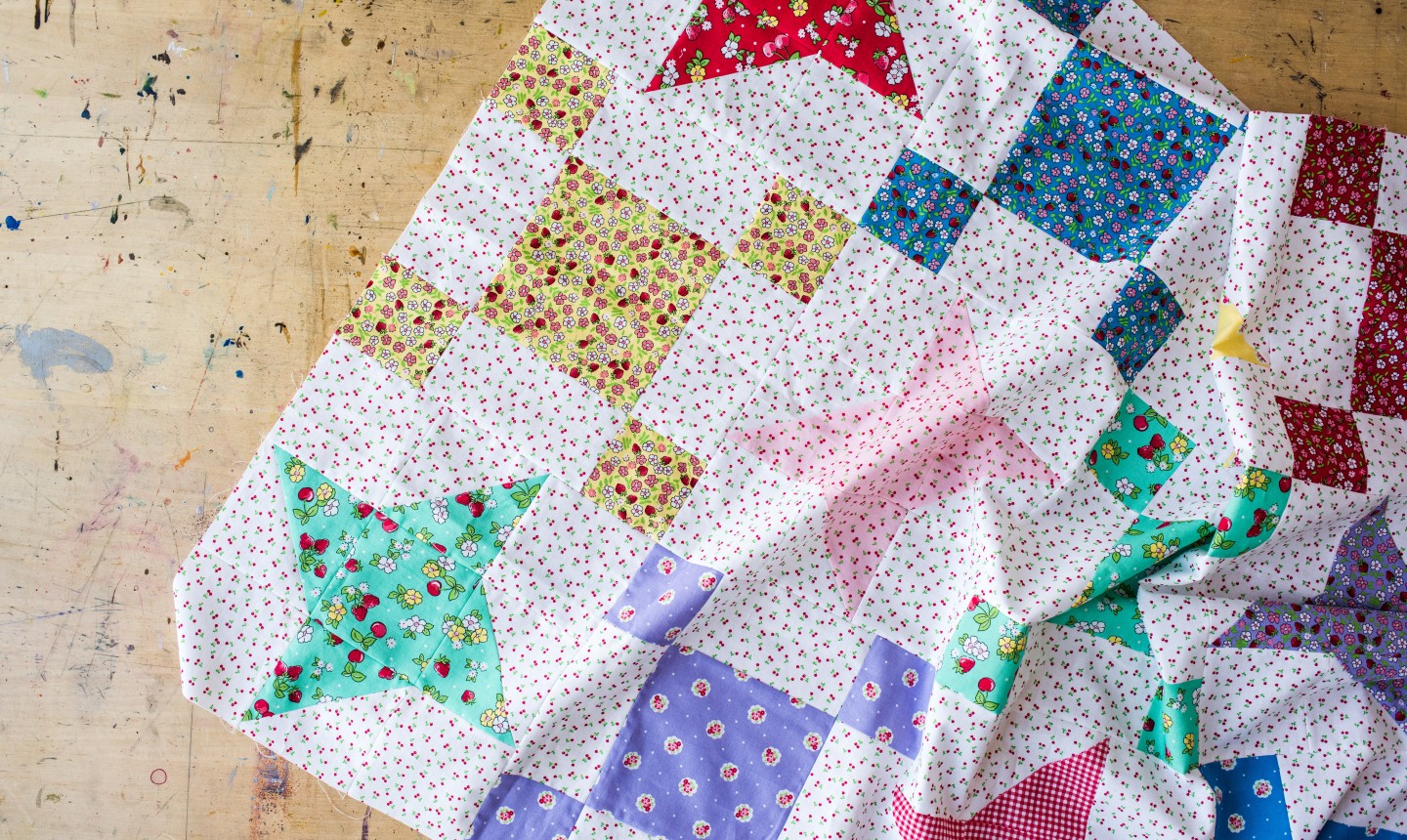 There are three different ways to finish a quilt: machine quilting (either through free-motion, longarm or a walking foot), traditional hand quilting and hand tying.
Hand tying a quilt is a basic and beginner-friendly way to hold a quilt together. Using embroidery floss or yarn, you work your way around your quilt sandwich and tie the layers together every few inches. This method works well on both pieced and wholecloth quilts, and on quilts with no batting or extra thick batting that can't be quilted any other way.
How to Tie a Quilt
Level: Easy
What You Need
Basted quilt sandwich
Embroidery floss or yarn
Thimble
Yarn threader or floss threader
Scissors
Tapestry needle
Instructions
1. Determine Where to Tie
First, decide where you'd like to tie your quilt. This can be in the middle of a block or across a seam. Be sure to keep the spacing equal in distances that are appropriate for your batting (anywhere from 4-10").
2. Thread the Needle
Thread the tapestry needle with your tying material. Cut thread to approximately 20-24".
Pro Tip: Yarn and floss are pretty thick, so use a needle threader if necessary. If that doesn't work, try folding the thread in half, pinching that fold in half and pushing it through the eye.
3. Make the First Stitch
Insert the needle down through all three quilt layers and back up, about ¼" away from the initial spot. Leave a 2" tail. Repeat this stitch in the same location to reinforce it.
4. Tie a Knot
Cut thread, leaving another 2" tail. Tie the tails together with a knot. Trim any excess yarn or floss, leaving approximately 1".
Repeat these steps all the way around your quilt to give it a simple finish and a touch of vintage charm.
Good to Know: Despite its draws, be aware a tied quilt is not as durable as one that's been fully quilted. Wash hand-tied quilts sparingly and use care when they need to be laundered.