Here's a common problem for us quilters: We often define a quilt of one made of fabric that has been cut, pieced and stitched. We often forget the simple elegance of a wholecloth quilt made on a single piece of fabric with delicate stitching to highlight the beauty of the pattern. When we do see one, we are overwhelmed with its simple elegance but have no idea how to create one for ourselves.
Read on for 5 simple tips on how to make a wholecloth quilt.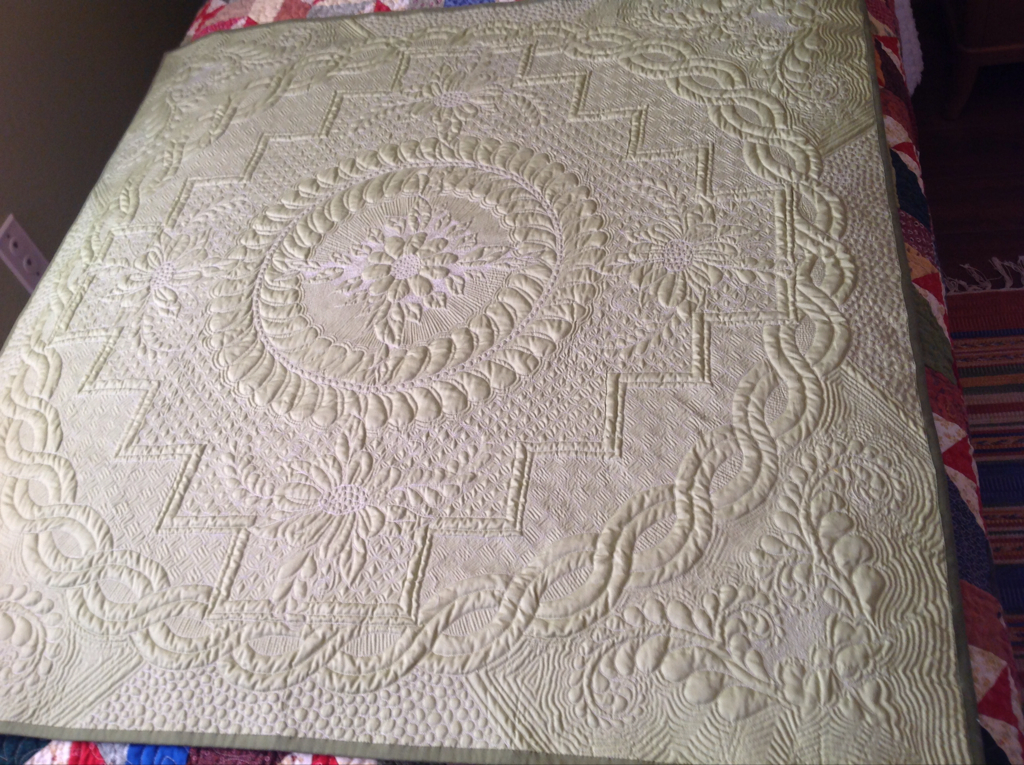 Wholecloth quilt via quiltride228655
Be sure to check out Craftsy's online quilting class Machine Quilting Wholecloth Quilts, taught by world-renowned quilting instructor Cindy Needham, to expand your skills and horizons, as you create stunning wholecloth quilts.
Tip #1 – Start doodling
Get out your sketch pad and start doodling some designs for your wholecloth quilt. It doesn't have to be to scale or perfect, just give yourself some leeway to get your creative juices flowing. Do you have your favorite free-motion stitches that you love to do? This is the place to showcase your talent!
A great place to find inspiration is to take Leah Day's class Free Motion Fillers, Vol.2 class. Once you have played around with your pencil and paper, pick out a few designs that you like.
Tip #2 – Size doesn't matter
What does matter is that you create a wholecloth quilt that you will enjoy making and love the finished quilt. If it is your first one, consider making a small version such as a pillow cover or bed runner. This will allow you to practice the techniques needed to make a wholecloth quilt before you tackle that king size one for your bed. Whether your project is big or small, the steps are the same and the end product is an elegant wholecloth quilt.
Tip #3 – Find your fabric and thread
A wholecloth quilt is done on a solid piece of fabric. Traditionally wholecloth quilts are done on a white or cream background. There is nothing stopping you from choosing a bright pink piece of fabric if that is your favorite color. When it comes to thread, you will need plenty depending on the size of your wholecloth quilt.
A good rule of thumb is to have your bobbin thread match the thread on the top of your quilt, so if you do have some little tension issues they are more inconspicuous.
Your thread choice can be one that blends into the fabric allowing your shapes to be the focus on your wholecloth quilt, or use a thread that is the opposite color of your fabric  on the color wheel. This will not only highlight your designs but your wonderful quilting as well.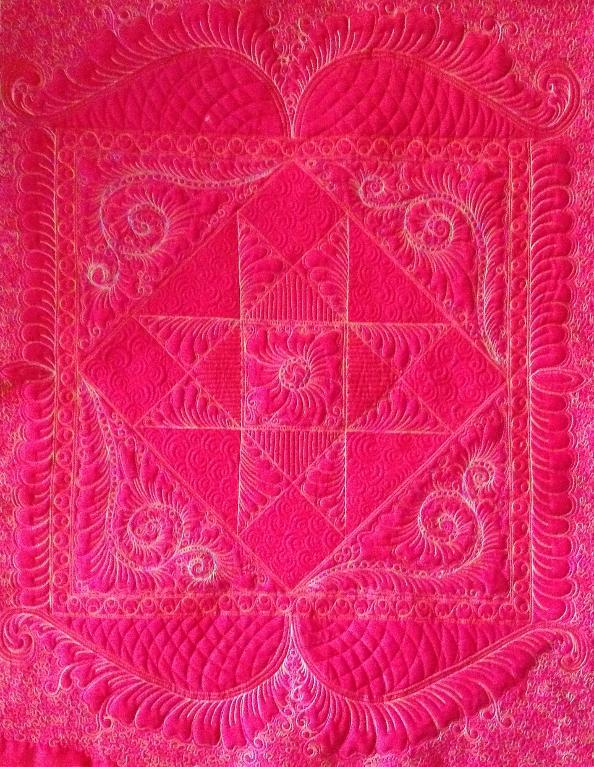 Wholecloth quilt sample via Laughing Lizzie
Tip #4 – Map out your design
Wash your fabric to get rid of any sizing issues and square it up. Press thoroughly and some quilters like to use a little starch on it to keep the fabric crisp when quilting. Mark your quilt with your design using your favorite marking tool.
Once your quilt is marked, stand back and see if it is pleasing to the eye. Correct or add any other designs and details where necessary.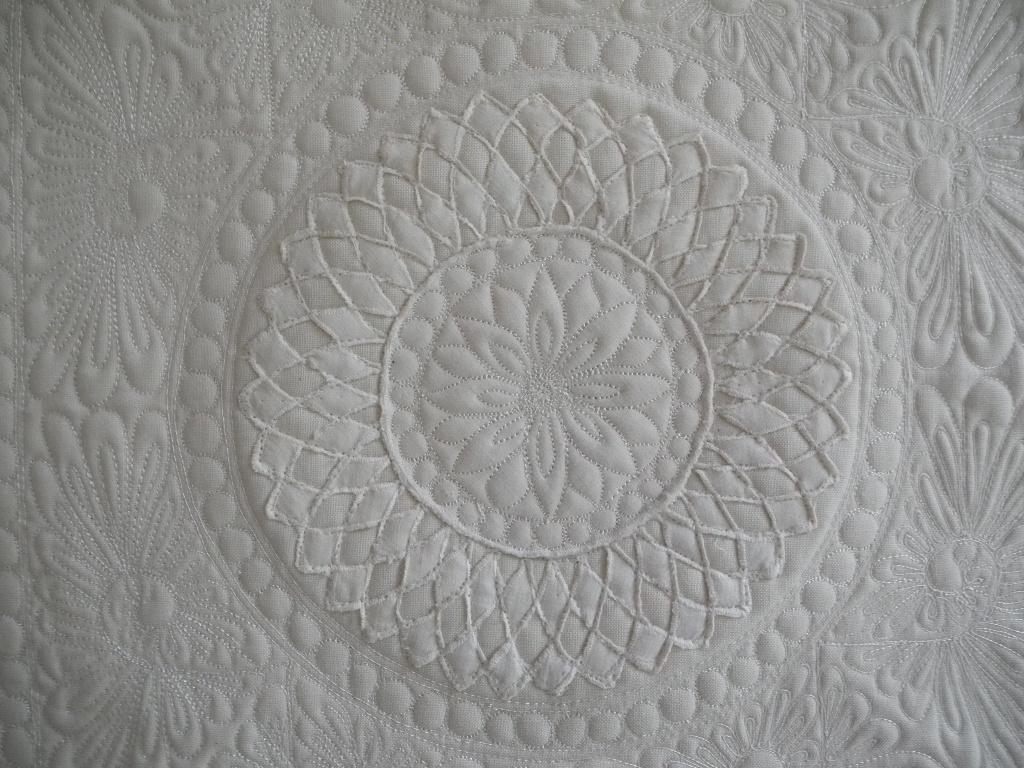 First wholecloth quilt via gritkovac977538
Tip #5 – Ready, set, quilt.
Before you set needle to fabric, take some scraps and practice the specific designs you will be doing on your wholecloth quilt, so when it comes time to do it on the real quilt you will be a pro. When you are ready to start quilting your wholecloth quilt, start in the middle and work your way out. Whenever possible try to do patterns that are repeating at one time, before you move onto another pattern.
Have you made a wholecloth quilt before? If not, are you planning on making one?
Create your own wholecloth treasure
Showcase your quilting as you design a stitched symphony of fabric, motifs, texture and embellishments. Enroll Now »