Did you know September 13th is Fortune Cookie Day? Though the fortune cookie is widely regarded as a Chinese dessert and traditionally served in Chinese restaurants, it actually is not a product of China. The origin of this cookie with a small note offering words of wisdom hidden inside is rather uncertain, but it is believed to have been the invention of Asian immigrants in the United States, inspired by a Japanese cracker. They happen to make a perfect topper in cupcake and cake decorating.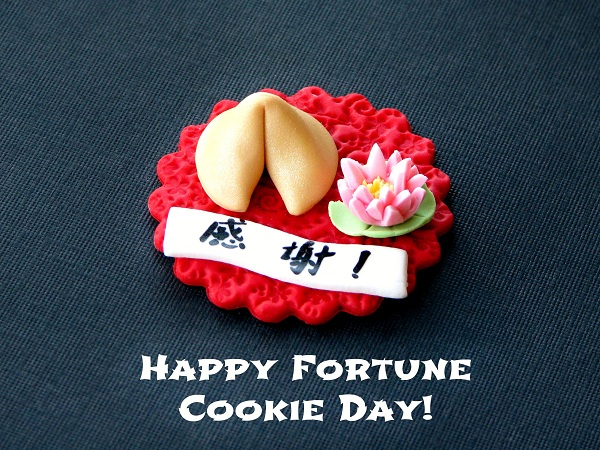 Photo via Lynlee's Petite Cakes
In celebration of Fortune Cookie Day, why not make these simple fondant fortune cookies to adorn your cupcakes, cakes and treats?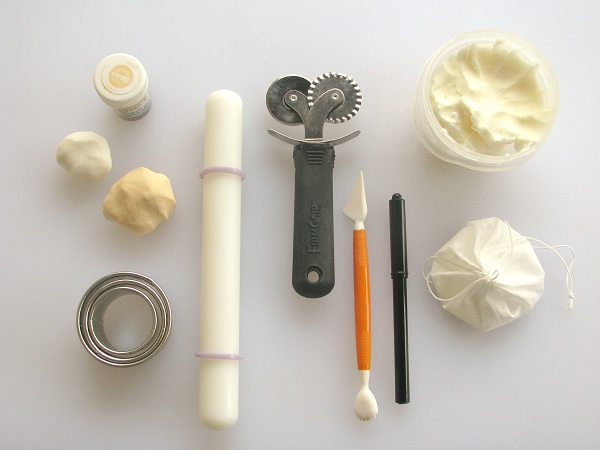 Materials:
Ivory fondant (colored with ivory gel paste)
White fondant
Round circle cutters in desired sizes
Fondant rolling pin – 1/8-inch guide rings
Rolling pastry cutter
Knife tool
Edible marker
Vegetable shortening to soften your fondant
Powdered sugar/dusting pouch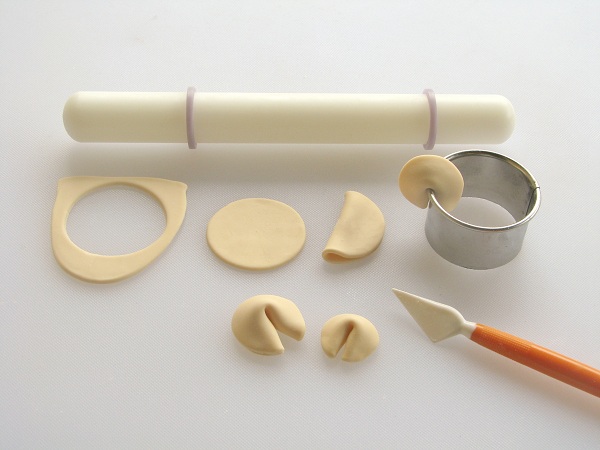 How to make the fondant fortune cookie:
Step 1:
After lightly dusting your work surface with powdered sugar, roll out the ivory fondant with your rolling pin with the 1/8-inch guide rings and punch out a circle with the round cutter in the desired size.
Step 2:
Pick up your fondant circle and fold one side over the other in half so that the edges meet. Lightly press the perimeter of the semicircle together, making sure you do not flatten it entirely. The straight, bottom edge should maintain a hollow tunnel.
Step 3:
Hold the two points of the fondant semicircle with your fingers (one in each hand) with the straight edge at the bottom. Fold the points downward, fitting it over the edge of your circle cutter or your knife tool, shaping it into a fortune cookie.
If you would like to include a message with your fondant fortune cookie, you can either mold the fortune and display it alongside the cookie, or you can insert it inside the fondant cookie, allowing a small strip to peek out. Determine the length of the writing and the method accordingly.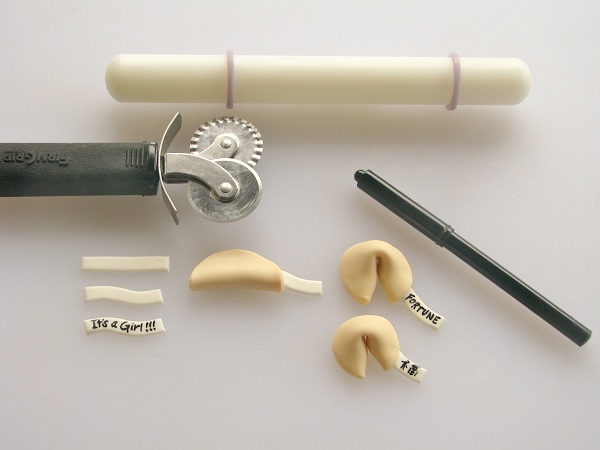 How to make the fortune cookie message:
Step 4:
After lightly dusting your work surface with powdered sugar, roll out white fondant with your rolling pin with the 1/8-inch guide rings. Use the rolling pastry cutter to trim long, rectangular shapes to resemble strips of paper for the fortunes. Leave them straight or curve them a bit.
If you are displaying the fortune outside the cookie, proceed to Step 3.
Step 5:
Follow the steps above to create a fondant fortune cookie, but prior to folding the fondant to create a semicircle, insert the white fondant strip toward the flat bottom of the shape. How much you allow to peek out of the cookie will depend on the length of your message, so adjust accordingly. Then, proceed with molding the fortune cookie as directed.
Step 6:
Allow the fondant to dry and write your message with an edible pen once hardened. Whether you are sending good wishes, announcing some good news or simply celebrating Fortune Cookie Day, be creative with your messages, but remember to be concise due to size constraints.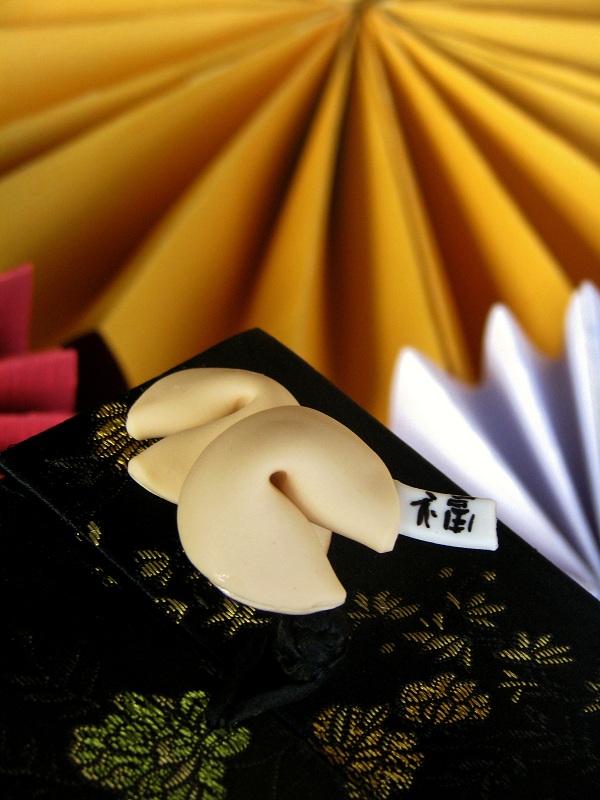 Step 7:
If you want to finish off your fondant fortune cookies with a toasty, fresh-baked trim, mix a little bit of brown gel paste with water to dilute it and gently brush on the mixture around the edges of the cookie.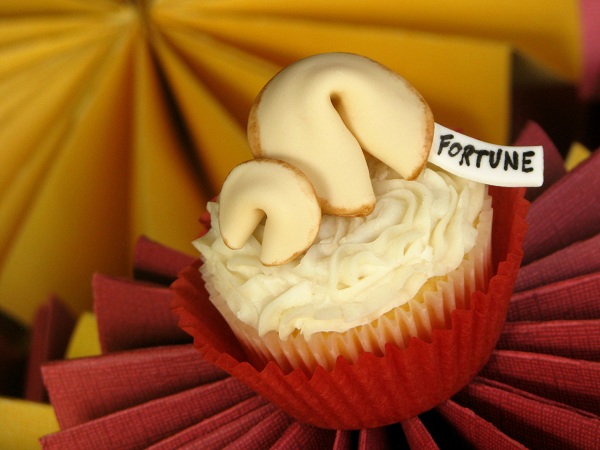 You can also decorate your cupcakes with real fortune cookies and dress them up by dipping them in chocolate and adding sprinkles. Continue the Asian theme with tasty cupcake flavors, such as green tea or ginger. And once you're done baking, make some paper fortune cookies with your leftover cupcake liners!
Take these basic skills to the next level and learn how to add more exciting accents to your cupcake and treat designs in Marina Sousa's Advanced Fondant Techniques Craftsy class.
How do you foresee utilizing fondant fortune cookies in your future?