Eggs are one of the most versatile ingredients you can have in your kitchen, but when it comes to preparing them for breakfast, it seems like we all default to scrambled, fried or over-easy. If you're looking for an egg dish that will impress with ease, look no further than these baked eggs in clouds — which actually look like fluffy, edible clouds on your plate!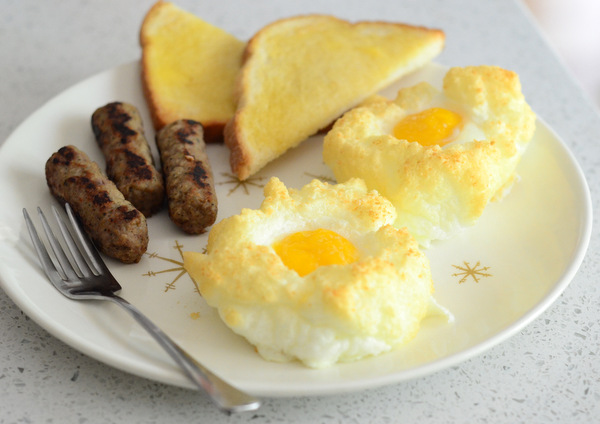 This recipe can easily be adjusted to serve any number of people. I've served these eggs one or two at a time, depending on what else I was serving alongside of them. One per person is fine for a brunch where you have many other dishes to help fill the plate. Two per person is a better choice if you're only serving them with bacon and toast.  
How to make eggs in clouds
The "clouds" are made by whipping the egg whites into meringue, carefully placing a yolk in the center and then baking them in the oven until they are set and golden. 
You'll need to start by separating your eggs. Be very careful as you crack your eggs, because you need the yolks to remain intact and unbroken. Broken yolks will run through the "clouds" during baking and won't give you the same effect. I prefer to keep my yolks in individual bowls so that they don't accidentally run together, but you can collect them all in a single bowl and pour them out one at a time if you're feeling brave.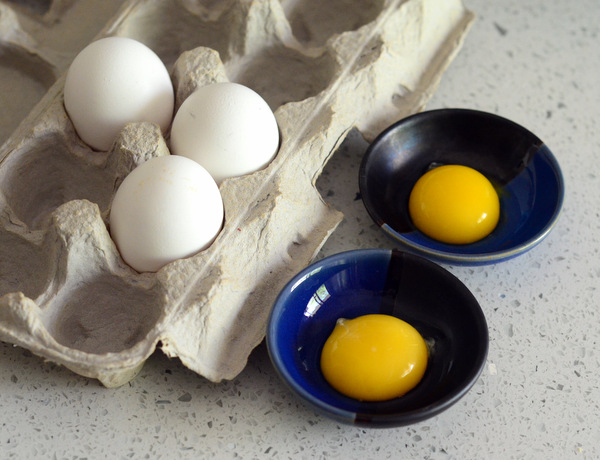 Unlike the yolks, the egg whites can all be collected in one large bowl and whipped up together. To make them nice and fluffy, I recommend using an electric mixer (especially if you're making a big batch) or a copper bowl if you're working by hand. Then you'll dollop them out into individual "clouds" on your baking sheet. I added a pinch of salt to give them a little flavor, but you don't need to.
Once your meringue is prepared and your yolks are set aside, you can assemble the clouds. Divide the egg white mixture into as piles to match the number of yolks you have. You should be able to fit at least four on a baking sheet at a time, but be sure to leave room between the clouds. They will spread only slightly, but you don't want to take the chance that they'll run into each other and ruin the look you've worked to create.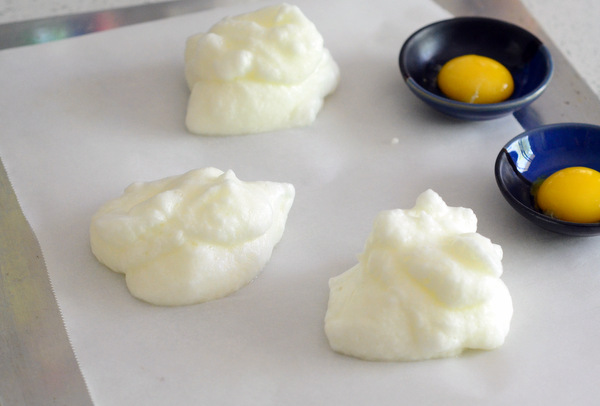 Make a small depression in the top of the meringue, similar to the depression you might make in mashed potatoes when you're getting ready to pour gravy over the top. Carefully drop in your egg yolk.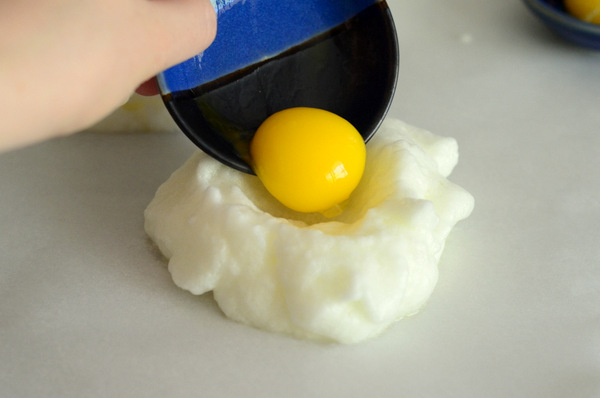 Sprinkle the eggs in clouds with a bit of Parmesan cheese just before baking to give them a little extra flavor and to encourage that lovely golden brown color.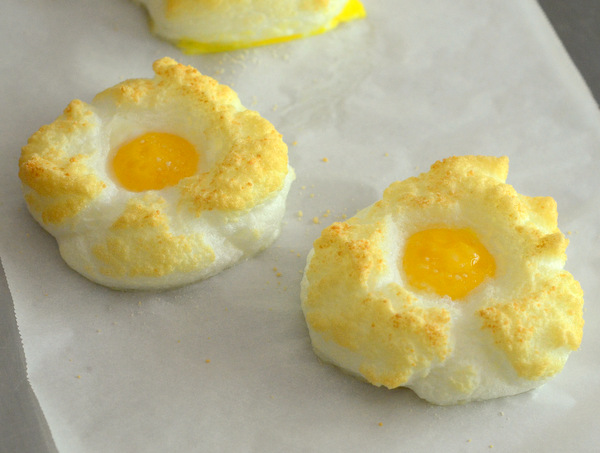 Baked eggs in clouds recipe
Makes 4 clouds
Ingredients:
4 large eggs, separated
1/4 teaspoon salt
2-3 tablespoons Parmesan cheese
Step 1:
Preheat oven to 375 F. Line a baking sheet with parchment paper or lightly grease it. 
Step 2:
Divide eggs, setting yolks individually into small bowls. In a medium-sized bowl, add the whites and whip them to soft peaks. Whisk salt into egg whites.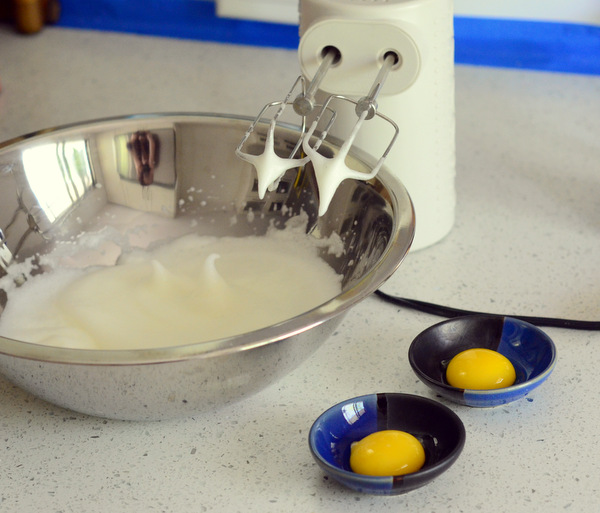 Step 3:
Divide egg whites into four "clouds" on your prepared baking sheet. Use a spoon to make a depression in the top of each one, then slide an egg yolk into it. Sprinkle each cloud with 1 1/2 to 2 teaspoons Parmesan cheese.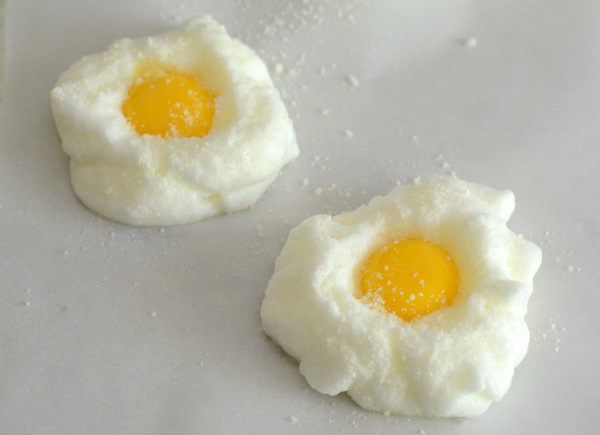 Step 4:
Bake eggs in clouds until set and golden brown, about 14-15 minutes. For runnier yolks, reduce baking time to 11-12 minutes. Serve immediately.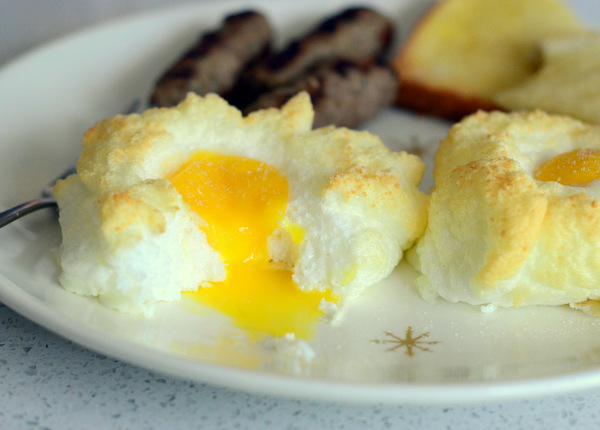 FREE Download: Our Best Breakfast Recipes
Cook your best breakfasts ever with these popular recipes, available exclusively on Bluprint.Get My FREE Guide »