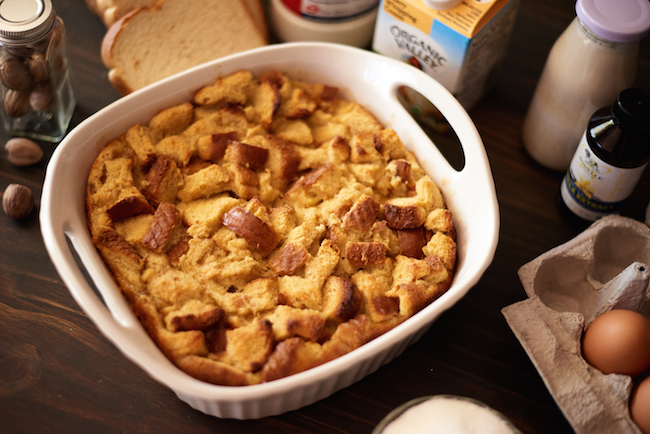 While classic bread pudding is a must-make any day, mix things up this holiday season by adding eggnog.
Eggnog Bread Pudding
Yield: 9 Servings
Ingredients
½ cup heavy cream

½

cup milk
2 cups eggnog
3 large eggs
¾ cup sugar
1/3 teaspoon freshly ground nutmeg
1 tablespoon vanilla extract
8 cups white bread (half a loaf bread), cut into 1″ to 2″ cubes
Instructions
1. Preheat oven to 375 F. Grease a 9″ x 9″ baking pan.
2. In a large bowl, whisk together cream, milk, eggnog, eggs, sugar, nutmeg and vanilla.
3. Place cubed bread in another large bowl, and pour eggnog mixture over the top. Use a spatula to gently fold the bread cubes until they are well coated. Allow bread mixture to stand for 5-10 minutes to soak up the custard.
4. Pour bread mixture into prepared pan and spread into an even layer. Bake 35-40 minutes, or until a knife inserted into the center of the loaf comes out clean and the top is light golden.
5. Allow to cool for at least 15 minutes in pan. Bread pudding can be served warm or chilled. Leftovers should be cooled completely and stored in the refrigerator.