Bread pudding is a magical dish wherein stale bread magically transforms into a decadent dessert. It's somewhat similar to an overnight French toast casserole in its basic idea: take stale bread, coat it in a rich custard, bake it up, and voilà–sweetness is served. But in the case of bread pudding, cubing the bread into smaller pieces and coating it with a far richer mixture ensures a custardy texture and a taste which, though it would certainly work at a brunch, is much more firmly planted in dessert territory.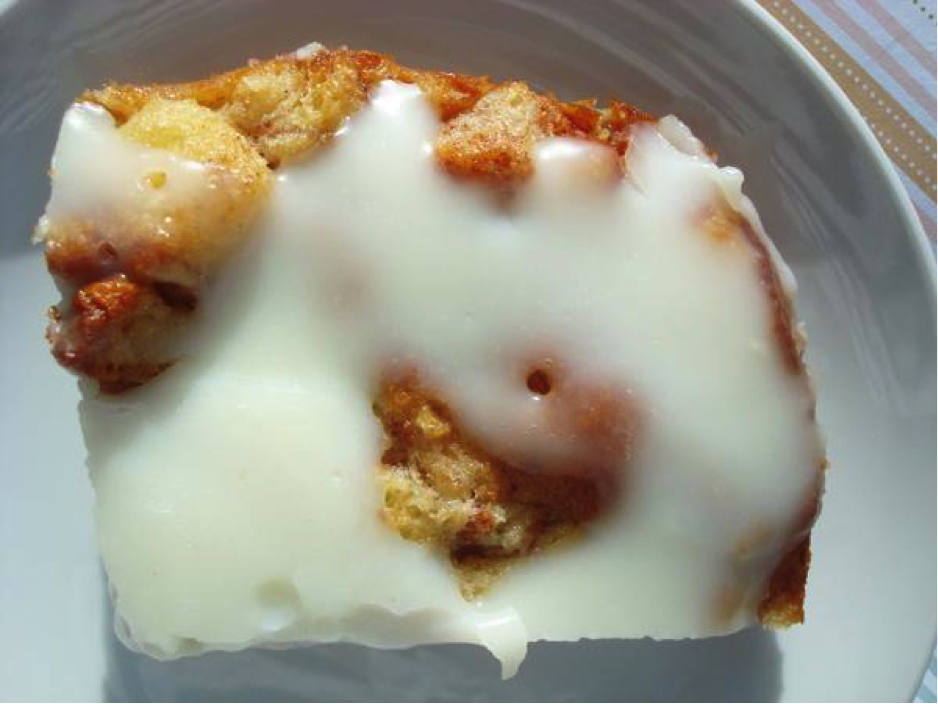 Note: In general, there are two types of bread pudding. The gooey kind, and the solid kind. Having trouble discerning the difference? Although quite different in taste, the texture of different types of macaroni and cheese actually makes a good comparison. The gooey type of bread pudding has a texture more like the gooey, cheesy macaroni and cheese from a box mix; a more solid type of bread pudding will resemble the texture of the casserole type of macaroni and cheese which is baked and can be served in wedges. This recipe yields a pudding that is firm enough to slice, but still soft in the middle.
Recipe notes:
Regarding carbohydrates
Like its cousin French toast, this dish is often made with day-old or slightly stale bread. The dry texture actually acts to your advantage, working like a sponge to soak up all of the tasty flavors of the texture. While a slightly dry texture is important, the type of bread is up to you. For a traditional approach, use a crusty artisan-style bread or a French style bread. If you're feeling inventive, quick breads such as banana or zucchini would work, as would sweet breads such as babka. Nontraditional items such as doughnuts or cinnamon rolls work, too: for instance, this recipe employs a glazed cinnamon loaf. Keep in mind when using sweeter loaves that you may want to reduce the sugar by ¼ cup to keep it from becoming too sweet, and that some breads may already have spices. Because of this, the spices are listed as optional in the recipe.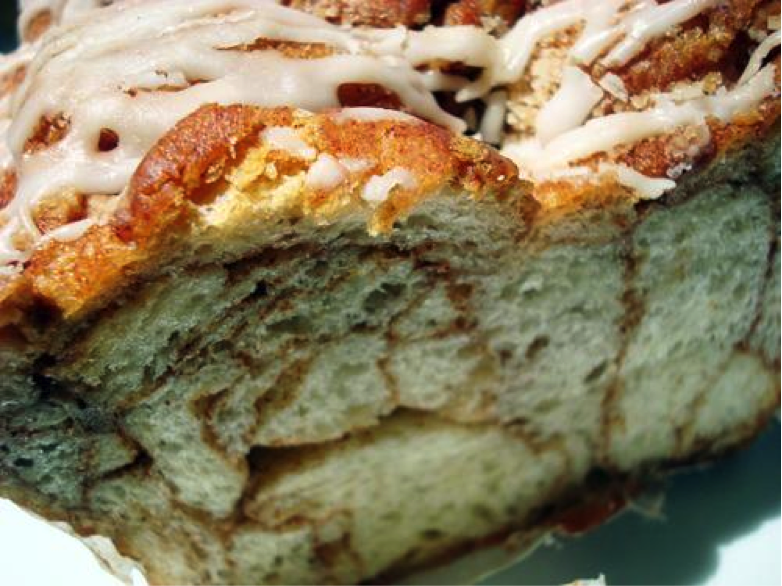 Got too much bread?
Consider using the rest to make homemade croutons or even homemade dessert croutons!
Glaze? On bread pudding?
This is a playful glaze, which is firm enough so that it can be used to top the pudding and then slices cleanly. How do you attain that unique texture? The secret is cornstarch. The addition of cornstarch makes it slightly more solid, which makes it easy to serve the dessert in slices. It is almost like a fancier version of the glaze that comes in cinnamon roll tubes. It's not, strictly speaking, necessary, but once you've had it with, you might not go back to the unadorned version.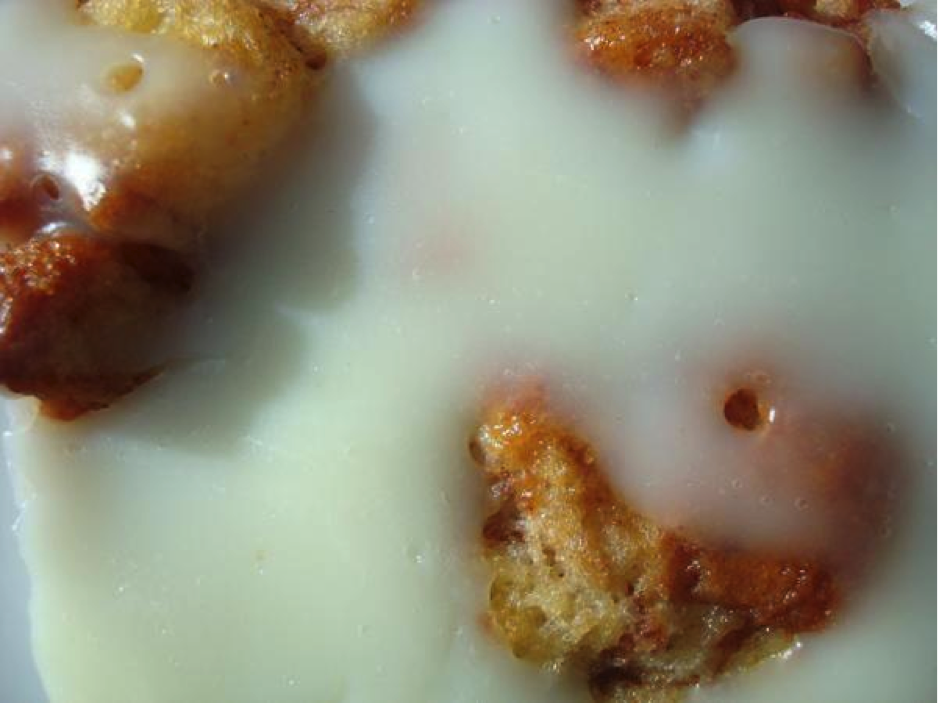 Bread Pudding
2 eggs, lightly beaten
2 cups milk
½ stick (1/4 cup) butter, cut into cubes
1/2 cup sugar
1/4 teaspoon salt
1 teaspoon ground cinnamon
1/2 teaspoon ground nutmeg
2 teaspoons vanilla extract
5 cups cubed bread (approximately 1-inch cubes)
Vanilla Milk Glaze
1/3 cup sugar
2 tablespoons cornstarch
dash of salt
1 ½ cups milk
2 teaspoons vanilla extract
Step 1:
Preheat your oven to 350 degrees F. Grease a 9×13 inch pan. Set aside.
Step 2:
Slice your bread into cubes. The volume of the cubes should be 5 cups or so (a little less is ok, but too many and your bread pudding will be too dry).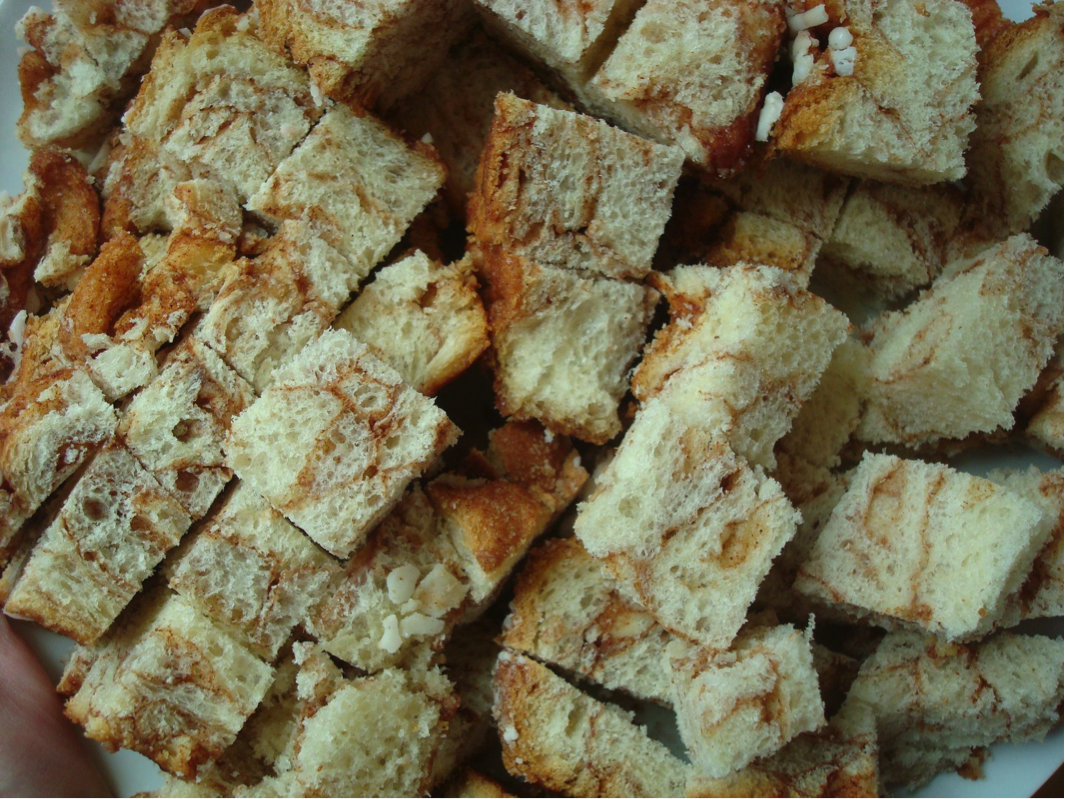 Step 3:
In a large bowl, lightly beat eggs. Set to the side.
Step 4:
In a medium saucepan, combine the milk and butter over low heat until melted and the milk is about to, but has not quite started to boil. The butter should completely melt by this point.
Step 5:
Combine a small amount of the hot mixture into the egg mixture, whisking constantly to incorporate and so your eggs don't scramble.
Step 6:
Add the rest of the milk mixture and stir until incorporated.
Step 7:
Stir in the vanilla and whatever spices you'd like to add.
Step 8:
Place the bread crumbs in the bowl and stir gently to coat.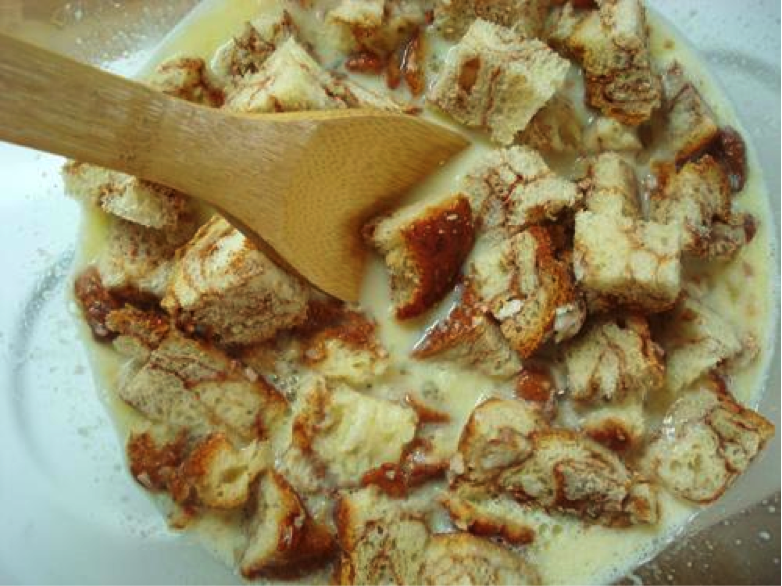 Step 9:
Pour the mixture into your prepared pan.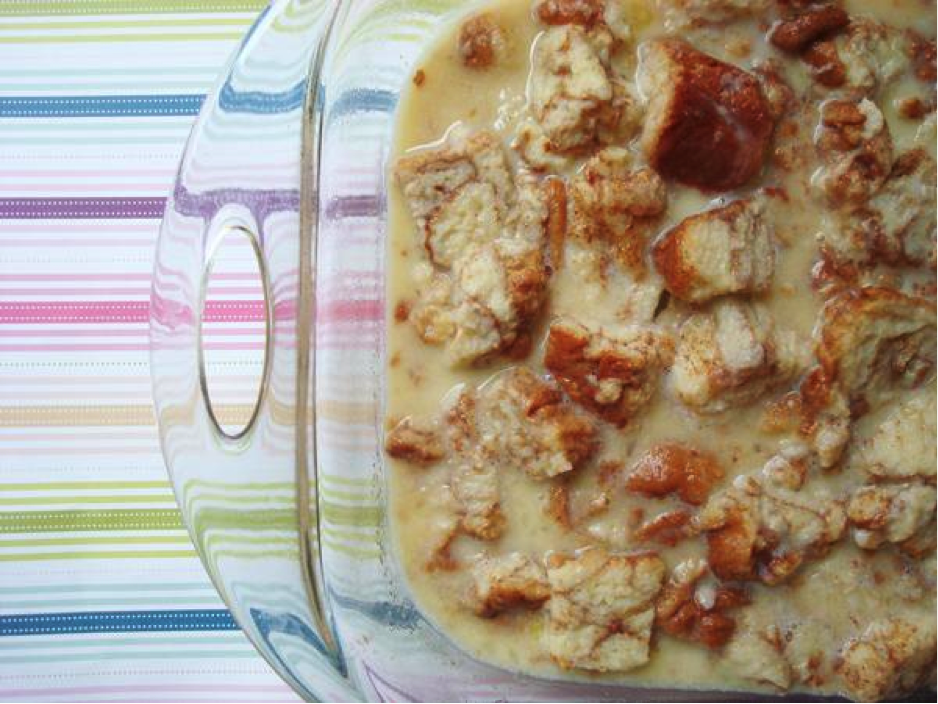 Step 10:
Bake for 40 to 45 minutes, or until the pudding has slightly begun to shrink from the sides of the bowl and the top looks pleasingly golden.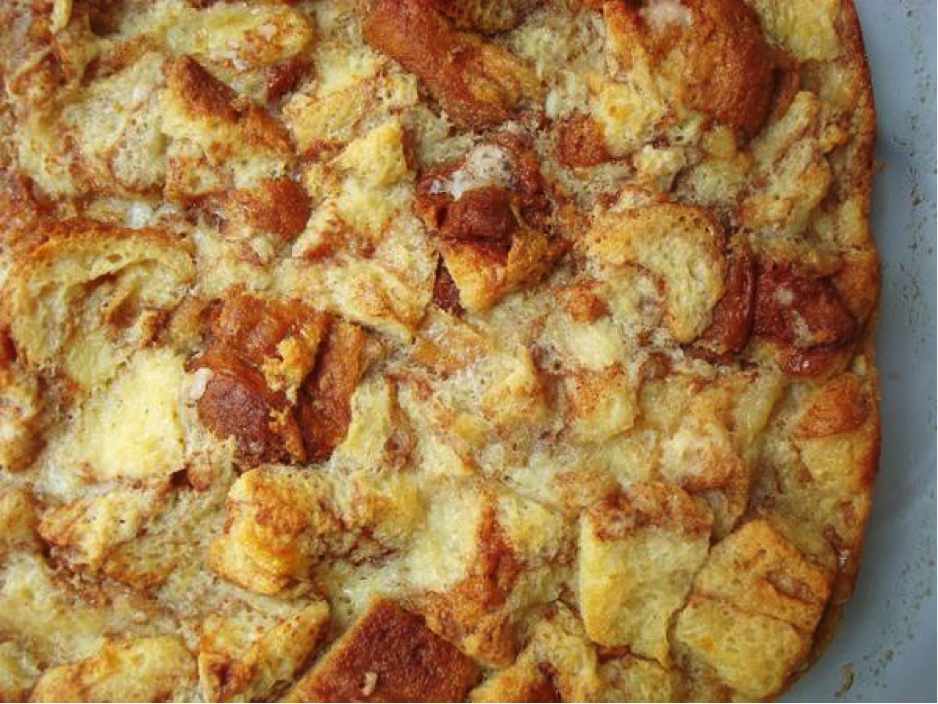 While it cools, make the glaze if you've chosen this delicious step.
Step 1:
Whisk together the sugar, cornstarch and salt in a saucepan.
Step 2:
Pour the milk in the pan and whisk to remove any lumps.
Step 3:
Heat on medium until the mixture has come to a boil.
Step 4:
Let boil for 1 minute, but no more than two, whisking the entire time.
Step 5:
Remove from heat and pour on top of your casserole. Let set before serving.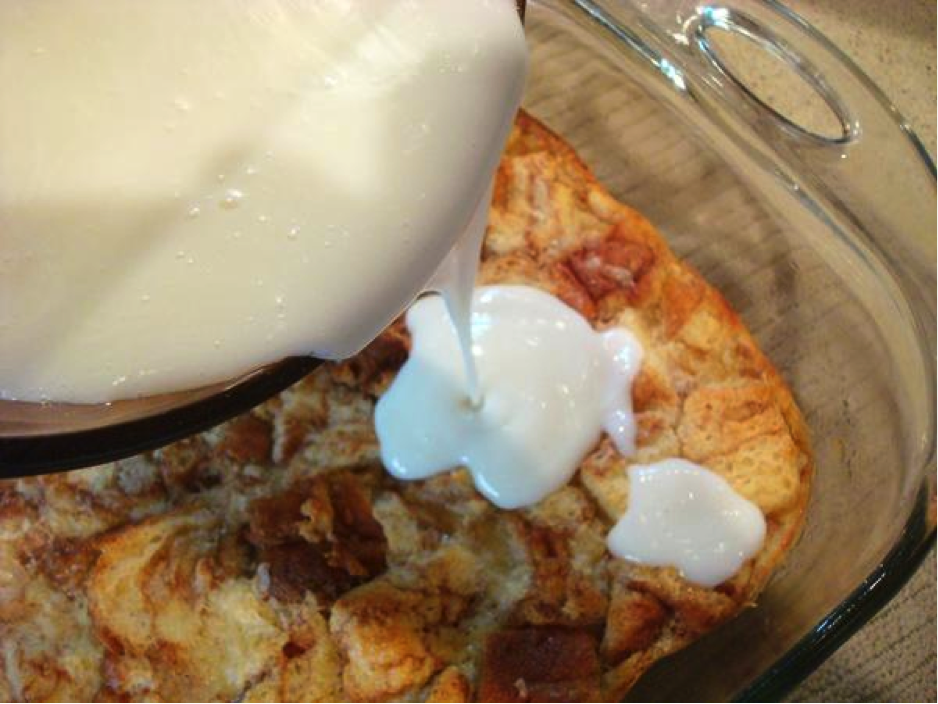 This is a well-bread pudding indeed! Learn how to bake bread in Artisan Bread Making– though we doubt you'll let these loaves go stale.
What type of bread do you like to use for your bread pudding?