Say hello to spring with a cheerful flower block!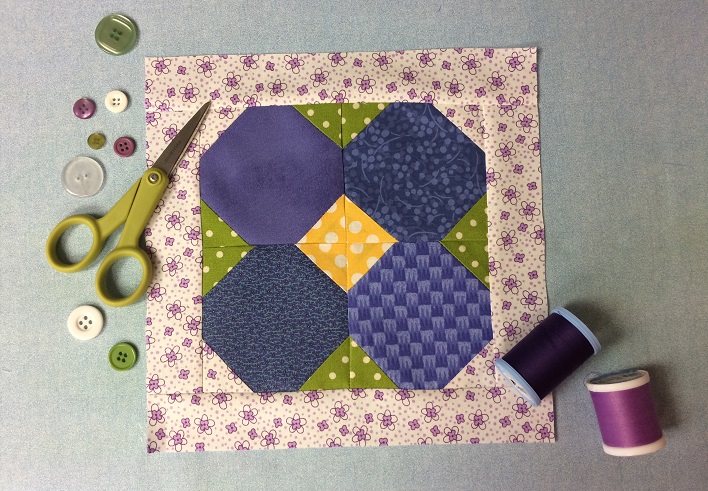 This block will be 8″ once it is sewn into a quilt or project. It will work well with the other monthly scrappy blocks (see full list below!) if you have been following along. This one is just as quick and easy and fun as the others, so let's get started!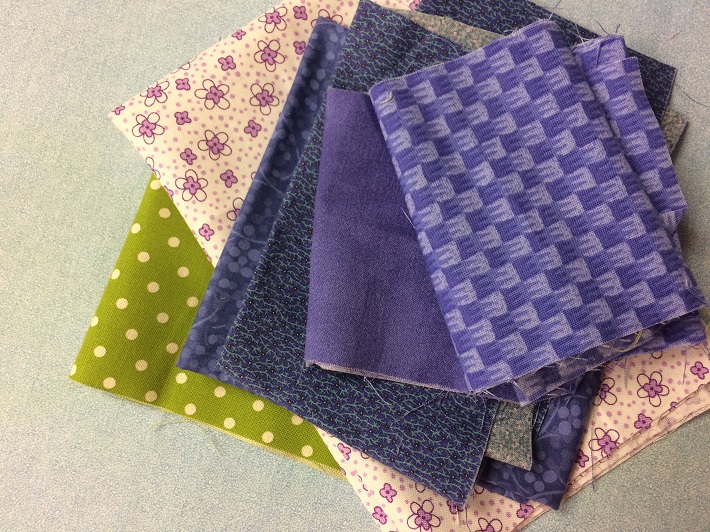 Step 1:
Choose some colorful scraps for the flower that are at least 3 1/2″ square, a background fabric, a leaf fabric and a center fabric.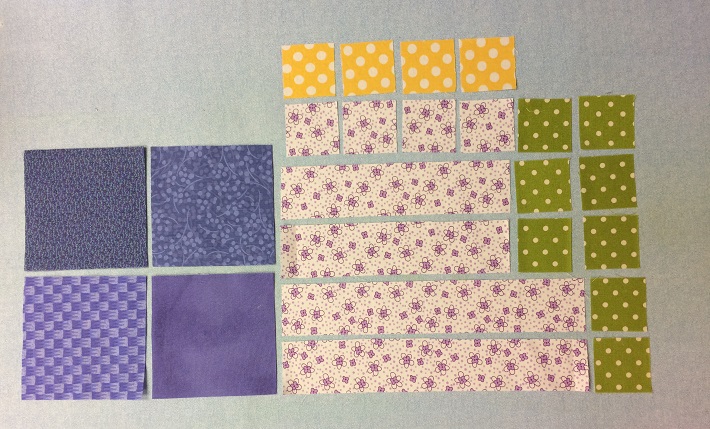 Step 2:
Cut the flower fabric (purple) into four squares that are 3 1/2″. Cut the background fabric into four squares that are 1 1/2″, two strips 1 1/2″ x 6 1/2″, and two strips 1 1/2″ x 8 1/2″. Cut the leaf fabric (green) into eight squares that are 1 1/2″. Cut the center fabric (yellow) into four squares that are 1 1/2″.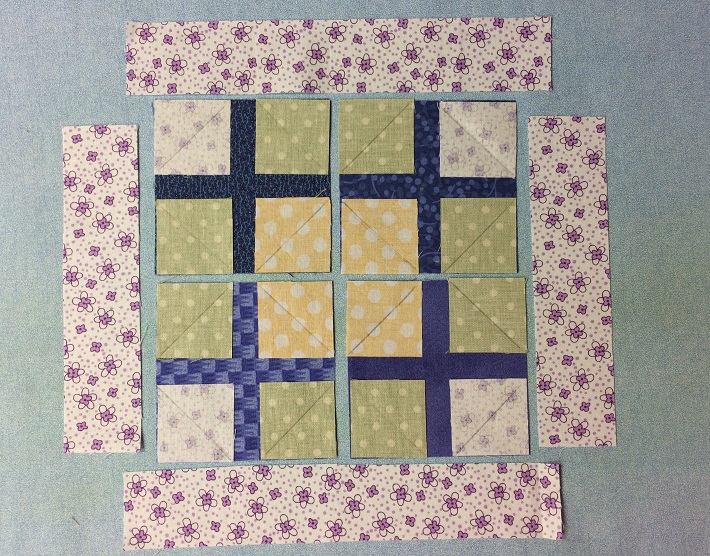 Step 3. 
Draw a diagonal line on the back of all of the 1 1/2″ squares with a pencil. This marked line will be your sewing line. Lay out the pieces as shown, with the center blocks (yellow) in the middle, the background blocks on the outer corners and the leaf blocks (green) on the remaining corners.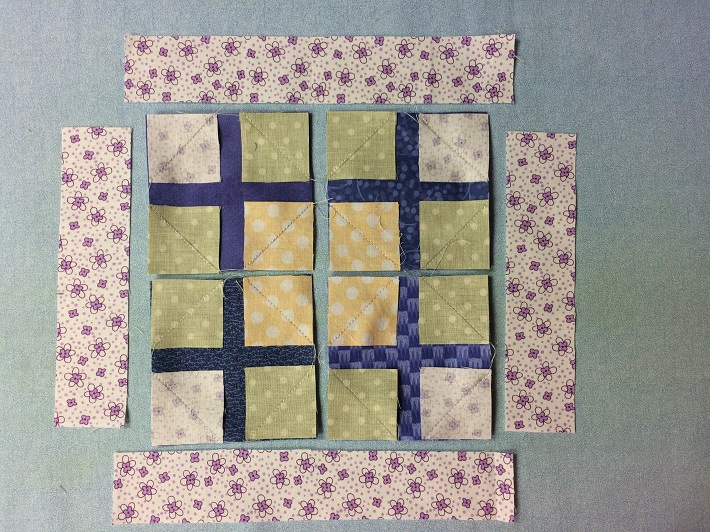 Step 4.
Sew on the drawn lines on each square.
Step 5:
Trim away the excess fabric on the corners, 1/4″ away from the drawn line as shown above.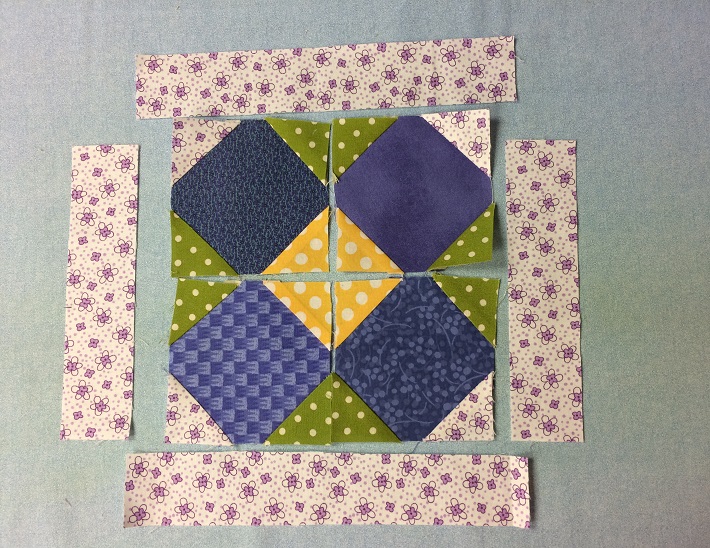 Step 6:
Press the corners away from the center of each block. Then carefully layout the four squares so they are arranged as shown in the photo.
Step 7:
Sew the four center blocks together like a four patch using a quarter inch seam allowance. Press the seams on the back so that they spin in the center. This will help them to lay flat.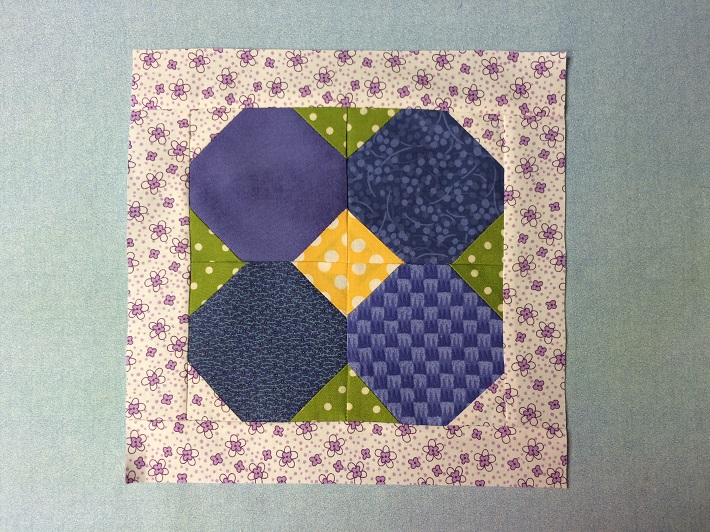 Step 8:
Add the side borders using a quarter-inch seam allowance. Press the seams toward the border strip. Repeat with the top and bottom borders. Trim the block to 8 1/2″ if needed.
Think of the possibilities!
Make just one block and add it to the heart, shamrock and umbrella block collection, or make dozens and have a cheerful flower garden quilt.
Choose any color you like to make your flowers, they don't have to be purple. These flowers would be fun in a rainbow of colors or make a whole bouquet from your favorite color. Pink flowers would be sweet for a baby girl quilt. A row of red flowers would make a striking table topper. Four flowers sewn together in a four patch would make a pretty pillow cover. How many flowers will you make?
Don't forget to share your blocks and projects in the gallery for everyone to enjoy! We love seeing your spin on these fun little blocks.
If you missed any of the free scrappy block patterns, they can be found here: