Drafting sewing patterns, even if you are an experienced sewist, can seem like a mystery. While it certainly requires a bit of practice and skill, you can learn sewing pattern drafting without going back to school for a degree in fashion design.
What is Pattern Drafting?
If you are familiar with draping, where designs are created by draping, folding and pinning fabric on a dress form, drafting is different in that pattern pieces are drawn on paper according to body measurements. There are several different methods for pattern drafting and the method you choose will depend on your design and if you're willing to spend money on software or tools.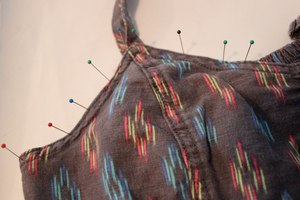 Pattern Drafting Techniques
Tracing is the easiest and simplest option, but it works best for garments with little to no shaping. You'll be limited in what you can create, but it's a good starting point if you are experimenting with basic pattern drafting. The process is pretty much exactly like it sounds: place your garment flat on a piece of paper and trace around it. Try creating a pattern for your favorite t-shirt or a simple pair of pants by tracing. Don't forget to add seam allowances before cutting your fabric. Or, if you have a much-loved garment that is no longer wearable, you can deconstruct it (take some notes along the way if you're worried about remembering how everything fit together) and trace the pieces. This is also a great option if you want to re-create something in a bigger or smaller size. Once you have your pattern pieces traced, grade the pattern up or down a size with your prefered pattern grading method (shifting or cut and spread).
Aside from tracing, there is another, slightly more complicated technique for clothing pattern drafting from ready-to-wear garments- the rub-off method. The rub-off method can either be done with paper or fabric.
With the paper variation, you will layer a sheet of paper over a piece of cardboard and place the garment on top. Next, place straight pins around the outline of the garment, and in strategic places in the garment to mark darts or pockets (it might look like you are performing acupuncture on your favorite jacket). Remove the pins and connect the perforations. Cut out the pattern pieces and check for accuracy by laying them on top of your ready-to-wear garment. Again, don't forget to add seam allowances when cutting out your fabric.
The fabric rub-off method is an option if you are unable to place pins in the original garment, either because it is three-dimensional or because doing so would damage the garment. Using muslin or another tracing fabric, drape around the original garment and trace the lines (a crayon or chalk works well for rubbing around the lines of the garment). Just like with the paper method, you can check the accuracy of your pieces by laying them on top of the original garment.
Another way to draft patterns is by creating a sloper. Slopers are sometimes referred to as block patterns or fitting shells, and they are basically an extremely close fitting garment with no ease for movement. Since it's a basic pattern fit to your measurements, a sloper is the building block from which you can create any number of patterns by adding and subtracting design elements.
If you are interested in creating a sloper, you have a few options. Commercial pattern companies sell sloper patterns but they can be a little pricey. You can also find numerous free sloper patterns online. Creating your own sloper pattern from scratch is also an option, but be prepared to do a lot of math (you might find yourself using all of that geometry you learned in high school and swore you would have no use for). Ultimately, you will end up with slopers for different parts of your body (a bodice sloper, a sleeve sloper, a pants sloper, a skirt sloper). These can be combined depending on the features of the garment you are designing.
If you'd like to draft patterns from scratch on paper first, there are two options: using pattern making rulers or using pattern drafting software.
Pattern making ruler systems, such as The Point and Pivot system or The Pattern Drafter, take all of the guesswork out of pattern drafting. Investing in such a system does require a bit of cash, but it's a less expensive option than purchasing pattern drafting software. The rulers are pre-graded for size, and combine all of the rulers and curves you would need into one piece.
There are many, many options for pattern making software. As with most computer programs, they vary in cost and features. Which one is right for you depends on a variety of factors. A program with all the bells and whistles can run around $1000. If you are only creating patterns for yourself, you will probably be happy with one of the more affordable programs, which might only set you back $100-$300. However, if you intend to share or sell your patterns, you'll want a program that can generate graded patterns for different sizes and one that allows for easy file sharing, and the more expensive program will be well worth it. If you are in the market for pattern drafting software, read as much as you can about the different options (online discussion forums are a good place to start) and take advantage of any trial options to get a feel for the program before purchasing.
Another option for pattern making software is Adobe Illustrator. Although not strictly for designing patterns, Illustrator does have the capability to create sewing patterns. Dixie from Dixie DIY has a great post on how she digitizes her patterns with Adobe Illustrator. If you're already familiar with Illustrator, or, even better, already own a copy of the program, it might be an appealing option for pattern making software. Illustrator can be an extremely affordable option as well; although the program is generally as expensive as dedicated pattern making software, Adobe now offers access to their Creative Suite through a monthly subscription model, so it's worth looking into if you don't have a lot of cash to put down up front.
Once you learn how to draft patterns you might wonder why you ever purchased commercial patterns, and you might even join the ranks of other self-taught designers sharing and selling patterns online.
Interested in learning more about pattern drafting? Check out Bluprint's Plus-Size Pattern Fitting and Design class. Find more pattern drafting inspiration here and sewing inspiration here.