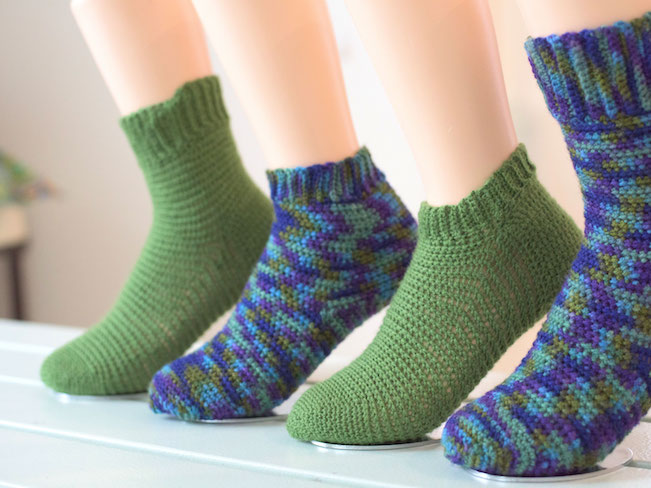 Call us crazy, but there's honestly nothing better than a good pair of socks — especially when they're handmade. Though crocheting socks can be tricky if you've never tackled 'em before, when you have a game plan — and these handy tips — you can crush it. A fair warning, though: once you go handmade, you'll never want store-bought socks again.
1. Choose the Right Yarn
The first step to a successful crochet sock is making sure you have the right yarn. You should take a few things into account:
Weight
There are hundreds of crochet sock patterns available, ranging from chunky slipper socks made with a 6mm hook to fingering yarn made with a 3mm or 2.5mm hook. When choosing your project (and therefore your yarn weight), think about how you'll wear your socks. Chunky yarn is good for extreme conditions, so you can wear them while skiing, hiking or snuggling by the fire. Socks made from finer yarn are more for every day, year-round wear.
Fiber Content
The fiber content of your yarn can also make a big difference in your socks. For instance, synthetic fibers (such as acrylic) don't wick moisture as well as as natural fibers (think wool, alpaca or cotton.)
For most socks, a wool-nylon blend is a go-to — the wool has natural stretch and keeps your feet warm and dry, while the nylon helps the socks withstand a lot of wear. Socks that are 100 percent wool are cozy for wearing around the house, but could fall apart fast if you worn on a hike. If you don't want to use wool, bamboo yarn is a good alternative.
2. Stitch to Get Stretch
Fact: crochet stitches don't stretch the same way knitted stockinette stitches do. While store-bought knit socks pull on easily, snap into place and stay put, that's not always the case with crocheted socks.
That's why the choice of stitch is crucial. The crochet fabric needs to stretch enough to fit around the widest part of your ankle and heel, but not sag once it's pulled up. Most designers will make patterns with this in mind, but remember that your foot is unique and you may still need to tweak a pattern for fit.
Whatever crochet pattern you use, try your sock on frequently as you make it. This is extra important just before and after adding the heel. It's better to know sooner rather than later if your sock won't go over your heel — ripping back is always painful, but the sooner you find the problem, the better.
3. Consider Working Cuff-Down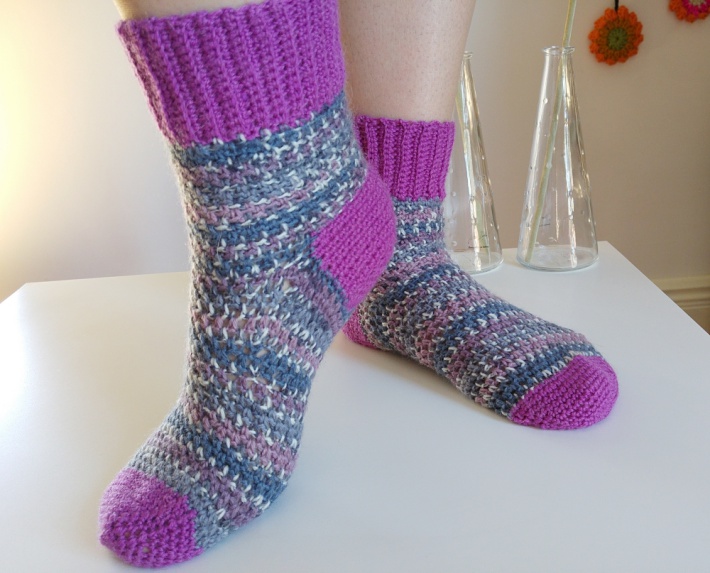 Just like knitters, crocheters can make a sock starting at the toe and working up, or starting at the cuff and working down. Each technique has its pros and cons.
The advantage of working cuff-down is the faux ribbing has more stretch. In the SuperSonic crochet sock pattern (pictured above), you use single crochet stitches in the back loop only to make a strip of ribbing, which you then join with slip stitches. Flipped on its side, it gives you the ideal launching point for working your leg section in the round.
Whichever method you choose, the most important element is the type of heel. Because of the lack of stretch, the more room you have in the heel, the better. An afterthought heel is often the least roomy, so opt for patterns that include a traditional heel flap or heel turn.
4. Work With Negative Ease
Most crochet sock patterns give you instructions for different sizes, but you may find that to get a perfect fit you need to modify the stitch count in the round for the leg and foot. (Remember: feet are not only different sizes, but also different shapes!)
When figuring out how many rounds to complete in your foot section, remember that although crochet fabric doesn't stretch sideways very well, it does have a lot of stretch along the body of the sock. So start crocheting the toe section when the sock is about ½" shorter than your foot.
This ½" of stretch is called the negative ease. If you stitch without negative ease, your socks might stretch when you wash them and become way too big for you to wear. Most well-fitting crochet socks look awkwardly small, but they need that negative ease to fit well and not sag or fall off your foot.