Baking perfect cupcakes can be easier said than done. Cupcakes may be small, but they can take just as much time and cause you as much trouble as a full-size cake. That's why we're here to help you troubleshoot common cupcake problems so you can bake your best cupcakes yet.
Keep reading for answers to some of the most common cupcake questions.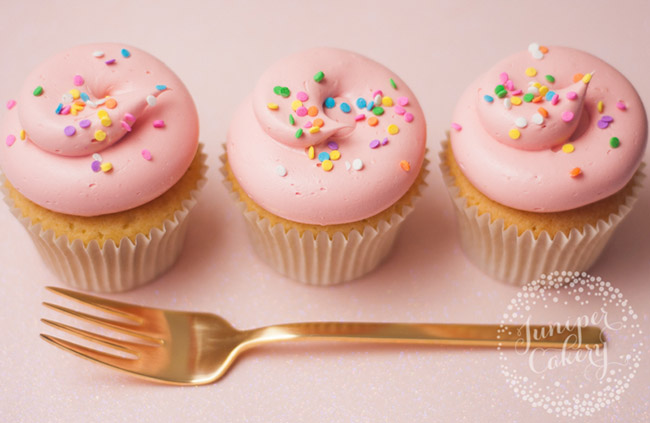 Why did my cupcakes sink in the middle?
Why it happens:
There's nothing worse than taking cupcakes out the oven, letting them cool and watching them deflate. The main culprit for this is over mixing. While it's tempting to throw every ingredient in the bowl all at once (some recipes even advise it) this often leads to overworking the batter.
Because ingredients like sugar, flour, butter, and eggs have different consistencies, there can be lumps of ingredients sticking together. This is when most people put their mixer on full power. While the lumps may vanish, all that mixing will fill your batter with air. That air that escapes when in the oven, leaving behind a flat or sunken cupcake. 
How to avoid it:
Over mixing is very easy to do — and on the plus side, it's just as easy to avoid by following a specific order of events when making the batter. Cream the sugar and butter together, then add the flour and mix until incorporated. Then add the eggs, mixing one last time until combined. 
Why is the top of my cupcake sticky?
Why it happens:
Every freshly baked treat needs time to cool, and cupcakes are no different. But it's not always easy to tell when a cupcake has cooled all the way through. If the top is cold to the touch, it's tempting to place them in an airtight container until you can frost them. Unfortunately, this is where moisture becomes your worst enemy.
Any cupcake that has the slightest amount of heat left in the center will cause the container to condensate. Your cupcakes will then soak up all the moisture like a sponge, leaving you with tacky cupcakes.
Sticky cupcakes also happens in humid environments: If you live somewhere particularly hot or near water, watch out.
How to avoid it:
Allow your cupcakes to breathe! Invest in cake umbrellas or foot nets, and allow cupcakes to cool for at least a couple of hours before decorating or storing. 
My cupcakes are dry. How did this happen?
You know the scene in "National Lampoon's Christmas Vacation" when they cut into the turkey only for it to deflate into a dry mess? That can happen with cupcakes too (maybe not so dramatically).
Why it happens:
Baking is a science, and the individual ingredients used in a recipe are all important. Too much of a dry ingredient (like flour or cocoa) leads to dry cupcakes. Over baking can also create dry cakes because the moisture in the cupcakes bakes out.
How to avoid it:
First, measure everything accurately. We always recommend weighing ingredients rather than using cups. Steer clear of pre-made box mixes, as baking from scratch will always give you more control over ingredients.
Second, time your bakes. Use a kitchen timer or your smartphone to monitor how long your cupcakes are in the oven. 
Why did the chocolate chips/berries sink to the bottom of my cupcakes?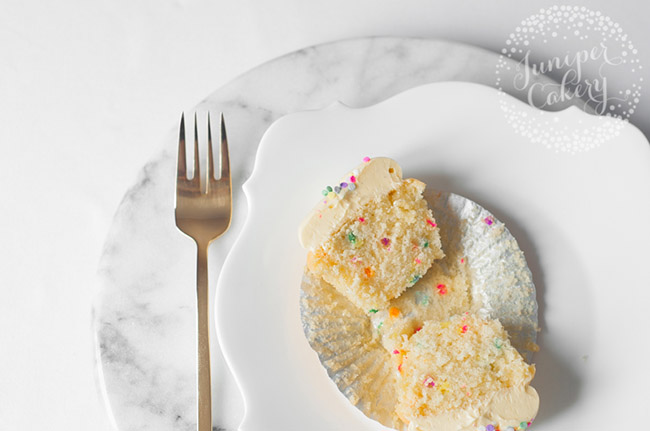 Why it happens:
Evenly distributed chocolate chips or berries in a cupcake is a thing of beauty! It's easy to do with lightweight additions, like rainbow sprinkles for funfetti cupcakes. That's because sprinkles are lighter than cupcake batter. Berries, dried fruits and chocolate chips all weigh more than the mix surrounding them, so they naturally sink to the bottom.
How to avoid it:
Roll the additions in self-rising flour. The flour creates friction between the fillings and the cake mix, allowing them to stay in place and defy gravity.
Also, using our tips above, make sure you don't over mix your batter. A batter that's too thin and over mixed will make those tasty additions sink like stones.
Why aren't my cupcakes flat on top?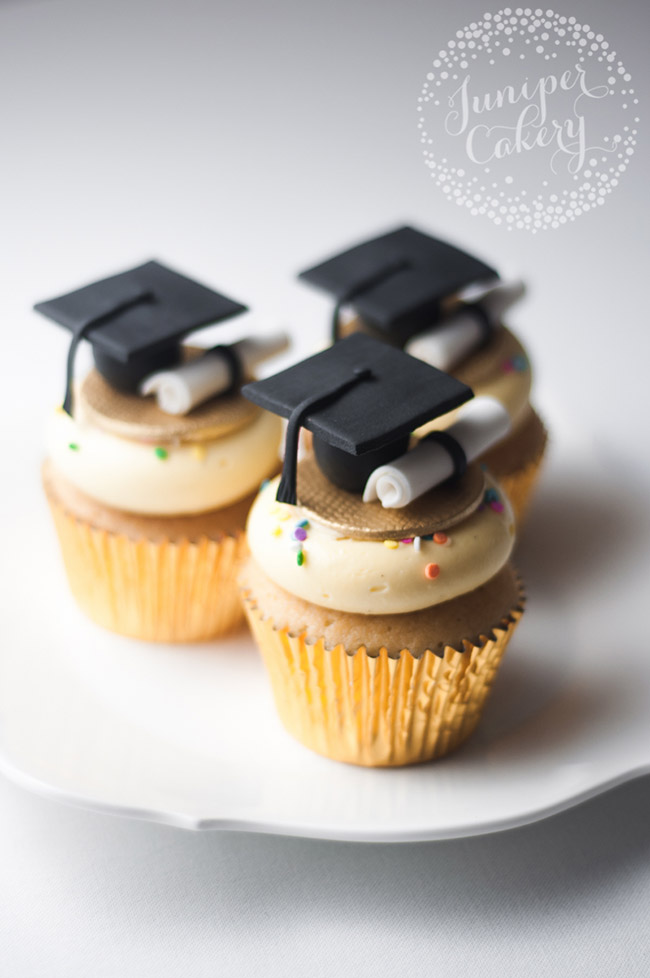 Why it happens:
This can leave everyone a little deflated, right? Flat cupcakes exist due to lots of contributing factors. Oven temperature, wrong amounts of leavening agents, and overfilling cupcake cases are the main culprits. This can all feel overwhelming but there's no need to sweat it!
How to avoid it:
If you don't use a commercial oven, invest in a domestic convection oven for your home kitchen. And always use an oven thermometer! Ovens can vary in temperature, so it's important to know how hot your oven actually is.
When it comes to leavening agents, double-check your recipe and measure everything accurately.
Finally, bake a test batch each cupcakes crevice filled to a different level. Bake them and see which height you like best.
Why did my cupcakes overflow while baking?
Why it happens:
Everyone's done it: put cupcakes in the oven only to take them out and they've transformed into overflowing muffin-type things that have taken over the pan. This almost always happens because each cup in the pan has been overfilled.
How to avoid it:
The secret here is to not overfill. Easier said than done, right?
A good benchmark is to fill each cup halfway or three-quarters full. This usually produces the best results  — but remember, cocoa, fruits or food coloring can change the way your cupcakes rise. Make sure to bake a test batch.
Here's another trick: Cupcake pans come in many sizes. Whichever you prefer, stick to it! If you swap the size of your cupcakes every time you bake, you're bound to get inconsistent results. If you use one size, you'll learn how much to fill each cup. Once you master this, you'll never have this problem again. 
Finally, try filling your cases by piping the batter in with a piping bag. This will help you evenly distribute your mix most more efficiently than spooning it in.
My cupcake liners keep peeling off! How do I stop this?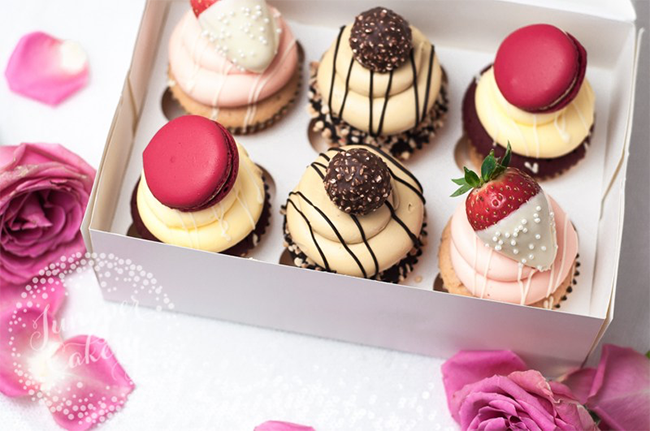 Why it happens:
This is where moisture rears its ugly head again! Storing still-warm cupcakes in air-tight containers or living in humid conditions can cause your cupcake cases to peel.
How to avoid it:
Luckily there are multiple ways you can stop this. Always allow your cupcakes to cool in a breathable environment.
If you're preparing an order for a client and you're on a deadline, bake your cupcakes as close to that deadline as possible. This can be a pain when you have hundreds of cupcakes to bake so make this easier on yourself by prepping your frosting, fillings and decorations beforehand.
Try foil cupcake liners — these don't peel as easily as paper liners. If you prefer paper, be sure to pick high-quality, professional-grade liners of 65gsm or above.
Have a different cupcake problem that needs solving? Just ask below!