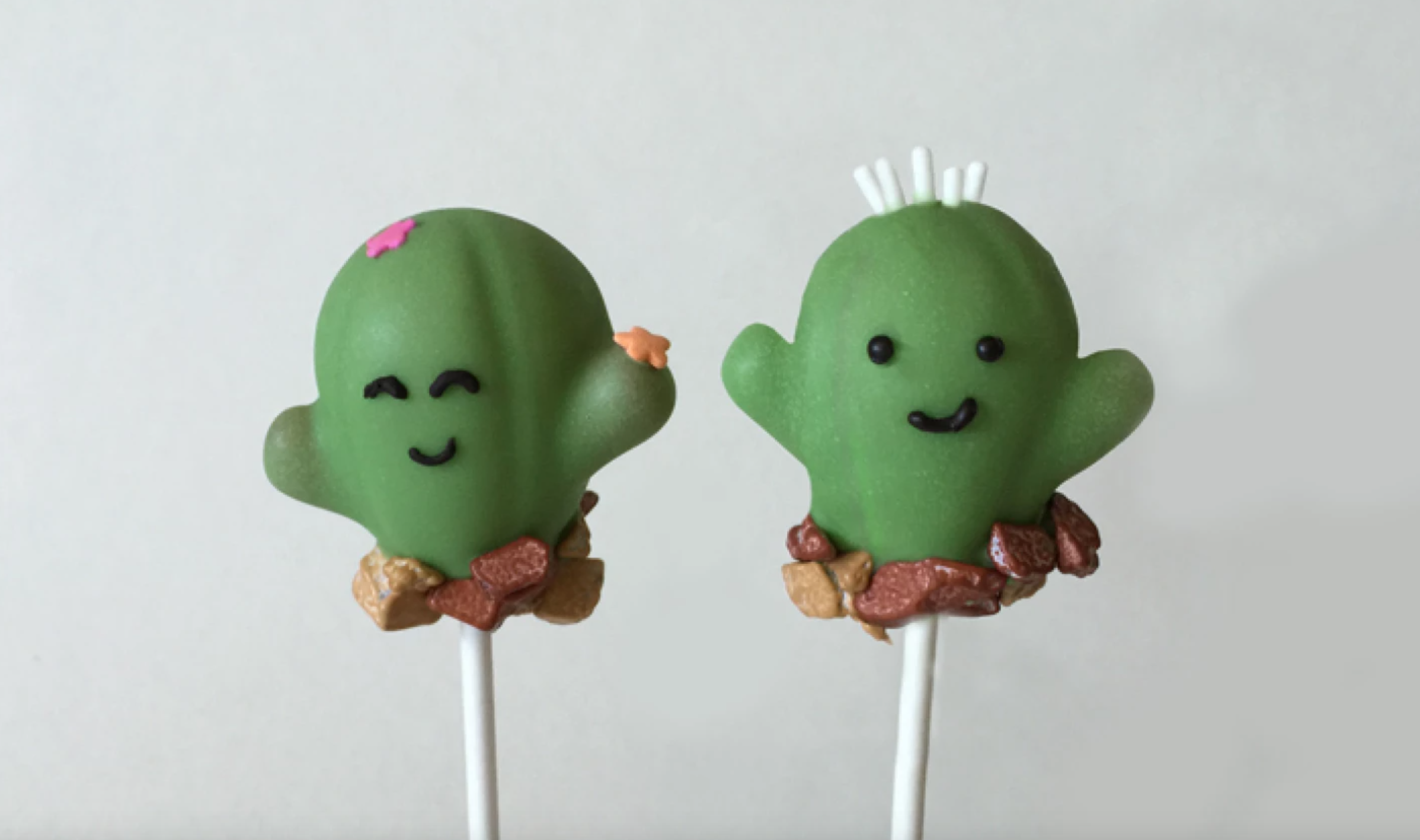 Is it desert or dessert? We say both! These cactus cake pops are sweet, delicious… and 100 percent safe around party balloons. With some simple shaping know-how and clever decorating ideas, you'll be making 'em in no time.
Cactus Cake Pops
Level: Easy
What You Need
Cake pop dough
Lime green candy wafers
Green candy wafers
Mike and Ike candies
Chocolate rock candies
Flower sprinkles
White sprinkles
Paramount crystals
Lollipop sticks
Wax paper
Toothpicks
Cake pop stand or styrofoam block
Instructions
1. Shape Your Pops
Working on a wax paper-covered surface, use a cookie scoop to portion out your dough. Roll each portion into a ball, then shape it into a long droplet. Gently tap the pointed edge onto your counter to flatten it. Chill in the refrigerator.
2. Prep the Candy Coating
In a small microwave-safe bowl, melt the green wafers according to package directions. (We used a 4 to 1 ratio of light green to medium green to get this hue.) Thin out the candy coating using paramount crystals. You'll want the coating on the thinner side here, so the indentation detail doesn't get lost in a thick layer of coating.
3. Add the Sticks
Remove uncoated cake pops from the fridge. For each pop, dip about ⅓" of a lollipop stick into the green candy coating and push it into the bottom of the cactus until it's about halfway through.
4. Give Them Some Texture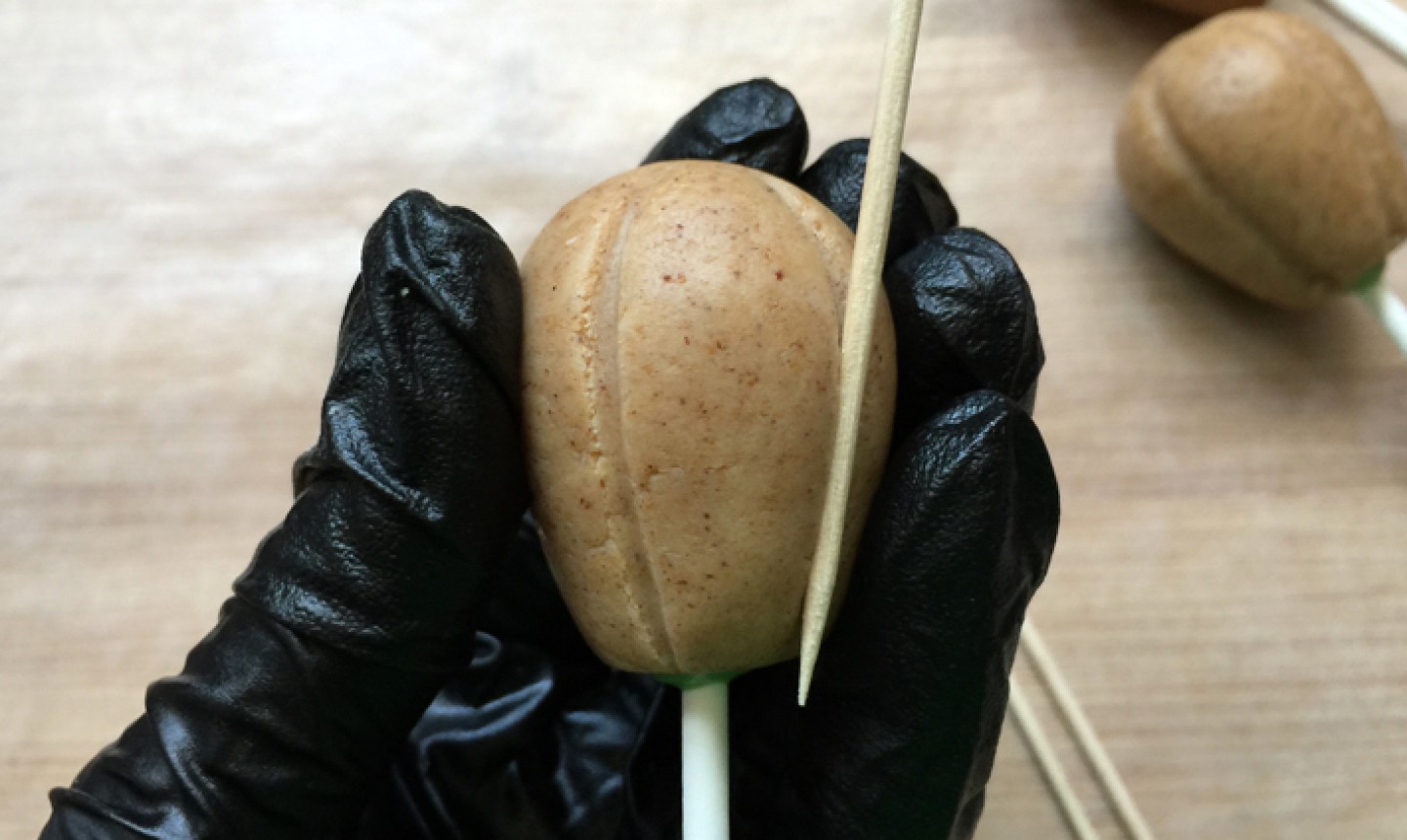 Use a toothpick to create 5 vertical indentations all the way around the cactus, starting from the top center and pressing the stick toward the bottom.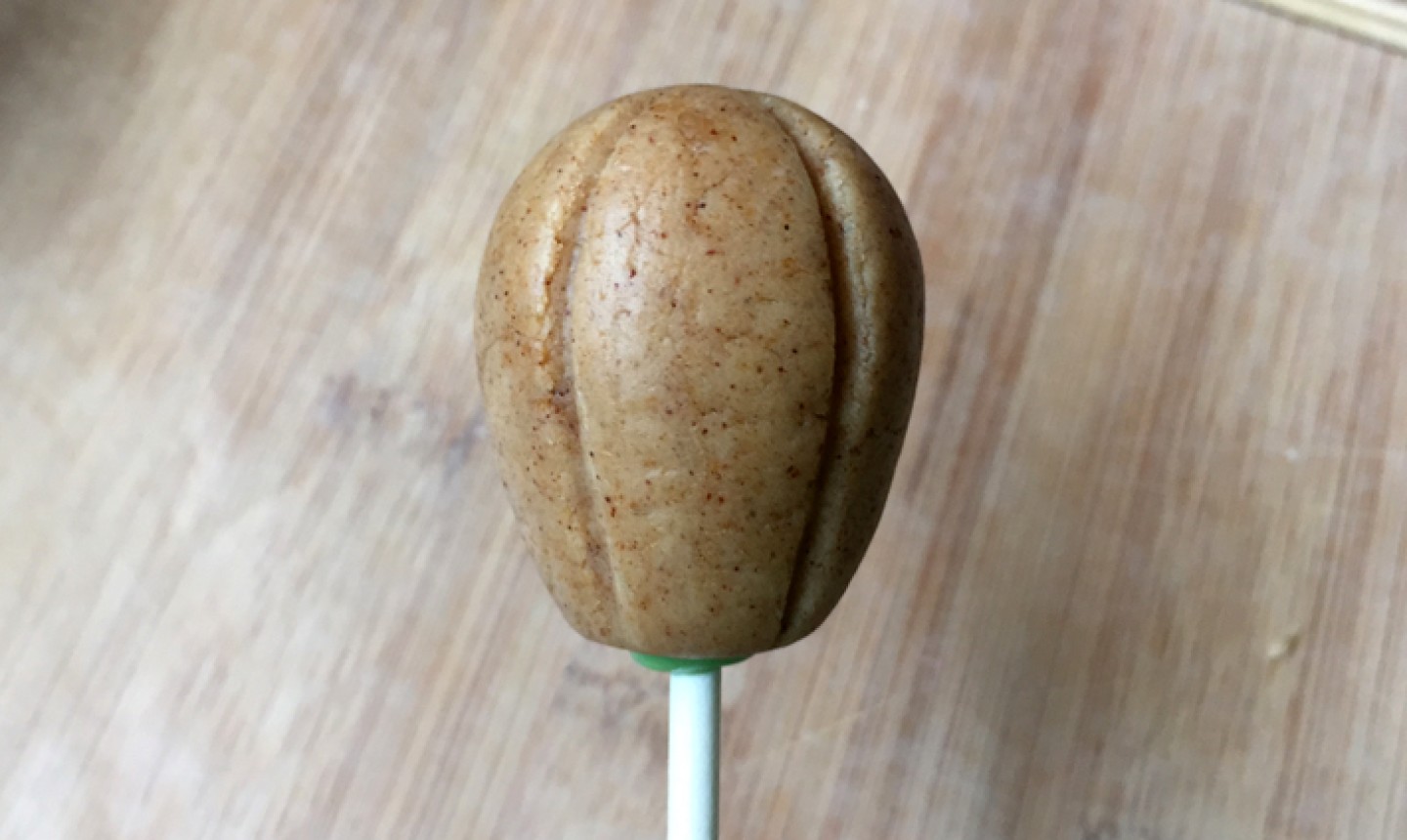 Make sure to create a deep indentation, pressing hard enough that the toothpick is flush against the dough.
5. Create the Arms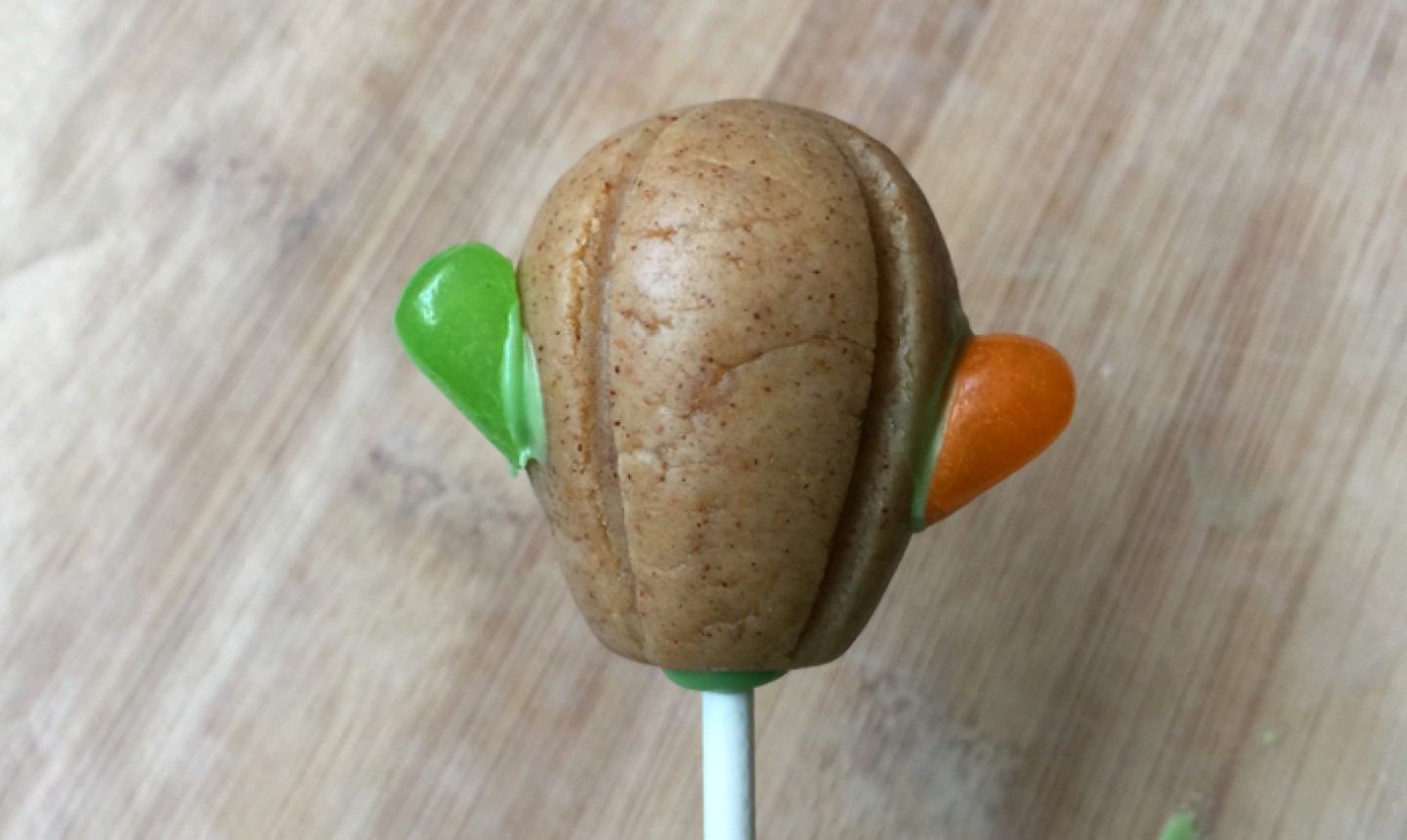 Using a sharp knife, cut your Mike and Ike candies at a 45-degree angle crosswise. Use a toothpick to dab candy coating on the cake pop, then attach a piece of candy. (It should set rather quickly since the cake has been chilled.)
6. Do the Dip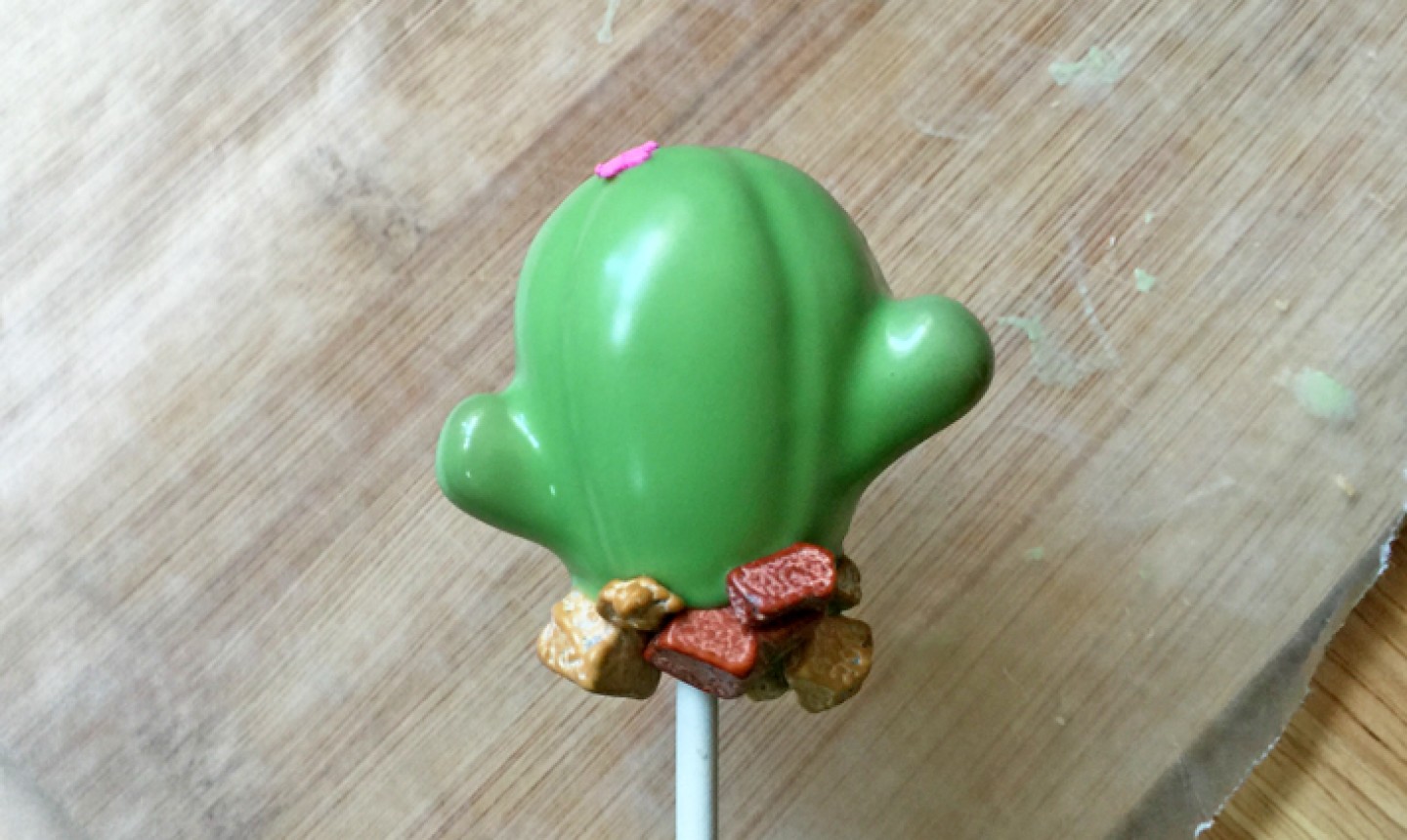 Dip your pops in the green candy coating and shake off excess. Quickly push in white sprinkle "spines" along the top while the coating is still wet, if desired. Or add a flower sprinkle or two. Attach chocolate rocks along the bottom while the coating is still drying as well. (If the coating dries before you're completely done, that's okay! Just use a toothpick to dab candy coating on the area where you'd like to "glue" more rocks.) Place your cacti on a cake pop stand and let dry completely.
7. Add the Finishing Touches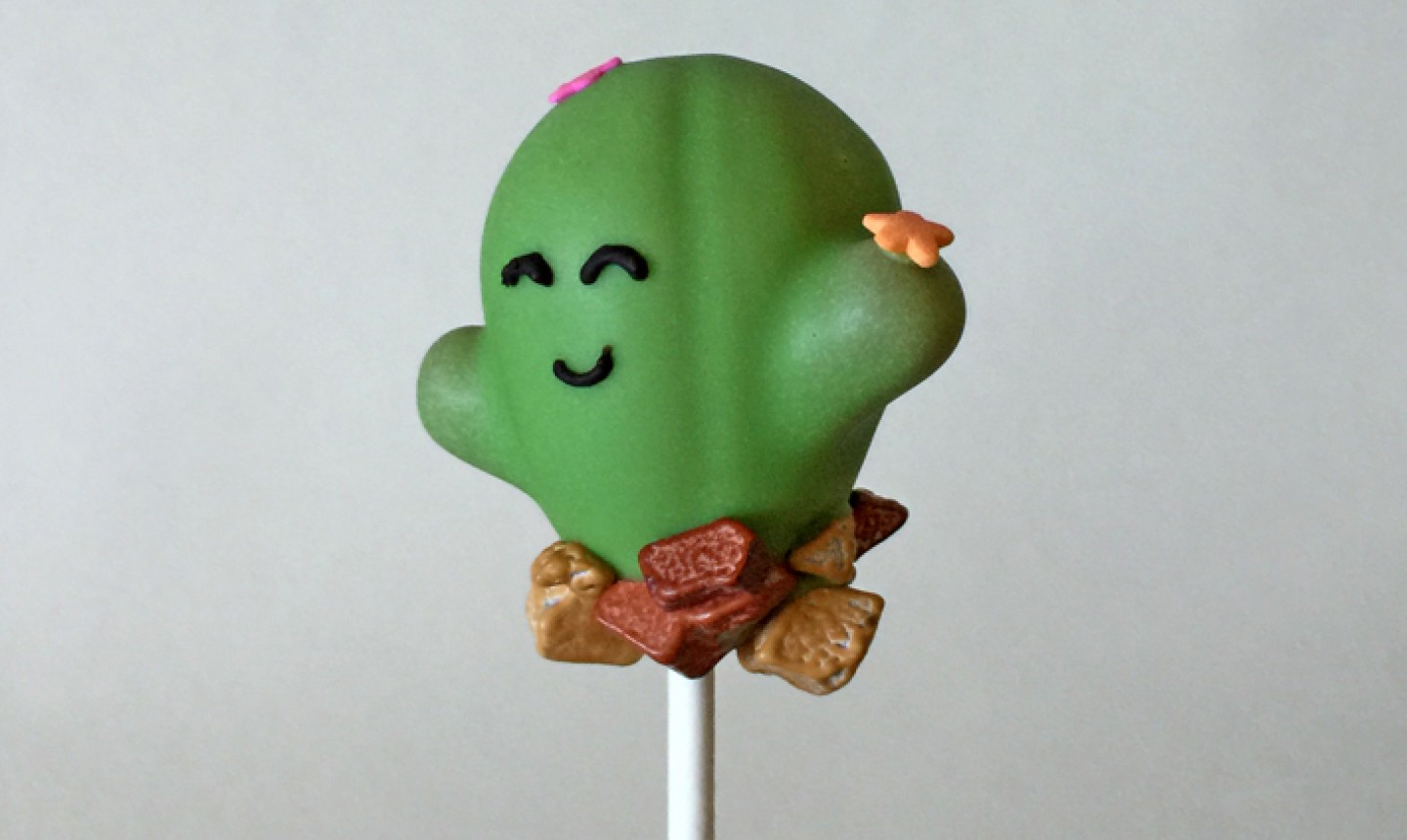 Melt dark brown candy coating, place in a Ziploc bag and snip the tip with scissors. Pipe eyes and mouth.