Today we are going to dive into how to make cake pops! Cake pops can also be referred to as cake balls or cake truffles; these two nicknames usually describe cake pops without the usage of a stick. If you've ever heard of horror stories relating to making cake pops, ignore them and don't fret! This cake pop tutorial will guide you in such a way that your experience will be very fun and enjoyable!
Materials and supplies you'll need:
Cake (*see note below): Try to avoid using a cake recipe with oil listed in the ingredients, instead use scratch recipes you may find that use butter only. If you're using a box cake mix there's an easy way to doctor it up to avoid using oil. Make sure you pick a mix that calls for 3 eggs. Substitute the oil and water in the directions with 1 cup (250 ml) of milk and 1 stick (½ cup or 125 ml) of butter, melted. The use of oil in the cake will cause your cake pops to heavily ooze oil in certain instances and the sticks will yellow severely.
For best results, use a tacky buttercream like cream cheese frosting, honey buttercream, Swiss meringue buttercream, store-bought creamy-style frosting, or straight cream cheese even works. You'll actually use very little of it, the amount depends on your cake. It will always vary — I'll explain more in the next section below.
Candy wafers in any color, 12-16 oz. bag. (For beginners, dark brown would be the best choice because this color melts into the best consistency without having to thin it out.)
Paramount crystals
Cookie scoop
Wax paper-lined cookie sheet
Lollipop sticks
Cake pop stand or styrofoam block
Gloves (optional)
Sprinkles (optional)
*Note: Baking your cake in a standard 9″ x 13″ pan is ideal, however, it can be baked in any size of pan; for example two 8″ x 8″ pans if that's what you've got. Just make sure to adjust the baking time according to the recipe directions. The cake needs to cool completely and refrigerated if possible, but refrigeration is not necessary -I find it's a bit easier to crumble a slightly chilled cake
How to make cake pops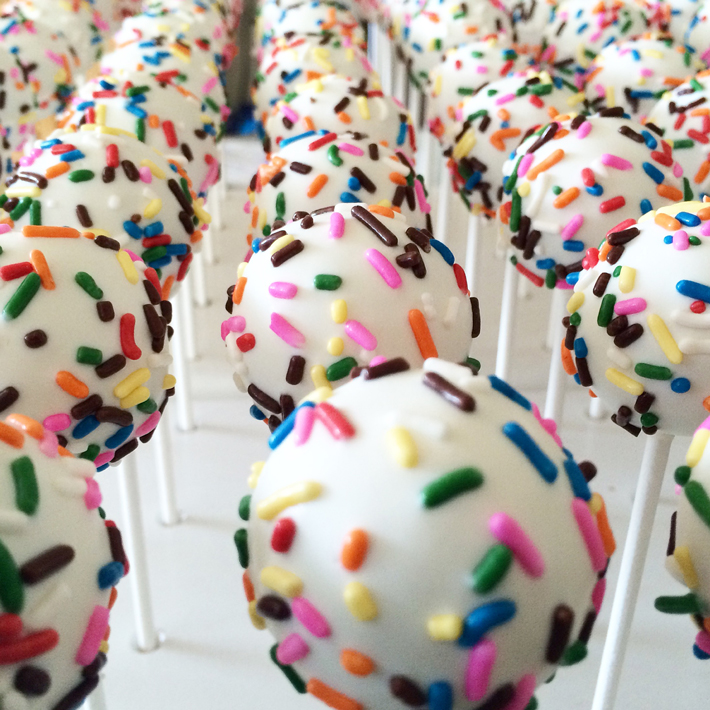 Step 1: Crumbling the cake
Crumble your cake in a bowl using your very clean or gloved hands (super fun!), or by using a stand-up mixer with the paddle attachment using a low speed. These are the only methods I recommend. Don't flatten or "mash" with a spoon or fork. Set aside about a cup of cake crumbs if you're not familiar with this dough process; we will use it later for troubleshooting if necessary.
Step 2: Adding binder and forming cake pop dough
Next, we will add a small amount of binder to your cake crumbs. This will "glue" all the cake crumbs together to form a delicious dough that's pliable and can be easily shaped.
Start by adding about 2-3 tablespoons (30-45 ml) of binder into your cake crumbs. Mix with your hands or using a stand mixer in a low speed for about 3-5 minutes. I don't like to give an actual measurement of binder to use because every cake differs, as well as each type of binder. It's all in the feel. Continue to add binder a tablespoon (15 ml) at a time until the dough feels like the consistency of playdough. It shouldn't be tacky and it shouldn't crumble if you form a ball or give it a squeeze between your fingers.
If it's too dry, add a little bit more of binder. If it's too wet or tacky, remember that cup of crumbs we put aside earlier? It's time to use that! Add it in and incorporate it into the dough. now if it's on the dryer side, add just a tiny bit of binder to get you to the right texture.
(Note: Our tutorial for making perfectly shaped cake pops dives deeper into shaping and would be a great read in addition to this tutorial)
Cover the dough in plastic wrap while doing the next step.
Step 3: Forming the cake pops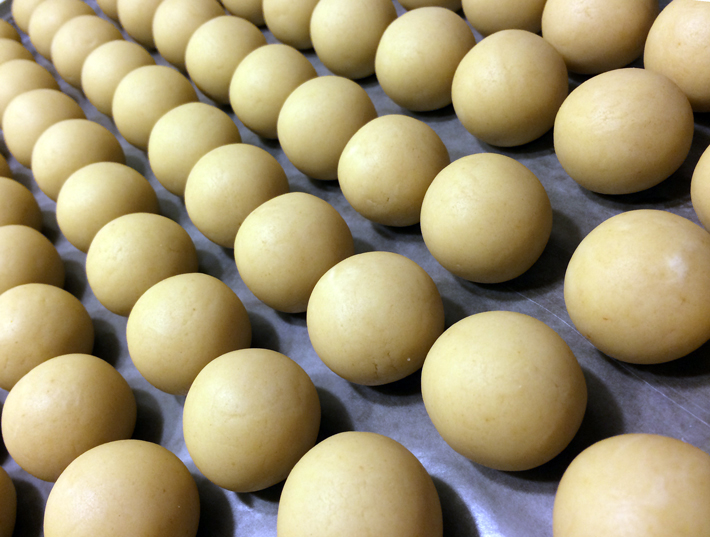 Now we are ready to form our cake pops. I like using a cookie scoop to make sure my cake pops are a consistent size. Scoop your dough and form balls using the palms of your hands. Keep the rest of the dough covered in plastic wrap as you scoop a few and roll. They should hold together well and not have cracks or crumbs. Place cake balls on a wax paper-lined cookie sheet and refrigerate for at least 5 minutes. You may refrigerate them longer if you wish. If you do, make sure you cover the top with some paper towels.
Step 4: Melting the candy wafers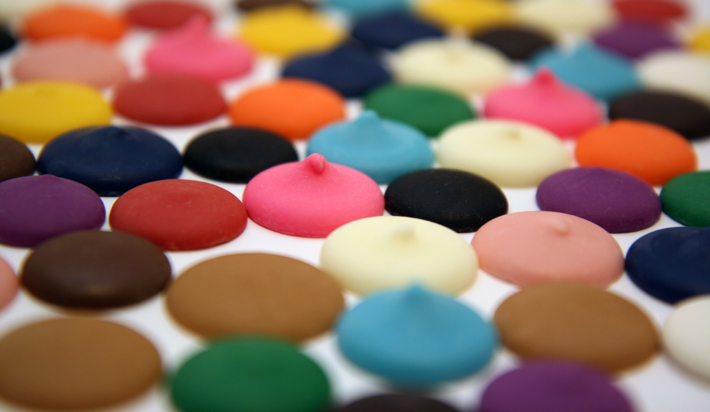 While the cake balls are chilling in the refrigerator, this is a good opportunity to melt your candy wafers to make candy coating. There are many brands of candy wafers; please note that all brands and each color within those brands melt into a different consistency. The most commonly found are Wilton. The higher-quality brands are Mercken's and Clasen, which you can usually only find in cake/candy/baking specialty supply stores.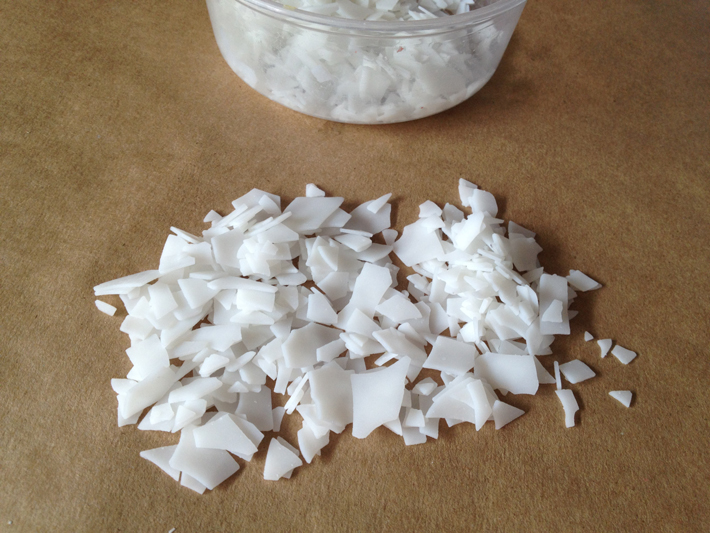 You will most likely need to thin out your candy coating. Use only Paramount crystals as this is the only product you can use that will not affect the integrity of the coating. Paramount crystals can be found in cake/candy/baking specialty supply stores and online. As I mentioned in the first section, for beginners, dark brown will be the best color to work with for your first time because it's very low maintenance. It melts into an ideal consistency, no matter what brand you buy.
This dipping tutorial really goes more into detail about candy coating usage. Please familiarize yourself as much as you can with the process.
Melt candy wafers in by placing them into a plastic microwave-safe bowl. Microwave for 1 minute at 50 percent power, then stir. Continue to heat in the microwave at 30-second intervals at 50 percent power. Make sure to stir between each interval until all the wafers have completely melted. Once melted, now is the time to gauge the consistency and thin using paramount crystals if you have to, adding only about 1 teaspoon (5 ml) at a time while stirring to melt and incorporate them completely.
Step 4: Inserting sticks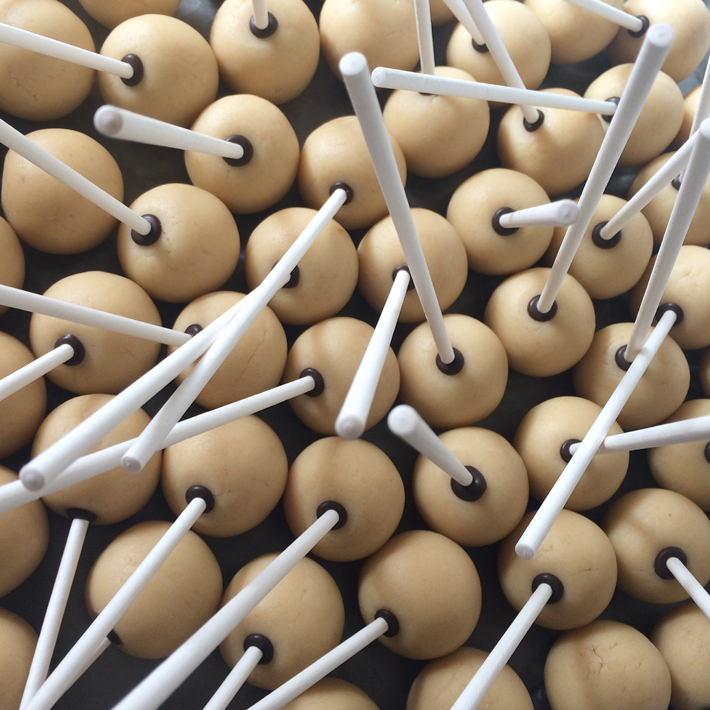 Remove cake balls from the fridge and let sit in room temperature for a few minutes to take the chill off. If your cake balls have been sitting in the fridge for over an hour or more, they'll need longer, about 10 minutes or so to take the chill off.
Dip about ⅓ inch of the lollipop stick in the candy coating then insert it onto a cake ball until about halfway into the ball. We do this to adhere the ball to the stick and prevents the ball from sliding down or shifting. Do this for all of the cake balls. It should harden and set after a few seconds.
Step 5: Dipping the cake pops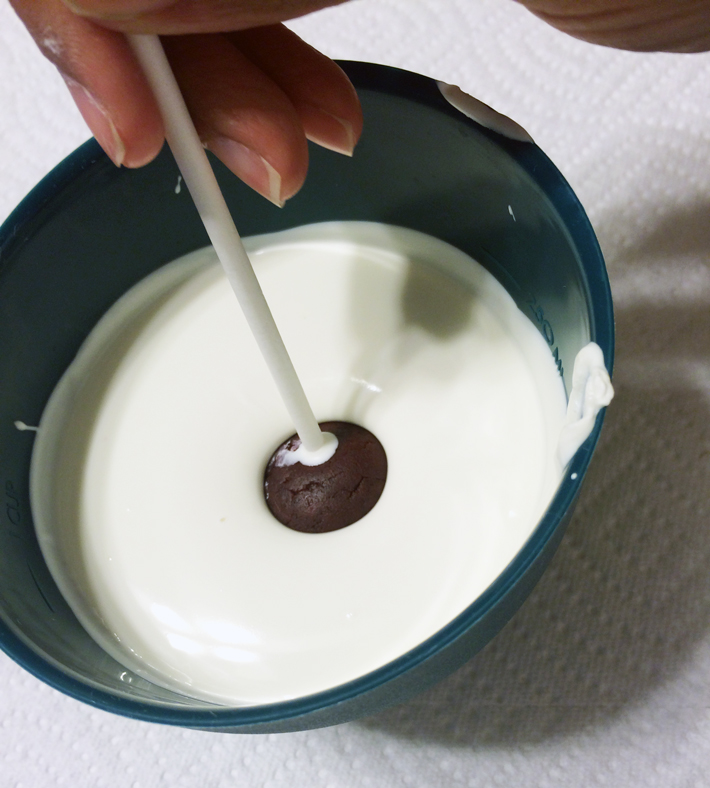 You're ready to dip once you've got your sticks in place, your cake balls don't feel chilly and your candy coating is not hot. Dunk a knuckle into the coating and if it doesn't feel hot, you're good to dip!
Hold the cake pop upside down and dip into the candy coating in one motion, then lift up and gently shake off the excess. Turn right side up and add sprinkles while still wet or place on a cake pop stand or styrofoam block to let dry completely. Repeat the process until all cake pops have been coated.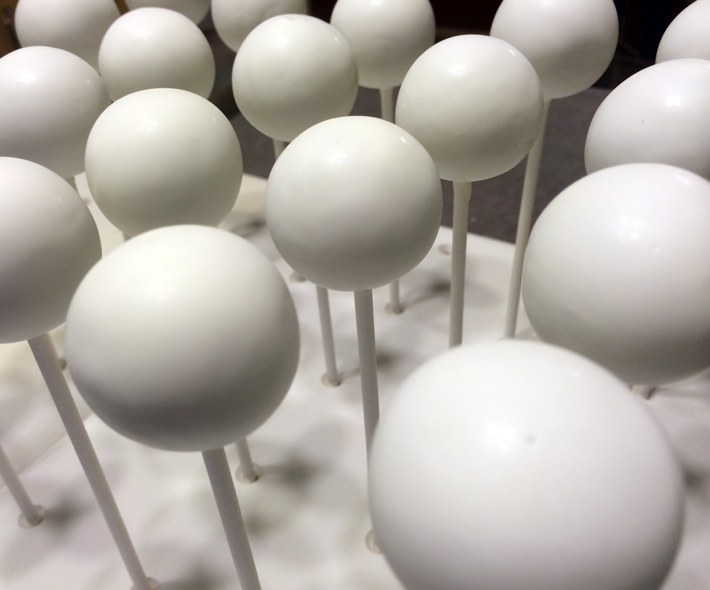 For extra help and troubleshooting, refer to this guide: Tricks of the Trade: Do's and Don'ts of Making Cake Pops.
Get ready to wow your friends and family!
Get More Pro Tips for Making Perfect Cake Pops!