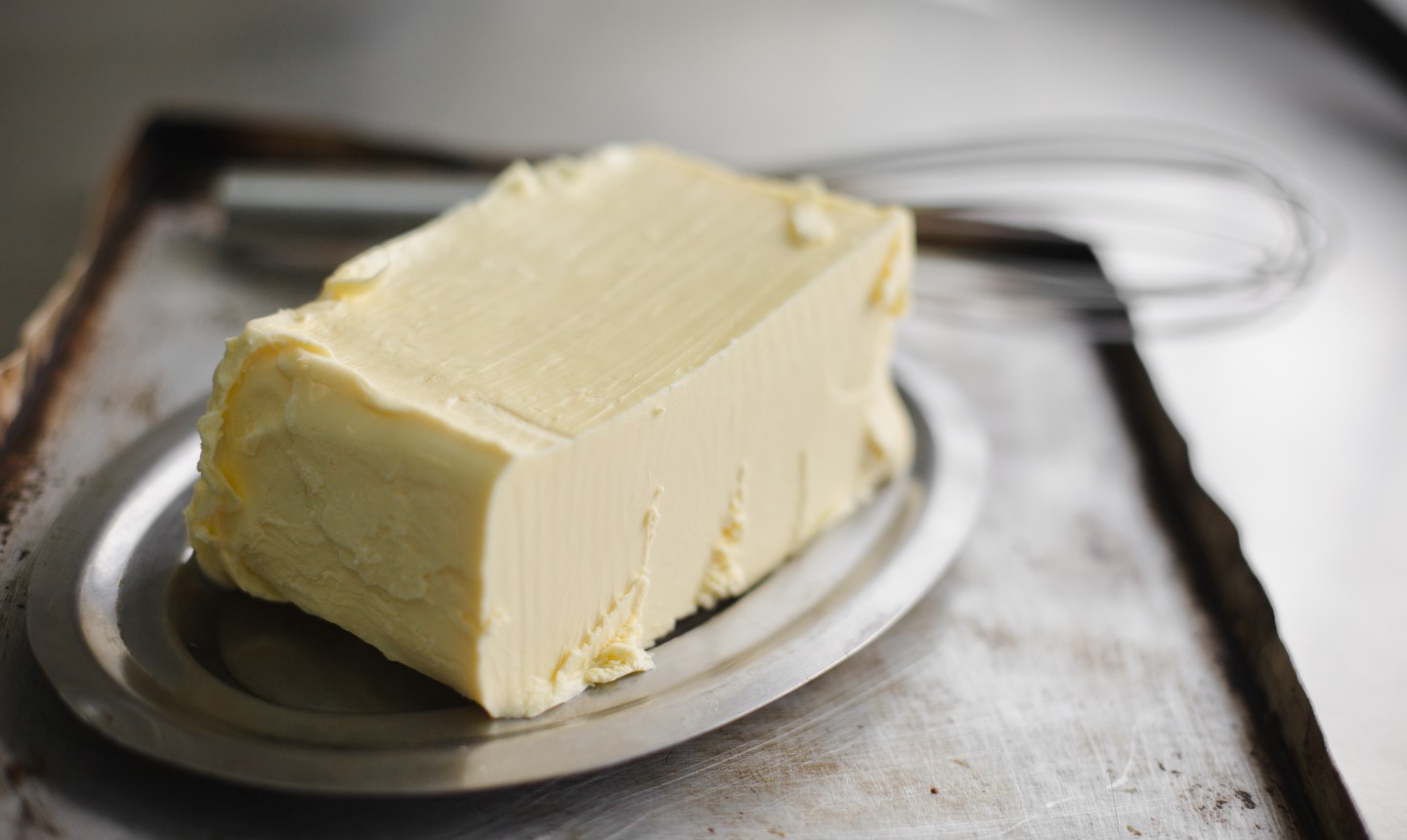 Whether you avoid butter for dietary reasons or simply ran out of your stash, here's some good news: there are plenty of substitutes you can use in its place and still end up with delicious results.
Good to Know: Because you're changing the makeup of a recipe by substituting butter with another ingredient, the results will never be identical to the butter-containing counterpart. Some recipes might require a bit of experimentation with different substitutes until you find what works best.
1. Coconut Oil
Coconut oil is a popular butter substitute, especially for vegans. It's healthy, readily available and yields delicious results.
How to Use It
When the recipe calls for butter, substitute an equal amount of coconut oil in its place.
Special Considerations
Coconut oil can be a little tricky to work with — while it's firm when slightly cool, it liquifies when warmed. Make sure the oil is the correct consistency needed for your recipe.
Pro Tip: If you're making cake frosting, such as vegan buttercream with coconut oil, the oil should be firm.
2. Fruit Purée
In certain recipes, you can use puréed soft fruit instead of butter. Applesauce is one of the most popular and versatile puréed fruits for dairy-free baking, and it can step in for most cake and quick bread recipes.
How to Use It
Use puréed fruit as a one-to-one replacement for butter.
When to Use It
It's easy to substitute puréed fruits of all kinds in frostings or cake fillings.
Special Considerations
Substituting puréed fruit can alter the finished texture of your baked goods. For example, cakes might be denser and cookies might be chewier. Try it out and see what works best for your tastes.
3. Lard
Lard is an animal-based fat, so this option isn't viable for vegans.
How to Use It
With a texture similar to vegetable shortening, lard can be used in equal amounts to substitute for butter.
When to Use It
Use it in batters, doughs, pie pastry and cake frostings.
Special Considerations
For many, the largest obstacle when it comes to lard is mental: the fact that it's animal-derived doesn't sit well with some. But lard can bring a tender texture to pie crusts and give cookies and cakes a pleasant, well-rounded flavor.
4. Vegan Butter
Store-bought vegan butter substitutes, such as Earth Balance or Melt, are made using vegetable-based oils and sometimes soy.
How to Use It
In general, vegan butter substitutes are fine to swap in equal quantities to butter in your baking recipes.
When to Use It
These butter substitutes are specially formulated to act like real butter, so you can use them interchangeably.
5. Olive Oil
In baking, olive oil can be a true friend when butter isn't an option.
How to Use It
Typically, when using olive oil instead of solid butter in a recipe, you should slightly reduce the amount. That is, if a recipe calls for 1 cup of butter, consider using ¾ cup of olive oil. If a recipe calls for melted butter, substituting an equal amount of olive oil is usually fine.
Pro Tip: This conversion chart is a handy guide to proper measurements for butter substitution.
When to Use It
Olive oils are great as a butter alternative for batters and doughs, but they don't work well when making buttery frostings.
Special Considerations
Olive oil can change the taste of your baked good, giving it a slightly nutty flavor.
6. Vegetable Oil
Canola, vegetable and other plant-based oils can all be used as butter substitutes in your recipes.
How to Use It
The conversion is the same as olive oil — slightly less oil than butter in most recipes, and you can use a conversion chart as a guide.
When to Use It
As with olive oil, vegetable oils are good alternatives for batters and dough but shouldn't be used in buttery frosting.
Special Considerations
Typically mild in flavor, vegetable oils won't interfere with the taste of your baked goods — their contribution to the recipe revolves around moisture and fat.
7. Vegetable Shortening
Vegetable shortening is a vegetable-based oil that's been hydrogenated into a solid form.
How to Use It
Use as a one-to-one replacement for butter.
When to Use It
Vegetable shortening is often used as a butter substitute because the texture works well in virtually all of the situations you'd use butter — when creaming ingredients for cake and cookies, when making buttercream or when making pie pastry.
Special Considerations
While vegetable shortening will impart a similar texture to butter, it won't contribute much flavor — it's virtually odorless and flavorless.