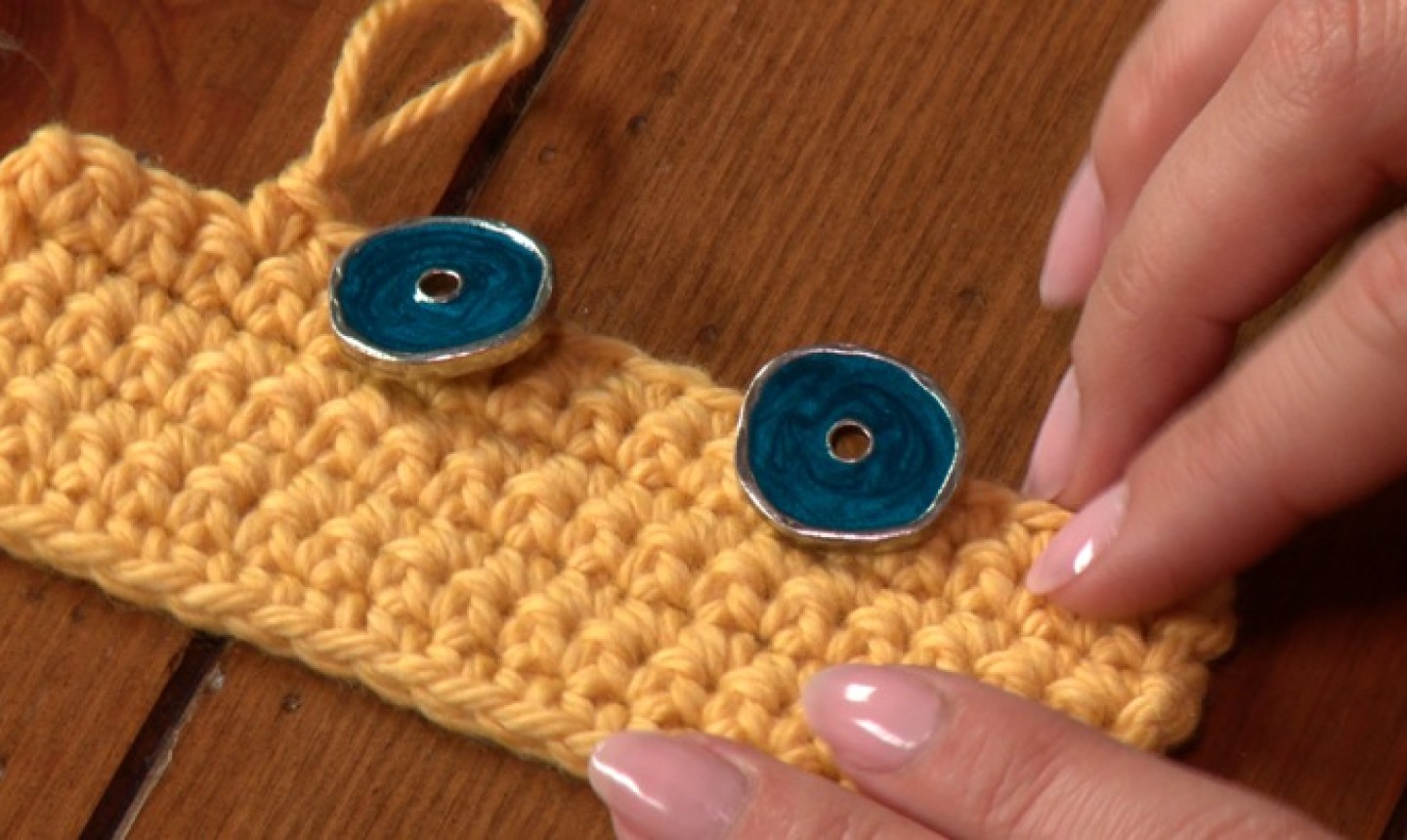 So you've crocheted the perfect bag, cardigan, mittens — whatever! Now's the time to dress it up a bit by adding buttons. And while you might assume it's as easy as picking a button and sewing it on, adding buttons to your crochet takes a bit of planning. So before you thread your needle, follow these tips to avoid common mishaps.
1. Buy Extra Buttons
No matter how well you stitch 'em, buttons are going to fall off. It's just a fact. And sometimes those buttons fall off and disappear into the ether, so if you don't have a matching one in your stash, you'll have to live with mismatched closures — or have to replace them all.
2. Split That Yarn
You can totally use sewing thread to secure your button. But if you're worried about how sturdy it'll be, use yarn instead. If the yarn is too thick or fuzzy to fit through the button hole, try pulling it apart to make the strands thinner. This is hard to do if the yarn is one-ply, but multi-ply yarns will usually cooperate.
3. Sew It on Well
You definitely don't want your buttons to pop off at an inconvenient time. So if you can, use the yarn tail from fastening off to sew the buttons. If that means you need to weave the yarn through a few inches to get to where the button should be sewn, do it. Sew it on, tie the knot and weave the yarn to the next button.
4. Secure the Buttonhole
Buttonholes, especially crochet ones, stretch over time even after blocking. If you're dealing with a loosey-goosey buttonhole, whip stitch around it to make it tighter.
Good to Know: Whip stitch is also called overcast stitch. It's frequently used in sewing, but works the same way when using yarn and a tapestry needle.
5. Know When to Ditch the Buttonhole
Depending on your project, you may not always need a buttonhole — you can use the crochet stitches themselves instead. This allows you to change up the look of your item — for example, if you're crocheting a cowl with double crochet stitches, you can choose to button it near the edge to make the cowl fit loosely, or tighten it right up against your neck for a cozy fit.
Good to Know You can learn more about adding buttons, and crocheting buttonholes and button bands, in our class, Professional Finishing for Perfect Crochet.
6. Create Your Own Buttons
There are some cases where a store-bought button just won't do. If you want your project to have even more of a DIY touch, or if you just can't find the perfect match, crochet a button for your project. Talk about one-of-a-kind!