When crocheting a purse that's actually functional, you've got to make it sturdy! You want a handbag that keeps your belongings safely inside and won't stretch out over time.
Read on for my top 10 tips for crocheting sturdy handbags.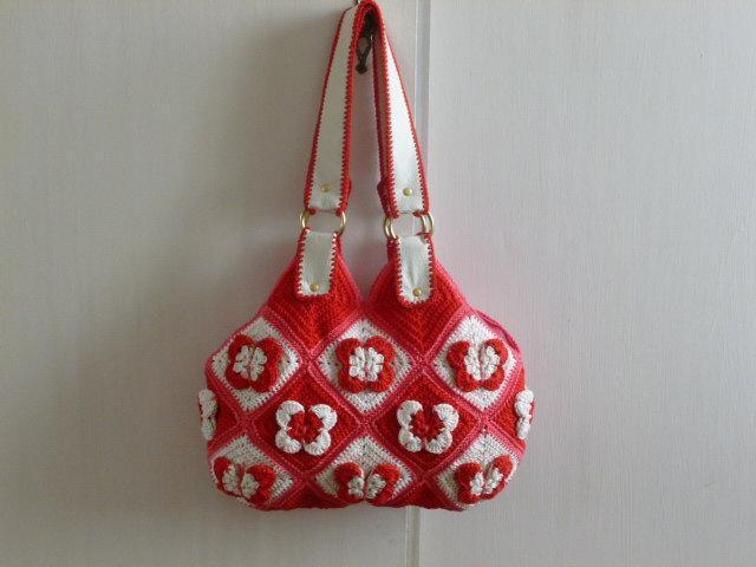 Image via Luba Davies Atelier
1. Make smart choices with crochet purse handles.
Whether you make your own handles or go with store-bought (or upcycled) handles, you have to be smart about it.
If you crochet your own handles, use small, tight stitches in a yarn that doesn't stretch — such as cotton worked in a single crochet stitch through both loops.
If you go the store-bought route, choose purse frames that include handles and give great shape to a handbag. Wooden and plastic purse handles are readily available for sale (and will hold up over time), and you can also find handles made from fabric, belts, ropes, etc.
The free crochet bag pattern by member Luba Davies Atelier for the Barboletta Handbag (shown above) has a great photo tutorial for creating leather handbag straps and attaching them to a purse.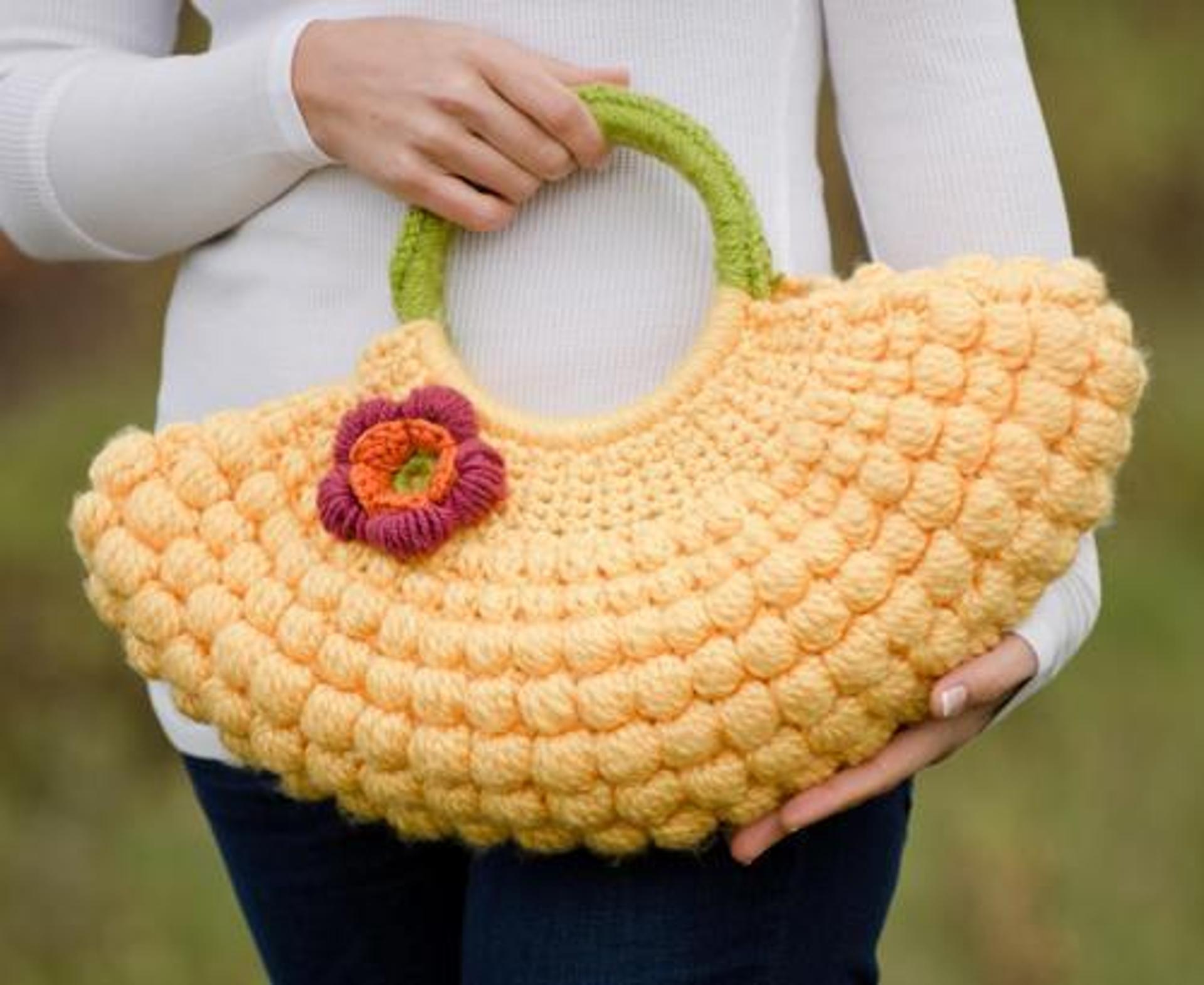 Vintage Fan Purse crochet pattern by Crafsty member Made with Love by Jackie Moon
2. And secure those handles correctly.
When attaching those handles — especially if they are not crocheted directly to the bag — you must secure them tightly to the fabric.
This means you need to reinforce your work. One simple way to do this is when you attach the hand, sew a square with an X through the center of the square, instead of a straight line.
You can also add hardware, like rivets, to make the straps even sturdier. When attaching store-bought handles to a crochet bag, you can crochet around the handles to attach them, using a sturdy yarn.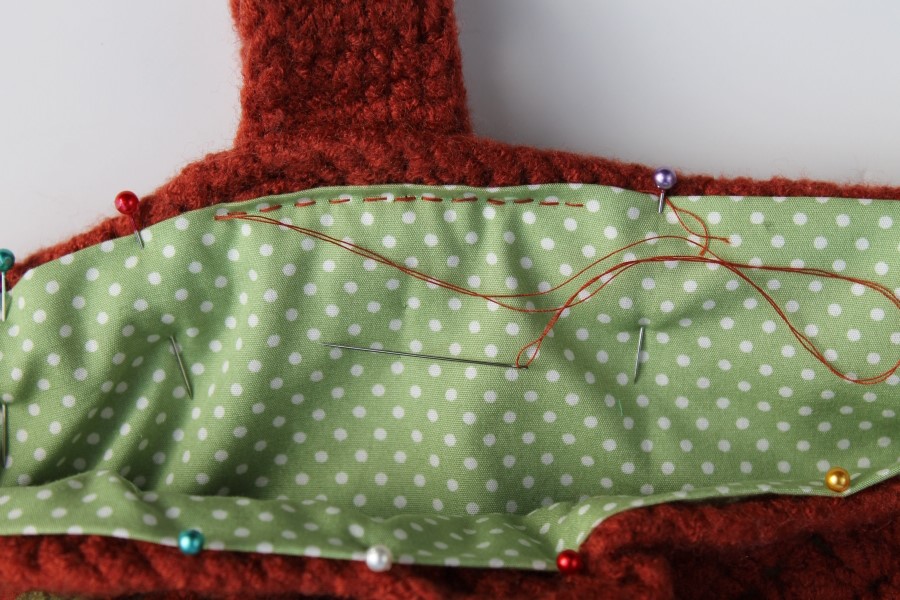 Image via Ashley Little
3. Consider lining your crochet.
Many crocheters don't think they have enough sewing skills to attach a lining, but it's worth learning some basic sewing skills to make your bags more functional.
Crochet fabric typically has spaces in it, which means that everything from lipstick to money can slip out of the walls of your purse — unless you line it with fabric. Choose a lining fabric that's similar in weight to your crocheted fabric.
Check out this full tutorial for creating and attaching a lining to your crocheted purse.
4. Go one step further and add interlining.
If you want to create a crochet handbag that has a lot of structure, then you have to treat as if you are sewing a garment.
In addition to the lining, you'll want to place material between the lining and the crochet fabric. You can add batting or fleece, and you can use varied techniques including interlining and interfacing.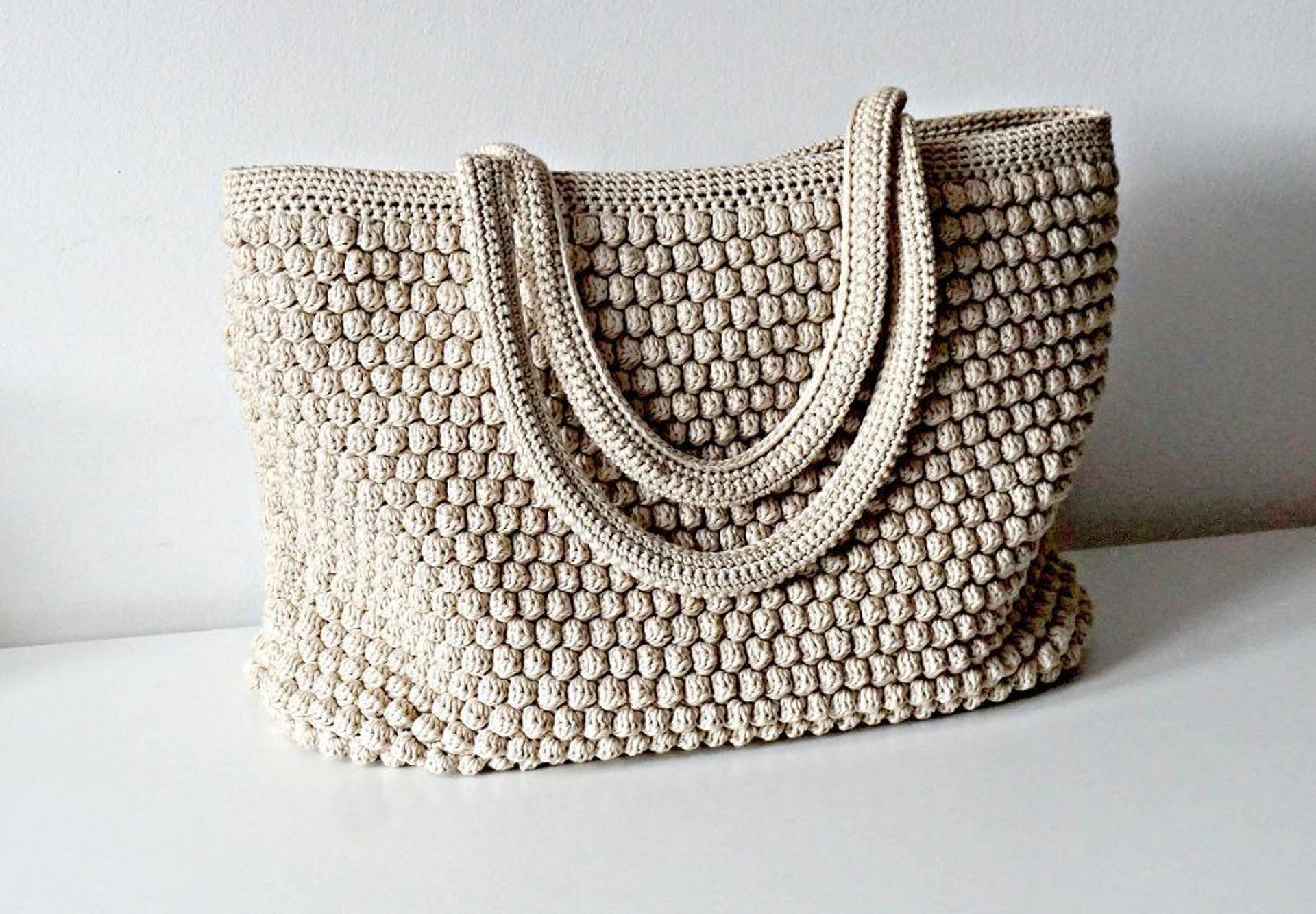 Crochet tote bag pattern via member isWoolish
5. Use tight, dense crochet stitches.
If you really don't want to learn to line your purse, then definitely work with tight, dense crochet stitches. You don't want to choose an openwork lacy design for a handbag. The idea is that you don't want any holes visible in your crochet fabric because that's where items can slip out if a purse isn't crocheted right. 
Use a basic stitch like single crochet or a highly textured stitch, such as bobbles. Aim to crochet tightly, possibly even selecting a hook size slightly smaller than is recommended.
Another option is to use felting techniques to create a solid crochet fabric. 
6. Work with a durable yarn.
The sturdiest crochet handbags are made with durable yarn or even alternative fibers like hemp or nylon.
You're looking for fibers that won't stretch, even if they get wet in the rain, so consider cotton yarn or even synthetic yarn options (the 4 Ball Market Bag Crochet Kit above is made with Lion Brand Kitchen Cotton). While you can certainly make a durable crochet purse using lightweight yarns, most people will find it better to work with worsted weight, bulky or even super bulky yarn when creating handbags.
7. Try using multiple strands of yarn.
Holding two strands of yarn as you stitch is another way of creating a durable yarn that makes a nice, dense, sturdy crochet fabric.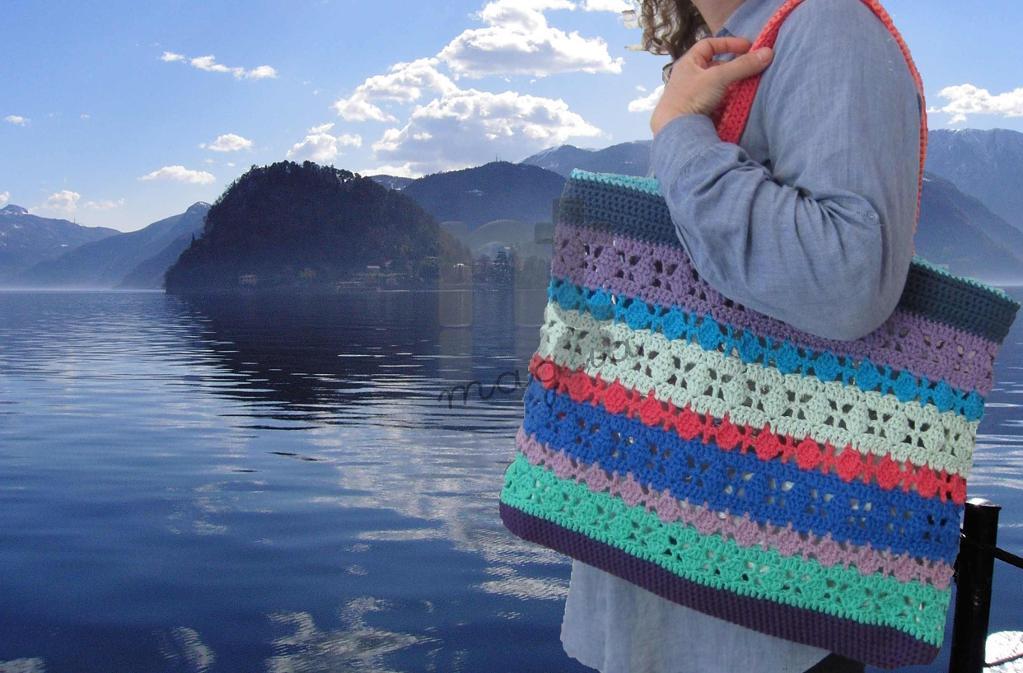 Image via NT Maglia
8. Reinforce the borders of your crochet bag.
You want the edges of the bag to hold together over time, so it helps to reinforce them. One common way to do this is folding the edge over and stitch it onto itself. You'll find a great example of this in the instructions for the Borsona Bellagio Crochet Tote, shown above.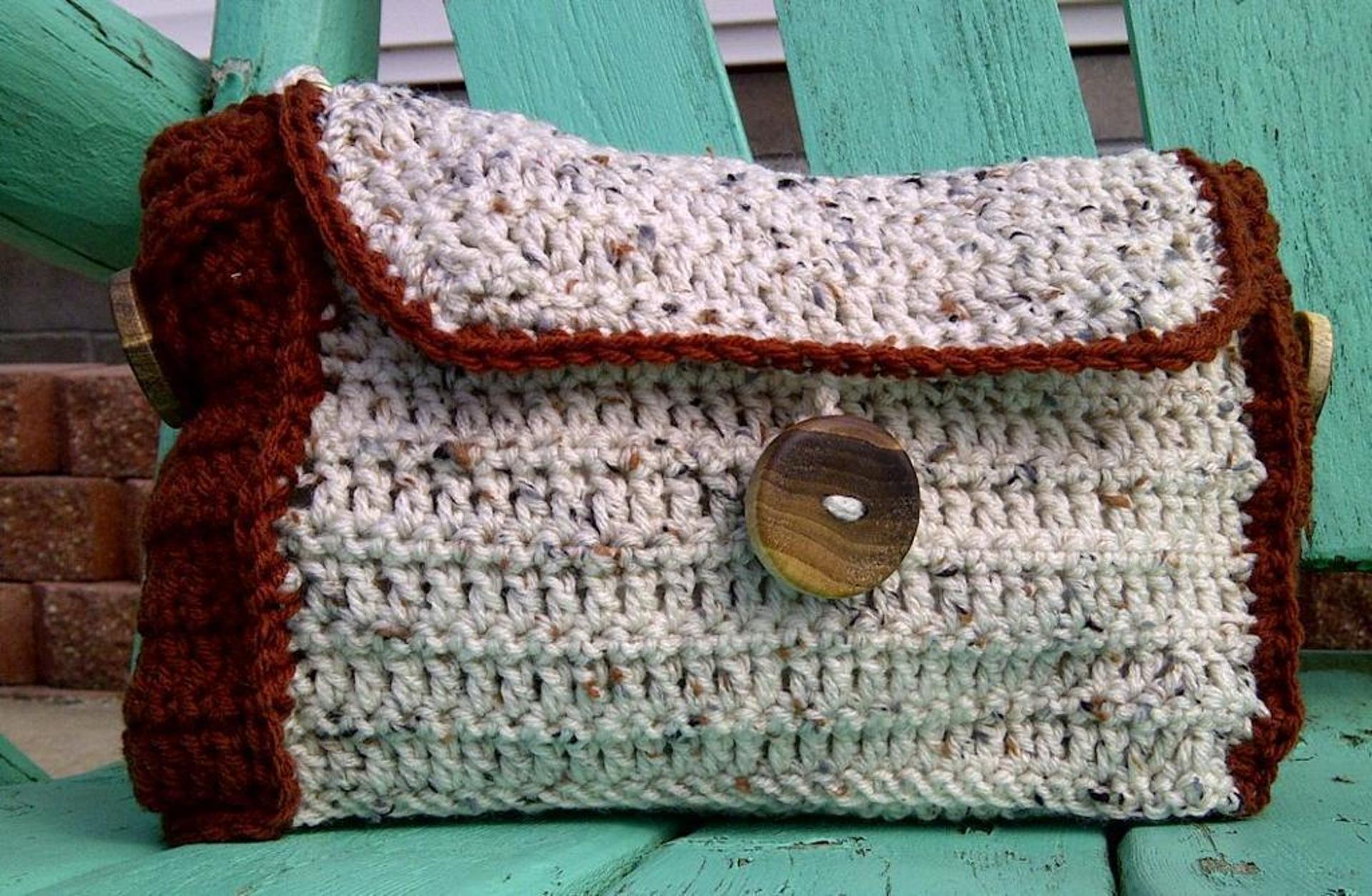 Lovina Handbag crochet pattern by member Beverly's Crochet Designs
9. Don't forget about closures.
There are many different ways to close a handbag: drawstring, buttons, zippers, flaps and more. Adding a secure closure to your purse will make it sturdier and safer for the belongings inside. Don't be afraid to learn how to sew snaps or zippers onto your crochet fabric.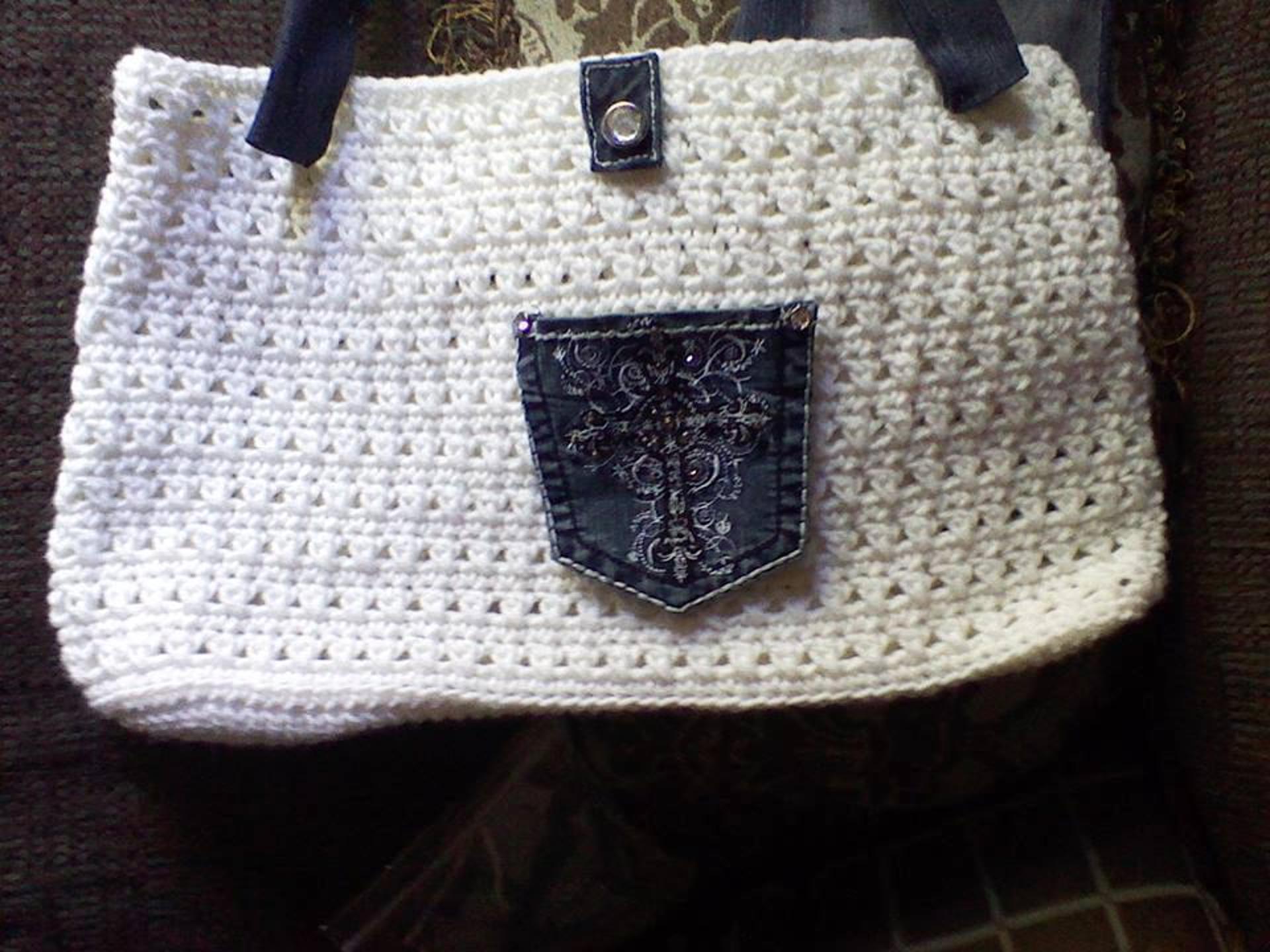 Crochet Denim Purse pattern by member Crochets by Amanda
10. Add a pocket or two.
A pocket makes your bag that much more versatile! We all like purses that finding our things easy, and having separate pockets for those things makes life easier. You can add pockets to both the outside and inside of the bag, made using crochet or sewing fabric, with or without their own zipper closures.