Bright white tiers are the traditional wedding staple when it comes to cake designs. But white wedding cakes don't have to be plain. Using on-trend styling and common decorating techniques can really elevate a cake into a show-stopper! Read on for some fabulous inspiration for your next white wedding cake project.
White wedding cakes that wow!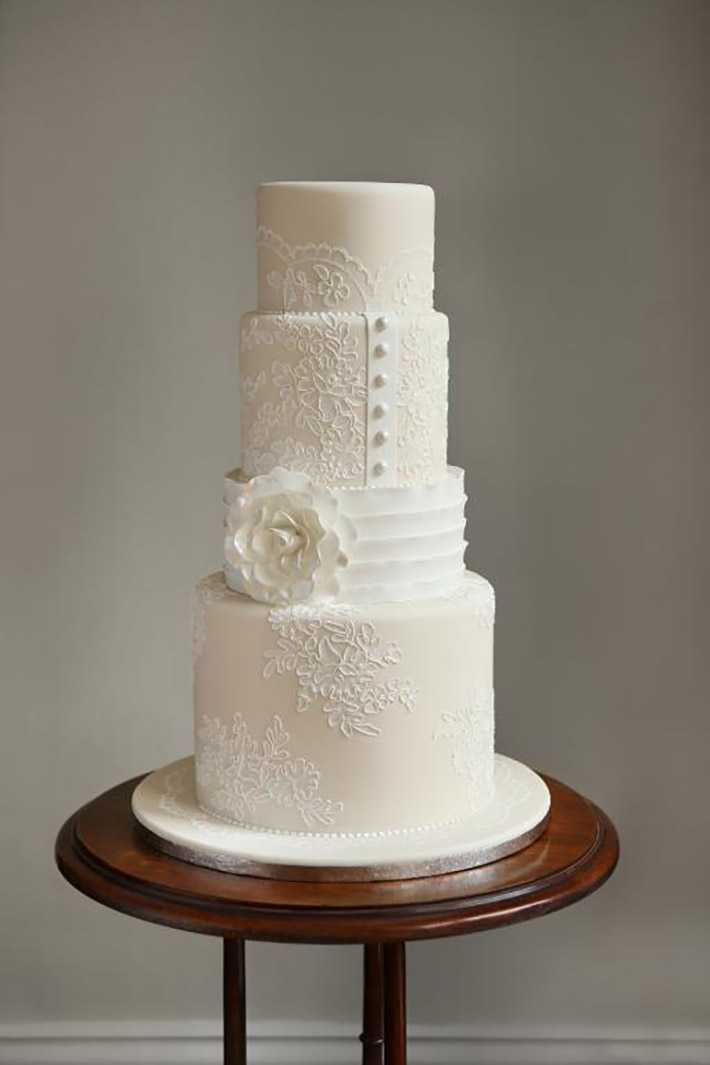 Photo via Bluprint Instructor Zoë Clark
1. Mix white and ivory
Add a super subtle touch of depth and interest to a simple white cake with a touch of ivory or cream. This will easily help any design elements such as lace work, brush embroidery or florals pop. A slight shift in color (especially when working with a limited palette) can create a sophisticated design.
Bluprint instructor Zoë Clark's elegant, four-tiered beauty above uses a base color of pale ivory to draw attention to the soft fondant pleats, piped florals, crisp white sugar flowers and sweet sugar buttons.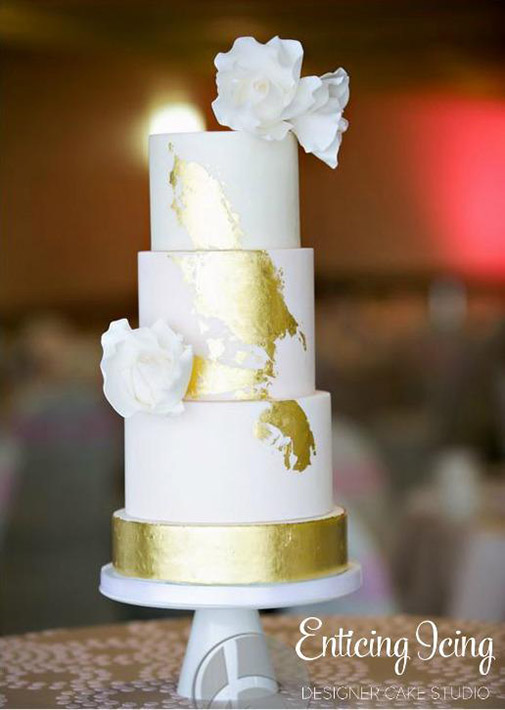 Photo via Bluprint member Heather Jurisch
2. Modern luxury
While white wedding cakes are often considered traditional, they shouldn't be. Add simple wafer paper florals and strikingly luxurious gold leaf for a more modern and updated look! We love this four-tiered cake that does just that (while playing with different tier depths). Test out mixing super deep tiers with shallow tiers.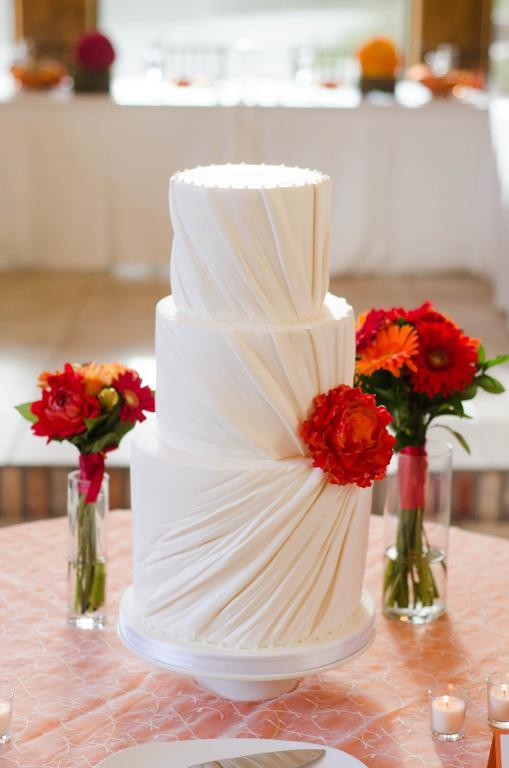 Photo via Bluprint Instructor Rachael Teufel
3. Simple and sweet
Sometimes less is more! Try implementing just one technique or design element in a white cake to really make a statment. The stunning design above by Bluprint instructor Rachael Teufel uses a striking fondant ruching effect that definitely has the wow factor!
Discover some amazing fashion-inspired techniques for your next cake project and enroll in Rachael Teufel's Cake Design Made Simple: The Wedding Dress class!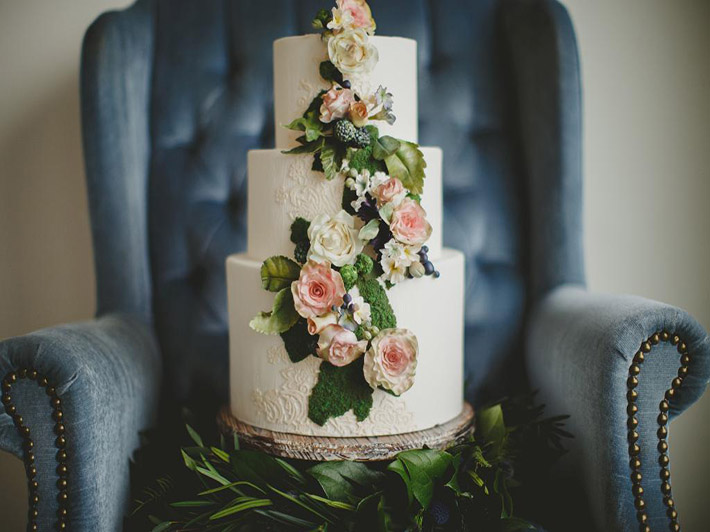 Photo via Bluprint member Cake by Annie
4. Cakes in bloom
For a garden or nature-inspired wedding, romantic florals are always a great way to add detail to cakes, and they really stand out when the cake tiers are white.
Think outside the box! We absolutely adore adding unusual sugar berries, blackberrie, and moss to our designs when we can, so we love the above cake by Bluprint member Cake by Annie! The roses and berries really pop thanks to the edible moss and large, dark leaves layered on the white lace cake.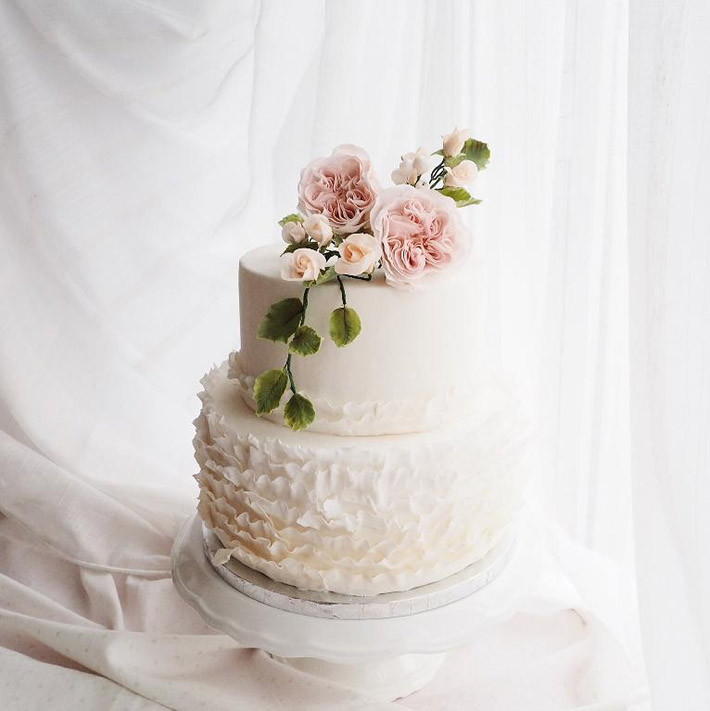 Photo via Bluprint member SweetSan
5. Fondant frills
A fabulous way to turn any simple white cake into something special is to add great textural elements. Delicate fondant ruffles, intricate lace work or edible sugar pearls are easy and effective ways to add drama and beauty to any white wedding cake.
The pretty two-tier cake above features gorgeous fondant frills around the bottom tier as well as a little of the top. Love that fondant frill look? You can learn to recreate it in Maggie Austin's Fondant Frills online class.
Whatever beautiful white wedding cake you create, remember that a really stunning design relies on your own personality and the individuality of your clients. Getting creative and balancing different elements together is a great way to make your work truly unique!