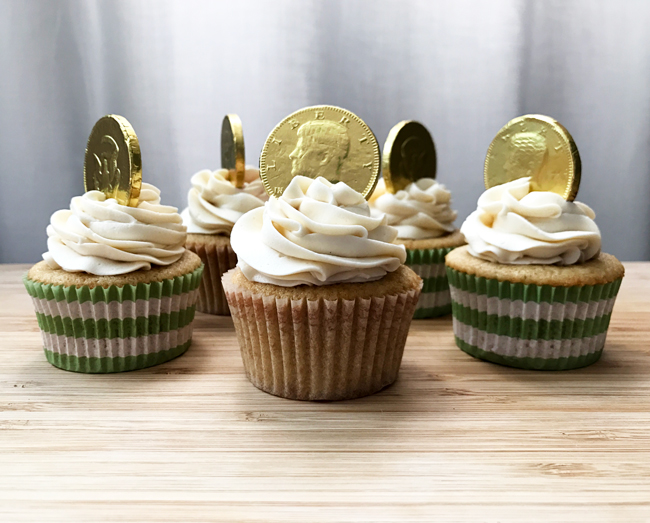 St. Patrick's Day is the perfect excuse to blend alcohol and dessert — and these cupcakes do just that. Whip up a batch for your green-themed party and guests will consider it their lucky day.
Whiskey Cupcakes
Yield: 12 cupcakes
Ingredients
For the Cupcakes
1 cup flour
¼ teaspoon baking soda
¼ teaspoon kosher salt
½ cup (1 stick) unsalted butter, room temperature
½ cup sugar
½ cup brown sugar
2 eggs, room temperature
½ teaspoon vanilla extract
¼ cup Greek yogurt, room temperature
¼ cup whiskey
For the Buttercream
½ cup (1 stick) unsalted butter, room temperature
2 cups powdered sugar, sifted
2-3 tablespoons Irish cream
½ teaspoon vanilla extract
Pro Tip: While you can use any whiskey you like, we recommend Jack Daniel's Tennessee Honey for extra sweetness.
Instructions
Bake the Cupcakes
1. Preheat oven to 350 F. Line a 12-count muffin tin with cupcake liners.
2. In a small bowl, whisk together the flour, baking soda and salt. Set aside.
3. Using a stand mixer or a handheld mixer, cream butter and both sugars together until light and fluffy. It should take about 3-4 minutes. Add vanilla and eggs one at a time, scraping the sides and beating well after each addition.
4. With the mixer on low, add half the flour mixture and mix until the flour is completely incorporated.
5. Add the Greek yogurt and mix on medium speed until it's completely incorporated and there are no white streaks in the batter.
6. Add the remaining flour and beat over medium speed.
7. Scrape the sides, then add the whiskey and mix on low speed until your batter is smooth and the whiskey is completely incorporated.
8. Divide the batter evenly between the 12 cavities of the muffin tin. Each should be about ⅔ full. Bake for 16-18 minutes or until a cake tester pushed into the center comes out clean.
9. Remove from the pan after 5 minutes. Let the cupcakes cool completely on a wire rack.
Make the Irish Cream
1. Beat the butter until creamy.
2. Add one cup of powdered sugar and beat until combined.
3. Add vanilla, the second cup of powdered sugar and 2 tablespoons of Irish cream. Beat until smooth and fluffy.
4. Add more Irish cream to continue to thin the consistency to your liking.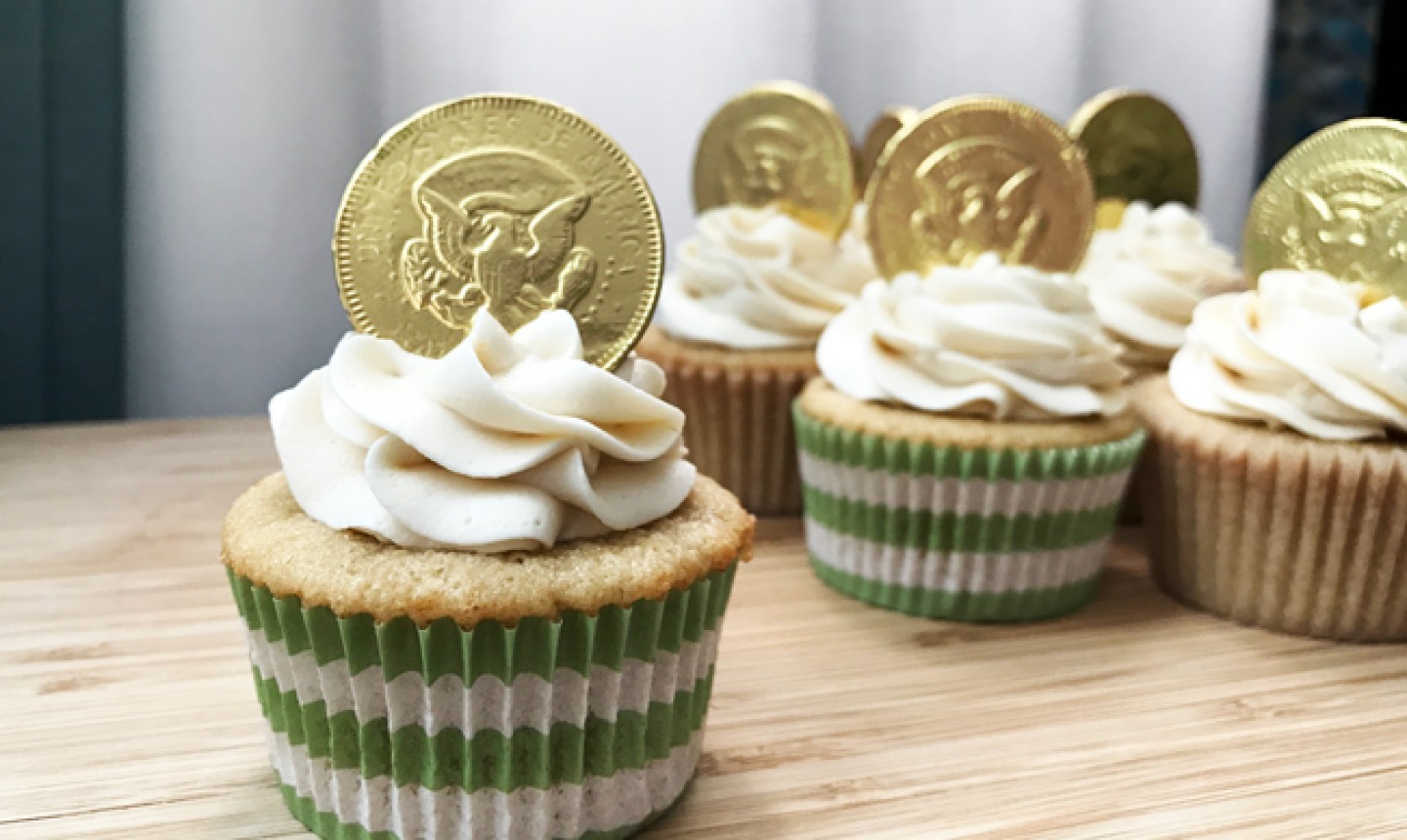 5. Spoon the buttercream into a piping bag. Once the cupcakes are completely cooled, pipe the buttercream. Top off the cupcakes with some St. Patrick's Day flair (we used chocolate gold coins) and serve.