Spring is right around the corner, and that means that wedding season is about to begin. Many couples schedule their nuptials during the warmer months of the year. If you have a loved one that is getting ready for the big day, perhaps it is time to plan for quilting a handmade gift! A special quilt made just for the happy couple is sure to be treasured for years to come.
Here are 7 quilt patterns that would make perfect wedding gifts.
Photo via Yahaira Ferreira
Breaking Clouds
Pull out your special scraps to make the Breaking Clouds quilt. In this pattern you will learn a variety of different techniques to sew half-square triangles (HSTs), which is what the stars are made of. Sew multiple stars as shown in the pattern listing, or use the bonus pattern to make a single extra large block.
Get the Breaking Clouds Quilt Pattern.
Photo via Maritza Soto
Modern Drunkard's Path
Are you new to sewing curves? Try out this modern interpretation of the Drunkard's Path block. The pattern will walk you through the process of sewing curves, so don't be intimidated! The finished quilt measures 48" x 72"  and can be modified easily.
Get the Modern Drunkards Path Quilt Pattern.
Photo via Amy Gibson
Tilt-a-Whirl
Classic pinwheels get a modern twist with a special frame in the Tilt-a-Whirl pattern by Amy Gibson, instructor of the new Craftsy class The Twisted Irish Chain. Each block is paper pieced for accuracy and requires ⅛ yard or a Fat Quarter. A helpful tutorial and detailed instructions are included to help out those who are new to paper piecing.
Get the Tilt-a-Whirl quilt pattern.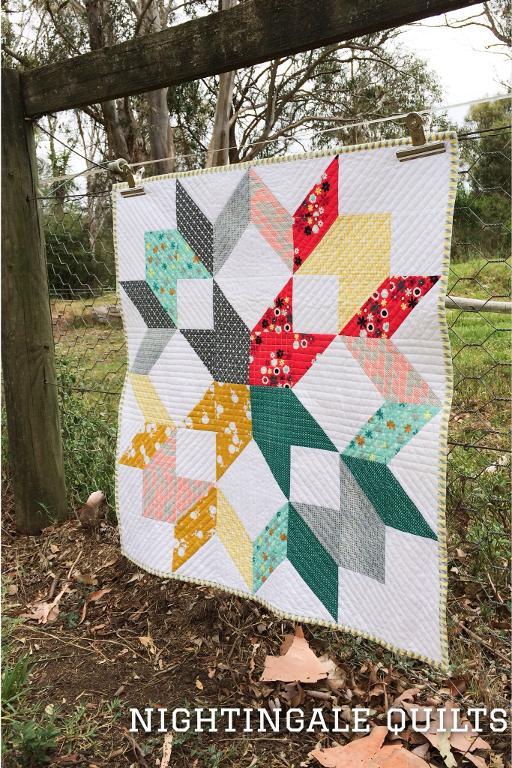 Photo via Nightingale Quilts
Swift Wreath
Use large half-square triangles and Flying Geese blocks to create a stunning quilt. The Swift Wreath pattern is a quick project that measures 32" x 32", and it would look perfect hanging as wall decor. If you'd rather have a throw size quilt, simply add a border or two!
Photo via Paulette Mo
Flowers Square
The new couple would surely love this colorful quilt. Each finished flower block measures 5″, so the quilt top can be created by using up the tiniest pieces of scraps. The quilt measures 51" x 66", the perfect size for a throw.
Get the Flowers Square Quilt Pattern.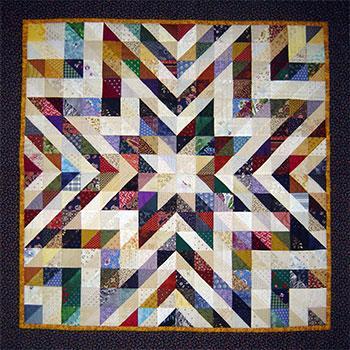 Photo via bdieges
A-Mazing Star
Have fun playing with value while making this amazing quilt! This is another scrap-friendly project, so dig deep into your scraps and sort them into lights, mediums and darks. The finished quilt measures 40" square. If you'd like it to be bigger overall, simply make the HSTs bigger! Those instructions are included in the pattern.
Get the A-Mazing Star Pattern.
Photo via Casey York
Punctual
The Punctual pattern set is the perfect wedding quilt pattern to celebrate a new couple! The bold ampersand is pieced together in basic patchwork that is Charm Square-friendly. Full-size templates for appliqué are included with pattern, as well as a stitch guide on embroidery stitches and details on finishing appliqué. The finished quilt measures 50" x 60.
Be sure to take a look at The Classic Wedding Ring, one of Craftsy's newest quilting classes. The wedding ring quilt is among the more traditional quilts for celebrating a union, and they make for beautiful gifts. You might also be interested in our collection of wedding ring quilt patterns
Do you like giving quilted wedding gifts?