Many quilt historians agree that double wedding ring quilts originated in the early twentieth century, around 1930. The motif of interlocking rings is painstakingly pieced, giving experienced quilters quite the sense of accomplishment when they can cross this quilt off their "to make" list.
We've rounded up some inspirational wedding ring quilt patterns and variations. If you're not up for going it alone, read on for info on some quilt alongs to help you along the way!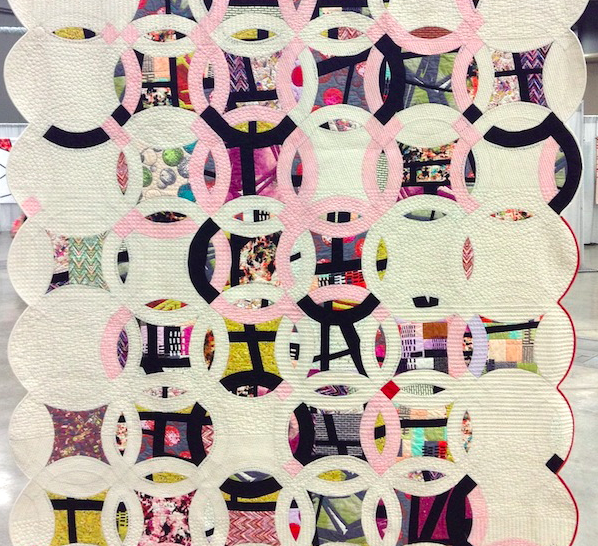 Double Edge Love is a stunning quilt by Victoria Findlay Wolfe and quilted by Lisa Sipes. A modern take on the traditional double wedding ring quilt pattern, Victoria's quilt took Best in Show at the inaugural QuiltCon event hosted by the Modern Quilt Guild. The fractured pattern plays with color placement, depth and negative space, as well as the themes of country life and city life.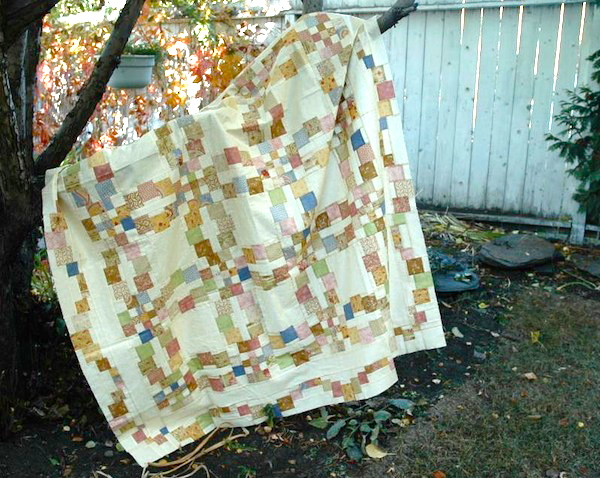 Monet's Wedding Ring by Bluprint member Betsy0 is another variation of the double wedding ring quilt pattern. She made her quilt using a pattern found in the book Scraps by Judy Martin. As you can see, the quilt design uses squares arranged in the shape of the rings to simulate the look of a wedding ring quilt without curved piecing.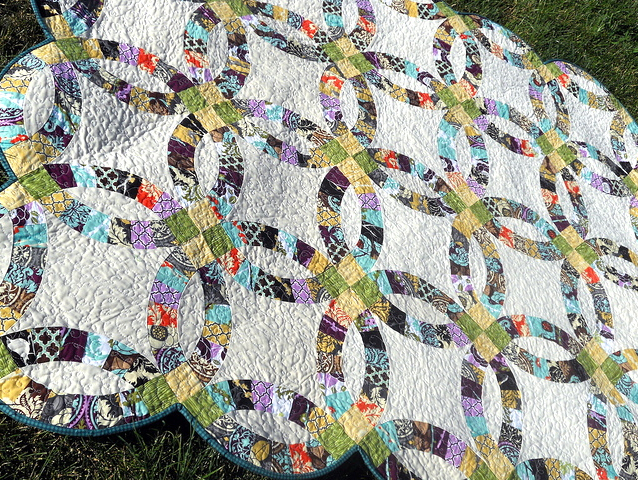 Jessica Kelly of Sew Crafty Jess blogs about her Double Wedding Ring Quilt. Upon completing this quilt, she says she felt like there was no pattern she couldn't tackle. In the spirit of traditional wedding ring quilts, she gifted the quilt to a family member for a wedding gift. She free-motion quilted it with a loopy design, including a few hearts to mark the special occasion.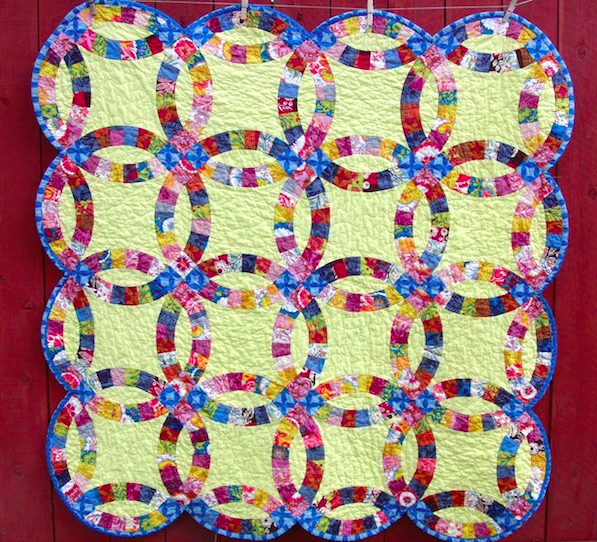 As part of her Double Wedding Ring Quilt Along, Kaelin of The Plaid Scottie shared tips on how to assemble a single block and turn those blocks into a row. With photos to document her progress, she later demonstrates how to assemble each row into a quilt top, with tips for basting the quilt and applying the bias quilt binding. Kaelin suggests using the free double wedding ring quilt pattern provided by FreeSpirit Fabrics.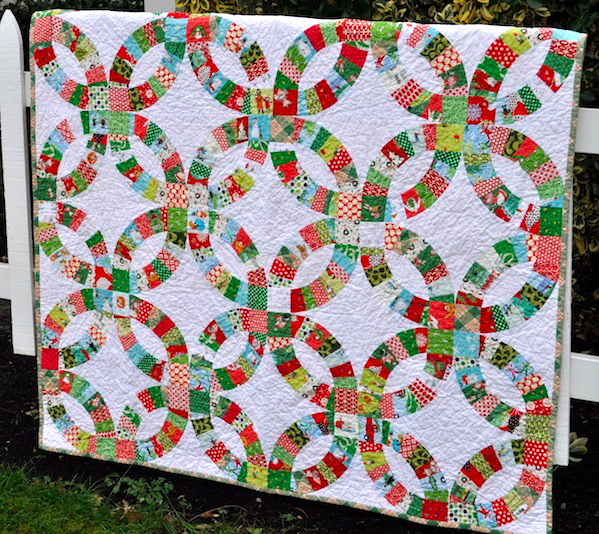 Speaking of quilt alongs, the Pickledish Quilt Along hosted by Aneela Hoey teaches quilters how to make a variation of the double wedding ring quilt pattern. Megan of the blog Lucy and Norman participated in the online quilt along, and says that it was the most fun she's ever had piecing a quilt top! Her Christmas Pickledish Quilt pictured here features curved piecing and a variety of holiday fabrics. Notice how the border of this quilt is straight rather than curved, which makes for a more straightforward quilt binding.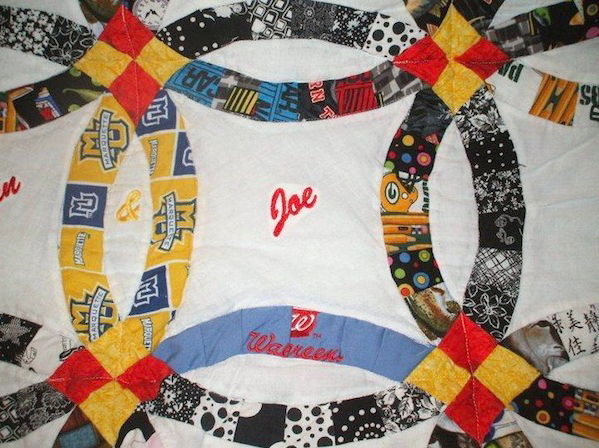 Bluprint member lopz61 made Meg's Double Wedding Ring Quilt using fabrics that represented her family to give to her daughter for her wedding gift. The wedding ring quilt took around seven months to complete, and it became a family heirloom to symbolize those near and dear to her!
If you aren't sure about sewing with curves, check out this curved piecing tutorial for step-by-step instructions on sewing together a pattern such as the double wedding ring or pickledish quilt. Grow your confidence in piecing curves when you take the online Bluprint class Inset & Appliqué Circles by Machine with Cheryl Arkison.
What do you think—is making a double wedding ring quilt on your bucket list?
In case you missed it yesterday learn about the Farmer's Wife Sampler Quilt and come back to the Bluprint blog tomorrow to let us know whether you prefer hand piecing or using a machine.