A little sparkle can take your cake decorating from sweet to simply spectacular.
Using edible glitter, edible sparkle dust or edible shimmer spray on your cake creations not only adds luster, but makes your cake creation festive, a little glamorous and all the more eye catching.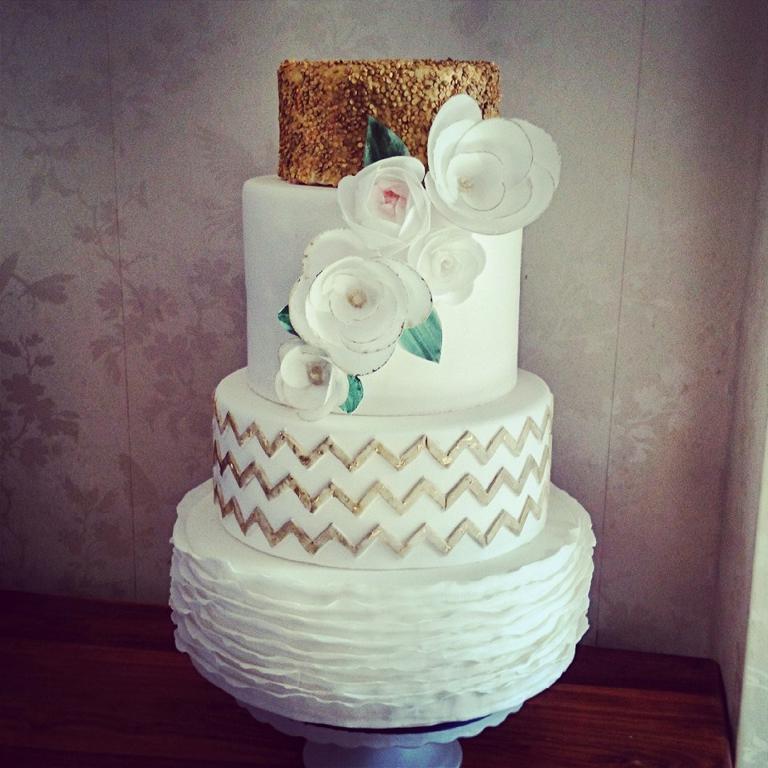 Glittering gold wedding cake by Divinebakes made with the class Cakes in Full Bloom
To create show-stopping works of cake art worthy of a shimmering finish, start by checking out Craftsy class Cakes in Full Bloom, which explores the art of creating radiant, floral-inspired cakes. Taught by veteran cake decorator Erin Gardner, this class is a fantastic way to create a worthy canvas for the dazzling effects of edible metallics.
Once you've got the right cake design, here are some tips for using edible glitter, paint and sparkle dust to make your sweets shimmer.
Which sort of shimmer is right for your cake?
First, settle on a general cake design — a blueprint of sorts. Will it be a cake featuring big, bright statement flowers? This might be the right moment to feature bright, textural edible glitter on your cake. However, if you're going for a more sophisticated, understated look, you may find that a simple coat of sparkling dust over a cake layer is more than enough shimmer to attain your desired effect.
So many ways to shine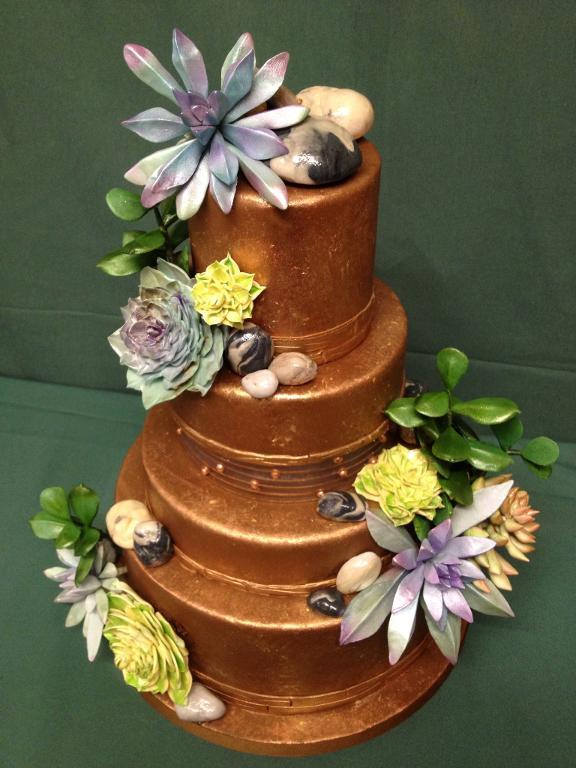 Chocolate luster cake via Vagabond Baker
Here are some of the key ingredients in making your cake creation sparkle.
Luster dust
Luster dust is a powder that, when applied, has a shimmering finish. Think of it almost like a shimmering blush for cakes. These dusts come in a variety of types, from sparkly to pearlescent to just a subtle shimmer.
Edible paint
Edible lustrous paint can be purchased, or created by adding a small quantity of a flavoring extract or a clear spirit such as vodka to luster dust. It can be made quite thick, or thinned out more and brushed on, as you would watercolor paint.
Edible glitter
Edible glitter is exactly what it sounds like — a sparkly edible garnish. It can be made in a few ways. A typical method of making edible metallic glitter is by creating a mix primarily composed of gum arabic and luster dusts and creating metallic flakes which can be applied to cakes. Another method is to create glitter which is really more like cake confetti, by painting fondant with edible paint and then cutting out lilliputian shapes to resemble glitter.
How to adhere the shimmer to your cake
How do you get the shimmery stuff to stick to the cake? It depends on what you're adhering. Luster dust can be applied using a dry, soft brush: This will add gentle highlights. Edible paint, that is created by mixing luster dust with a clear flavoring extract or spirit, can be "painted" directly on to a cake. Edible glitter is applied almost like regular glitter, with icing "glue."
Inspiring examples of shimmering cakes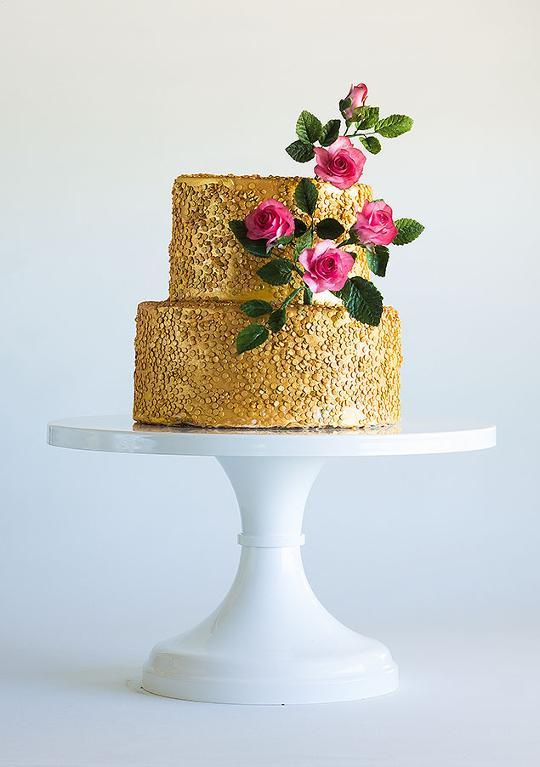 Glitter cake via ModernLovers
All that glitters is gold
Go for the gold by applying an all-over layer of edible paint and glitter to your cake. This lovely cake is painted gold and then adorned with edible gold "glitter" of the confetti variety discussed above. With such a lustrous cake, a bold "statement" flower is necessary to be noticed among all that dazzle.
Accent sparkle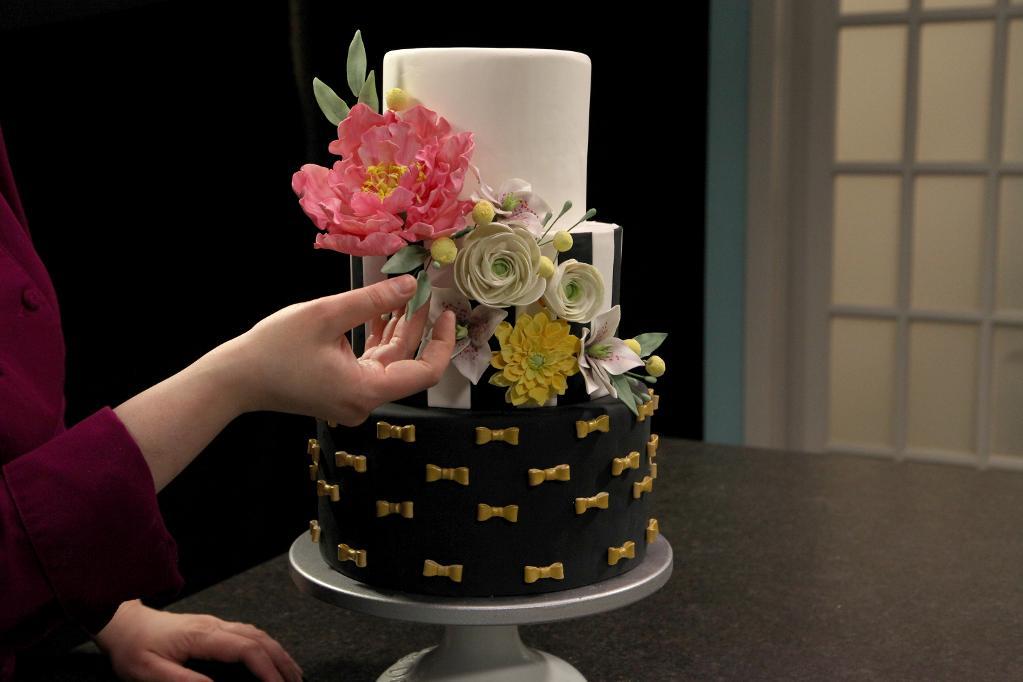 Monoglam cake via instructor Erin Gardner
Applying lustrous edible paint to elements on a cake which are paired with matte elements can create a sophisticated finished effect. This cake features delicate painted gold bows against a matte chocolate background for a striking finished look, especially when complemented by a cascade of artfully arranged sugar flowers.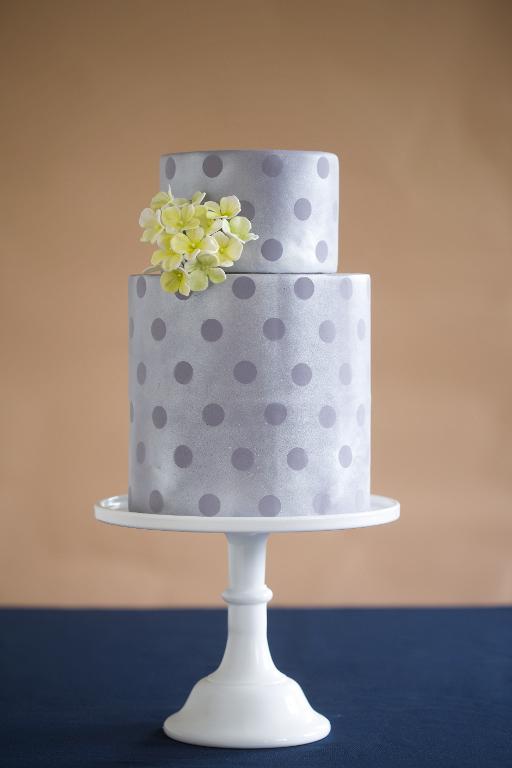 Sparkle and matte cake via Erin Gardner
Pairing matte with shimmer
This cake makes for a gorgeous effect with matte dots punctuating an otherwise sparkly surface of fondant. The ingenious method for this matte and shimmer dot pattern is featured in the Craftsy class Cakes in Full Bloom. This subtle effect is sophisticated yet still eye-catching.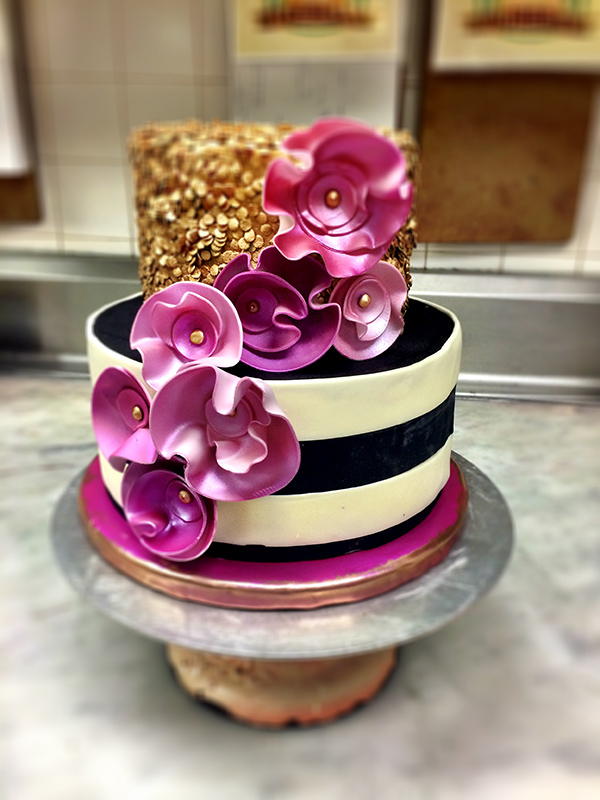 Confetti cake via Cynthia Inguanzo
Shimmering flowers
Luster dust can take your flowers from pretty to absolutely breathtaking. This effect can be created by painting the flowers with edible paint or by using a soft brush to gently coat accent areas with luster dust. A lustrous finish on flowers is very effective: It makes them seem more life-like and draws the viewer's eye right to the focal point.
How do you use the element of sparkle in your cake decorating projects?