They're bright and colorful. They're sometimes rainbow, sometimes chocolate. Sometimes even silver or gold. They're sugary, and they certainly come in handy for cake decorating. But what do you call these tiny bits of confectionery that add a delightful crunch and festive flair to desserts ranging from ice cream cones to birthday cakes?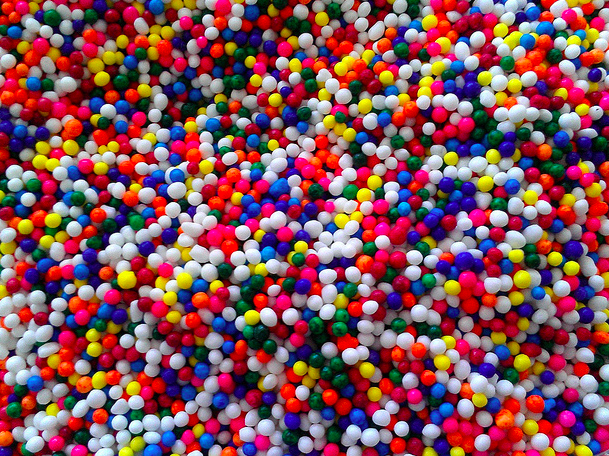 Photo via CakeSpy.com
In the United States, "Sprinkles" is probably the most popular catch-all term for all of these bits of garnish. But within that category, there are many names, shapes, and sizes: nonpareils, hundreds-and-thousands, jimmies, sanding sugar, pearl sugar, and dragees. Confused? No wonder. Here's a quick guide to demystifying the different types of sprinkles.
When you say sprinkles, the two most common types to pop into most people's minds are either the round type or the oblong, cylinder type.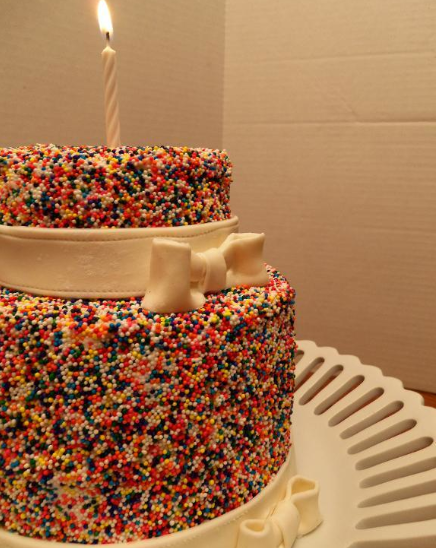 Photo via AliceSin
Round Sprinkles:
These can more specifically be referred to as nonpareils. These are those teeny-tiny round balls that can come in a single color or in rainbow. They date back at least to the late 18th-century. As for the funny name? It means "without equal" in French, which is exactly what desserts become when topped with a crowning glory of these delicate decorations. Not to confuse, but this term can also be used to refer to a confection: a chocolate disk or morsel dipped in, well, nonpareils.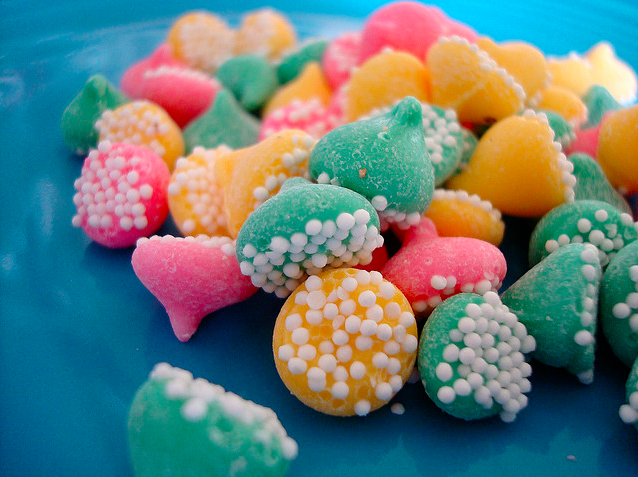 Photo via CakeSpy.com
There's another term for these sugary orbs: hundreds-and-thousands. This is a term used in the United Kingdom and some other English speaking countries outside of the United States. It also may be the cutest term to refer to a type of sprinkle.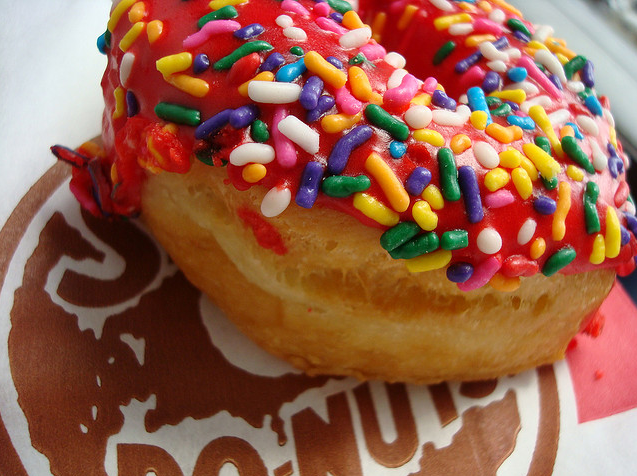 Photo via CakeSpy.com
Cylinder Sprinkles:
Sprinkles with a cylinder shape are made by mixing up a paste and then extruding it in long, skinny ropes. They are then shaken to break the strands apart into the mini tubes we're familiar with, which are then coated with a confectioners' glaze or wax to make them shine. Incidentally, this coating also makes them a little slower to "bleed" color than the nonpareil type of sprinkle.
This type of sprinkle can come in multicolor, a single color, or chocolate. In some parts of the United States, particularly Pennsylvania and the Northeast, this type of sprinkle (the chocolate type in particular, it seems) are referred to as "Jimmies". This is a term with a fun story: legend holds that in the 1930s, when Just Born Candy Company in Pennsylvania (the producer of Peeps candy) began producing sprinkles, the machine was manned by a fellow named Jimmy. The candy got its nickname from the machine operator! While the product in question was specifically chocolate sprinkles, usage seems to have spread to multicolored sprinkles as well.
Other Types of Sprinkles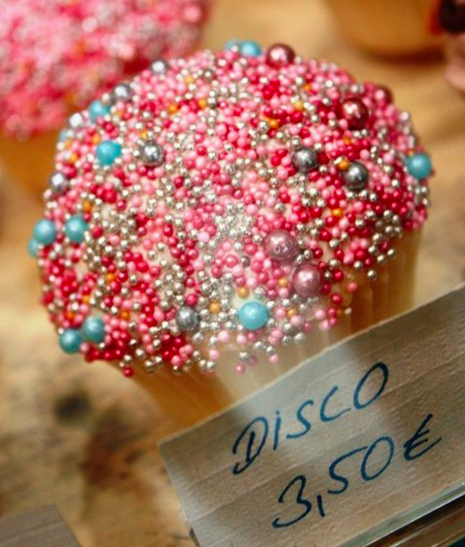 Photo via Cupcakes of the Day
Dragée:
A type of confectionery with a hard outer shell which takes its name from a medicinal term for sugar-coated pills. Really, any candy-coated garnish could be considered a dragée: for instance, jordan almonds or even M&M's! But when it comes to cake, most people will probably think of tiny colored or even metallic dragées (which resemble little ball bearings), which are a beautiful way to make an occasion cake shine.
This brings up an interesting question: are they edible? Depends on who you ask. In the past, the USDA has deemed metallic-finish dragées to be inedible, and they are sometimes sold with a notice that they are for decorative purposes only. Perhaps this is because at a certain time, the silver finish contained mercury, although this is no longer the case.
Sanding Sugar:
This is a type of crystal sugar that is translucent, and is often available in a variety of colors and even metallics. It's got a larger grain than white sugar, but is still fairly delicate–almost like the texture of glitter. It gives a pleasing light crunch when applied to the top of cakes or cookies.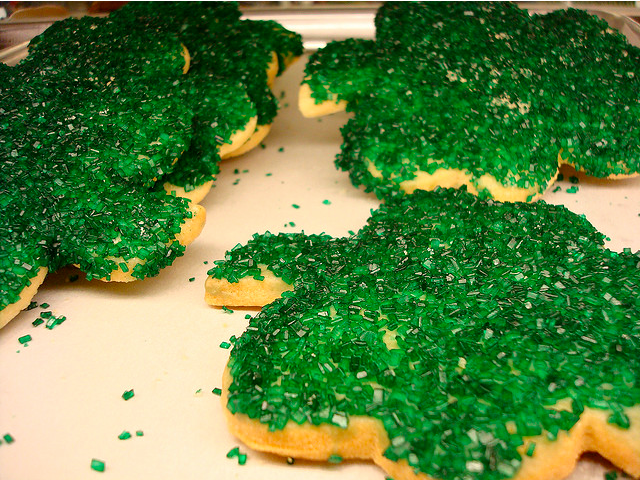 Photo via CakeSpy.com
Crystal Sugar:
Think of it as sanding sugar's older sibling. It's also translucent and available in a variety of colors, but the crystals are much larger and coarser.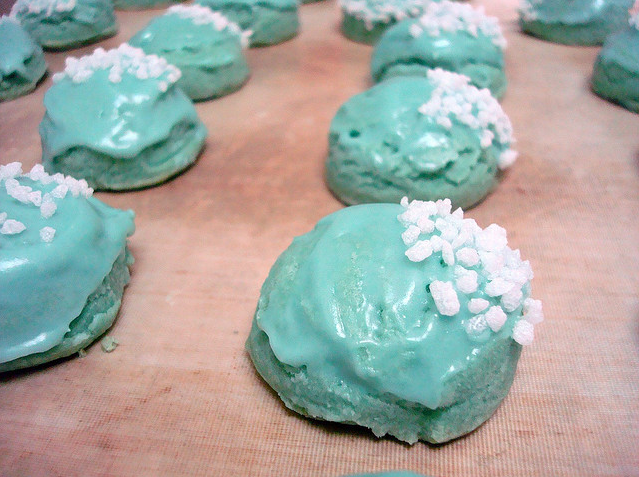 Photo via CakeSpy.com
Pearl sugar:
Relatively large, crunchy, opaque white spheres (but not quite perfect circles) of sugar. This type of sprinkle can resemble a coarse sea salt, but one taste will tell you it's quite different! You'll often see this type of sprinkle on sweet breads such as brioches, braided loaves, or even croissants.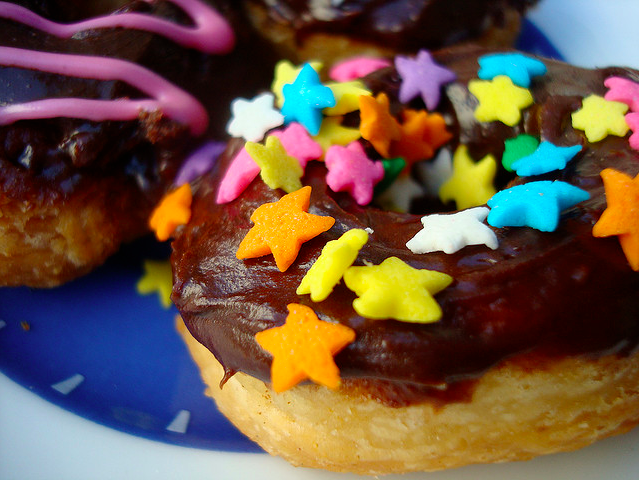 Photo via CakeSpy.com
Shaped sprinkles: In recent years, mini sugar lumps shaped like characters or symbols have become increasingly popular. Think: mini shamrocks for St. Patrick's Day, hearts for Valentine's day, and all sorts of shapes such as suns, moons, animals, and more for just about any day! Which type will you use next?