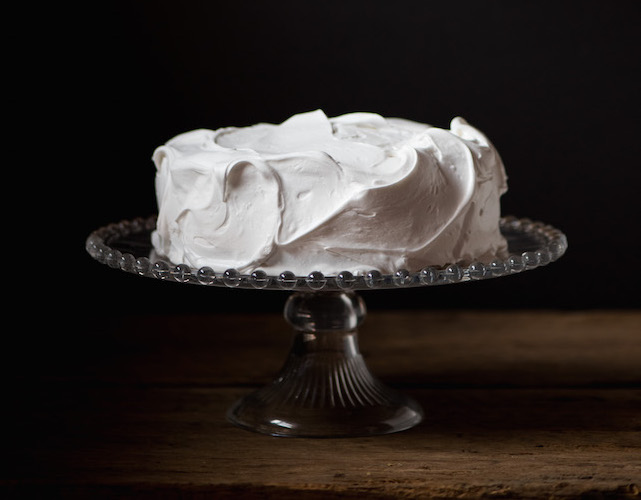 Whether it's trimming the tree, caroling or icing the perfect gingerbread house, most families have their holiday traditions. For our some, that tradition involves baking a certain Yuletide sweet — well before Christmas is even here.
Traditional British Christmas cake is a dense butter cake made with preserved fruit and brandy. It's baked four to six weeks in advance preserved with brandy in an airtight container. The tradition originated as a meaty, plum porridge. Gradually, ingredients were added and removed, and plum porridge transformed into Christmas pudding, and then again into the Christmas cake that belongs on your holiday dessert spread.
Traditional Christmas Cake
Yield: one 8" round cake
Ingredients
9 ounces (about 2 cups) all-purpose flour
¼ teaspoon salt
1 teaspoon mixed spice*
8 ounces (1 cup) butter
8 ounces soft brown sugar
4 eggs, lightly beaten
1½ tablespoons black treacle*
12 ounces raisins
12 ounces golden raisins
12 ounces currants*
2 ounces candied orange peel*
3 ounces candied cherries*, quartered
2 ounces almonds, blanched and chopped
2 tablespoons brandy or whisky
*See recipe notes below for substitutions.
Good to Know: Christmas cake should be made at least a month before the holiday (or whenever you plan to serve it). This gives the cake time to soak up the brandy and mature. The longer the cake matures, the better it tastes, but it's OK to make it a little later, too — it will still be delicious.
Instructions
1. Line the base and sides of an 8″ round or square cake pan with waxed or parchment paper. Cut two strips of brown paper to the circumference of the pan and 1" wider than the depth of the pan. Wrap these two strips of paper around the outside of the pan and tie with kitchen twine.
2. In a large bowl, sift together flour, salt and mixed spice into large bowl.
3. In a separate bowl, cream together butter and brown sugar until pale and creamy. Beat in egg a little at a time.
4. Stir in flour mixture, treacle, raisins, golden raisins, currants, candied orange peel, candied cherries and almonds. Once combined, pour the batter into the prepared pan.
5. Bake the cake in a 300 F–oven for 3 hours. Then reduce the heat to 265 F and continue baking for another hour, or until a skewer inserted in the center of the cake comes out clean.
6. Remove from the oven and leave to cool in the pan for 10 minutes (or a bit longer). Turn out the cake onto a wire tray and remove the paper.
7. When the cake is almost cold, turn it upside down and pierce multiple times with a skewer. Spoon brandy (or spirit of your choice) over the cake.
Leave until completely cold (even overnight).
Wrap in waxed paper. Place the wrapped cake in an airtight container or wrap in foil. (Do not let foil come into contact with cake.)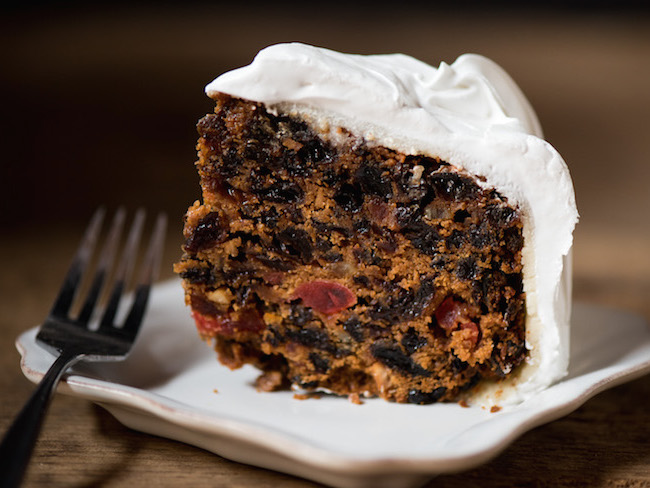 If desired, you can "feed" the cake several more times over the next few weeks with additional brandy. And if you're intending to frost the cake, spoon a little more spirit over the top before almond pasting.
Recipe Notes
1. Don't confuse mixed spice with allspice! If you can't find ready-made mixed spice, you can create your own mix by combining 1 tablespoon ground cinnamon, 1 tablespoon ground nutmeg, 2 teaspoon ground mace, 1 teaspoon ground cloves, 1 teaspoon ground coriander, 1 teaspoon ground ginger and 1 tablespoon ground allspice. It's also similar to pumpkin pie spice, which you can use in a pinch.
2. If you can't find black treacle, you can easily substitute an equal amount of molasses.
3. While you should be able to find currants in your grocery store or online, you could also substitute them for dark raisins. So instead of 12 ounces each of raisins, golden raisins and currants, you would use 24 ounces of raisins and 12 ounces of golden raisins.
4. Again, you likely will be able to find candied orange peels and cherries online or in specialty food stores. Or, you can make your own! Check out this simple recipe for candied cherries, and this one for orange peels.