Creating your own bedding is not only a wonderful way to personalize your bedroom, but it can be a real cost saver as well. Making sheets is probably not something you will want to do, but the duvet that sits on top of your bed is truly one of the easiest and most gratifying home decor projects to customize your bed.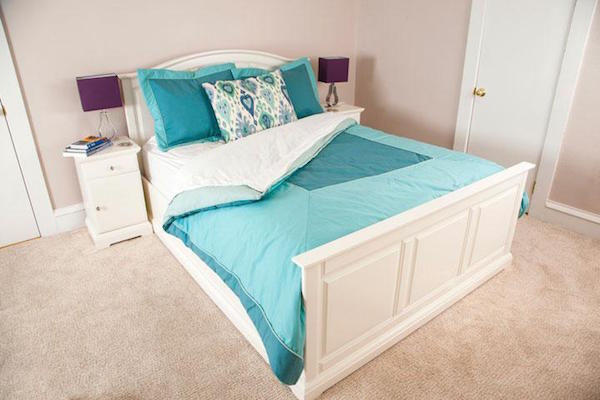 Photo from Bluprint instructor Laurie Medford's class Custom Bedding: Designer Duvet Covers
The only part that is tricky is the math when figuring out the size to make, and how to handle the fabric accordingly. Here's the main issue — most beds are wider than the fabric width, so coming up with a game plan in advance will be both a stress reducer and a timesaver.
I have made many duvets for myself over the years and have learned quite a few tips along the way that I will share with you below. And don't forget, if you would like even more advice, of course there's a Bluprint class for that! Check out the class, Custom Bedding: Designer Duvet Covers with Laurie Medford for how to sew your own duvet, beyond the basics.
Determine the size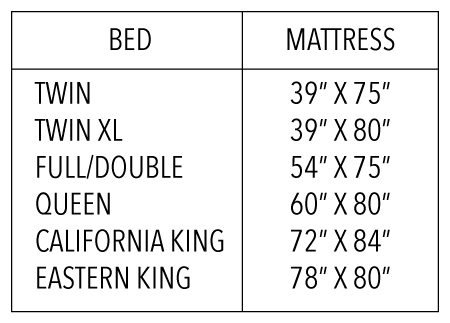 The hardest part of sewing a custom duvet is figuring out how large to make it. Here's how the layers break down: you have your mattress, then your sheets, then your comforter, which is inside a duvet. So first we need to start with the mattress size. Above is a chart of the most common sizes in the United States (note that these vary in other countries). From here, you will then need to purchase a comforter that will go inside your duvet. These range from manufacturer to manufacturer, so be sure to mark down what your starting size is.
It is most common to make the duvet the same finished size as your comforter, so it "fits" like a pillow would fit around a pillow form.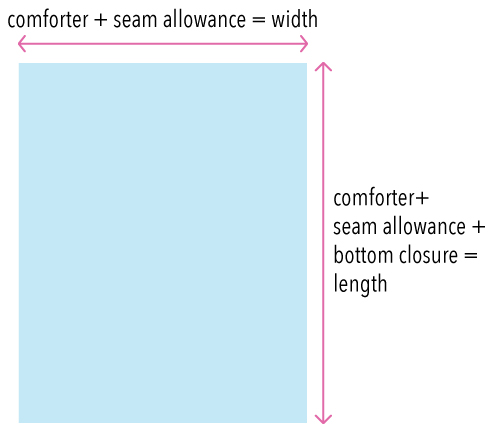 Take your comforter measurements and write them down. Use the width and add 1/2″ to each side for a 1/2″ seam allowance, adding a total of 1″ to the width of your purchased comforter. That is your total width.
Use the length and add 1/2″ to the top side for a 1/2″ seam allowance. Now we need to add the extra for the bottom, but first you need to figure out how you want to finish the opening.
Closing the bottom
Because you need to put the comforter inside the duvet, there needs to be an opening left in the bottom seam. There are many ways to handle this, but before you cut your fabric, you will want to decide which option is best for you as you will need to leave the appropriate amount of fabric for the closure chosen.
In my duvets, I have always chosen to simply install an invisible zipper. Of course I am a garment sewer, so that is the most common closure in my everyday sewing and it made sense to me. It is a clean, fully-closed, and invisible choice, leaving only the zipper pull visible at the bottom edge. To learn how to install a zipper in a seam, check out Sunni Standing's free class, Mastering Zipper Techniques. If you choose this option, all you need to add to your bottom edge is a 1/2″ seam allowance, then install your zipper at the 1/2″ mark.
Other common closure options are velcro, snaps, and ties. For velcro and snaps, you will need to sew those to a seam allowance of the opening, so depending on the width of your velcro or the diameter of your snaps, add enough to the bottom edge to accommodate for those to be attached. For ties, these too can be sewn directly to a seam allowance, so the typical 1/2″ would work perfectly.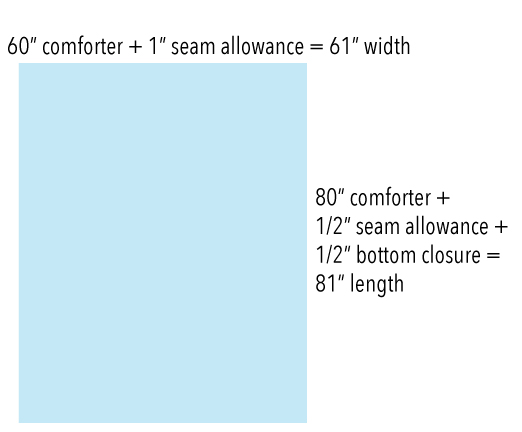 Now you should have both a width and length measurement for your duvet cover. Though don't forget that you need two of these, one for the top and one for the bottom! Using the sizes for a queen bed, the illustration above shows the math for bottom closure options with a 1/2″ seam allowance.
Cut the fabric.
After you have your size, we need to figure out how to cut up the fabric. Most people sew duvet covers from quilt weight cotton fabric, or one with a similar weight and fiber content. Rarely does this weight of fabric come in a width larger than 42-45″ from selvage to selvage. If you look at the chart above, you can see that this will pose a problem in all bed sizes. As comforters are slightly larger than the mattress, even a twin, though the mattress is only 38″ wide, will have a comforter that is wider than the typical quilt weight width. So in order to use this type of fabric from the bolt, you will need to make a game plan.
The most common approach to coming up with the right size is to use the width of the fabric down the center, then use a second length of fabric cut in half, sewn to either side of the center panel. This is best done with an all-over print so the seams are hidden, or choose different fabrics for clear stripes on the duvet. The design elements are up to you!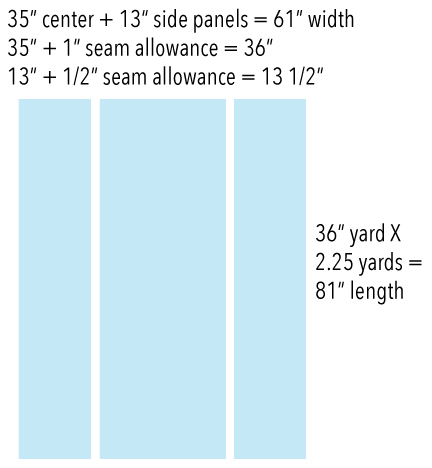 With that option in mind, here's how to figure out how to cut the fabric and determine how many yards you will need. First, we need to chop up the width into segments that fit on the 42-45″ width of fabric. Because the selvage edges will shrink at a different rate than the rest of the woven areas, that part needs to be cut off. Plus, you will want to pre-shrink the fabric as well, which might reduce the width a bit too.
The middle segment can be cut to 35″ wide, which leaves 13″ panels on either side. The outside of the duvet already includes the seam allowance, but the seams we are creating with these panels still need that part added. Add 1/2″ on either side of the 35″ panel, making the middle section 36″ wide. Then add 1/2″ to the seam of the outer panel, making each panel 13 1/2″ wide.
Now the length must be figured out. The cut measurement is 81″ which divided by 36″ for a yard, equals 2 1/4 yards in length. Using this math, for this size duvet, you will need 2 1/4 yards in length twice for each side of the duvet, (one fabric's width for the center, and another fabric's width cut in half for each side panel) making it 2.25 yards X 4 panels = 9 yards total of one fabric 42-45″ wide.
Sewing shortcuts
A common shortcut, though not necessarily a cheaper option, is to simply buy two flat sheets in a print you like, then use that as your starting point, since sheets come wider widths than fabric on the bolt. You will still need to cut it down and finish the opening, but no paneling would be necessary!
I hope this helps figure out your duvet math! It seems tricky but really it's just coming up with enough panels to cover the duvet of your choice. And as it's only straight seams, it couldn't be easier to sew up once you get the math out of the way!