After a festive feast, most people think of pies, like pumpkin pie or pecan pie, for dessert before they'd consider cake. However, that doesn't mean there aren't plenty of amazing Thanksgiving cake designs. From fondant turkeys to hand-molded pilgrim figurines to, yes, even a cake made of turkey and mashed potatoes, this collection of eight amazing Thanksgiving cake designs proves that pie isn't the only dessert that deserves space on your table this November.
Illustration via CakeSpy
Work up an appetite with this cornucopia of Thanksgiving cake designs!

Photo via Bluprint member deewatterson
Thanksgiving basket cake:
This basket holds a bounty of delicious cake. The pumpkins were created using a 3-D cake pan, and are decorated with hand-painted fondant. The leaves and apples in the basket are works of art created using modeling chocolate, and the barrel slats are made from gum paste. Impressive!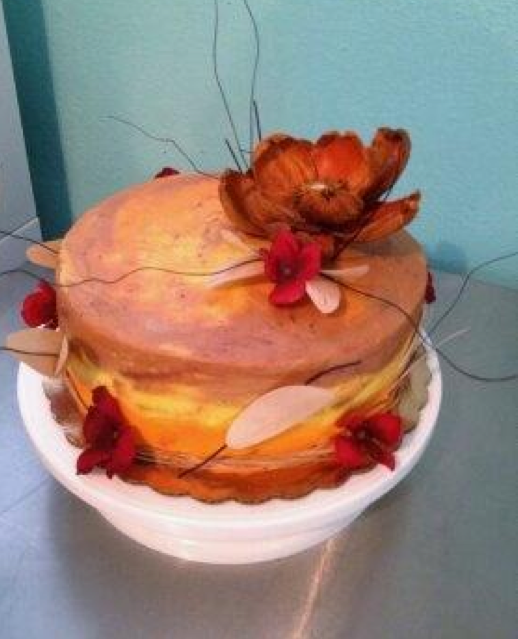 Photo via Bluprint member Dolce Piccolo
Thanksgiving cake:
The FREE Bluprint class Modern Buttercream was pivotal in inspiring this lovely cake, which is topped with buttercream finished with hand-painted details to give it a harvest-hued gradient. Pretty flower and leaf motifs finish the fall effect.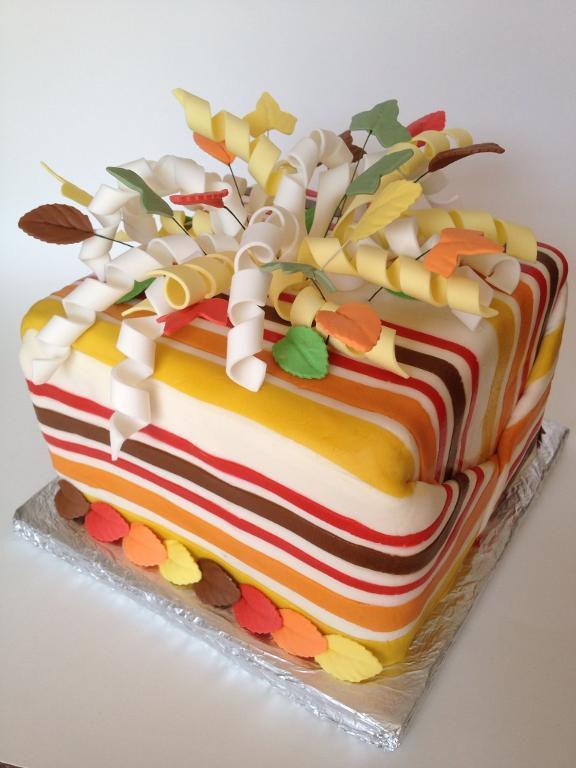 Photo via Bluprint member Irina Salazar
Thanksgiving present cake:
Using fondant and gum paste, Bluprint member Irina Salazar used techniques she learned in Advanced Fondant Techniques, to create this festive Thanksgiving cake, which is decorated to look like a wrapped present. The eye-catching centerpiece? A blossoming topper featuring spiraling ribbons of fondant and petite leaf motifs.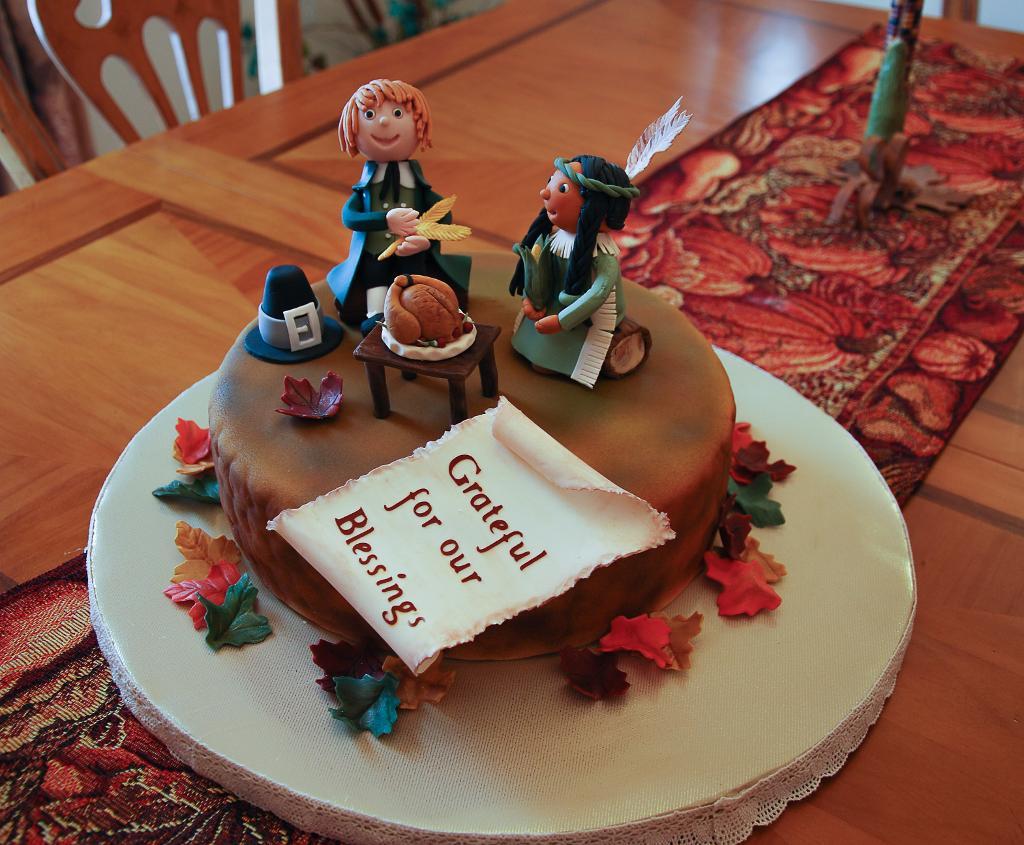 Photo via Bluprint member Redhead1946
First Thanksgiving cake:
This cake features a number of different cake decorating techniques, including gum paste and fondant work, airbrush coloring, and hand sculpting. Figurines formed by hand depicting pilgrim and Native American characters top this cake, and of course, a mini hand-sculpted turkey makes an appearance. A hand-painted scroll says "Grateful for our blessings," which is a sweet reminder of the season.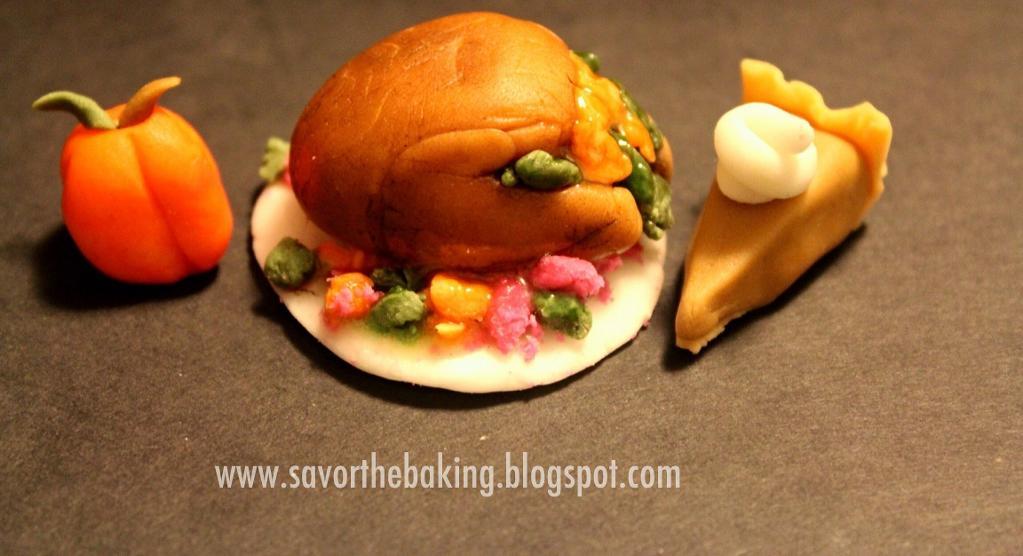 Photo via Bluprint member Chineka
Thanksgiving cupcake toppers:
Cupcakes prettily piped with buttercream are always a sweet treat. But top those cupcakes with these delicately hand-formed fondant toppers shaped like a mini turkey, a pumpkin and a slice of pie, and they become fancy enough to serve at Thanksgiving dinner. Adorable.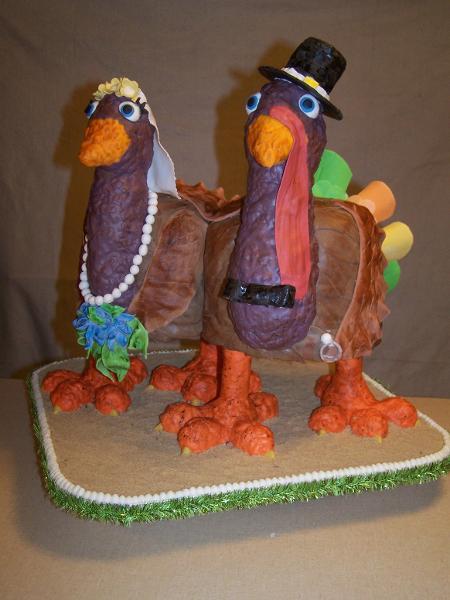 Photo via Bluprint member FrizzyHair
Thanksgiving turkeys in love cake:
This is an anniversary cake to be thankful for. The cake is molded and topped with buttercream, fondant and gum paste to resemble turkeys, and it's suspended in a gravity-defying formation thanks to dowel rods and straw supports to make an eye-catching cake that's perfect for a Thanksgiving wedding anniversary.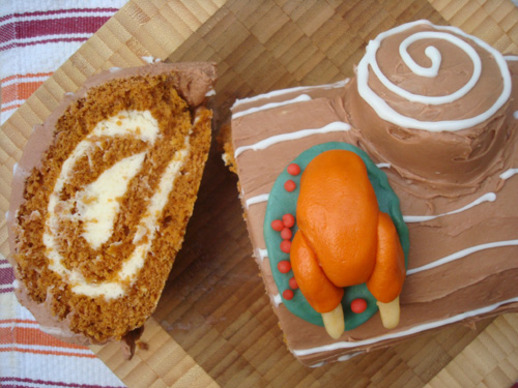 Photo via CakeSpy for Serious Eats
Bûche de Thanksgiving cake:
While bûche de Noël cakes are famous around Christmastime, they're delicious all year long. This version is a pumpkin roll cake, decorated to look like a log and finished with hand-molded marzipan to form Thanksgiving makings.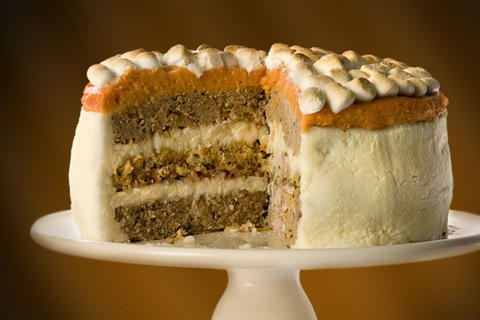 Photo via Chow.com
Thanksgiving leftover cake:
A cake that is also leftovers? Believe it. This "cake" is actually made using leftover turkey made into a loaf, then layered with stuffing, mashed potatoes, and finished with a bit of sweet potato casserole on top. Awful? Awesome? A bit of both perhaps, but impressive no matter how you look at it.
You might also enjoy our roundup of fall cupcake decorating ideas.
Will you make any cakes for Thanksgiving this year?