Follow the rainbows to pots of gold and treats with these St. Patrick's Day cake pops! These clever sweets would be loved by leprechauns of all ages.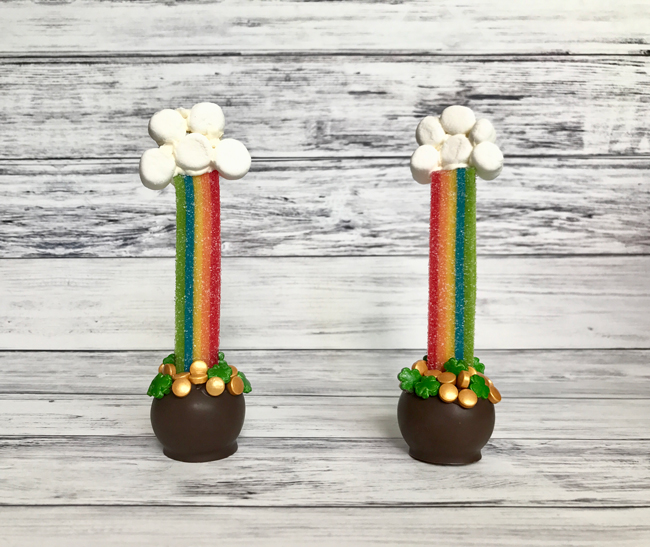 You need three special ingredients to make these St. Patrick's Day cake pops.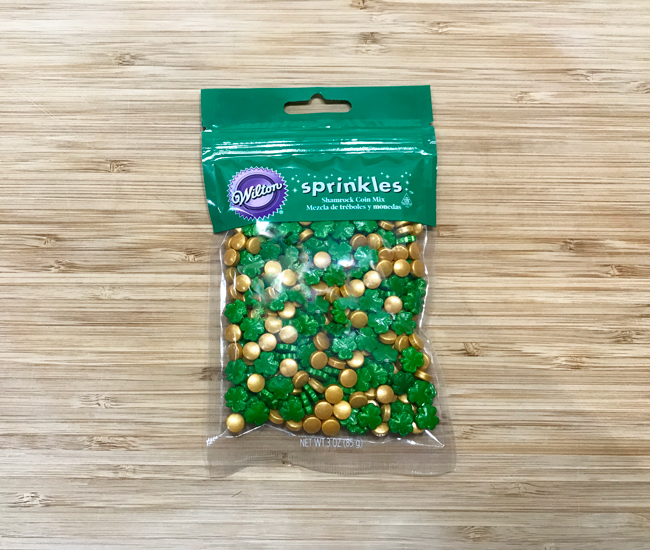 The cake pops are made with a seasonal sprinkle mix from Wilton called Shamrock Coin Mix. If it's not available in your area, gold sparkling sugar on its own or paired with mini shamrock sprinkles would look just as awesome.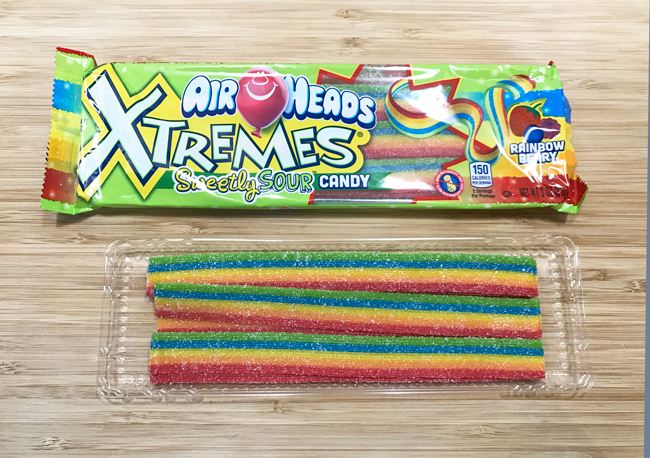 The sparkly rainbow candy are Airheads Xtremes Sweetly Sour Candy in rainbow berry. These candies can be found at 7-Eleven, craft stores or grocers near the check-out counters. There are a dozen pieces in each pack — perfect!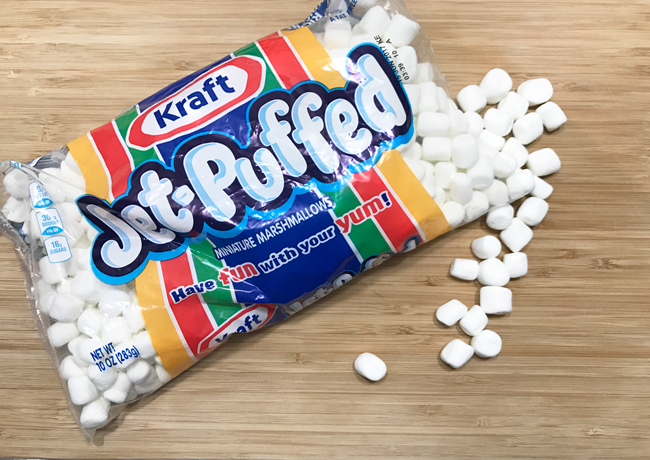 Of course, each rainbow wouldn't be complete without a fluffy marshmallow cloud over the top. 
St. Patrick's Day cake pops tutorial
You'll need:
Cake pop dough ready for shaping
Dark brown and white candy coating wafers

Shamrock coin sprinkle mix (or gold sparkling sugar)

Airheads Xtremes candy in Rainbow Berry

Small marshmallows

Paramount crystals, EZ Thin or virgin coconut oil (solid)

4″ paper lollipop sticks

Toothpicks

Waxed paper

Zip-top bag
Step 1:
Line your work surface with waxed paper. Portion the cake pop dough using a cookie scoop so all pieces are uniform.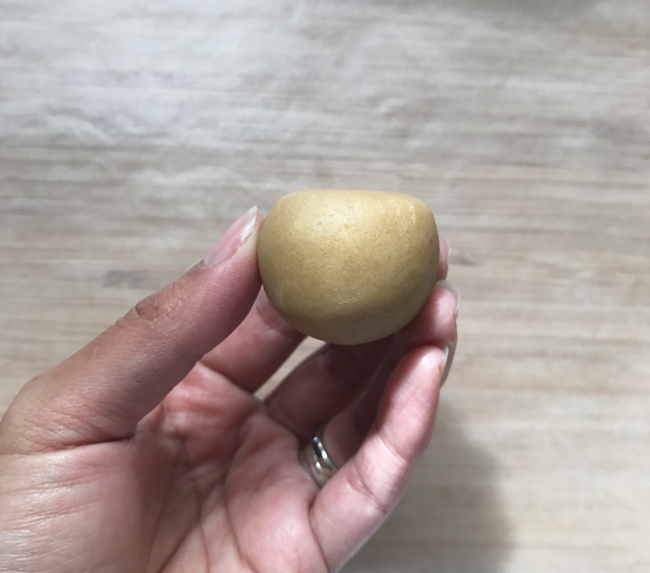 Roll each piece into a ball, then flatten one side by tapping it onto your work surface. Our goal is for the shape to resemble a cauldron or pot.
Place all pieces on a waxed paper–lined cookie sheet or pan and refrigerate for at least 15 minutes. =
For tips on creating perfect cake pop dough, please refer to this shaping tutorial.
Step 2:
While the cake balls are in the fridge, let's melt the coating! Place the dark brown candy coating in a microwave-safe plastic bowl or cup. Place the bowl in the microwave and heat for 1 minute at 50 percent power. Give it a stir, though it will still be solid — we want to move it around. Continue to heat in 30-second bursts at 50 percent power until the coating is melted and smooth and stir between each interval.
For more tips on melting and dipping, refer to this dipping tutorial.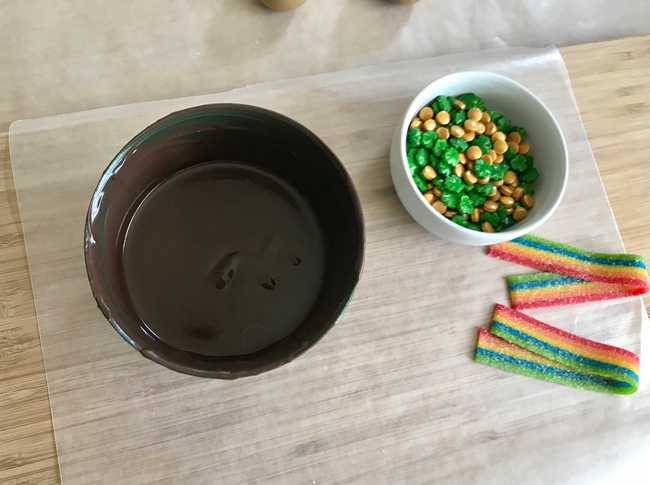 Dark brown usually melts to a nice smooth and loose consistency. If it does not, once it's melted, add paramount crystals, EZ-Thin or solid virgin coconut oil to thin the candy coating until the consistency is similar to wet paint. Let sit at room temperature for a few minutes to let the heat dissipate. Coating can always be reheated for 15 to 20 seconds at 50 percent power if it starts to harden.
Step 3:
Remove cake balls from the fridge. Let them stand at room temperature for a few minutes.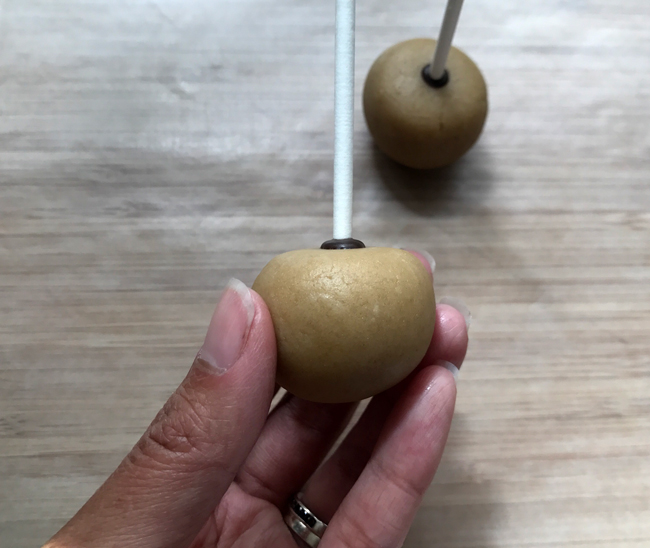 Dip ⅓" of a lollipop stick into the melted dark brown coating and then insert it into the flat part of the cake balls, about halfway through. Repeat with each piece.
Step 4:
Lay waxed paper on an even surface. This step will move quickly, as you need to complete it while the coating is still wet.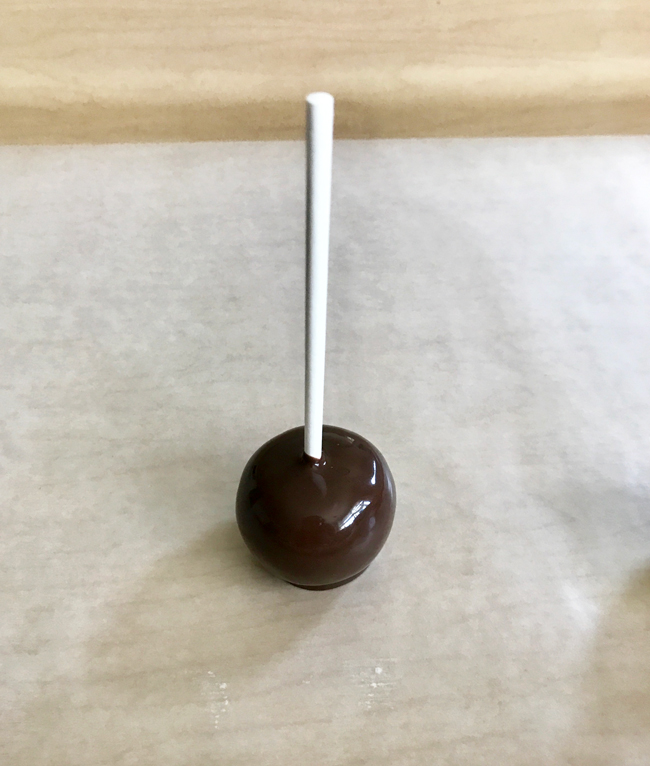 Dip the cake pop into the candy coating, lift out and gently shake off the excess. Use a toothpick to pierce any air bubbles on the surface. Place on the waxed paper.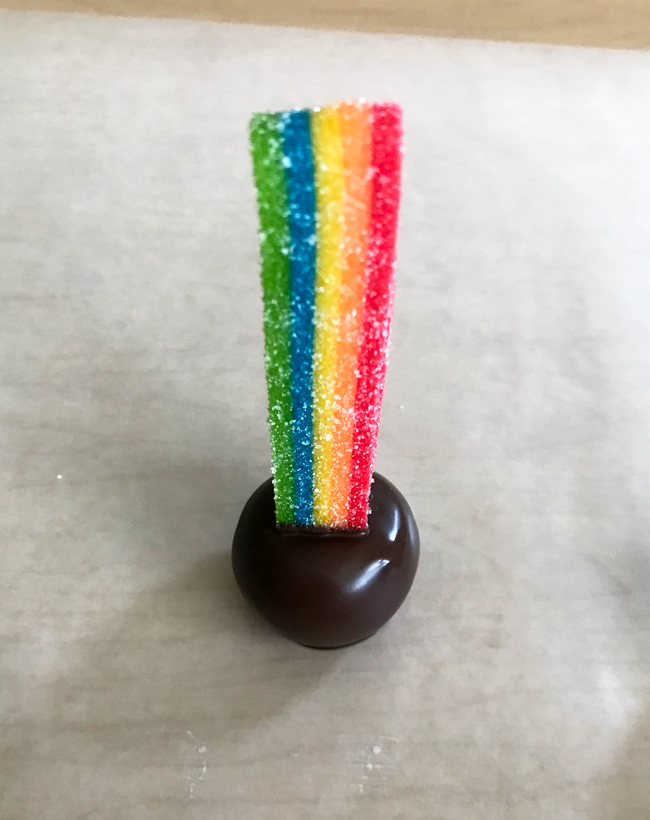 Press the edge of the rainbow candy strip into the coating, placing the candy against the stick. Wrap it over the top of the stick and place the other edge into the coating, on the opposite side of the stick The rainbow candy strip should completely wrap over the stick, and both ends should meet the coating, "gluing" it onto the cake pop.
Step 5:
While the cake pop is still wet, arrange the shamrock and coin sprinkles where the cake pop and the rainbow candy meet.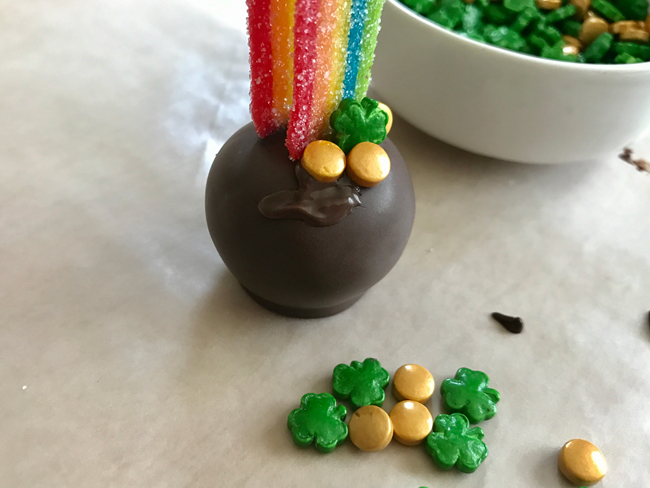 If the coating starts to set, use a toothpick to dab on extra coating wherever you'd like to attach more sprinkles — the coating acts like glue.
Step 6:
Once the cake pops are completely dry, melt white coating using the same method in Step 2. Place the melted candy in a zip-top bag and snip a corner to use it like a piping bag.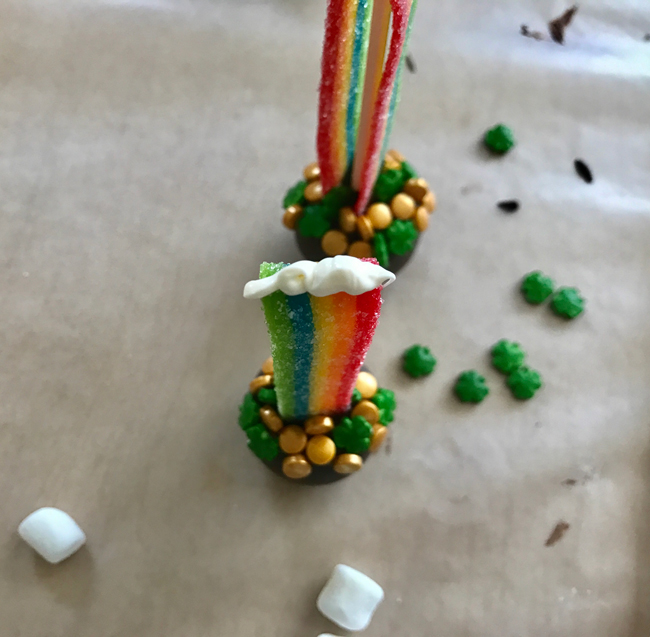 Pipe a line along the very top of the rainbow and place three marshmallows in a line, piping a dot of coating between each marshmallow.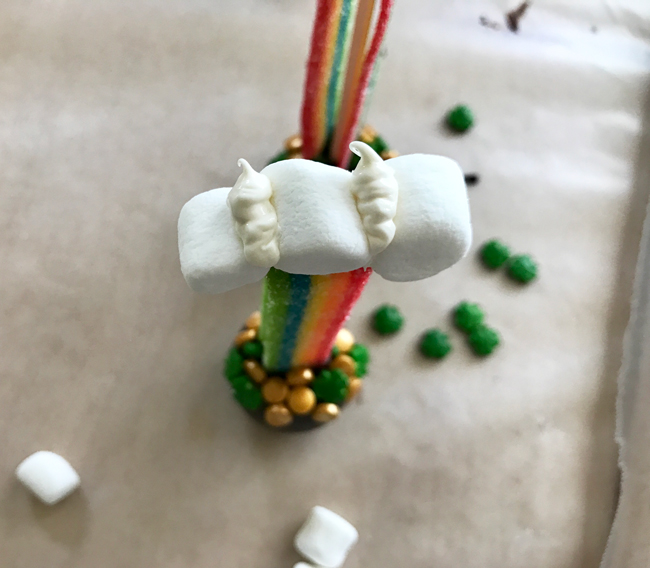 Pipe more coating over the top, in the marshmallows creases.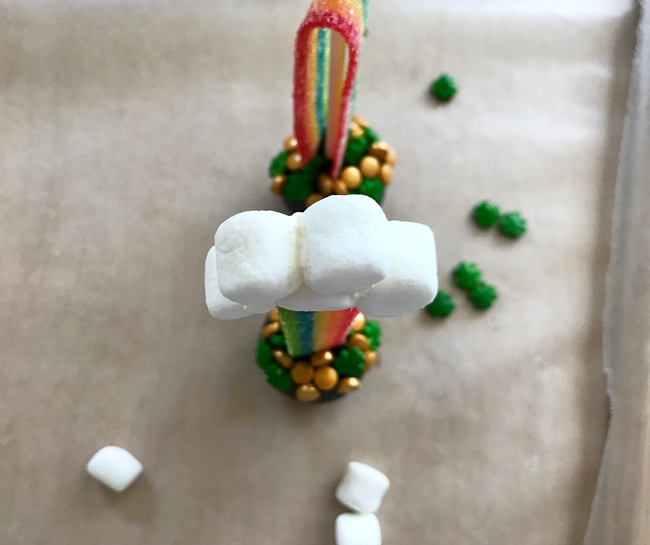 Add two more marshmallows, making a cloud.