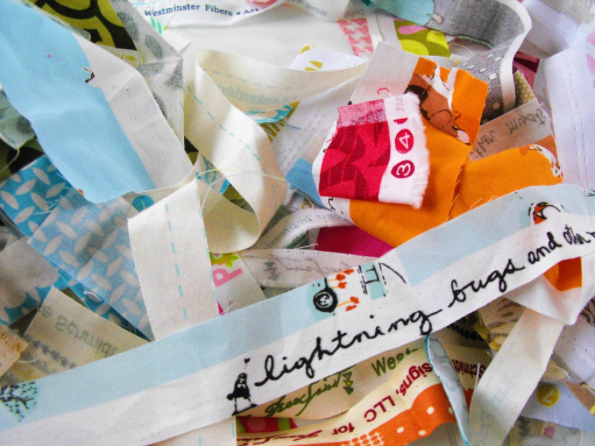 Selvages run the entire length of a fabric bolt, and many people consider them to be garbage, cutting them off and throwing away without a second thought. But this finished end of your fabric can be handy in a project. After all, it's so tightly woven you don't have to worry about fraying . Here are some tips for putting 'em to good use.
1. Use 'Em As Strips
Before you start cutting into your fabric, trim off the selvages first. You want to cut about 1-2″ from the edge so you can see the selvage and a piece of its pretty fabric. This will make any selvage-centric project, like a strippy selvage block, more colorful.
2. Prep Well
An easy way to get your selvages sew-ready is to starch and press. Otherwise, your selvages can be pretty wavy and tricky to work with.
3. Use a Fabric Foundation
No matter how many selvages you have, you're going to need more fabric for the block's base. This allows the woven edge to remain fully exposed while keeping the selvage strips from becoming distorted. Muslin is a great fabric for this, but you can use quilting cotton too.
4. Display Them Proudly
As with many fabric scraps, you never know exactly when you'll need 'em. To make sure you don't forget about them (which can definitely happen if you store your selvages out of sight), put them on display in your craft room. Store your fabric in mason jars, clear totes, decorative bowls — whatever sparks your creativity!
5. Look for Inspo
There are so many things you can do with your selvages: making a string quilt is simple and a fun way to showcase a bunch at once, whereas working them into a complex block design takes more time and patience. You can also think beyond quilting and work them into sewing projects like bags and pin cushions. You can even use a selvage edge on the back of an envelope pillow so you don't have to hem.