Samosas are a delicious traditional Indian food, composed of savory fillings sealed inside a folded pocket of dough. The whole thing is deep fried to yield a crispy, golden snack. However, samosa dough doesn't need to be fried — it can be baked, too.
This easy-to-follow recipe yields a basic but versatile samosa dough that can be folded and then baked or fried depending on your preference. Regardless of how you choose to prepare your samosas, one thing is absolutely certain: You're in for a tasty treat. 
Basic samosa dough recipe
Adapted from Williams-Sonoma
Makes 32 small samosas 
Ingredients 
2 cups all-purpose flour
1 teaspoon salt 
½ teaspoon baking powder
¼ cup olive oil
2/3 cup water, plus more for shaping the dough 
For frying:
Enough olive, vegetable or canola oil to fill a frying pan 2″ 
For filling:
About 1½ cups of the filling of your choice  
Step 1:
In a large bowl, sift together the flour, salt and baking powder. Set aside. In another large bowl, whisk the oil and water together. 
Step 2:
Pour the oil/water mixture slowly into the dry mixture, stirring as you pour. Mix until the dough comes together into a slightly shaggy but cohesive mixture.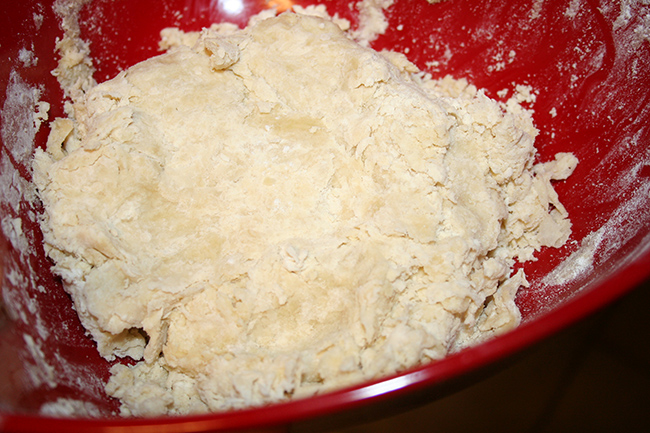 Switch to your hands and knead in the bowl for about 1 minute, to make the dough more cohesive and pliable. Form into a disc, wrap with plastic and let the dough sit at room temperature for about 30 minutes.
Step 3:
Remove the dough from its wrapping and divide it into 16 equal portions. Roll each portion into a ball.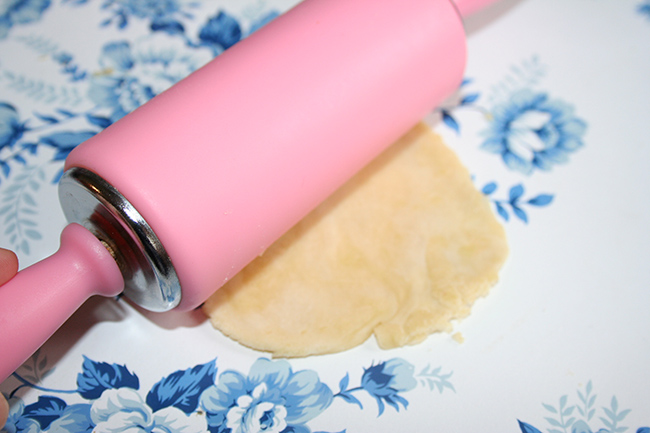 Using a rolling pin, roll one portion of dough into a 6″ (or so) circle. If the edges are ragged, you can clean them up by hand. Slice the dough circle in half, so you have two semi-circles. Repeat with the remaining dough. You'll end up with 32 semi-circles. 
Step 4:
Fill and shape the samosas. You should have your filling, cooked and cooled and a small bowl of water at the ready.
How to shape samosas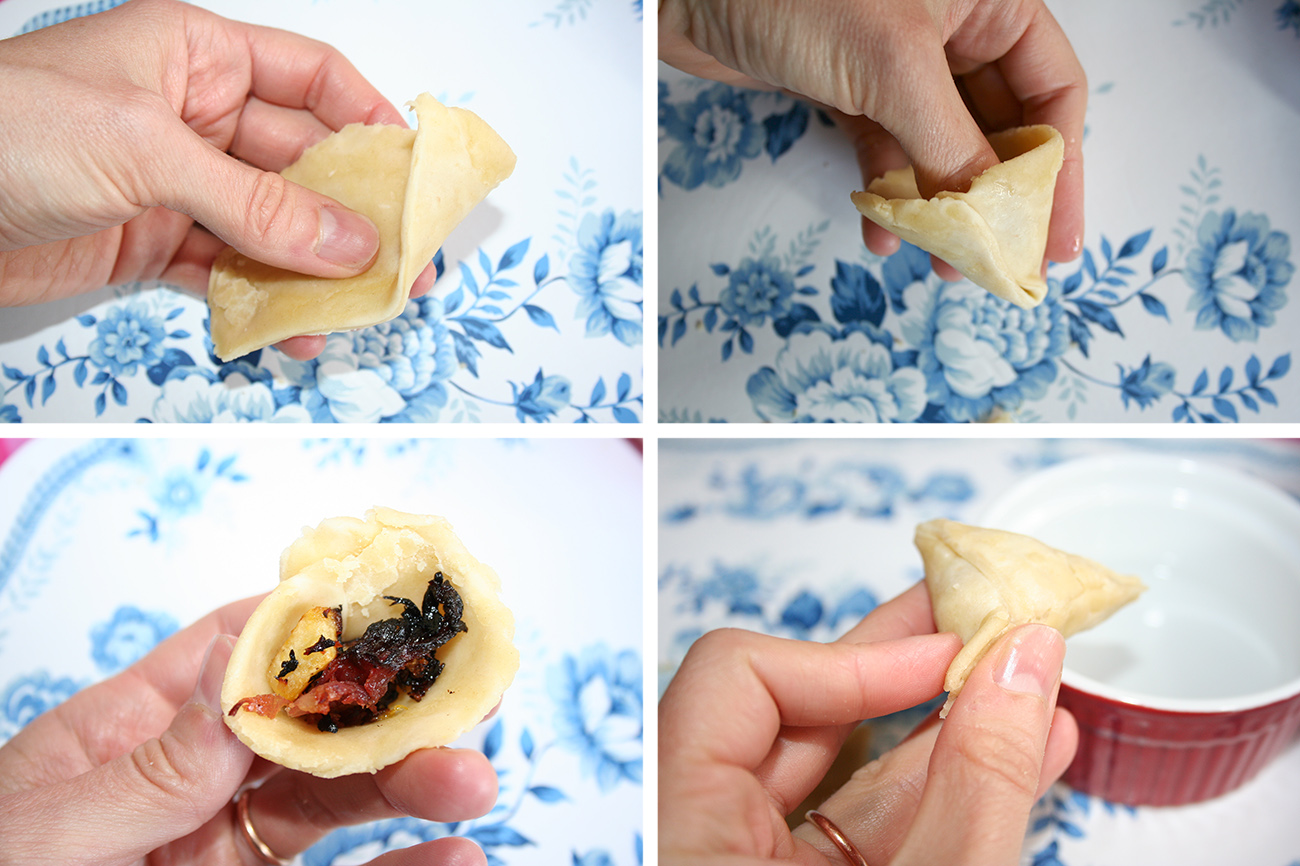 Grab a portion of dough, and fold in one corner. Slightly moisten the top of the folded-in corner, then fold the second half inward, "sealing" the dough with your fingers. Now, you've got a little cone to fill with your fillings — fill it about 2/3 of the way. Then, moisten the open edges of the dough with water and seal it closed.
Now, your samosas are ready to go. Choose your own adventure in terms of how to cook them!
Baking samosas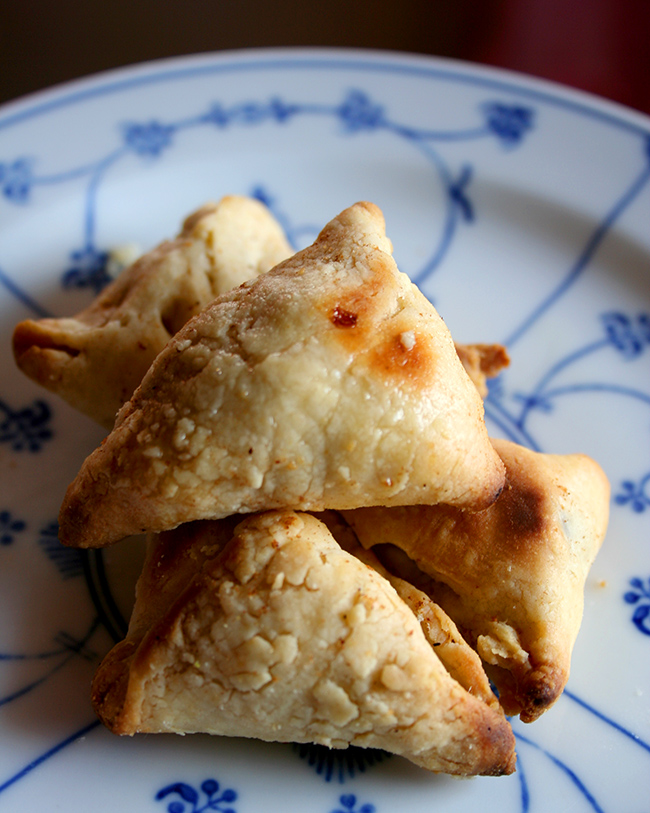 Preheat the oven to 400 degrees. Place the samosas on a lined baking sheet, and bake for 10 minutes, or until golden to your liking.
Remove from the oven and while still hot and lightly brush both sides with 2-3 tablespoons of melted butter, ghee or olive oil. Let cool slightly; enjoy warm. 
Note: Does brushing the finished samosas with butter or oil seem against the whole point of baking versus frying? Don't despair. The amount of fat brushed on the finished samosas is minimal, and it's there to impart a tender texture and touch of flavor. If you prefer to omit, that's fine — your samosas will just be a little bit more firm in texture. 
Frying samosas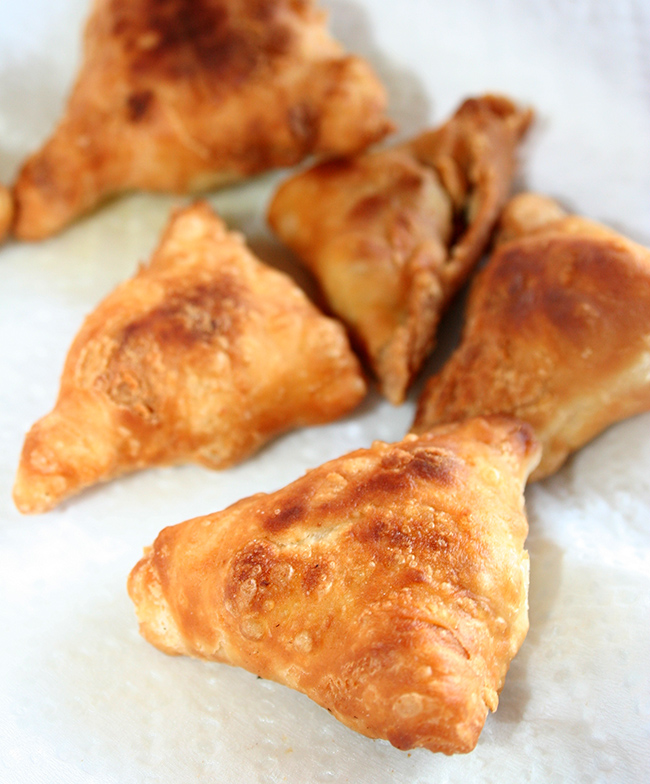 Lay paper towels on top of a wire rack. Fill a heavy bottomed skillet with about 2″ of oil (olive oil, canola oil, or vegetable oil all work well). Heat the oil to 350 F, monitoring the heat using an instant-read thermometer.
With the seam side facing down, place a few samosas at a time in the hot oil and cook until golden on the first side. Flip, then cook the second side to match. This takes 3-5 minutes in total. Remove the cooked samosas using a slotted spoon and place them on the paper towels to blot any excess oil.
Repeat with the remaining portions. Let cool slightly, but serve warm. 
Note: Keep monitoring the heat of the oil as you fry the samosas; adjust as needed to keep it around 350 F. 
Recipe notes
How should I fill my samosas?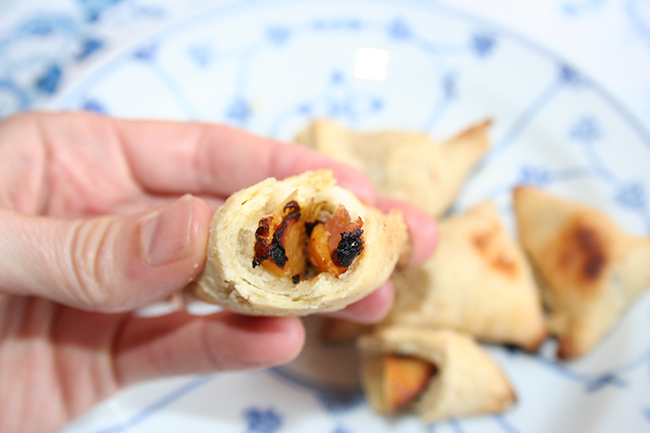 How you fill your samosas is up to you. To fill mine, I made a quick stir-fry of small cubes of potato and chicken fried in oil. But you could fill yours with cooked vegetables, meat or even small portions of cheese folded inside. 
Frying oil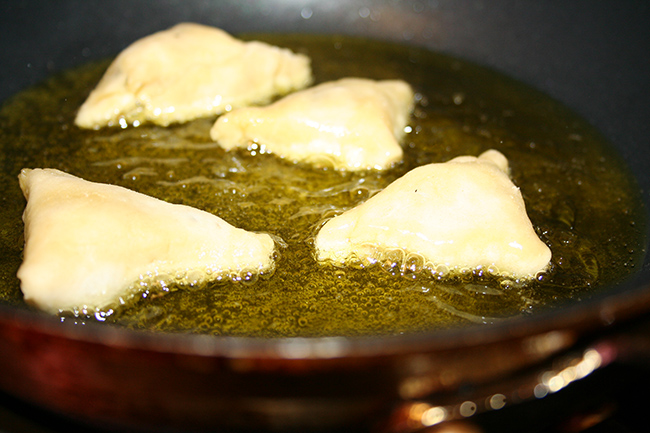 For this recipe, I used olive oil both in the dough and to fry my samosas. Vegetable or canola oil are both fine substitutes. For more information on the types of oil and whether they're effective for frying, check out this post.
Photos via CakeSpy