Recipe courtesy of Gerri Sarnataro from the online cooking class How to Make Gnocchi Like a Pro.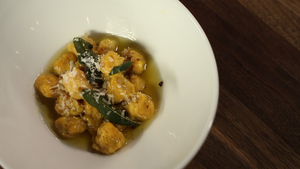 Ingredients
1 cup (228 g) unsalted butter
1 bunch (30 g) sage, leaves minced and stems reserved
1/8 tsp salt and pepper for seasoning
extra virgin olive oil for sautéing
2 shallots (60 g), peeled and minced
Equipment
Knife, metal spoon, 12 by 18-inch baking sheet, parchment paper, food processor or food mill, cheesecloth, strainer, assorted-sized mixing bowls, rubber spatula, wooden board, pastry bag, #806 tip, saucepan, 10-inch sauté pan, 8-quart pot, wire strainer or spider or slotted spoon, serving platter or bowl, microplane or cheese grater, digital scale or measuring cups and spoons, 12 by 18-inch baking sheet and plastic ziplock bag (if freezing.)
Directions
Make Butternut Squash Gnocchi to accompany the sauce.

Melt the butter in a saucepan over low heat, letting it simmer until it turns nutty brown. This may take 15 minutes or more. Remove the pan from the heat, and add the stems of the sage leaves. The mixture will sizzle. Season with salt and pepper. Set aside.

Drizzle a little olive oil in a small sauté pan to coat the bottom. Add shallots and cook over very low heat until softened. Add the reserved squash juice, and continue to cook over low heat until the juice reduces to a syrup. Strain the sage butter, and add it to the shallots and syrup. Add sage leaves. Taste and adjust the seasoning, if necessary.

When ready to serve, pour over the pasta of your choice, and sprinkle with grated Parmigiano. 
Make Ahead Tip: The butter sauce can be made ahead in advance and refrigerated; however it should not be frozen because it will change the texture of the shallots and sage. Reheat in a sauté pan to serve.
Yield: Makes enough for 4-6 servings.