Recipe courtesy of Gerri Sarnataro from How to Make Gnocchi Like a Pro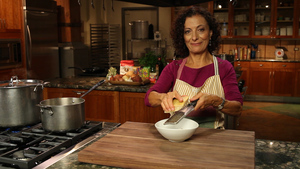 Ingredients
2 cups (1,825 g) butternut squash, cooked and drained, juice reserved
1/4 cup (75 g) ricotta
A pinch of nutmeg, grated
1 tsp minced herbs such as rosemary, thyme or sage
salt and pepper for seasoning
1 cup (64 g) Parmigiano cheese, grated, divided
1/2 to 1 cup (60 – 120 g) all-purpose flour, plus more for dusting surface
Equipment
Knife, metal spoon, 12 by 18-inch baking sheet, parchment paper, food processor or food mill, cheesecloth, strainer, assorted-sized mixing bowls, rubber spatula, wooden board, pastry bag, #806 tip, saucepan, 10-inch sauté pan, 8-quart pot, wire strainer or spider or slotted spoon, serving platter or bowl, microplane or cheese grater, digital scale or measuring cups and spoons, 12 by 18-inch baking sheet and plastic ziplock bag (if freezing.)
Directions
Preheat oven to 400°F (205°C).

To cook the squash, split open lengthwise, scoop out the seeds and place cut-side down on a parchment-lined baking sheet. Bake until the flesh can be easily pierced with a knife, about 1 hour. Remove and cool on the baking sheet, cut-side up. When cool, scoop out the flesh and pass through the medium blade of a food processor. Let the pulp drain in a cheesecloth-lined strainer set over a bowl for at least 1 hour. Reserve the drained juice for the sauce.

To prepare the gnocchi, combine the squash, ricotta cheese, egg and nutmeg in a bowl. Season with salt and pepper. Add half the Parmigiano, reserving the other half for the topping. Gradually add the flour and knead the mixture until it is no longer too sticky. This particular gnocchi is softer and more difficult to handle than other types.

Fit a pastry bag with the #806 tip, and fill the bag approximately 2/3rds full with the squash mixture. Set aside.

Make the Sage Butter Sauce to accompany the butternut squash gnocchi.

When ready to serve, fill an 8-quart pot approximately 3/4 full with cold water, and add salt. Bring to a boil. When the water is boiling, squeeze out 1/2 inch pieces of the mixture using the edge of the pot to cut off each piece. Let them cook until they float to the surface of the water. As they float, count 30 seconds. Remove with a wire strainer or slotted spoon. Place in a buttered dish or bowl.
Make Ahead Tip: Pipe uncooked gnocchi onto floured baking sheet and freeze. When solid, place the gnocchi in a plastic ziplock bag. Cook frozen. 
Yield: Makes enough for 4-6 servings (75 gnocchi)