Roses are red,
Violets are blue,
Valentine's Day is sweet,
And these brownies are too!
These heavenly squares will make your taste buds flutter! These delicious brown butter red velvet brownie squares are topped with a heart made of hazelnut and chocolate.
These red velvet brownies are a clever twist between blondies, brownies and classic red velvet flavors. You'll be hooked after the first bite. Lets get to baking!
Red velvet brownies with chocolate hazelnut hearts
Makes 16 servings
Ingredients:
½ cup Nutella or another chocolate-hazelnut spread

1 stick of butter (4 ounces)

1 cup flour

1 cup brown sugar

¼ cup unsweetened cocoa powder

½ teaspoon baking powder

¼ teaspoon salt

1 egg, room temperature

1 teaspoon vanilla extract

1 teaspoon red (no taste) icing gel food coloring
You'll also need a heart-shaped silicone mold for the heart detail.
Step 1: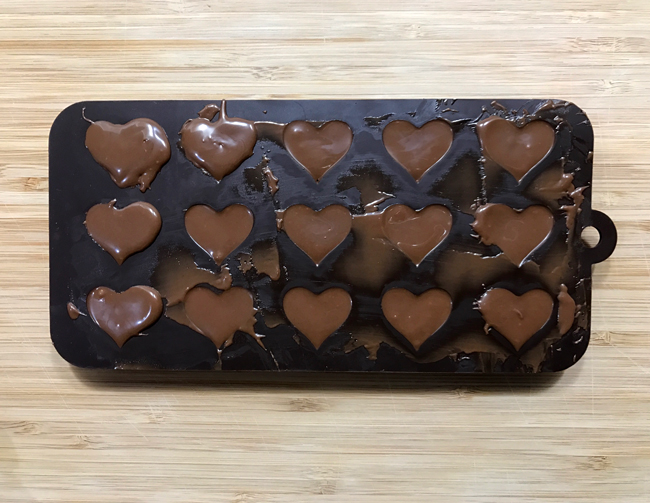 We'll start by making the chocolate heart detail. We'll need 16 hearts in total. 
Spoon Nutella into the silicone hearts mold. Tap the bottom of the mold against your work surface to make the air bubbles rise to the top. You can also squeeze the bottoms of each cavity or swirl a toothpick in the spread to even out the Nutella inside each heart.
Freeze the hearts for at least 1 hour. If you have a 12- or 15-cavity mold like I do, pop out a few hearts and refill with Nutella. Keep all the hearts in the freezer until ready to use.
Note: Alternatively, you don't have to use a mold at all. Place a piece of waxed paper in a pan and place sixteen ½ tablespoon dollops onto it and freeze.
Step 2:
After an hour of freezing time, preheat the oven to 350 F. Line a 8″ square or 9″ square pan with foil. Using foil makes it easier to lift out, cool and cut!
Step 3: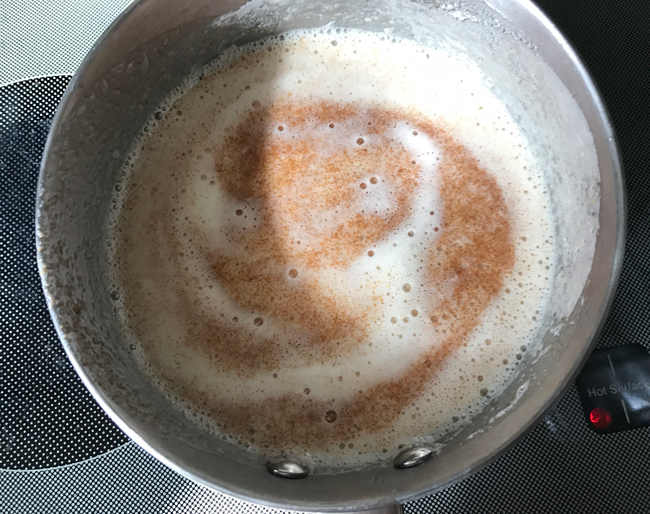 Place the stick of butter in a small saucepan over medium heat. Let the butter melt and simmer for 6-8 minutes. It will bubble and eventually the color will start to turn amber. Once you notice the change in color, immediately remove the pan from the heat. Pour the butter into a bowl to let cool for about 5 minutes.
Step 4: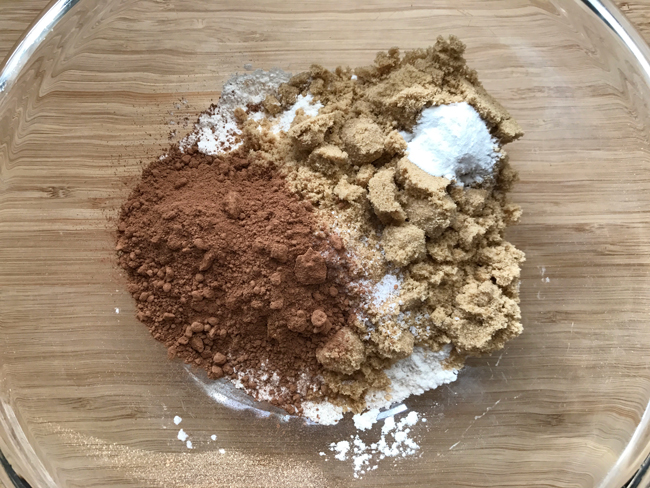 Meanwhile, place the flour, brown sugar, cocoa powder, baking powder and salt in a bowl and whisk them together well. Make sure to break up all cocoa powder and brown sugar chunks.
Step 5: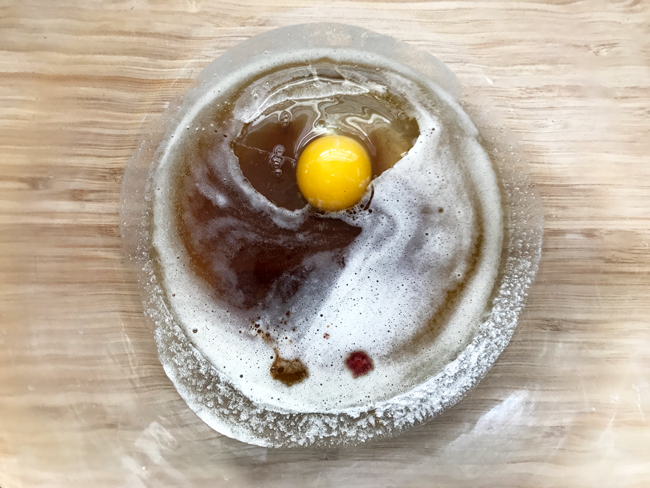 Once 5 minutes have elapsed, place the room-temperature egg, vanilla and food coloring gel into the bowl of butter and whisk together until combined.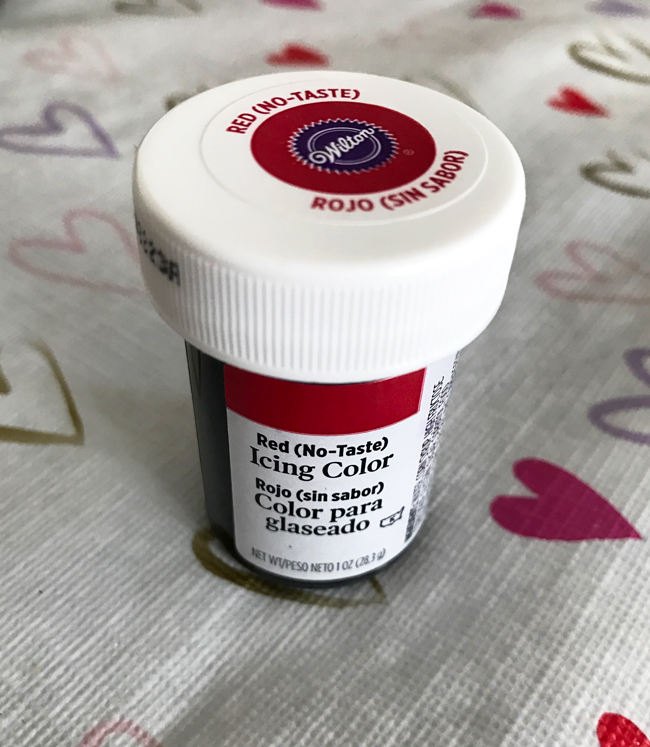 I love this red no-taste food gel.
Step 6: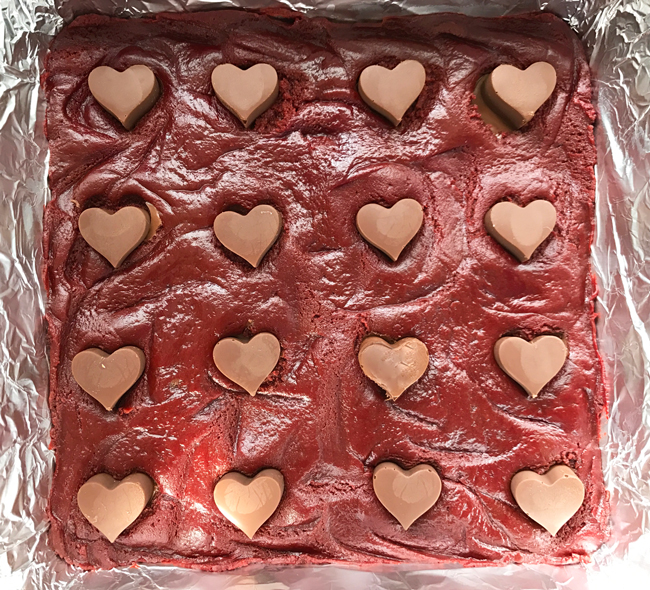 Pour dry ingredients into the wet and use a spatula to combine it together. Don't over mix. You'll have a batter that resembles loose cookie dough. Turn it out into the pan and spread it evenly.
Take the hearts out of the freezer and push each one into the dough, arranging them evenly in a 4-by-4 grid.
Step 7: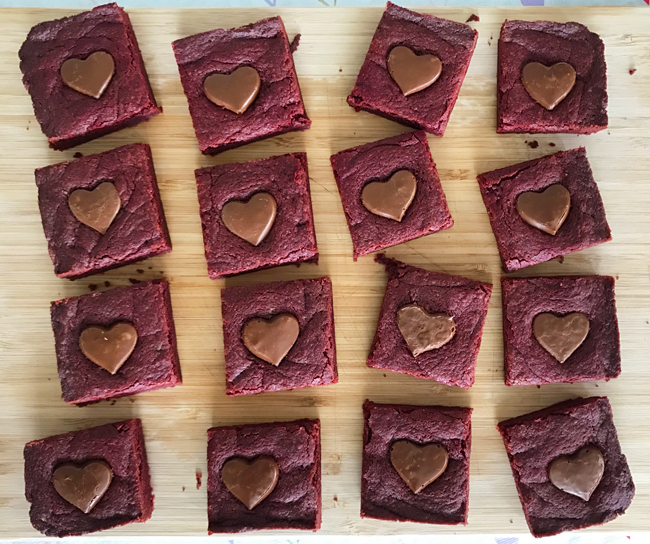 Bake for 26-28 minutes. Let it cool in the pan for 5 minutes, then lift it out using the foil and let cool completely on a wire rack or wood board. Cut into 16 pieces using a sharp knife.
Enjoy!