Sometimes, simpler is just better. I spend most holidays trying to think of something extravagant to make for my mom, which only results in a lot of stress and yanking of yarn and hair. This year, I decided to make a simple crochet necklace that uses minimal supplies — and minimal stress!
Breathe a sigh of relief when you make and gift this simple crochet necklace.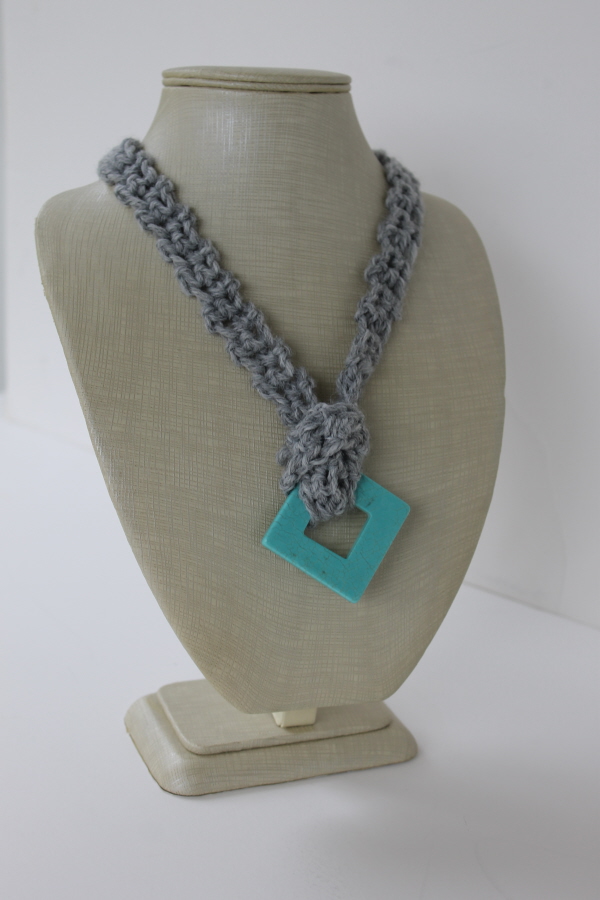 Choosing a bead
There are a lot of bead options for this necklace. I was originally searching for a circular-shaped bead, but I found these square beads and fell in love with the color. The key is to find a bead with an opening large enough to slip your crochet strip into.
If your opening is rather small, you can always adjust the number of stitches you chain to make the necklace. I did a little test to make sure my strip of yarn fit through the bead hole before I crocheted the entire strip.
Another option is to use a ring. Costume jewelry rings can really make a bold statement!
Choosing yarn
I first wanted to pair the turquoise bead with a salmon-color yarn (one of my mom's favorite colors), but my boyfriend pointed out that matching those two colors to my mom's outfits might be difficult. She's the type of person who isn't incredibly comfortable mixing and matching different colors.
If you're making this for someone who's a fan of mixing lots of colors and prints, then go wild with your yarn choice. I kept my yarn at a neutral color, so that my mom would be able to wear the necklace with lots of different outfits.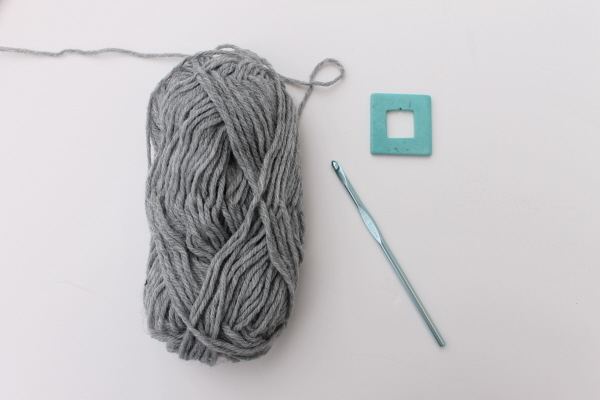 What you'll need:
A bead with a large hole
Crochet hook
Yarn
1. Chain 3. Single crochet into the second chain from the hook. Work single crochet to the end of the row. Chain 1 for your turning chain, then turn. Continue working single crochet until the necklace measure the desired length. I made my mom's necklace just long enough so that she could slip it over her head without a closure.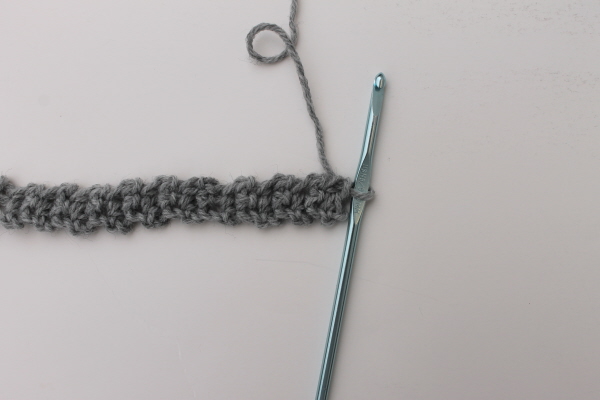 2. Making sure the chain isn't twisted, join the edges together with two slip stitches. Weave in all the loose ends with your crochet hook.
Note: You may have noticed that your chain twisted a little — or a lot — while crocheting. Don't worry. We'll fix that!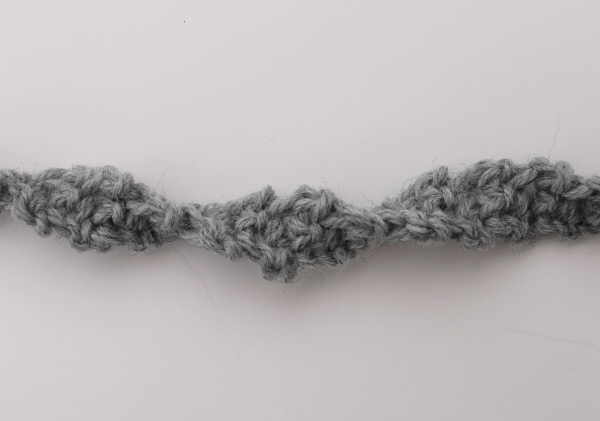 3. To get rid of that twist, you can try two things:
1) Pull on the necklace a bit to stretch it out. Sometimes this will get rid of the twists. And if that doesn't work,
2) Wet block your piece.
Feel free to leave that twist in if you like it!
4. Once you're happy with the necklace, you're ready to add the bead. Fold the chain in half and insert it through the hole in the bead, creating a little loop.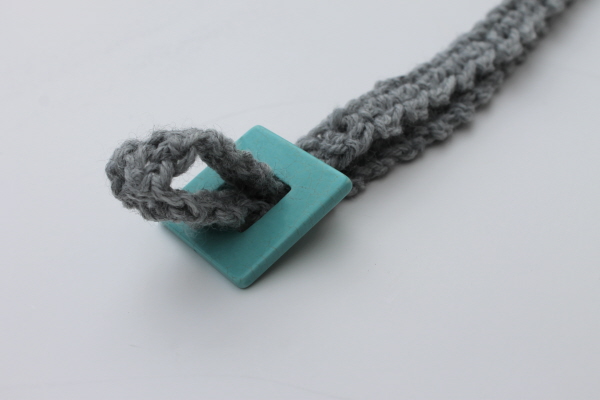 5. Insert the opposite end of the necklace through the loop you created. Pull tightly to secure.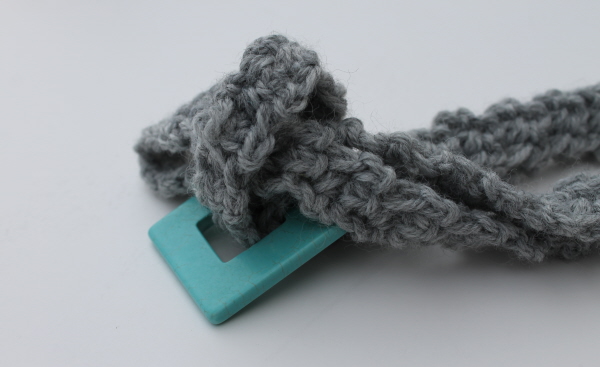 Ta da! Told you it was simple.
Have extra time? You can make a bracelet, too! I crocheted another identical strip for the bracelet, then inserted the ends into opposite sides of the bead and seamed them closed with a yarn needle.
Variations
Yarn
I considered using crochet thread for this project at first, but I liked the look that the yarn gave the necklace, so I abandoned the thread. (Plus, thread takes soooo much longer!) A variegated yarn would also look awesome for this necklace. Check out what's in  your stash and play around with it.
Stitch
Experiment with half double crochet, double crochet, and treble crochet stitches. They'll lengthen the stitches and give the necklace a totally different look. Not sure how to crochet these basic stitches? Check out Mastering Foundation Crochet Stitches with Marty Miller to learn the ins and outs of the stitches, plus how to read your crochet, translate any type of stitches into foundation stitches, and more fun stuff!