I just love entertaining in the summer; it comes with a certain ease as I find everyone is more relaxed, comfortable and easy to please. We set the table up outside or sometimes it's just a few blankets on the ground. In the summertime we're just happy to gather.
My favorite way to entertain in the summer is with a picnic potluck. A picnic potluck is even simpler than a traditional potluck because many classic picnic items require just a simple act of assembling and sometimes not even that.
Here are a few of my tips for how to host a simple and elegant picnic potluck.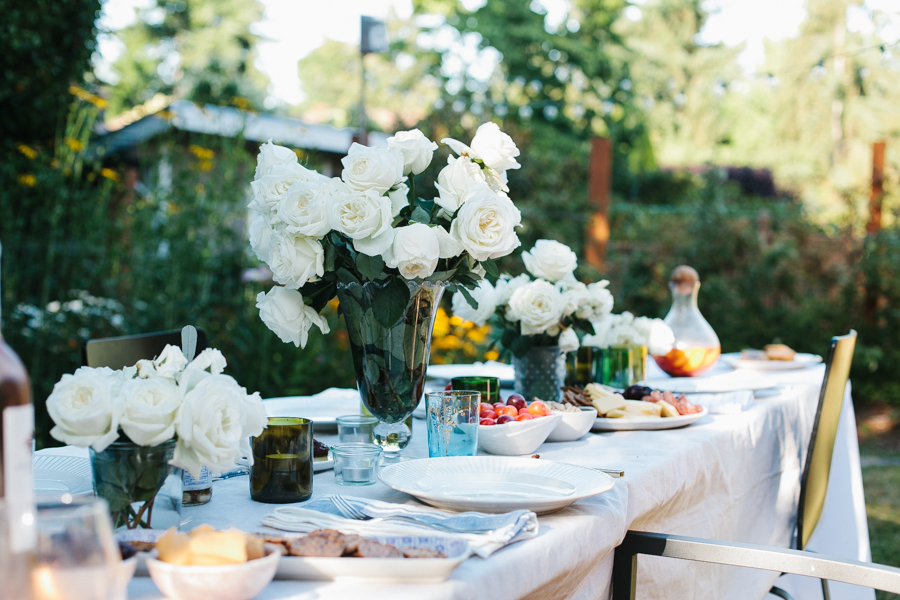 The invite
Remember ease and simplicity is the theme here. The goal is simply to gather friends around the table (or blanket) so no need for much flourish, but some sort of invite is in order. I send out an email inviting my guests and ask them to choose a couple of their favorite picnic items to bring. Provided in the email is a list for those who like a bit of help getting ideas as to what to bring.
The list looks something like this:
A few different types of cheese (sharp cheddar, triple cream, goat, blue – whatever strikes your fancy)
Breads and crackers (gluten-free options as well)
Olives
Fresh fruit
Nuts
Salami, prosciutto, pate, finocchiona – again whatever looks delightful
A simple salad of sorts
Sparkling water
Rose
Other fun non-alcoholic beverage
Chocolate and/or other sweet things
In the email I ask everyone to respond all with what they are bringing so, as the host, I can see what items are already covered and I fill in any gaps.
Set the table and set the mood
The main job of the host is to make the guests feel comfortable and at ease. By the time the guests arrive it's nice to have the table set, a bottle of wine chilled so you have something to offer them as they walk in. Make sure you have plenty of platters and small bowls ready so that when the guests arrive you can assemble their items. Or simply lay out a blanket and set all the items down on the blanket and you simply provide the plates. As the host, you get to determine the overall look and feel of the picnic.
If possible, have music playing throughout the evening. If you are eating outside, be sure to have plenty of blankets ready for the cool evening breeze.
It's really as simple as that. No matter how many times I've hosted a party like this, they always end up different and always delicious. I love not needing to turn on the stove and that we end up at the table or around the blanket for hours slowly nibbling away at all the different little bits here and there. Quite honestly it's my favorite way to eat and, judging from the success of these simple potlucks, I don't think I'm alone in that.