Chocolaty. Caramely. Peanut buttery. Is your mouth watering yet? It will be when you whip up a batch of our to-die-for Double-Decker Peanut Butter & Caramel Brownies.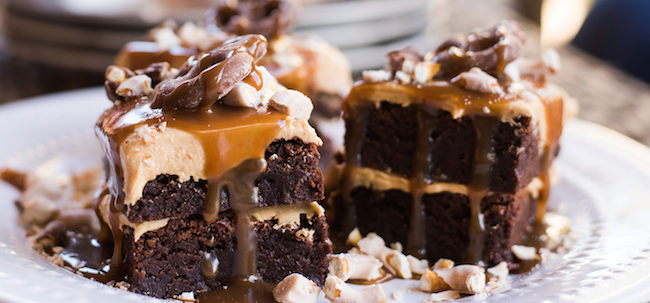 Take a look for yourself…
(Trust us, it's even better with the sound on.)
What's so special about these salty-sweet goodies? Well, after filming the video above and finally getting to bite into one of these beauties, our creative director said that these treats will "melt your face off…truly."
Enough talking — let's get baking!
Double-decker peanut butter & caramel brownies recipe
Prep time: 20 minutes
Cook time: 15 minutes
Total time: 35 minutes
Makes 16 servings.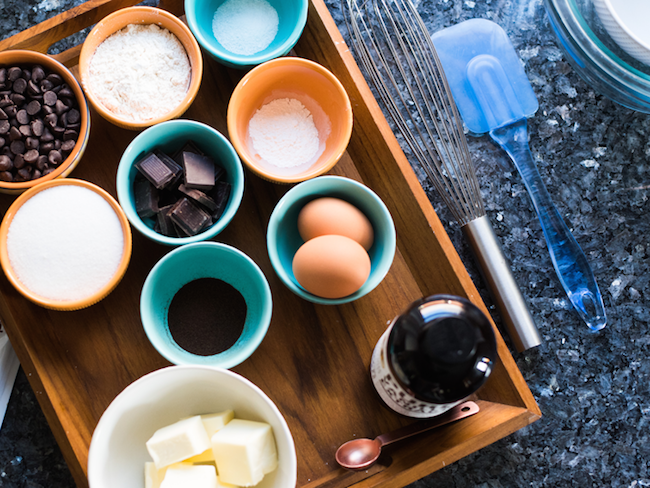 What you need:
For the brownies:
11 tablespoons unsalted butter
5 ounces semisweet chocolate chips
2 ounces unsweetened chocolate
2 eggs
1 tablespoon instant coffee
2 teaspoons vanilla
3/4 cup granulated sugar
1/3 cup + 1 tablespoon all-purpose flour
1 teaspoon baking powder
1/2 teaspoon salt
For the frosting:
6 tablespoons butter
1/2 cup peanut butter
1 1/2 tablespoons bourbon
1/4 teaspoon vanilla extract
1 cup powdered sugar
16 chocolate-covered pretzels
1/4 to 1/2 cup salted caramel

Directions:
Step 1:
Preheat oven to 350 F. Place the butter, chocolate chips and chocolate in a microwave-safe bowl. Microwave in 30-second bursts, stirring in between, until chocolate is melted and smooth.
Step 2:
In a large mixing bowl, stir together eggs, coffee, vanilla and sugar until combined. Do not overwork or beat mixture.
Step 3:
When the chocolate mixture has cooled slightly, stir it into the egg mixture.
Step 4:
In a separate bowl, whisk together flour, baking soda and salt. Stir the flour mixture into the chocolate mixture until combined.
Step 5:
Spray an 8″ square baking pan with nonstick cooking spray. Pour the batter into the dish and baking for 10 – 15 minutes. Allow brownies to cool on a wire rack.
Step 6:
Now, onto the frosting. With a stand mixer or electric hand mixer, beat together butter and peanut butter until smooth. Then beat in bourbon and vanilla.
Step 7:
Add the powdered sugar a little at a time, and beat on medium-high speed until fluffy.
Step 8:
Spread the frosting over the cooled brownies. Cut into even squares and stack two layers high. Drizzle salted caramel over the top and then top the brownies with chocolate-covered pretzels (crushed or whole).