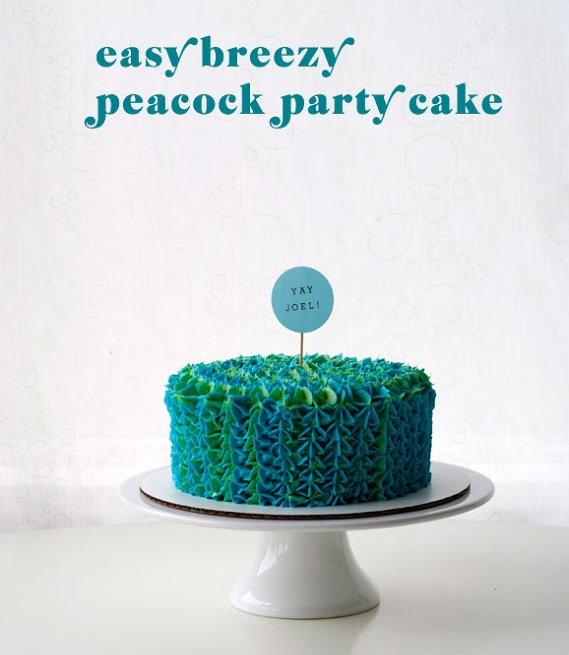 Ruffle some feathers and strut your stuff at your next celebration with a pretty buttercream iced peacock party cake! This cake has all the right moves for a modern and simple birthday bash, bridal shower, or even as part of an assortment of cakes on a wedding dessert table spread! This cake could be the centrepiece amongst a tray of gold-dusted turquoise macarons, peacock themed sugar cookies, and mini lime parfaits. The colors of this cake are bright, lovely, and just showy enough- like the feathers of our bird friend the peacock!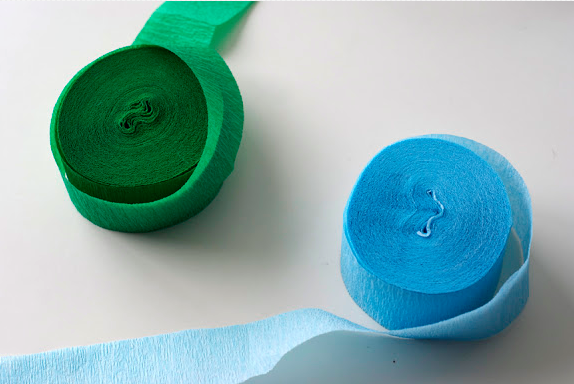 To create this simple peacock-colored cake, you will need:
1. One 7-inch baked round two layer cake in any flavor you like. I made mine chocolate. Martha Stewart has a solid one-bowl chocolate cake recipe which would work well, found here!
2. 4 cups of vanilla buttercream divided into two mixing bowls. Rosie from Sweetapolita has a great recipe here on her blog.
3. Two spatulas (or something to mix the color into your buttercream)
4. Gel color to tint your buttercream – I used Wilton brand Leaf Green and Teal.
5. A piping bag fitted with a 1M open star tip
6. A one-liter yogurt container – to assist in filling your piping bag with buttercream.
6. A cake board (I used a ten-inch white cake board)
7. Some craft paper to make a little "celebration" sign (optional)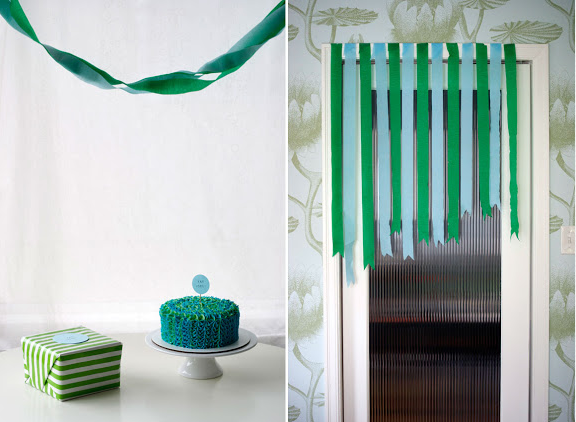 Let's begin!
1. Bake your cake according to your recipe's instructions. Let cool on wire racks before icing.
2. Make your buttercream according to recipe's instructions.
3. Divide your buttercream into two mixing bowls. Place a teensy blob of teal gel color in the first bowl and mix until buttercream is turquoise. Do the same for the other bowl of buttercream until it is green.
4. Place one cake layer on your cake board. Using an offset spatula, frost your cake layer with your buttercream. I used the green buttercream for this job – it doesn't really matter as you won't see this layer at all once the buttercream piping begins.
5. Add the second layer on top and proceed to frost the entire cake in a "crumb coat." Are you wondering more about buttercream techniques? Joshua John Russell's free Modern Buttercream online class might be just what you are looking for!
6. Using a bench scraper or your offset spatula, smooth around the exterior and the top of the cake. It doesn't have to be perfect as the buttercream piping will cover the entire thing anyway!
7. Using the yogurt container, place the piping bag inside with the bag open at the top, then fold the bag over the edges of the yogurt container. This will allow you to fill the bag with the two shades of buttercream more easily.
8. Using a spatula, fill one vertical half of the piping bag with the turquoise buttercream. Then, fill the other vertical half with the green buttercream. It doesn't really matter if it's not totally an even distribution.
9. Pipe out onto a paper towel to test your mixed colors, like so:
10. Okay! Your piping bag is ready! Starting from the bottom, squeeze piping bag gently to create the "star" shape. Pipe subsequent "stars" upward in lines until the sides of the cake are all piped. Finish by piping "stars" onto the top of your cake. While piping, turn your piping bag in your hand once in a while so there will be variance in the cake's overall appearance, as seen in the below photo.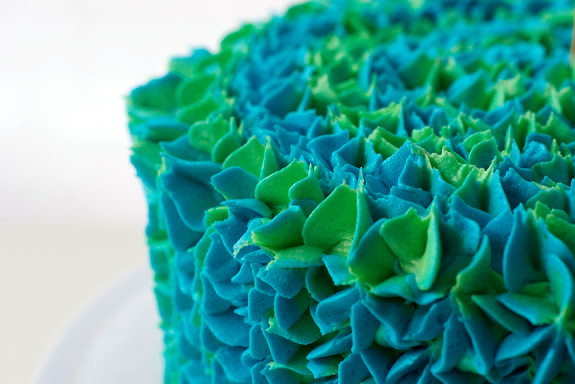 You are done! Doesn't it look like a beautiful two toned hydrangea hat? So pretty.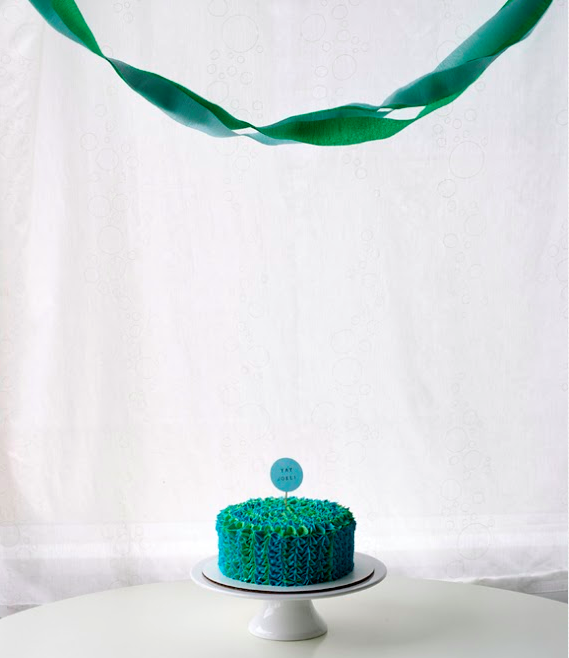 To top it off, I made this cute little simple flag by cutting out a circle out of craft paper, and stamping it with alphabet letter stamps and taping it to a toothpick.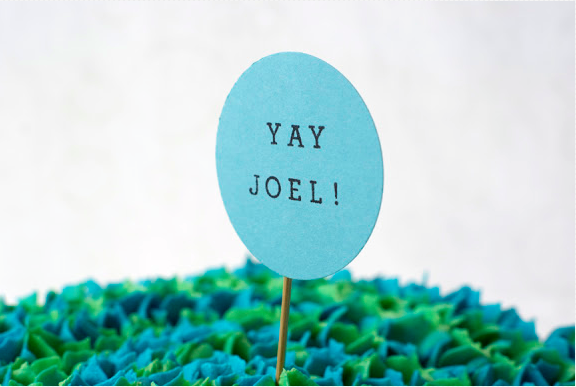 You could even take this cake to the next level and throw in some ombré cake layers.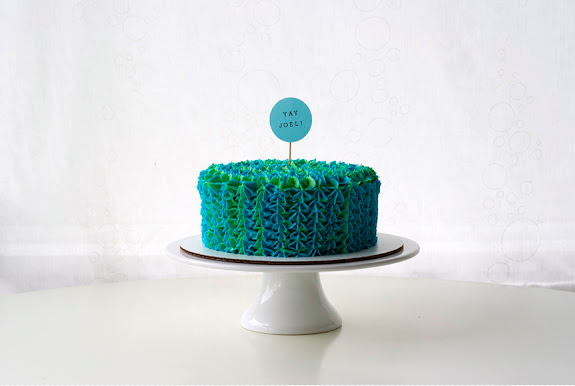 Speaking of peacocks, I've gathered a collection of amazing peacock cakes to inspire you to create one! Which design tickles your feathered fancy the most?
Peacock Perched On A Birdcage Cake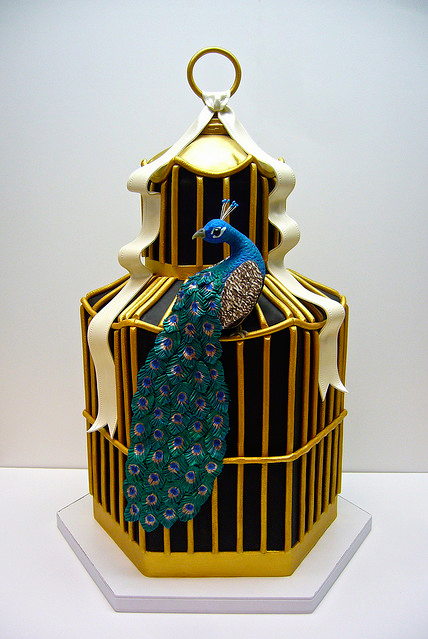 Photo via Amber McKenney
"I'm free! I'm freeeee!" Looks like the peacock found a way to sneak out of his birdcage for a casual perch on top. Love the intricate and shiny detail of this peacock, from the textured body to the attention paid to each and every feather. This guy is showing off his tail loud and proud, and for good reason.
Old World Romance Fancy Peacock Cake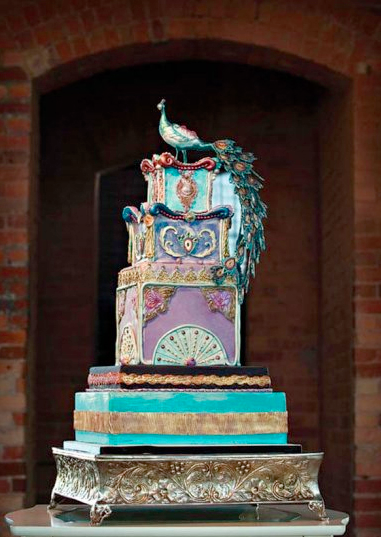 Cake by Miel Bon Bons Patisserie
Photo by f8 Photostudios
Love the more muted, painterly-look jewel tones of this fairy tale-like peacock wedding cake! It's as if the sun has faded away hundreds of years – this cake looks like it has a history already, therefore making it warmly romantic!
Modern Vintage Peacock Themed Cake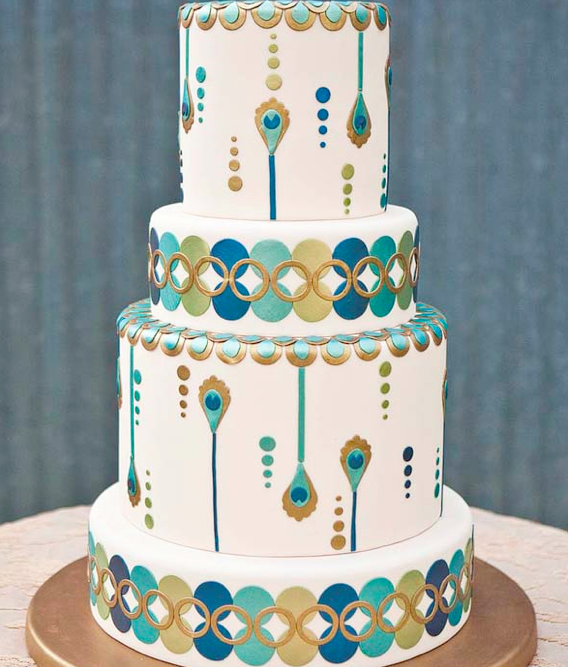 Cake by Fleur De Lisa Cakes
Photo by Tibidabo Photography
Great use of the theme of "peacock" and translating it into this modern, artful and not so literal cake design – white being the central color with accents of gold, dark sea blue and light turquoise. Reminds me of bangles of gold chains and shiny teardrop earrings!
Dark and Moody Floral Feathered Peacock Cake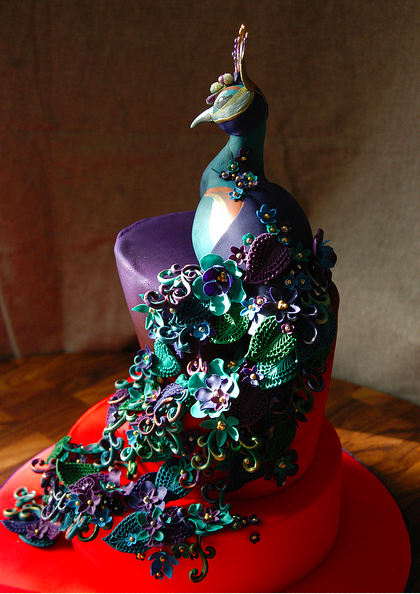 Cake by Alyce Basak
The detail work on this darker colored peacock's tail is imagination-expanding! The texture and pattern remind me of a lacy crocheted overlay and I love the playful addition of flowers throughout. A great example of whimsical and going with an artful instinct instead of feeling the need to replicate the true feather! Also loving the darker color palette sitting on top of a rich red fondant covered cake base – a break away from the usual turquoise and green!
Pretty In Peach and Light Turquoise Peacock Cake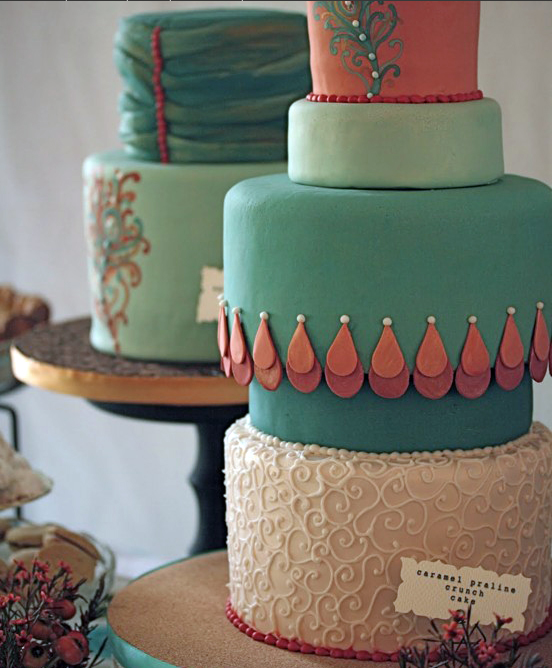 Cake by Sweet Heather Anne
Another example of a peacock inspired cake that takes elements of "peacock" and plays within the idea! Love the colors of this cake, and it was part of a larger dessert table spread that is just darling, found here.
Simply Sweet Peacock Cutting Cake and Two Toned Cupcakes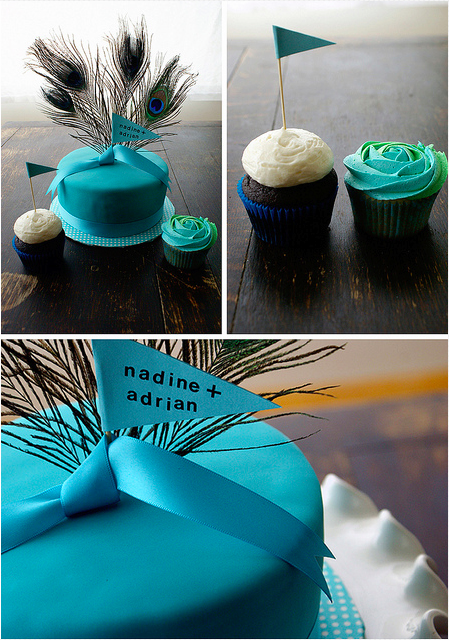 Cake by Coco Cake
For a peacock themed wedding bash, try a turquoise colored fondant cutting cake with matching ribbon, cake board and real peacock feather as a cake topper! Pair with two toned buttercream frosted rosette cupcakes. You can achieve the two-toned effect with the tip in the tutorial above – fill your piping bag with two colors of buttercream!
There! Which of the peacock cakes tickle your fancy? Do you prefer more ornate or more laid back? Check out Bluprint's online cake decorating classes with true experts in the field – I'm thinking Colette Peter's class entitled Vintage Cake, Modern Methods might be right up your alley for dabbling in a vintage-look, peacock inspired cake!
In case you missed it learn how to make fondant pearls, cat cakes, and dog cakes. Come back to the Bluprint blog tomorrow to learn how to make buttercream icing smooth.